The suicide rate began rising during the COVID-19 pandemic and has continued to increase since the coup as financial hardship, political repression and the collapse of the healthcare system take a toll on mental health.
By FRONTIER
For five days in late August, members of the Regional Rescue Drowning team led a futile search for the bodies of Ma Ei Wai Tun, 24, and her three-year-old daughter in the Ayeyarwady River. Thirty rescuers using three boats scoured the river in Bago Region's Pyay after the woman jumped from a bridge with her child.
The Regional Rescue Drowning team usually only spends three days trying to retrieve bodies – one for underwater operations, and two for searching the surface of waterways, but at the request of the victim's family they had extended the search.
"It was one of our most exhausting search operations, and also one of the most emotional. Despite searching for five days, we could find no trace of the bodies," said Ko Thae Maung, leader of the rescue team.
Thae Maung told Frontier that the number of operations to recover the bodies of people who have died by suicide has risen this year compared to previous years. The team retrieved eight bodies from the Ayeyarwady River and the South Nawin dam near Pyay in the first eight months of this year and half of them involved suicides, he said.
Another rescue group in Pyay, Myanmar Rescue Pyay, agreed that there had been an increase in suicides this year. The group told Frontier they were aware of 10 funerals so far this year involving suicide cases, roughly double what they would normally expect for the entire year.
Some high-profile cases have captured national attention and highlighted some of the issues driving the increase in suicides – mainly political repression and economic mismanagement in the wake of the 2021 military coup.
For many in Myanmar, the story of Daw Lon Ma Nyein Chan was particularly heart-breaking. The daughter of a well-known dissident poet and former political prisoner, Aung Pwint, Lon Ma Nyein Chan was married to political activist and National League for Democracy supporter U Kyaw Hla Moe. Two days after her husband was sentenced to two years in prison by a junta-controlled court this April, Lon Ma Nyein Chan took her life at her home in the Ayeyarwady Region capital, Pathein, prompting a public outpouring of grief.
In another incident that shocked the nation, a welder died from self-immolation, setting himself on fire outside a government electricity office in Mandalay Region's Kyaukpadaung town amidst widespread electricity cuts which had devastated his business. Media reported the details of his suicide note, which asked for electricity to be restored to the people 24 hours a day.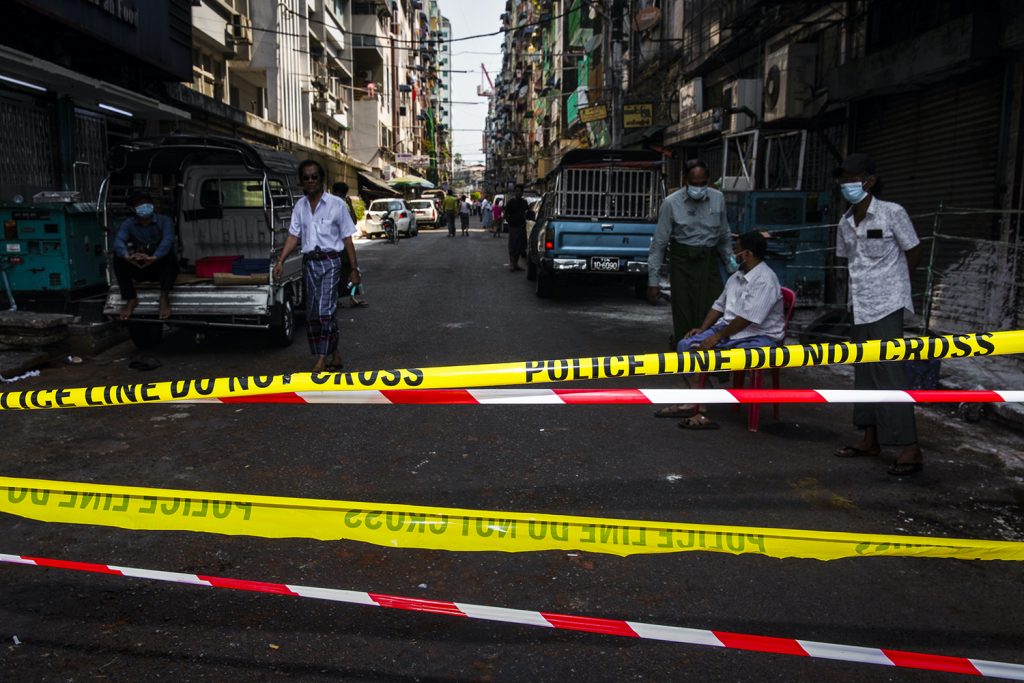 Compounding crises
Mental health specialists say the suicide figures in Myanmar began rising even before the coup, during mass job losses caused by the COVID-19 pandemic. But the military takeover has further deteriorated the economy, caused widespread instability and brought about the collapse of the healthcare system, all of which is now contributing to a mental health crisis.
"People are suffering mental health problems linked to the political, economic, social and health situation in the country, and the greater the psychological trauma, the bigger their mental health crisis will be," Dr Ni Ni Lwin*, a clinical psychiatrist with 19 years of experience, told Frontier.
"The mental health crisis in the country is increasing more and more," she added.
Her observations were echoed by Dr May Zaw Naing, wellness managing director at Citta Consultancy, a network of mental health and psychosocial support providers that services around 50 patients each month.
"If their trauma is not treated, it can lead to suicide," May Zaw Naing said.
She said a combination of the COVID-19 pandemic and the political situation had the potential to damage the mental health of many people.
"The pandemic is not over yet. As the Burmese proverb says, 'be inflicted with one torment upon another,'" May Zaw Naing added, referring to the various crises.
Suicide is a global public health problem, but like many global problems, it is not distributed evenly. While the World Health Organization says that someone ends their life every 40 seconds, 77 percent of suicides occur in low-and middle-income countries. The WHO says that for every suicide, there are likely to be another 20 people who have attempted the act.
There is usually not one cause but a range of complex and intersecting factors leading people to consider the act. Financial stress is one contributing factor on the rise in Myanmar.
The World Bank said in July that poverty in Myanmar has doubled compared to March 2020, with around 40pc of the population now living below the national poverty line, wiping out nearly a decade of progress on poverty reduction.
"Stress has become a community problem because it happens to everyone, and most of those who die by suicide do not talk to mental health experts such as psychologists and counsellors like us," said Ni Ni Lwin, the psychiatrist.
A Frontier review of online media reports since the coup found references to 44 deaths by suicide (30 men and 14 women). Of the deaths reported, most were aged between 20 and 50. The victims were from a range of backgrounds, but nearly 20 percent were either members of the regime or active opponents of it.
Those deaths included two military officers from Shan State, a soldier from Chin State, two riot policemen from Mandalay and Bago regions and another policeman from Haigyi Island in Ayeyarwady. Also included in the figures were public servants who joined the mass Civil Disobedience strike in defiance of the coup – a nurse from Mandalay city and a teacher in Tamu in Sagaing Region who was working at a school run by the National Unity Government.
Most families have not publicly discussed the deaths or what their loved ones may have been going through at the time.
Of the 44 deaths by suicide that were reviewed, 27 occurred in August and September this year, indicating a continued rise. No published data is available for comparison to previous years, but all the experts interviewed said the numbers are significantly higher than they are used to seeing.
The Myanmar Police Force did not respond to Frontier's requests for comment or provide official data. It is not known if data on the number of suicide cases nationally is currently being collected.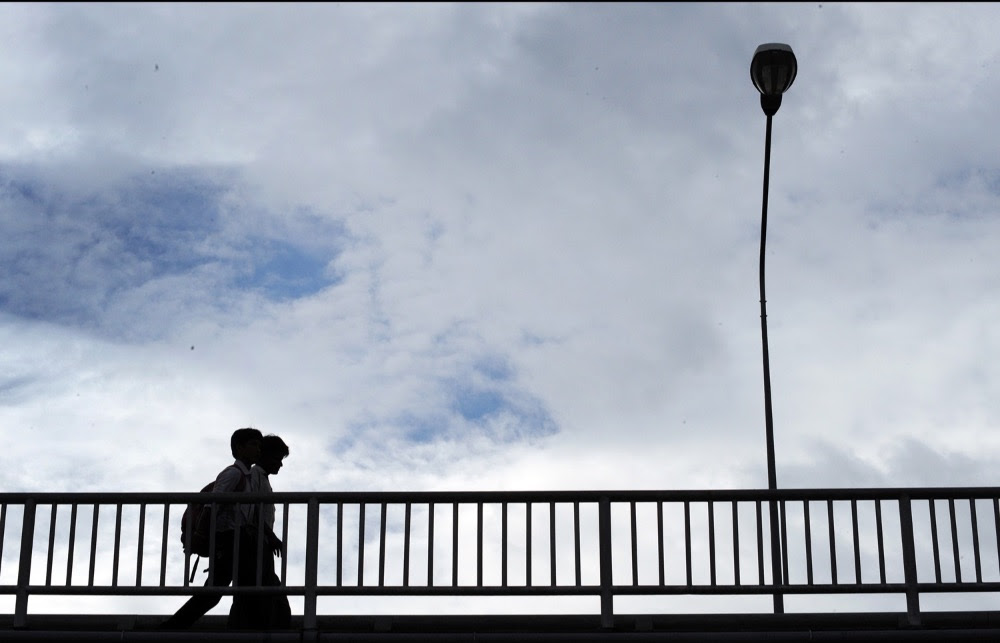 Suicides among the diaspora
Suicides are also being reported among Myanmar working in Thailand and Malaysia, with observers noting an uptick in the number of migrant workers taking their lives.
In Thailand, which has the highest number of Myanmar migrant workers, there were five deaths by suicide between May and August, according to the Aid Alliance Committee for Myanmar Workers. In February, Thai media reported that a Myanmar person was found dead in a Thai prison, assumed to have taken his own life.
"Those who died were young people who came to work in Thailand because of the worsening economic situation after the military coup," U Khaing Gyi from the charity group told Frontier.
"In previous years, there was only one case of suicide among migrant workers in a year. Now we have seen four or five suicides in succession after the coup, and we think the number of these types of deaths might increase," he said.
In a particularly horrifying incident in Malaysia in August, a 38-year-old Myanmar man jumped from a highway overpass in Kuala Lumpur after throwing off his three young children. The man, his eight-year-old daughter and six-year-old son died in the fall, while the three-year-old son survived.
Malaysian daily newspaper The Star reported that the man's 28-year-old wife told police her husband had threatened to take his life several times. She said he had struggled with mental health problems since contracting COVID-19 a year earlier, but gave no further details. Another Malaysian media report said the man and his wife were among the 185,920 refugees and asylum-seekers from Myanmar registered with UNHCR in Malaysia at the end of August.
About three weeks after that incident in Kuala Lumpur, another suicide of a Myanmar man was reported in the southern city of Johor Bahru.
"This young man had underlying diseases when he was infected with COVID-19, and he became depressed and took his life," said a member of the Kepong Free Funeral Service Society, which provides funeral services for Myanmar migrants.
"We arranged the funerals of four suicides cases between January and August this year," he added.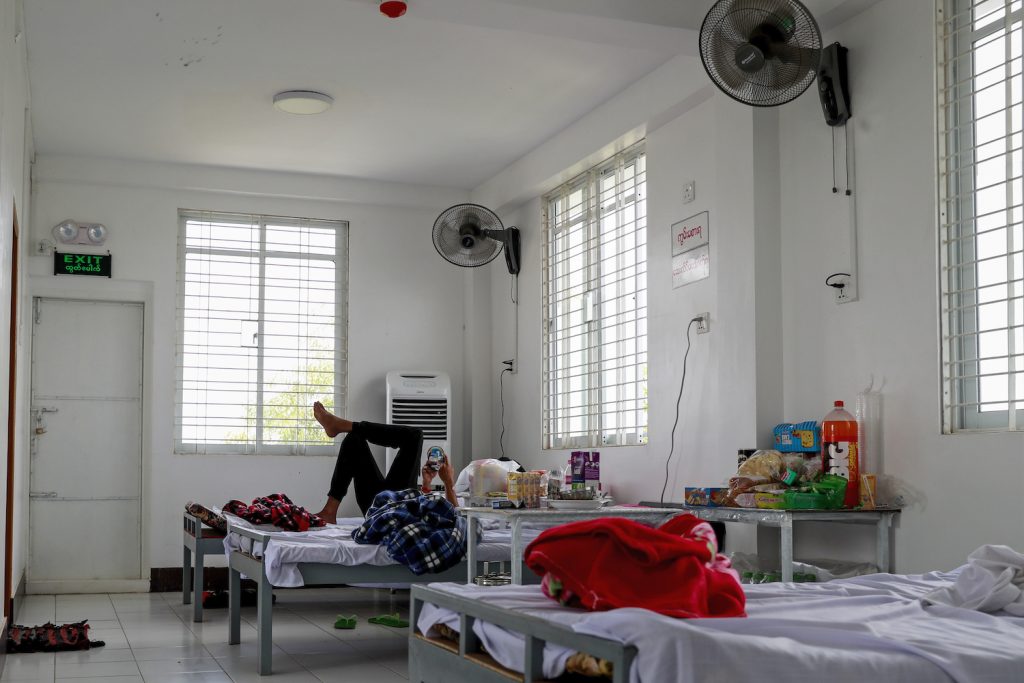 Shortages exacerbate mental health crisis
Resources for mental health in Myanmar, already lacking before the coup, have further collapsed as tens of thousands of public healthcare workers joined CDM, including psychiatrists.
A former mental health officer who worked for the health ministry before the coup told Frontier that Yangon's three medical universities are the only ones which offer psychiatry specialist training. Before the coup, they were able to train an average of 30 psychiatrists a year each, with most ending up in the private sector. Their current capacity is likely to be significantly diminished due to the number of educators and students taking part in CDM.
The former health officer also said that there were less than 150 psychiatrists working at public hospitals throughout the entire country.
"The need for psychiatrists at government hospitals in regions and states has always been there, and in the present situation it has become worse," he said.
Field trips aimed at reaching people with mental health needs in rural areas used to be undertaken regularly by teams that included psychiatrists from government hospitals. In a cruel irony, these visits stopped in 2020 because of travel restrictions aimed at preventing the spread of COVID-19 and never restarted.
Frontier contacted Professor Dr Sun Lin, a consultant psychiatrist from the Yangon Mental Health Hospital run by the junta's health ministry, about the outreach programme but she declined to be interviewed.
Ni Ni Lwin, the psychiatrist, said field trips had played a vital role in identifying and treating people with mental health problems and raising community awareness.
In Yangon, she has provided therapy and counselling to about 200 patients so far this year and said about half of them had considered suicide. Ni Ni Lwin said her patients had a diverse range of psychiatric conditions, with more than half experiencing bipolar disorder, post-traumatic stress disorder or psychosis and others having alcohol and drug-related conditions, or schizophrenia.
As increasing numbers of people are struggling to deal with Myanmar's various political, health and economic problems, mental health specialists urge anyone with concerns to seek counselling and treatment, if they can find it.
They also emphasise the role that family members or close friends can play in encouraging loved ones with mental health problems to reach out and seek help.
"No matter how much health professionals help, the help won't be as successful without the role of the family members," May Zaw Naing said.
"If we can't build individual resilience in the community and take preventive measures to heal trauma, there will be more mental health problems to deal with in the long run," she added.
Mental health experts interviewed by Frontier say behavioural symptoms that can indicate a person is having suicidal ideation include sudden changes in behavior, such as uncharacteristic recklessness or risk-taking, a downturn in performance at work or in school, talking about getting affairs in order and/or giving away prized possessions, frequent discussions of death and dying, withdrawing from friends and family members and losing interest in activities or issues that were once of great importance.
Other psychosocial symptoms can include dramatic mood swings, a diminished sense of self-worth, anxiety, hopelessness, and social withdrawal.
"If these kinds of symptoms are seen in a person, their family members will have to be careful. They may be able to prevent suicide attempts before they happen," Maw Zaw Naing urged.
* denotes the use of pseudonym for safety reasons
Online sites that offer support and links to more resources about mental health include:
https://www.mhpssmyanmar.org/referral-mhpss