The Shan State capital, Taunggyi, is one of four cities piloting an app that promises to strengthen public finance management.
By HTUN KHAING | FRONTIER
WATER SHORTAGES every dry season are a diminishing problem in the Shan State capital, Taunggyi, thanks to a new mobile app introduced under a pilot program backed by The Asia Foundation that aims to make local government more efficient and transparent.
One of the reasons for the annual shortages was that the authorities would charge each household a flat K2,000 per month for using water in the Taunggyi municipal area. This was the result of capacity shortages, but the low cost contributed to waste because there was no incentive to minimise use.
It was common for residents to leave taps on, even after their tanks were full, said U Htay Maung, a tax collector from the Public Utility Department of the Development Affairs Organisation (Taunggyi).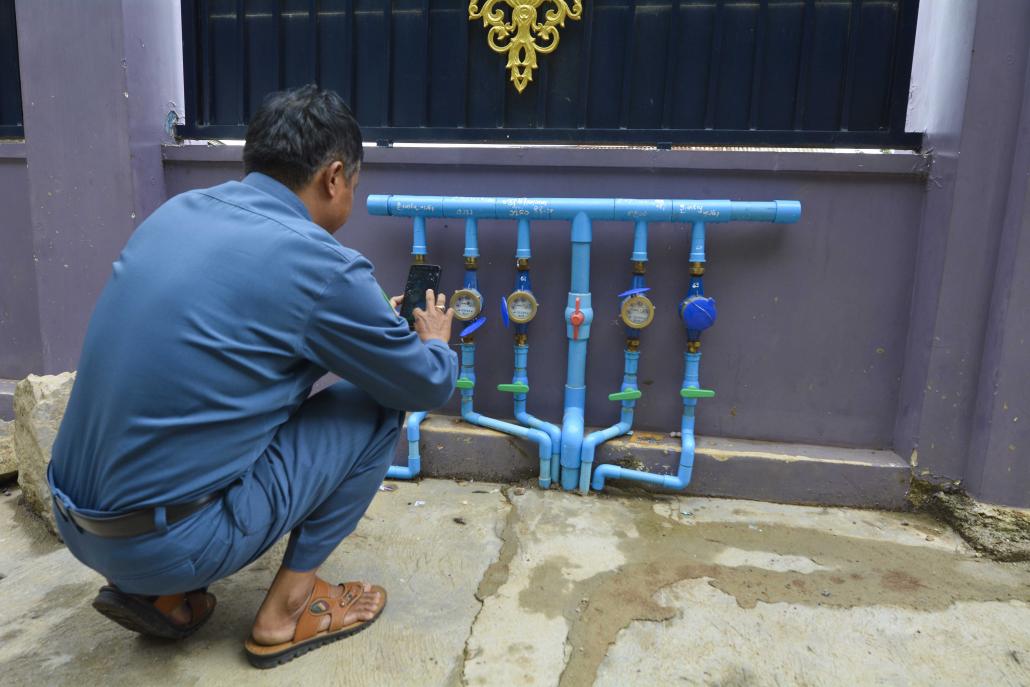 "Nowadays, people are getting used to turning their taps off when their water needs are met," he told Frontier.  The change of mindset began after the DAO introduced the mobile app as part of the pilot program in 2016.
The system, introduced in May 2016, has enabled DAO employees to use technology to easily check consumers' water meters, resulting in huge time savings.
There are about 25,000 households in Taunggyi and the previous system involved preparing three documents – an invoice, a receipt and an office copy – all of which had to be filled in by hand.
"In six months of the fiscal year, about three months was spent filling these bills [by hand]," said U Aye Ko, executive officer of the DAO.
Because the staff spent so many working hours dealing with paperwork, they did not have enough time to go around town to record water-meter readings. Instead, they enforced the K2,000 flat fee for each household.
Under the new system, the municipal staff take photographs of water meter readings and forward them to a supervising officer. The information is processed in a computer, which prints the bills for sending to consumers.
The app is not just for water use, and has also revolutionised billing for other charges collected by the regional government, such as business and market licences, fees for billboards and other advertising, and car registration.
Consumers have welcomed the new system, Aye Ko said.
"It has driven away concerns about misappropriation by the staff because they no longer prepare bills by hand," he said.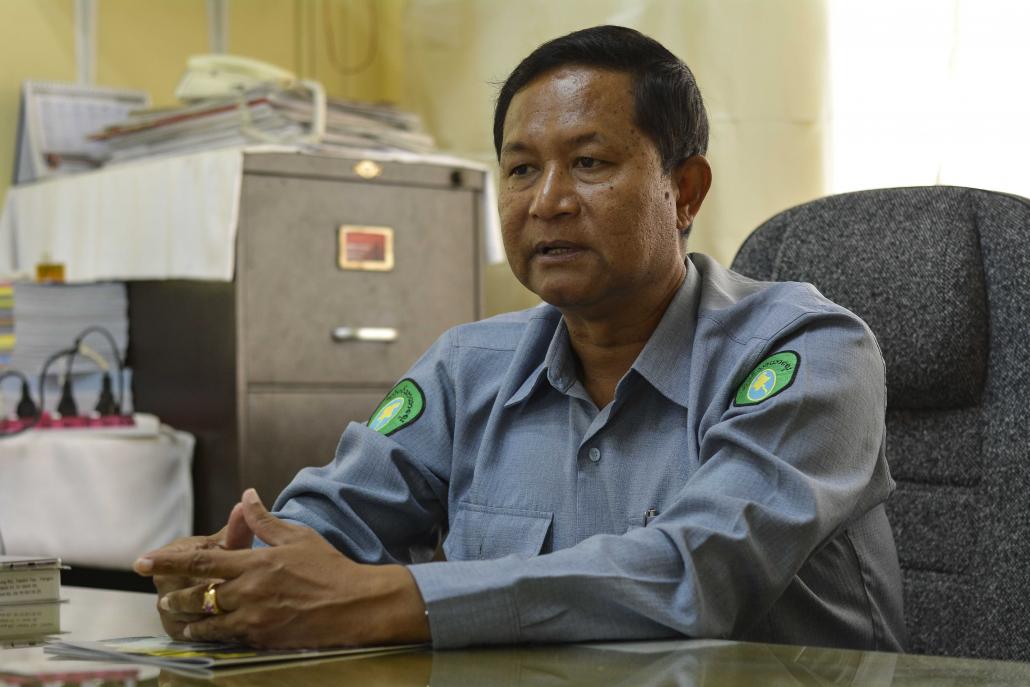 As well as ending suspicious about wrongdoing by the staff, it also enables the DAO to monitor water use more effectively, for example by knowing if there have been any unauthorised pipeline connections to the building, said Aye Ko.
"This system ensures there is no wrongdoing by residents. When we begin collecting user fees we take photographs of all the buildings in a compound and keep them on record," he said. "Six months later when we collect the user fees again, we check the photo record to see if there are any new buildings or building extensions in the compound."
Aye Ko said another advantage of the new system is that it enables productivity to be monitored. "We are able to monitor the staff to make sure they are actively carrying out their work of collecting fees and charges, and the result has been an increase in the amount of taxes being collected," he said.
DAO figures show that the total user-fees for buildings have risen by 1.7 percent, from 23,313 households spending a total of K26.3 million to cover the last six months of the 2016-17 fiscal year, to 23,691 households spending K27.3 million for the first six months of the current financial year.
Some consumers who were formerly paying the minimum monthly charge of K2,000 are now paying hundreds of thousands of kyat a month for water. Despite the increase, there have been no disputes over the higher amounts because the amount shown on water meters is accurate, Aye Ko said.
The 2008 Constitution stipulates in section 1(e) of schedule 2 that municipal councils are the only organisations in states and regions with the power to manage their revenues and use it for rubbish collection, water distribution and the maintenance of parks, without having to rely on allocations from the Union government.
"We need money to expand our town planning activities, so being able to collect what taxes and charges are due is very important," Aye Ko said.
As well as Taunggyi, the app has also been introduced in the Kayin State capital, Hpa-an, and at Ayeyarwady Region, in the capital, Pathein, and Myaungmya, said Daw Pa Pa Htoon, project manager at Koe Koe Tech, an IT social enterprise that is providing technical assistance to the municipal committees in the four cities.
There are plan to expand the pilot program, which is called "Myankhon" (roughly translated as "fast tax") and supported by The Asia Foundation with funding from Australia, the United Kingdom and the Swiss Agency for Development and Cooperation, to other cities and towns, Pa Pa Htoon told Frontier.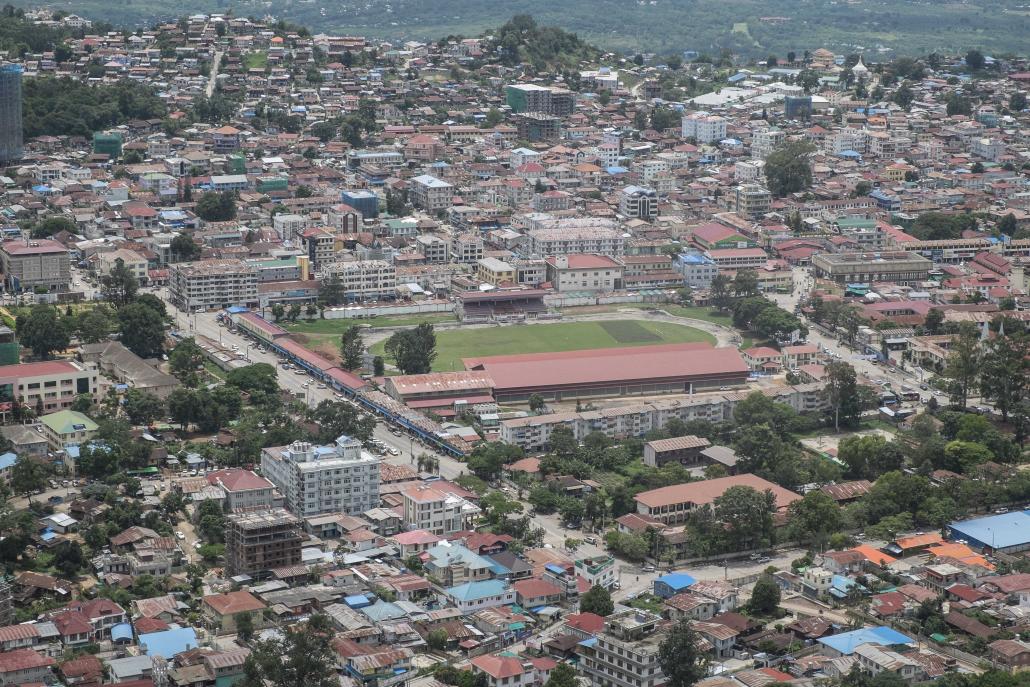 Aye Ko said that as well as tax collection, the system offered other advantages, such as analytics that allow revenues to be forecast as well as monitoring staff performance.
As well, data on water consumption and rubbish dumping can be displayed on diagrams and shown on maps to help inform decisions about urban development and expansion projects.
Embracing change and adjusting to new procedures can take time, as has been the case with the Myankhon program.
Tedious manual paperwork was banished by computers and software in many countries decades ago, but in Myanmar, where about 70 percent of the population has no access to electricity, technology is still relatively new and rarely used in government departments.
In many state offices, public servants manually processing documents remains a common sight.
"Although there are few problems with those who know how to use computers, we have to teach from the beginning those who are not familiar with computers," Pa Pa Htoon said.
The DAO is ready to collect taxes online, said Aye Ko.
"But we are going to do it step by step," he said.
TOP PHOTO: A mobile phone user tests the Myankhon application in Taunggyi. (Teza Hlaing | Frontier)