With two rounds left in the Myanmar National League, a recent decision on how to address the expulsion of Nay Pyi Taw has added to discontent among clubs at both the top and bottom end of the league table.
By HTUN KHAING | FRONTIER
THE MYANMAR Football Federation has been accused of breaching rules set by governing body FIFA as the fallout continues over the decision by Myanmar National League to expel Nay Pyi Taw FC in mid-season for not paying its players.
Nay Pyi Taw FC was expelled by the MNL at an emergency committee meeting on September 12. At the same time, the federation ruled that clubs scheduled to play Nay Pyi Taw in the remaining rounds would be given a 3-0 win and awarded three points. However, the MNL – which is run by the Myanmar Football Federation – said results will stand from games that have already been played against Nay Pyi Taw FC.
Even the coach of the team that has benefited the most from the decision is upset. The MFF had "better not do that. They must follow the FIFA rules," Yadanarbon FC coach Mr René Desaeyere told reporters on September 30. The 70-year-old Belgian was speaking after the Bogyoke Aung San Shield semi-final between Yadanarbon and Yangon United FC at Thuwanna Stadium in Yangon, a match that ended in a draw.
If a club resigned from a tournament in an international competition, all its results for the season would be declared null and void, he said. The MNL solved the problem its way and its decision has implications for determining the championship this year.
The decision has implications at both the top and bottom of the table, Desaeyere noted. As a result, GFA FC – a team representing Chin State that was promoted along with Nay Pyi Taw to the top league for the 2017 season from the MNL's second-tier competition – can no longer escape relegation.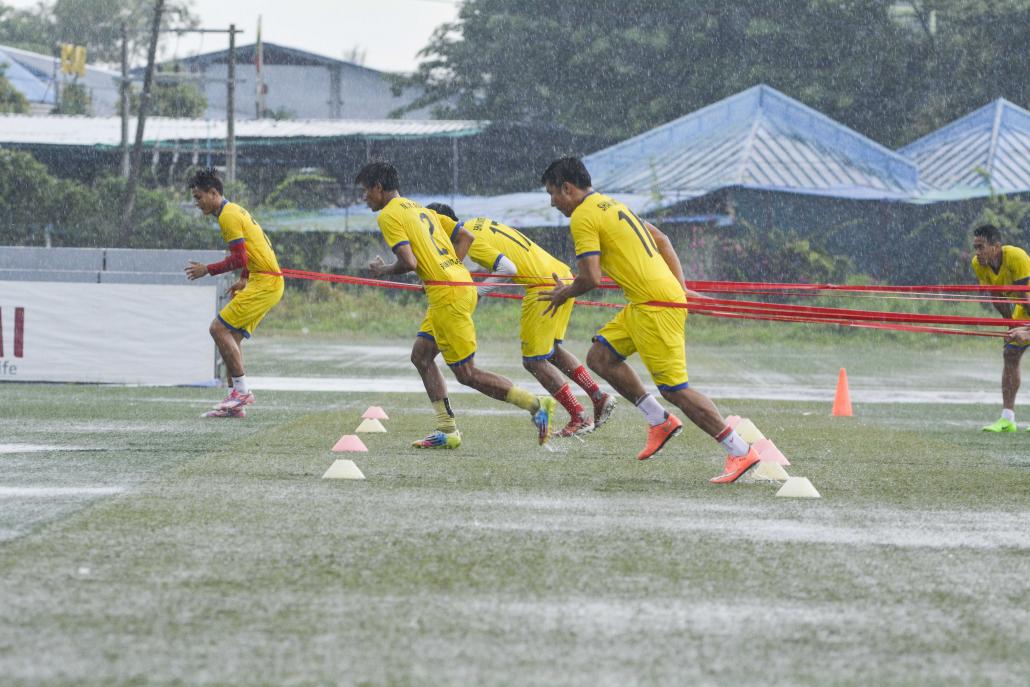 As of early October, GFA had only 10 points after playing 18 matches and was battling with Hantharwady United FC to avoid going back down to MNL-2. While GFA has already played Nay Pyi Taw twice, Hantharwady collected an automatic three points on October 14, when it was scheduled to have played Nay Pyi Taw.
As a result of those three points, GFA will not be able to catch Hantharwady United, even if the Chin team won all of its remaining games.
"Because of this decision, GFA doesn't want to play anymore," Desaeyere said.
GFA was so upset at the MFF decision its players refused to show for a scheduled game against Yadanarbon at Aung San Stadium in Yangon on September 19. The Chin club subsequently sent a letter to the league seeking permission to quit with immediate effect, but it eventually agreed to a request from the league's governing body to see out the season.
KB Siang Cung Lian, the general manager of GFA, told Frontier on October 12 that the Nay Pyi Taw decision was the club's main complaint.
"We don't get any advantage from it, because we have already played Nay Pyi Taw. We don't think it is fair," he said. "But we want to run our club so we decided to accept the league's offer [to continue]."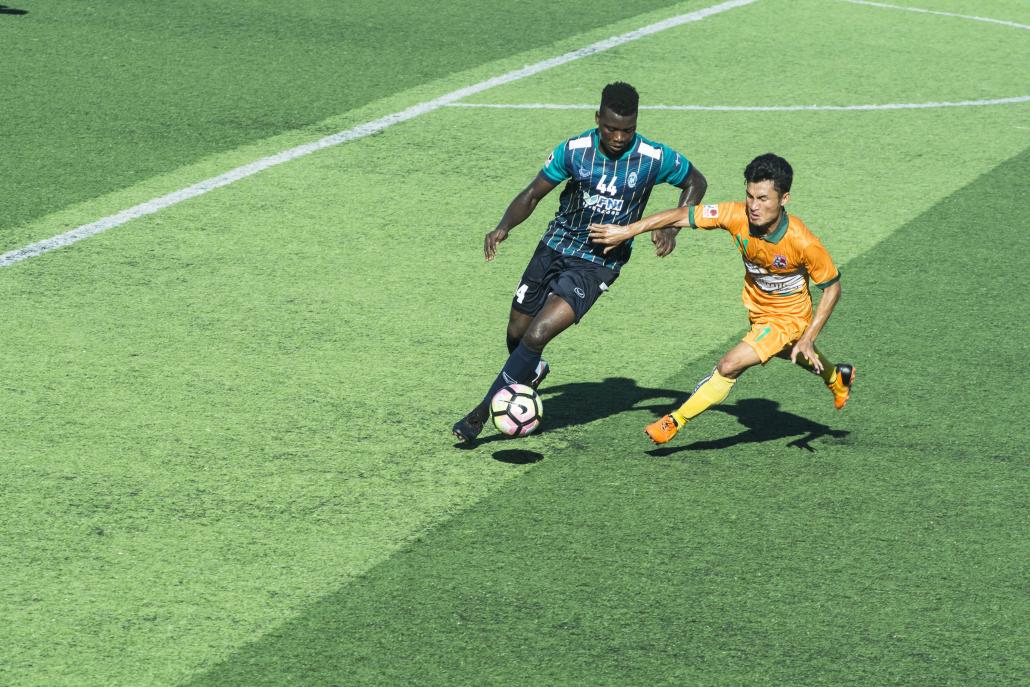 The decision to award points to teams due to have played Nay Pyi Taw has also left some clubs crying foul because they say it has unfairly ended their championship hopes.
As of October 13, Shan United, Yangon United and Yadanarbon were the leading contenders for the championship. Shan United topped the ladder on 45 points, followed by Yangon United (43) and Yadanarbon (41), although the Mandalay club had a game in hand.
The MFF points decision and GFA's certain relegation from the competition has put Yadanarbon in a strong position to take the championship. Of its four remaining matches, two were to be played against Nay Pyi Taw and GFA, which now has little to play for.
Yangon United, the most successful club in the MNL, will pick up three points and three goals on October 22, when it was due to play Nay Pyi Taw.
The biggest loser is Shan United, because it has already played Nay Pyi Taw and GFA.
The ladder-leading team defeated Nay Pyi Taw in both matches and had a win and a draw against GFA.
Shan United coach U Soe Myat Min, a former national team captain, was quietly critical of the MFF's points decision, saying he would have preferred a better plan.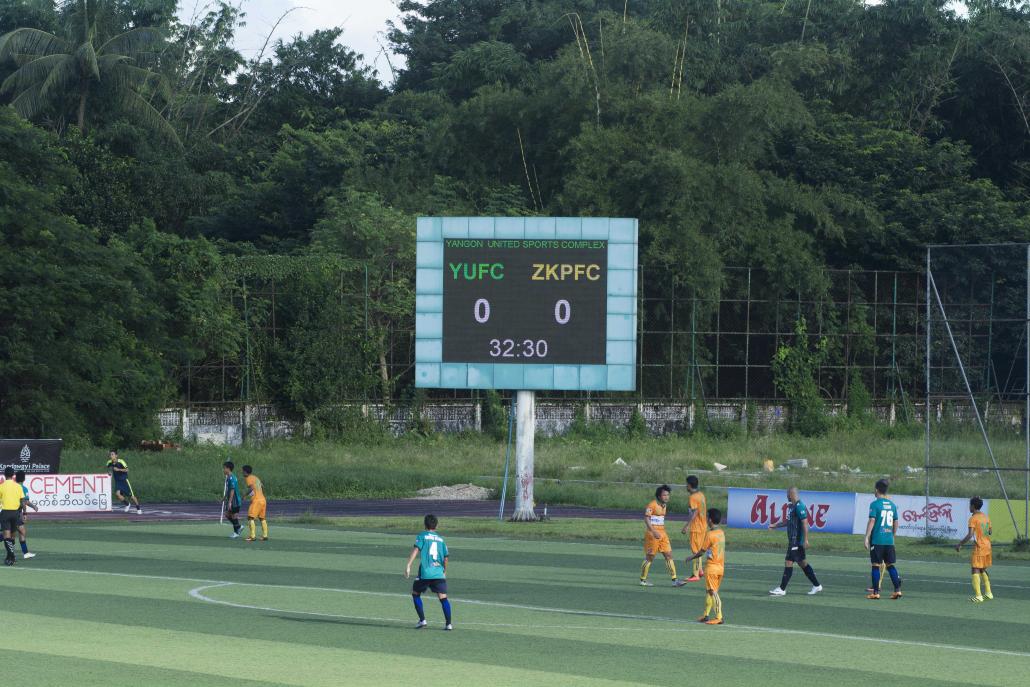 The points decision and the draw for the rest of the season have put Shan United at an unfair disadvantage, a situation acknowledged by Soe Myat Min, who said the side would have to struggle harder than its rivals for the championship.
Shan United closes the season with a tough match schedule, with up to five games, including MNL and knock-out encounters.
However, its closest rivals, Yangon United and Yadanarbon, will both be able to skip a match – and earn easy points – because they were due to play Nay Pyi Taw.
Shan United also has some travelling to do in the coming weeks, with matches in Taunggyi, Mandalay and Yangon. The team will have to travel about 2,900 kilometres (1,800 miles) in barely two weeks.
The situation confronting the team had made it heavy-hearted, said Soe Myat Min.
"We hope there will be no problems like this next season," he said.