It may be a long time, if ever, before the country can fully account for the loss of life during the COVID-19 pandemic, and anecdotal evidence from cemeteries and hospitals in Yangon shows a muddled picture.
By AUNG PHAY KYI SOE | FRONTIER
A lack of systematic data collection in Myanmar and limited testing for COVID-19 by international standards means it could be years, if ever, before the true toll of the pandemic on the country is known.
Myanmar had 2,377 confirmed deaths as of December 17, which is a modest count by international standards. But if Myanmar is like nearly every other country on the planet, its number of excess deaths – the number of deaths from all causes beyond what's expected for a given time ­– should be significantly above average this year. However, hard numbers are hard to come by in Myanmar. For Frontier, tracking down the data has largely been a practice of calling individual cemeteries and hospitals one by one and seeing what data they can provide.
All six Buddhist cemeteries and crematoriums in Yangon – by far the hardest hit city by the pandemic – operate under the control of the Yangon City Development Committee's Pollution Control and Cleansing Department, which has not responded to requests for information sent by Frontier on December 3. Final rites for members of other faiths, however, are administered by religious organisations independently.
Data gathered by Frontier from Muslim cemeteries show a mixed picture: slight increases in burials that largely follow stable trends in some, and marked or erratic spikes in others.
Hteinbin Cemetery, in the outer western township of Hlaing Tharyar, is the only cemetery in Yangon where the regional government allows COVID-19 cases to be buried or cremated.
In the cemetery's Muslim ward, 197 people who have officially died from COVID-19 had been buried by early December. With 45 additional Muslims buried there throughout the year, that means the cemetery has seen 242 deaths this year – a remarkable 250 percent increase from the 70 people buried there in total last year, according to numbers provided by Haji U Ba Shwe, vice chair of Hteinbin's Muslim section.
Ba Shwe is also the joint-secretary of the Sunni Muslim section at the Yayway Cemetery, in Yangon's North Okkalapa Township. For most of the year there, he said, they'd been burying an average of seven people a day, up from five a day this time last year but in line with steadily increasing numbers year on year. That made for a monthly total that hovered around 200.
"Muslim burials during the COVID-19 period have been higher than in previous years [in Yayway], but the number is increasing every year," Ba Shwe said. More people from outside Yangon are seeking medical treatment at hospitals in the city each year, and if their condition proves fatal they're being buried in the city, he said.
But those numbers began jumping shortly after Myanmar's "second wave" of COVID-19 infections began, to 242 in September and to 402 in October, even though Yayway is not used for confirmed COVID-19 deaths. The numbers have since dipped but remain higher than before the second wave: in November the Muslim section of the cemetery buried 269 people.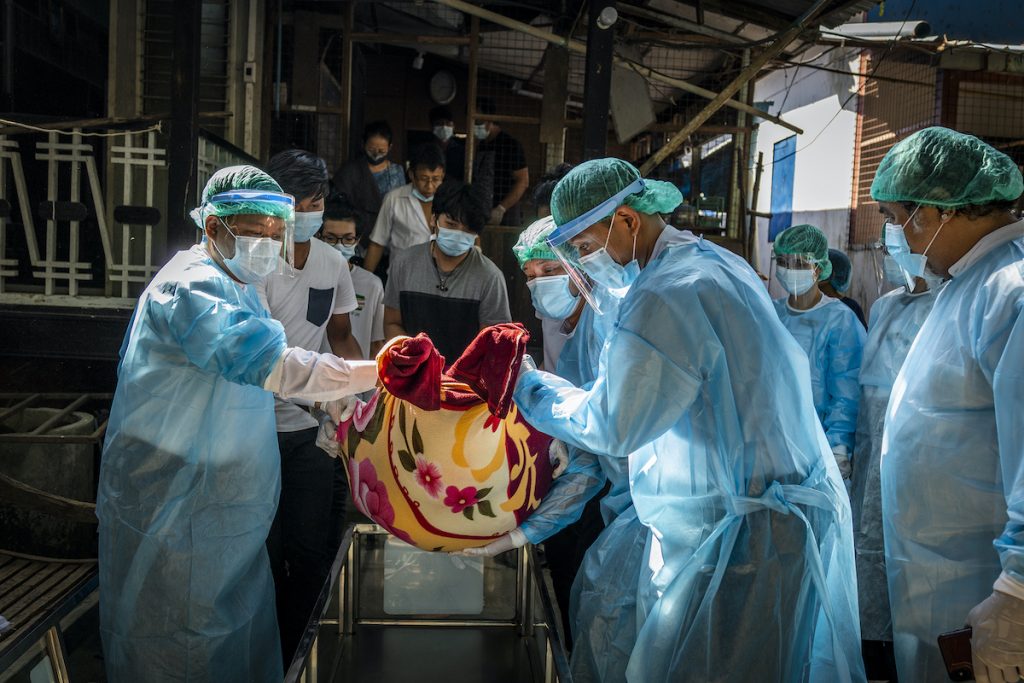 "Most of them had died [in October] in their homes, without coming to government hospitals. They treated themselves with home remedies based on old wives' tales instead," Ba Shwe said. "I've never seen so many burials at once."
If that's the case, these people were likely never tested for COVID-19, and any actual coronavirus deaths among them were not recorded in the health ministry's official COVID-19 statistics. However, it is also possible that some of them died of treatable, non-coronavirus illnesses because they were reluctant to visit the city's overburdened hospitals.
Myanmar ramped up its meagre testing capacity with donated rapid test kits in October, but only to a degree. It still lags far behind international norms, and has relied to an extent on patients self-reporting with symptoms.
Between the beginning of the year and the end of November, the Sunni section of the cemetery at Yayway had buried 2,513 people, up from 2,478 throughout all of 2019. In 2018, the number was 2,355, and in 2017 it was 2,279.
Another final resting place for Muslims in Yangon is the Kyu Chaung Muslim Cemetery in Shwepyithar Township, but that cemetery is managed by local residents and keeps no burial data.
The Yayway Ecumenical Garden, a Christian cemetery, has shown no jump in the number of burials. Its staff buried 719 people last year and, as of December 4, buried 646 this year, according to U Michael, the cemetery's manager.
Unsurprisingly, health experts and officials at the Ministry of Health and Sports predict higher overall death rates at government hospitals this year because of the pandemic.
"About 90pc of the world's countries have experienced disruptions to basic healthcare – these are challenges that every country faces," Dr Khin Khin Gyi, director of emerging infectious diseases at the health ministry's Central Epidemiology Unit, told Frontier on December 9. These disruptions mean that, in addition to COVID-19 deaths, fatal complications from other, chronic diseases mean that "the hospital death rate is likely to rise as a result of COVID-19," she said.
Dr Thet Aung, program manager at the Access to Health Fund, agreed.
"During the pandemic, hospitals have been prioritising patients at high risk; hence the hospital death rate is likely to rise as a result of COVID-19," he told Frontier on December 8.
Both spoke of hospital death rates – the number of patients that die at hospitals divided by the number of all patients admitted in a given time ­– but the obvious strain on hospitals this year means there were far more admissions than normal. So, a higher death rate also means a significantly higher number of deaths as well, though the figures do not seem to be readily available.
The available data
Data from the government's Central Statistical Organization shows gradual increases in deaths in recent years, but that could just reflect improved record keeping. In 2016 there were 88,606 urban and 124,581 rural deaths recorded across the country under the civil registration and vital statistics system ­– numbers that rose to 89,779 and 141,431 in 2017, respectively.
The organisation has not released any numbers on 2018, 2019 or the year to date.
The health ministry's latest Hospital Statistics Report, released in June, covers 2017-18, when 44,075 people died in Myanmar's hospitals.
As of publication, Frontier could not obtain numbers for 2019 or 2020, but the numbers are unanimously believed to be markedly higher this year.
"Deaths from non-COVID-19 diseases have increased this year, and if the death toll from COVID-19 also continues to rise, the absolute total will obviously go up," said public health expert Dr Aung Tun, a retired health ministry director.
With government hospitals focused on treating COVID-19 patients and shifting resources to high-risk areas, and with restrictions on movement hindering access to care for some, more deaths should be expected, Thet Aung said.
"These disruptions mean that, in addition to COVID-19 deaths, there will be fatal complications from other, chronic diseases that would lead to an increase in general deaths."
Aung Tun added that the closure of some clinics and hospitals to non-COVID-19 patients since the pandemic began, coupled with travel restrictions, has meant that people with chronic diseases have often not known where to go, and some patients who were receiving treatment abroad have been unable to travel since commercial flights were grounded.
Frontier submitted an official letter with questions on death numbers to the superintendent of Yangon General Hospital on December 2 and the head of YCDC's pollution control department on December 3 and as of publication had not heard back from either.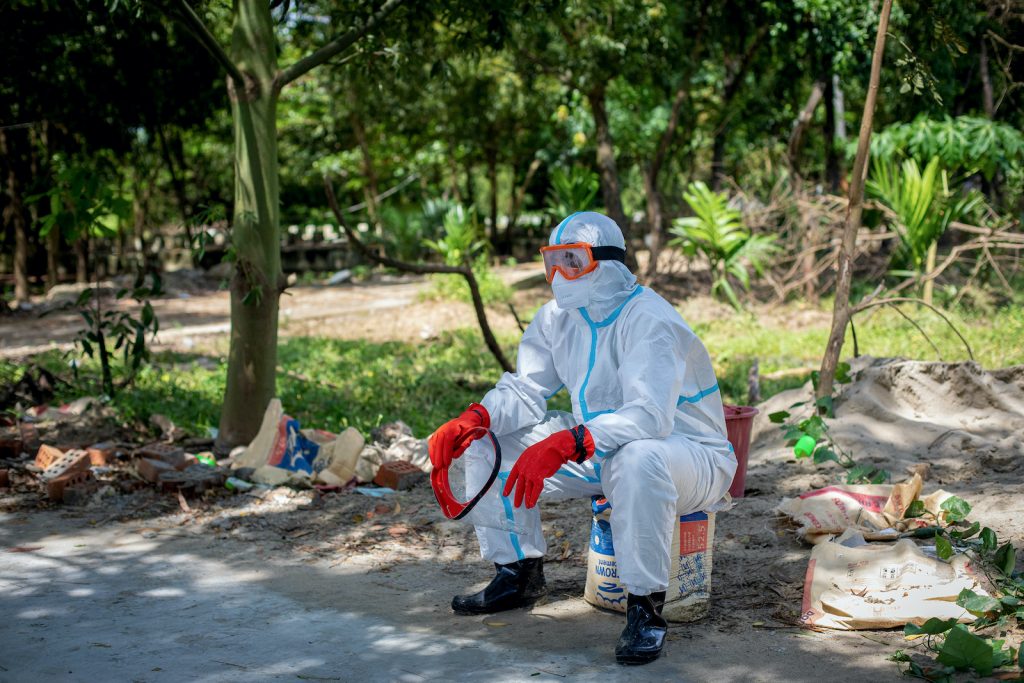 A flourishing of funeral services
One more place a rise in general deaths might be noted is among the country's charity funeral and ambulance services, most of whom are barred from transporting dead COVID-19 patients
One of Yangon's most admired, the Free Funeral Service Society, has been transporting between 20 and 30 bodies to cemeteries and crematoriums a day this year, with about half collected from hospitals and the other half from homes. This also seems to be on track with previous years, and none were confirmed COVID-19 patients.
The society, established in 2001, says it transported 8,800 bodies in 2017, 8,127 in 2018, 7,934 in 2019 and 7,273 to early December this year, but that's likely not an indicator of a lack of excess deaths.
"The number of bodies we carry has fallen because many new free funeral service societies are being formed these days," U Khaing Phyo, the society's manager, told Frontier.
The Taung Paw Lan Shout (Walkers on the Mountain) Free Funeral Service Society in Mon State's Mawlamyine Township, which is also unable to respond to confirmed coronavirus deaths, reported a decline in the number of bodies it's collected for the same reason.
"In Mawlamyine Township there are now almost 50 funeral service societies; they have been formed even in rural areas, so the number of bodies each collects has declined," said U Soe Win, the group's lead administrator.
The society, formed in 2003, says it collected 694 bodies in 2018 and 642 in 2019. This year, it had collected 553 bodies by early December.
A rural gap
In cities like Yangon and Mawlamyine, a death certificate certified by a township medical officer is needed to be buried or cremated, leaving some record of the death. In rural areas, however, this is often not the case.
Professor Dr Maw Maw Oo, head of the emergency department at Yangon General Hospital, said this means deaths at homes outside of the city may often go unreported.
His comments were echoed by Dr Yan Naing Shein, the medical officer for Bago Township, which has had the highest number of COVID-19 patients in Bago Region ­– 2,044cases and 13 deaths as of December 17.
"In some rural areas … people may be being buried without death certificates [and not being counted]," he said.
This is the case in normal years, but with a novel virus spreading throughout the country, the gap in records is likely even greater.
"It is possible that some people may have died at home because they did not go to hospitals and instead treated themselves with bogus remedies," said Dr Soe Win Paing, spokesperson for the Rakhine State Public Health Department, speaking specifically of potential COVID-19 deaths.
Dr Khing Maung Lwin, a retired health ministry director, said that, particularly in areas along the country's borders, many people may have died from COVID-19 without their deaths being reported.
"It is something I worry about," he said.
As of 8pm on December 17, 113,082 COVID-19 cases and 2,377deaths had been recorded in Myanmar. Health officials say 85pc of these deaths involved underlying conditions.