Most – but not all – militia groups in Muse Township are involved in illegal activities that include running gambling dens and brothels.
Words & Photos KYAW LIN HTOON | FRONTIER
AT THE entrance to a compound in Muse, northern Shan State, a large sign proclaims: "North Eastern Command (Tatmadaw), Pan Say militia".
Beneath the sign, two Chinese-speaking sex workers emerged from a gate. Their invitation to do some short-time business was politely declined by Frontier's motorbike taxi driver, who could speak some Chinese, but not before they confirmed they were both aged 16.
Inside, a luxury casino was busy with customers playing poker, slot machines, dice and electronic games, and sex and narcotics were readily available.
The compound, which adjoins the border fence with China, also includes a cigarette factory and a housing estate with villas for high-ranking officers of the Pan Say pyithu sit, or People's Militia Force.
The factory attracts a constant stream of people seeking work, enabling Frontier and our motorbike taxi driver to enter and leave the compound without being challenged. There was only one militiaman guarding the gate and he opened it for us without asking any questions.
The compound is one of many locations in and around Muse where gambling, drug trafficking and sex work occurs openly – often close to the three official border crossings between Myanmar and China.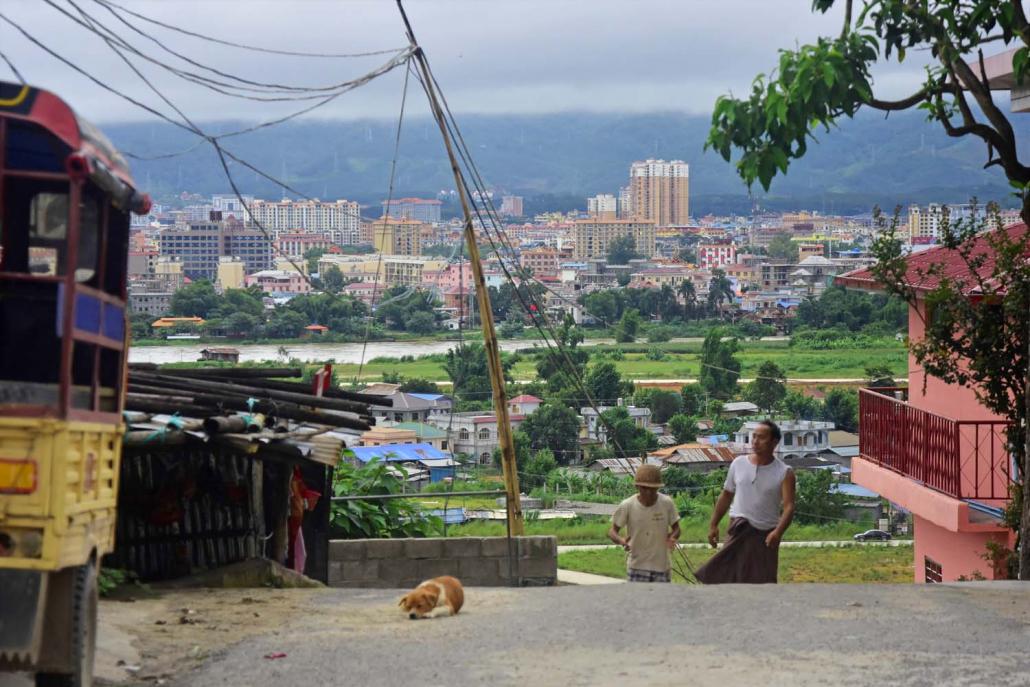 At a bus station near the Man Wane border gate, there is a small market containing several gambling dens and brothels guarded by militia forces. Near the Sin Phyu border gate, meanwhile, there's a big casino in a building that looks like a small stadium. It operates around the clock and is guarded by militia armed with rifles, knives and truncheons. Cameras are banned from the premises and customers are forbidden from taking photos with their mobile phones. Some of the gamblers seemed to be under the influence of narcotics.
On the northern side of Muse, there's a big parking bay for trucks, most of which are owned by transport companies established by militia groups. An area next to the parking bay is notorious for attracting dealers who sell the cheapest drugs in Muse.
In May, the Ta'ang National Liberation Army, an ethnic armed group that has not signed a ceasefire with the government, launched a dawn raid on a security post at the nearby Pan Kham bridge, just outside Muse. The surprise attack – which the government said claimed the lives of a police captain, three members of the militia and 15 civilians – also targeted the casino run by the Pan Say militia group.
TNLA spokesperson Major Mai Aik Kyaw said the Pan Say militia's casinos are "notorious", an allegation that was supported by many interviewees in Muse.
Aik Kyaw cited a casino rule that requires patrons to play a certain number of times per visit. This often leads to patrons borrowing money and falling into debt. "It doesn't matter whether you win or lose, you can't leave until you've played the required number of times," he said. "If you owe them money, they will detain you and call your family and threaten to kill you if the debt is not paid in time."
Pursuing their own interests
In a border town like Muse, the opportunities for enrichment are significant. Muse has achieved steady growth since 1988, when the junta that replaced the Ne Win regime lifted a ban on cross-border trade in a decision that was a huge boost for the local economy. A trading zone in Muse that opened in 2006 handles about 70 percent of all border trade with China, and has made a significant contribution to the development of the town and surrounding areas.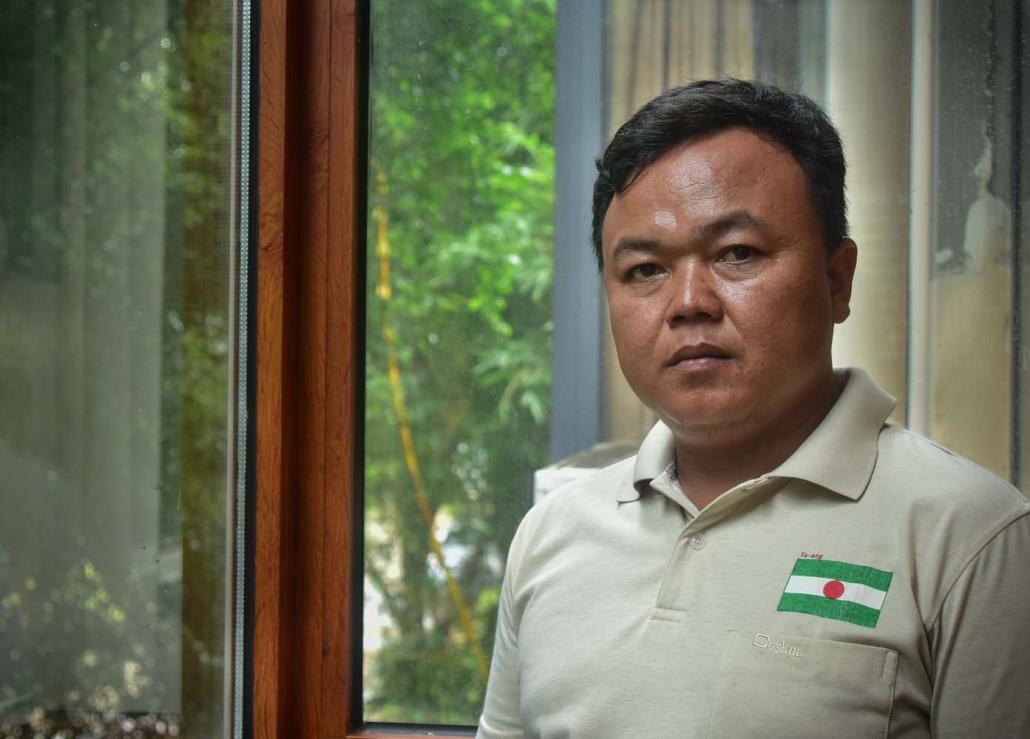 In 2013, U Hlaing Soe Thant was appointed administrator of Muse District after spending more than a decade in Shan State as a Tatmadaw major-general. The position is within the General Administration Department, part of the military-controlled Ministry of Home Affairs.
Hlaing Soe Thant said he was "delighted" to get the job but admitted that it was difficult to control widespread illegal activities, such as narcotics production, opium growing, black market trading and gambling. He insisted that the GAD was doing what it could to suppress illegal activity.
"These challenges are inevitable in a border township affected by conflict, but I want to ensure that militia groups are involved in our plans to tackle illegal activity," he told Frontier.
That cooperation does not seem to be forthcoming. Asked why the authorities allowed illegal activities to take place in downtown Muse, he said they were unable to enforce the law because the land plots used for casinos and brothels are under the control of militia groups.
Further complicating matters is the fact that the militias are part of the Tatmadaw, and appear to carry out illegal activities with its tacit approval.
"Since a militia is an armed group under the Tatmadaw, it needs to be subject to the Military Act and the Tatmadaw's rules," said Shan State Hluttaw MP Sai Kyaw Thein (SNLD, Muse-1). "The core duty of a militia is to protect its designated area in collaboration with the Tatmadaw, but most militia groups in Muse are only interested in pursuing their own interests."
There are at least 90 People's Militia Forces throughout Myanmar, including about 10 in Muse. Of these, six are particularly active. These include the Pan Say militia, run by former Shan State Hluttaw MP U Kyaw Myint and his son, and U Ma Tu's Kutkai-based Kaung Khar militia, previously known as the Kachin Defence Army. There are also two Shan militia groups, U Aik San's Myo Ma militia in Namkham and U Loi Maung's Sein Kyawt militia, as well as the Mongton-based Mongton militia and the Lon Htan militia.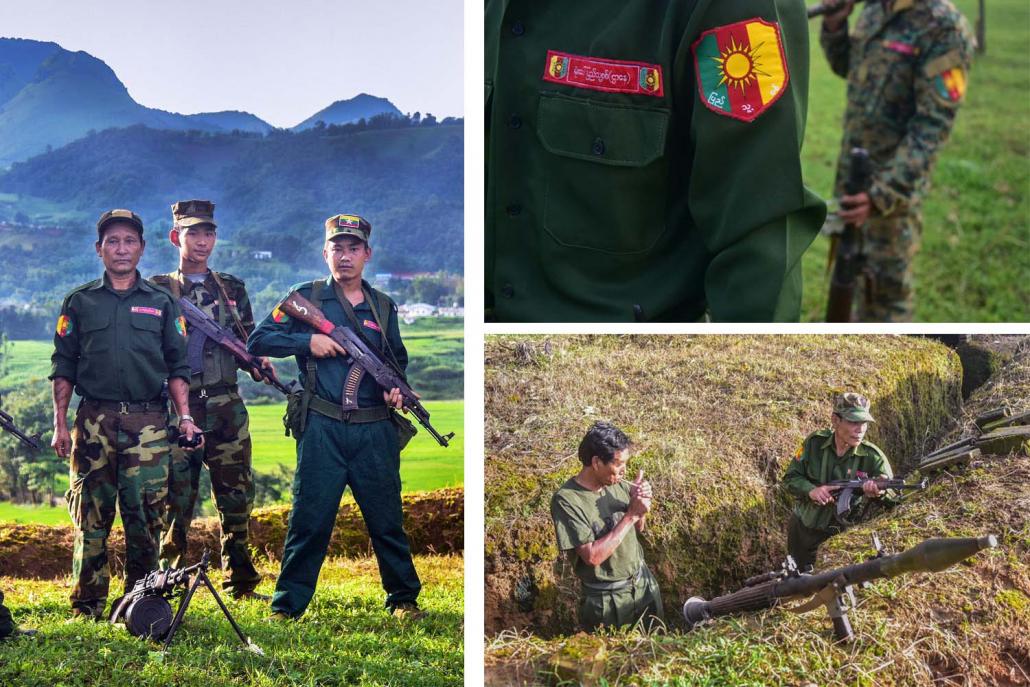 Kyaw Myint, known as "Pan Say" Kyaw Myint, held a Namkham constituency in the state assembly for the Union Solidarity and Development Party but did not contest the 2015 election.
Aik Kyaw said the militias had become involved in illegal activities because the Tatmadaw provided little support; instead, it permitted them to form businesses to generate revenue.
Involvement in criminal activities could be lucrative for the militias, he said.
"The weapons used by the bigger militia groups, such as the KDA or Lon Htan or Pan Say, are of good quality and made in different countries; they are better than the guns issued by the Tatmadaw."
Political analyst U Than Soe Naing, a former Communist Party of Burma member, said the Tatmadaw's readiness to tolerate militias' illegal businesses ensured not only their self-sufficiency but also loyalty.
"Instead of allowing such activities, it should be considering how to bring the militias under control," he said, predicting that the role of militia groups was likely to become a big issue at future peace conferences.
Muse residents Sai Kyaw Thein and Mai Myo Aung, secretary of the Ta'ang National Party's township committee, said the presence of militia groups in the town was discomfiting.
"Muse is a peaceful township and ordinary residents find such behaviour to be threatening and we live with it every day," Kyaw Thein said.
He added that the militia groups carry weapons for their own security rather than any desire to maintain law and order.
Myo Aung said the son of a militia member had pulled a gun on his uncle in November 2016. His uncle was driving from Namkham to Muse and was nearly involved in a collision with the boy, who was riding a motorcycle. Both vehicles stopped and the boy aimed a handgun at his uncle and threatened to kill him.
"The militia groups are proud of their role as security forces but their main interest in providing security is to protect their illegal businesses," he said.
Development not drugs
A big-sky valley and low mountains surround the Mong Paw area of Muse Township. About 45 minutes' drive from Muse town, the area is close to Myanmar's border with China and has a population of about 7,000, of whom 80 percent are Kachin.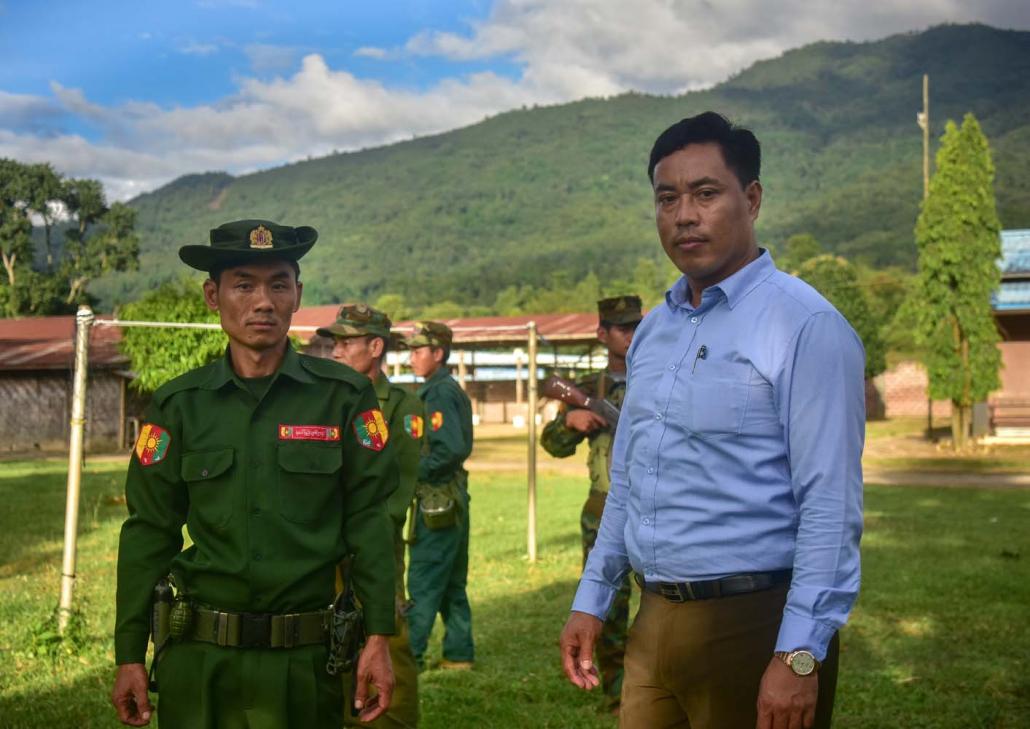 It was home to one of the last Communist Party of Burma camps until the group collapsed in 1989 following a mutiny. Today the area is under the total control of the Mong Paw militia. The militia was created from the Mong Koe Defence Army, a breakaway group from the Myanmar National Democratic Alliance Army, based in the neighbouring Kokang Self-Administered Zone.
In 2015, the Tatmadaw repulsed an audacious bid by the MNDAA to retake the zone, which had been under the control of the Mandarin-speaking Kokang group until 2009. The MNDAA, one of the armed groups that emerged from the collapse of the CPB in 1989, is one of the four ethnic armed groups known as the Northern Alliance that have refused to sign the 2015 National Ceasefire Accord.
In Muse, the Mong Paw militia is widely respected for being the only such group in the township that has not abused its authority to enrich itself. Members of rival Shan political parties, the Shan Nationalities League for Democracy and the Shan Nationalities Democratic Party, speak highly of the militia, as do Ta'ang (Palaung) and Shan community leaders, such as Sai Hpoe Aung, who heads the local branch of the Shan Literature and Culture Association.
On a trip to Mong Paw with the group's deputy leader, U Aung Ja, he indicated vast fields of corn, paddy and sugarcane.
"In the past, all these thousands of acres were used to grow opium but since we transformed into [a militia] our leaders ordered a stop to all opium-related activities and started exploring ways of making money legally," he said.
Among the businesses founded by the Mong Paw militia is a company called Chan Aye Myay, which buys produce grown on the area's farms for resale and is gradually expanding its operations.
Mong Paw is not connected to the national grid and the militia group buys electricity from Ruili, the Chinese city opposite Muse. It uses the profits from its businesses to subsidise half the cost of electricity provision, and it also runs schools and clinics and provides other social services.
The Mong Paw militia has only 100 permanent members with the rank of private. Most are farmers and perform their security role in shifts, which leaves them time to tend their land and run family businesses.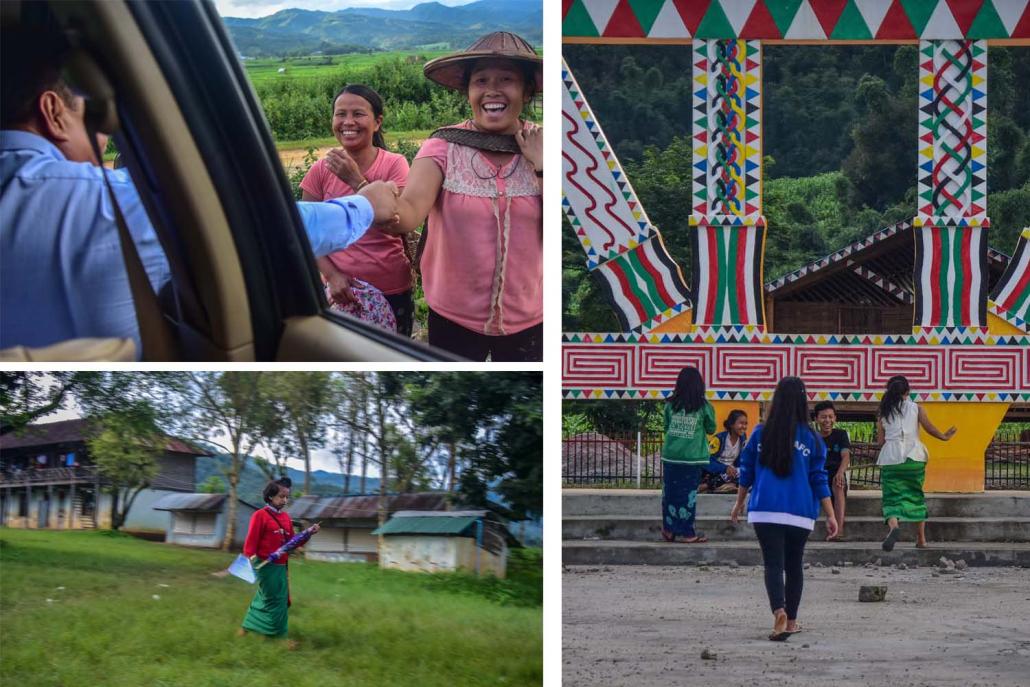 When Frontier arrived at the militia's headquarters, we met a group of village men in ordinary clothes who were curious to know what a visitor from Yangon looked like. There was not a uniform to be seen.
Aung Ja, who was also in mufti, asked his troops to get ready to present arms. The villagers dispersed to put on their uniforms and retrieve from storerooms some old, rusty rifles and a single rocket-propelled grenade launcher.
Aung Ja said they need to submit a request to the Tatmadaw if they want to upgrade their weapons; the militia had no right to buy arms without Tatmadaw approval.
"For now, we don't have to fight and we can still use these old rifles. There's no need for better weapons and we can instead use our budget to improve health and education," he said.
A former student activist from Namtu Township who went underground in 1988, Aung Ja seems to enjoy the respect of the townspeople. On a drive through the town, people of all ages waved to him.
Asked for his opinion about other militia groups in Muse, Aung Ja paused before answering.
"I don't want to say anything about them, but I feel very sad," he said eventually, before adding, "I will let history provide the answer."
About a week later, after Frontier had returned to Yangon, Aung Ja called.
"There's something else I want you to know, and whether you include it in the story is up to you," Aung Ja said. "Currently all militias have to wear uniforms with identical [People's Militia Force] insignia on both sleeves and a patch on the chest with the particular group's name. But we have requested permission from the Northern Region Command to wear our logo on one of our sleeves.
"We did this because we want to differentiate ourselves from other militias; we don't want the people to perceive us as being like the others."
TOP PHOTO: A member of the Mong Paw militia poses with a machine gun. It is one of around 10 Tatmadaw-backed militias active in the Muse area. (Kyaw Lin Htoon | Frontier)