Toddy palms are in sharp decline, a trend that's affecting production of the confectionary known as jaggery as well as the illegal tipple popular in rural areas.
By HEIN KO SOE | FRONTIER
Photos TEZA HLAING
IN MANDALAY Region's Patheingyi Township there's a thriving plantation of 20,000 toddy palms established about 165 years ago by Crown Prince Kanaung of the Konbaung dynasty, a respected moderniser killed in a failed palace coup in 1866 at the age of 46.
The plantation is about 10 kilometres from the royal palace that dominates central Mandalay and the palms, from which a cloudy sap is harvested to make the self-fermenting toddy, are owned by descendants of the workers ordered by the prince to plant the trees.
It's a pleasant location where families like to relax, often while sipping on toddy wine, an illegal tipple that is popular in rural areas.
U Khin Maung Win inherited more than 100 toddy palms from his grandfather, to whom ownership of the trees had been transferred from the prince.
"The trees are an asset and I've never thought of cutting them down as long as they are making money for us," he told Frontier.
The toddy palm (Borussus flabellifer) is found throughout Southeast Asia and the Subcontinent, where it is used for wine and a sugar product known as jaggery.
There are many references to the palms, toddy wine and jaggery in Myanmar art and culture.
In 1972, Ne Win's Socialist government printed a K5 note with a toddy palm on the reverse side. In central Myanmar, where the trees flourish, toddy wine is known as htan yae, which literally means "toddy water".
However, the trees are under threat in central Myanmar as increasing numbers are being chopped down, mainly because they are no longer generating income.
Research by associate professor Daw Kalayar Lu of the Botany Department at Mandalay University has found that the number of toddy palms declined by an estimated 50 percent between 2012 and this year, to about five million trees.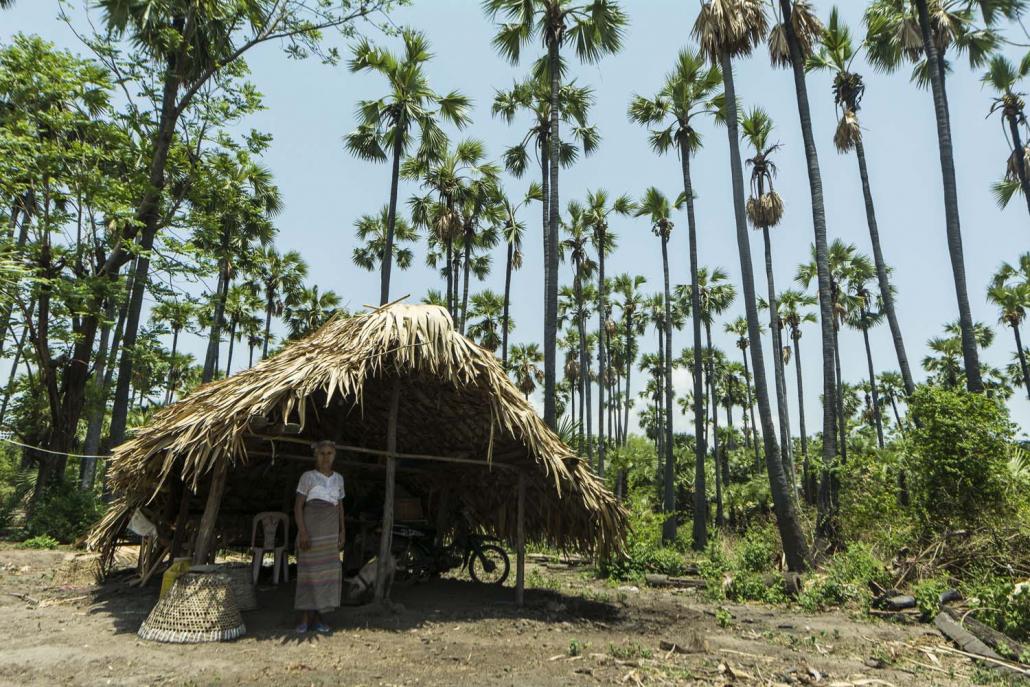 One of the reasons for the decline has been the enforcement by police of a ban on the sale of toddy wine, which is illegal under Section 30 of the Burma Excise Act, which punishes the illegal import "of excisable items", and carries a maximum sentence of six months in prison, or a fine, or both. The arrests of several people in central Myanmar in recent years for selling toddy wine has suppressed production of the popular tipple.
Toddy palm fronds are used to make roofing and the wood can be used for furniture, but the biggest effect of the decline has been on the production of jaggery, a traditional sweet in Myanmar that was once the main income earner for plantation owners.
Jaggery is made by heating toddy sap until it thickens. It is then cooled and poured into moulds of differing sizes. Deforestation has affected production because of a shortage of firewood. Toddy farmers say the cost of firewood is higher than the market price of the jaggery.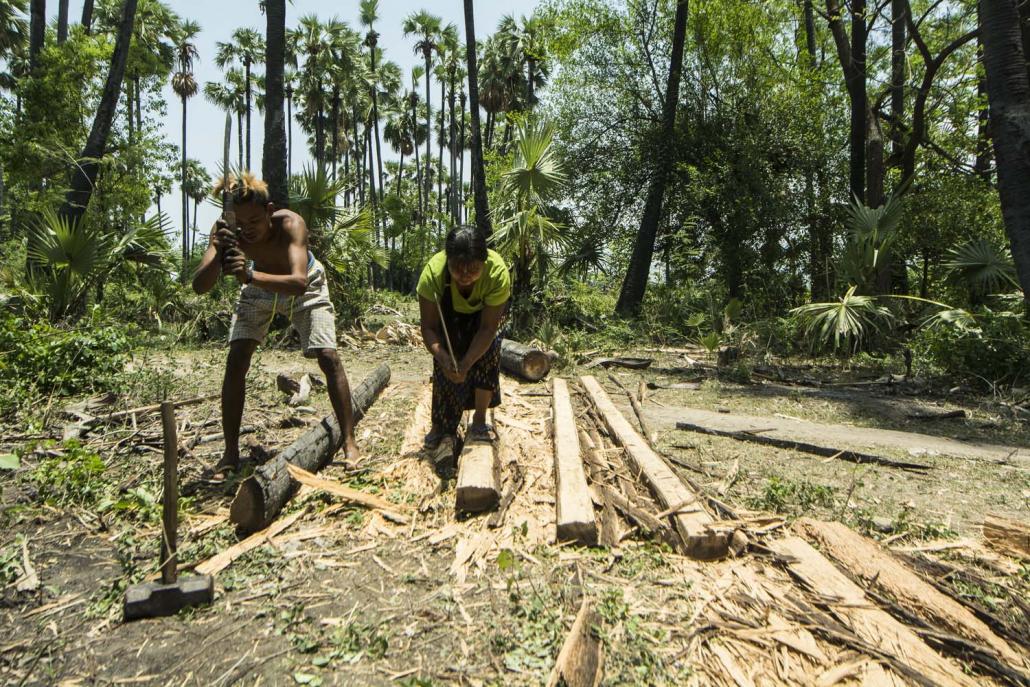 "When people are poor, they get so desperate they sometimes sell their children. So if we can't make money from the tree, we will cut it down," said a farmer who owns toddy trees in Kyaukpadaung.
For the past three months, the Palm and Palm Farmers Development Association has been providing advice to plantation owners at Mandalay Region's Kyaukpadaung Township, about 160 kilometres southeast of the former royal capital.
"There's no more firewood in the jungle, so we can't make jaggery any more. If we can't make money from our toddy palms we will have no choice but to cut them down and sell the wood," said U San Wai, who farms more than 50 of the trees at Yhar Tan Shae village, Kyaukpadaung.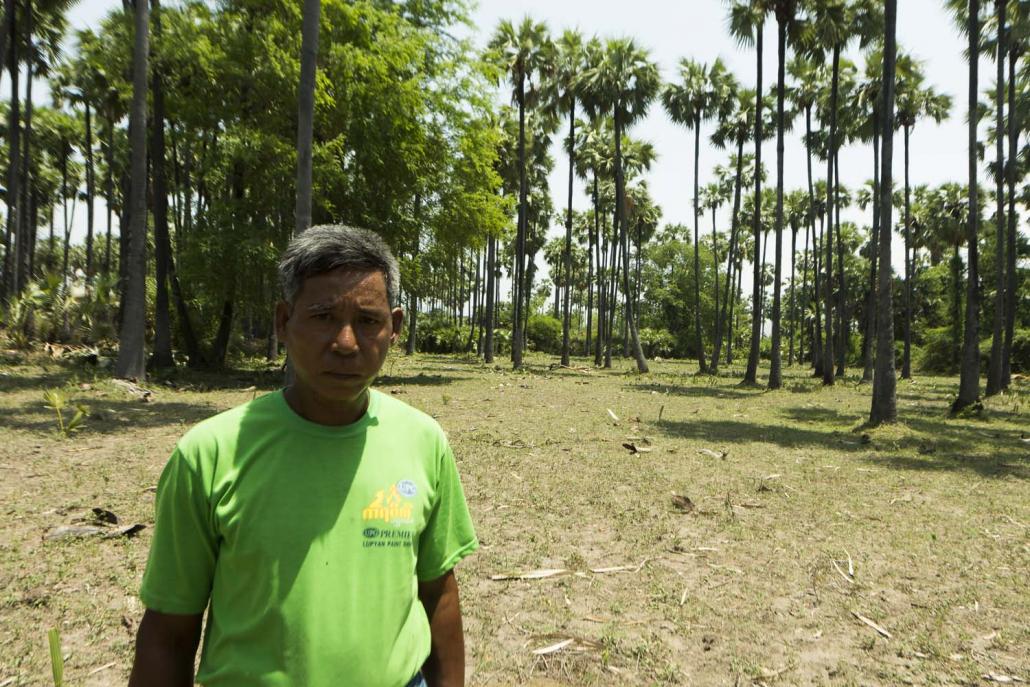 Further north, at Nyaung-U Township in which the Bagan Archeological Zone is located, Ko Yan Naing Soe has a plantation of about 4,000 toddy palms but is only able to earn income from 100 trees because of a labour shortage. The nearest village has only five men with experience in tending toddy palms, Yan Naing Soe said.
"We have to pay more money for workers because of the shortage in the last four years," he said, adding that the loss of workers was mainly due to them finding different jobs, such as motorbike taxi drivers or construction workers, that provide a higher income.
"If toddy palms are not making money their owners may have to cut them down to sell for their livelihood, because people cannot make [jaggery] from them," Yan Naing Soe said.
The uncertain future of the toddy palm industry was raised in the Pyithu Hluttaw by Dr Hla Moe (National League for Democracy, Aung Myay Thar Zan) in November 2017.
He asked if there were plans to support toddy palm farmers and their workers and to prevent the destruction of plantations.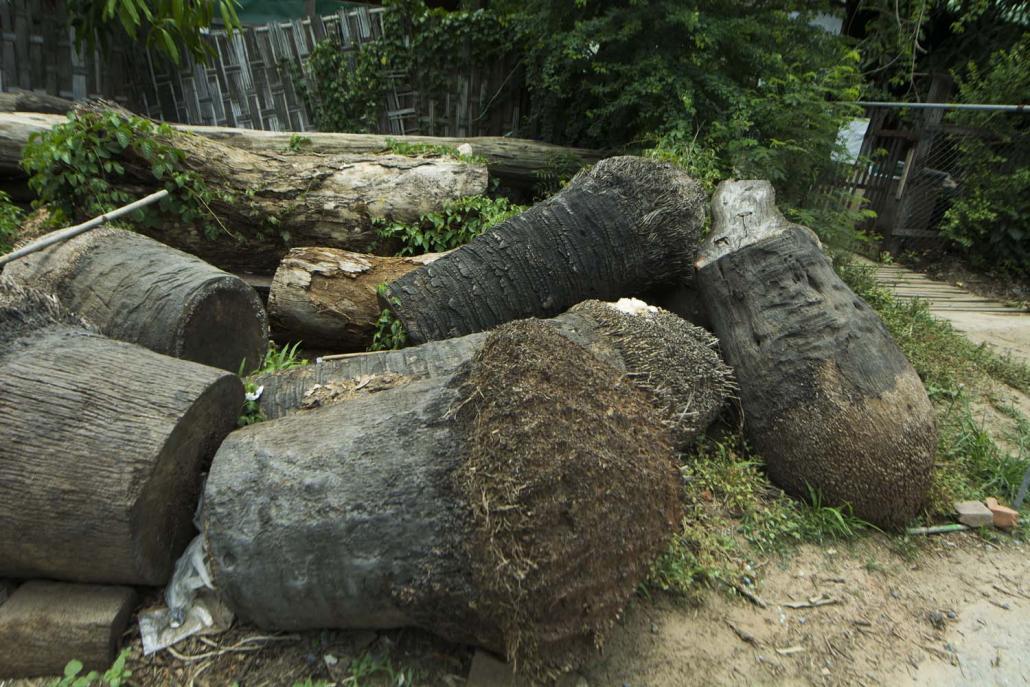 Hla Moe said the Ministry of Agriculture, Livestock and Irrigation has offered to support the industry by providing funding for a new "collective" of palm workers pooling their resources, but that many workers had rejected the idea because they could make more money doing different types of work.
Toddy palm farmers who have no choice but to clear their plantations can expect to receive between K15,000 and K25,000 for trees that have taken up to 40 years to grow.
Kalayar Lu said that as well as the labour shortage, another factor contributing to the destruction of plantations was the use of palm wood to make furniture because it was more attractive than some other timber.
A sculpture made from toddy palm timber attracted attention at an exhibition of wood furniture in Mandalay last year. It was sculpted by U Soe Soe Win, a resident of Mandalay's Amarapura Township, who told Frontier on May 21 that a government official who visited the exhibition had praised the sculpture and said it showed the potential to be exported, presenting an opportunity to make value-added products from toddy palm trees.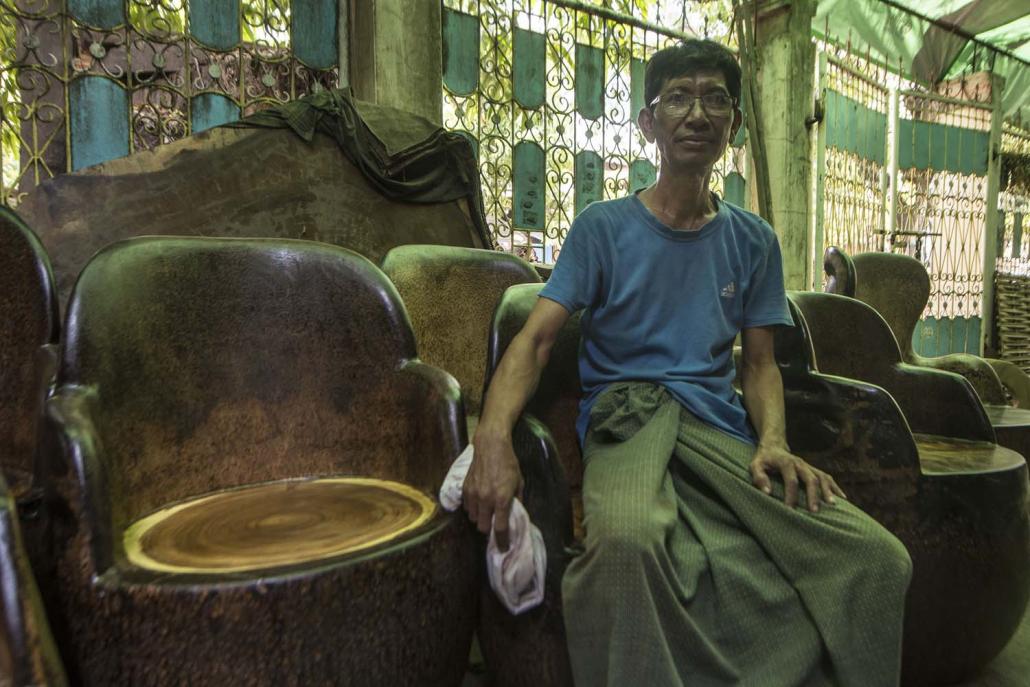 Soe Soe Win, one of few known sculptors who work with toddy palm wood, said he acquires the timber from a broker who buys it at Kyaukpadaung, Myaing in neighbouring Magway Region and elsewhere in central Myanmar.
A factory established at the Pakokku industrial zone in Magway two years ago is making toddy palm wood furniture for the domestic market and export to China.
Magway Region MP U Zaw Moe Lwin (NLD, Pakokku-2) has visited the factory as a member of the assembly's environment and natural resources committee.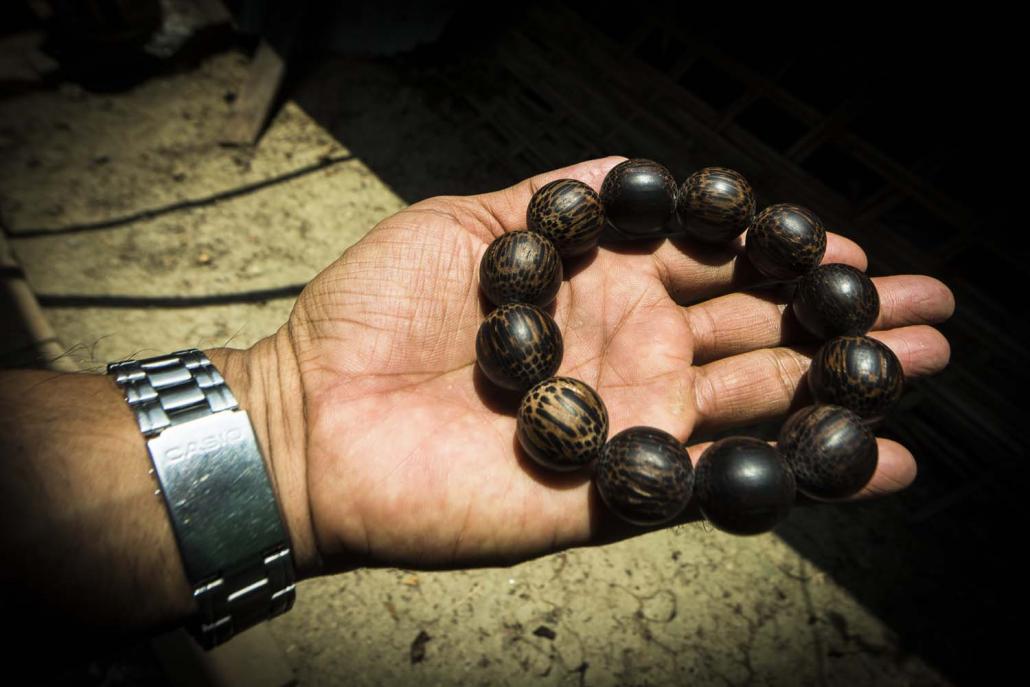 "We visited to see the furniture, not to stop their business. We need to see how we can both protect their business and prevent deforestation happening," he said.
Zaw Moe Lwin said the committee intended to propose in the assembly a plan aimed at providing legal protection for toddy palms, though he acknowledged it would take time to prepare.
Khin Maung Win in Mandalay's Patheingyi Township said a national plan was needed "urgently" to provide legal protection for toddy palms.
As well as helping to raise the income of toddy palm farmers, such a plan was also needed to preserve a tree that has long played an important role in the country's agricultural sector, he said.
TOP PHOTO: Teza Hlaing | Frontier