By ATHENS ZAW ZAW | AFP
YANGON — Standing stock-still, right arm outstretched, eyes unblinking, Myanmar's only Olympic qualifier squeezes the trigger and sends a pellet slamming into a paper target — a skill honed during military service in the formerly junta-run nation.
Ko Ye Tun Naung, 33, is gunning for a medal in Rio this summer, where he travels as an outside bet for a podium finish in two pistol shooting events.
A medal would be a first for his impoverished Southeast Asian nation, which was run for decades by a junta that lined its pockets while all other areas of society — including sport — shrivelled.
But in a twist of fortune, the junta years accidentally unlocked Ye Tun Naung's hidden talent.
He stumbled upon a knack for shooting during mandatory target practice sessions in the navy, an institution he joined to escape poverty and a lack of jobs in central Myanmar.
He first picked up a pistol in 2005, stunning more experienced military marksmen with victories at naval competitions.
Now more than a decade later sport's greatest stage beckons as he travels to the Brazilian mega city of Rio de Janeiro to compete in the 10 and 50 metre air or 'free' pistol events.
"It's not easy to have a chance to participate in the Olympic Games and it's very difficult to win a medal," he told AFP, as he carefully packed his Swiss-made pistol into its case after a practice session in a downtown Yangon shooting range.
"I am hoping for the best. But this is a sport where mentality is key to success … even the best cannot be sure how they will perform on the day," he added.
Mind and body
The discipline, which has been a part of the modern Olympics since its inception, sees shooters fire 60 times at long intervals.
It is sport requiring an almost meditative control of body and mind, Ye Tun Nuang explains, relying on a dead eye, perfect control of breathing and ice cold nerves.
"The decision must be certain and the mind must be stable," Ye Tun Naung explained.
"Some people meditate and some do yoga, but for me mostly I read books," said the shooter of his extra-curricular training.
"If you don't concentrate, you can't get the meaning of a book. I read to train my mind to find the concentration I need to shoot."
While six invitation spots have be gifted to Myanmar athletes, he is the only one who will represent his poor, newly emerging country on merit having qualified through a runners-up spot in a World Cup event in South Korea last year.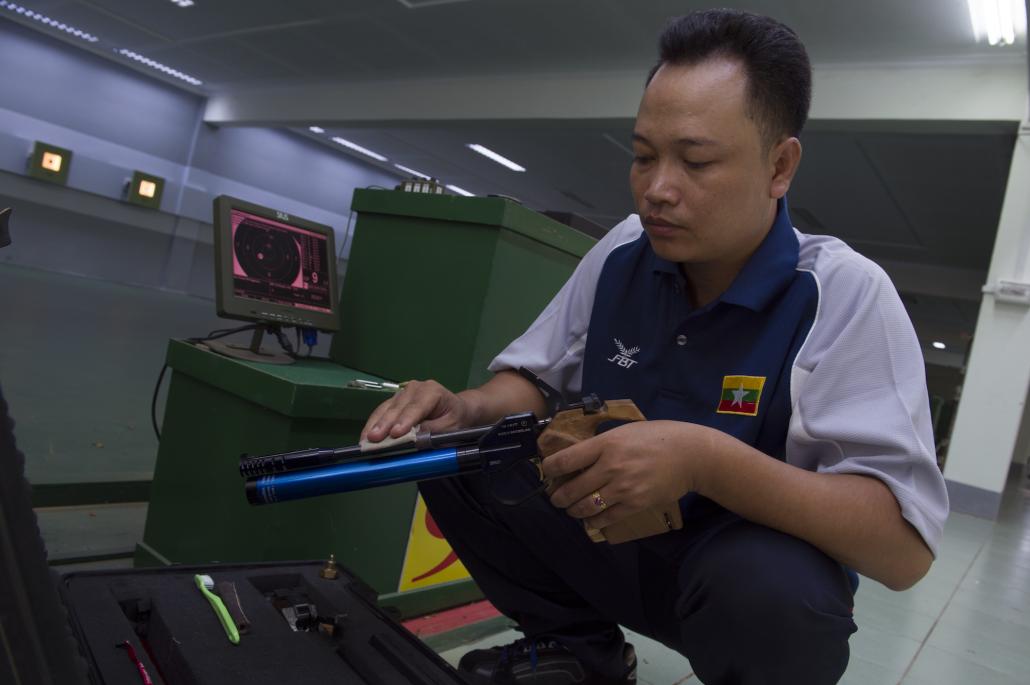 It will be the high point of a journey from young sailor to the Olympics that is made all the more remarkable as its originates in Myanmar.
The Southeast Asia country is one of the world's poorest nations and its sporting infrastructure was all but rubbed out by neglect under its venal and paranoid junta, which cut the country off from the world.
Before the rot set in, Myanmar was something of a regional sporting powerhouse.
The mid-1960s saw the 'golden age' for the country's football, with Myanmar adding triumphs in the 1966 and 1970 Asian Games to victory at five consecutive editions of the Southeast Asian Peninsular Games.
But the money for sports evaporated, leaving athletes, trainers and facilities to wither.
"Myanmar faced difficulties for many years and the sports sector was weak. Students for example could not practise any sport at a decent level at school," explained Sein Myo Myint, formerly a famous volleyballer and now a prominent sports journalist.
"New talented generations could not emerge," he added.
Elections last November saw the country edge out of the military's shadow with the government of Aung San Suu Kyi take over.
Sport is now creeping back into the life of the country with promises of greater investment to match a newly found national confidence.
But it will take some time for money to trickle down and until then Myanmar's sportsmen and women will have to sharpen their skills on their own.
For Ye Tun Naung that means honing his concentration — and self-belief — in his down time.
"People watching might think shooting is boring … but my mind is at peace when I shoot," he added.