By JARED DOWNING | FRONTIER
Filip Lauwerysen is the newly-appointed executive director of EuroCham Myanmar, an organisation funded by the European Union that was launched in Yangon last year to promote trade, commerce and investment. Lauwerysen was previously commercial counselor for the Netherlands at its consulate in Guangzhou, southern China. He sat down with Frontier to discuss strategies for attracting new investment, competing with China and working with the National League for Democracy government.
Why did EuroCham open a Yangon office? Was it because of the relaxation of sanctions, Myanmar's promising economy, or a combination of the two?
Yes, it is a combination. Our primary focus is to help European companies succeed in entering Myanmar. Why are we doing that? Because we want to increase employment in Europe and Europe has been facing a lot of challenges. Our goal is to help EU member states who are engaging actively in helping internationalise their respective companies and in particular their SMEs. In this respect, Myanmar is a very interesting frontier market.
Are there economic sectors in which EU companies are particularly interested?
I think Myanmar is, let's say in a geopolitical context, very interesting for European companies. It's a huge population, a huge potential in various areas. Energy is getting a lot of attention, but you can see already much more investment in other areas like agriculture. The area of farmland is very big.
But China is becoming a major competitor in the region for Europe and also other countries like Japan, Thailand and Malaysia. Of course my opinion is biased, but … I think the benefits for the people here by opening themselves up to European investments are very, very big.
When you look at what happened in China, you can see what investment can do to a country. [It] can change the whole skyline, can create a middle class, can really boost the country into the global scene. The question is, will the NLD and the new government also share this idea, this value?
Is the new government receptive to EU investment?
Yes. I've met with a few ministers. They seem very willing to diversify their [sources of] investment. They don't want to become too dependent on trading with one country.
That country being China?
Well, that was not quoted. But also for environmental reasons and many other reasons they want to diversify their investments, and Europe is definitely viewed as one of the major options.
How does EuroCham help EU companies compete against Asian counterparts?
What we want to do is make things easier for the investors to group companies in working groups, committees and focus groups, and then translate their policy advice into papers and recommendations that we would communicate to the new government, showing best practice from a European point of view.
What do these best practices involve?
When you enter a room in Myanmar, you will practically see six different plugs in one room. When talking about cars, one car has the steering wheel on the left side, and the next one on the right. In terms of standardisation there is a lot to be done, and I think Europe is very experienced in this and could be of much help here. By providing a platform as a chamber, we can help the companies communicate recommendations to the new government, creating a private sector dialogue for the new government.
Again, we cannot guarantee the government will listen to us. They don't have to … but if I could have a message to the Myanmar authorities, it would be that the country could really benefit from European-style investment. [European companies] hire locally, they train locally, they localise as quick as possible because expats are expensive. It's not like with many other Asian companies where when they invest, they bring their own people. European investment is very different: "Localise as soon as possible, train people, and this will save costs and create a lot of jobs."
Who has been more cautious about doing business in Myanmar, the government or European companies?
I would say European companies coming to Myanmar. Europeans want stability and peace… This makes European companies very careful to enter Myanmar because Myanmar still has a lot of work to do in terms of changing their investment climate image. In the corruption index, Myanmar is among the worst countries, although they have moved up the chain very quickly. But still, it's viewed as a risky place to do business.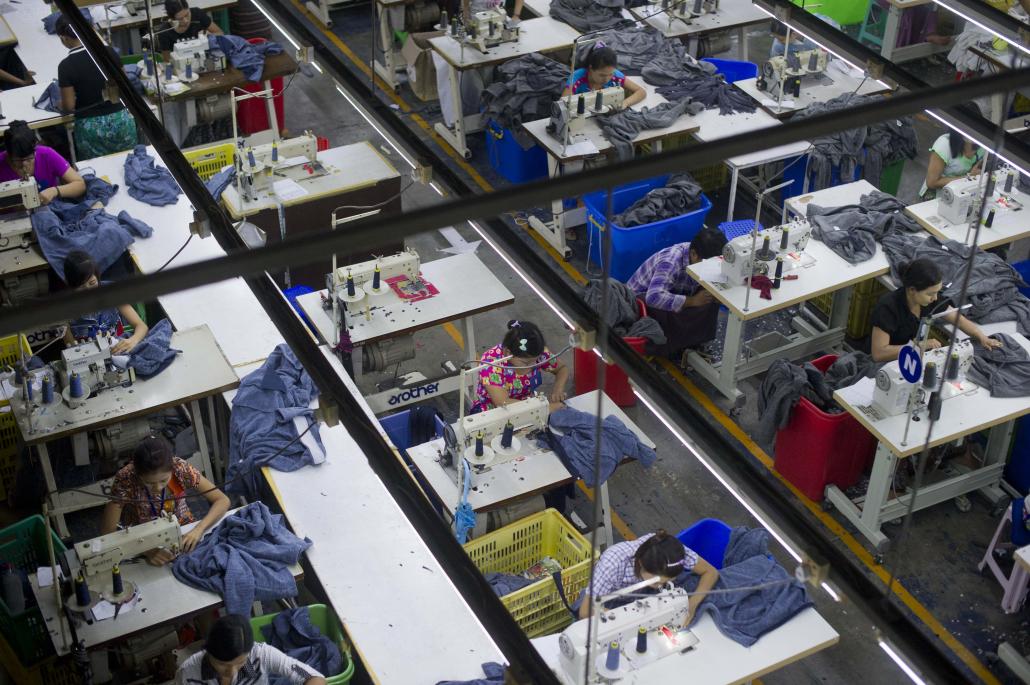 How do you reassure timid investors?
We should be honest. If we see an opportunity, we will tell them about it and at the same time explain the risks involved. And if we see positive changes and responses from the Myanmar government creating opportunities, we will communicate this as such. But we will reflect it as it is. We are not a development organisation. Again, we are here to help European companies succeed.
Are there any investments that EuroCham Myanmar would discourage?
We discourage, of course, anything related to defence, to arms, and also there's a number of sectors that are really in the grey zone of transparency; timber exports and gems. We are not encouraging investment in these areas.
What advantages do EU companies keen to invest in Myanmar have over competitors in the United States?
Well, United States there are still sanctions, although they are not as heavy as they used to be. So there's one.
Doesn't the EU have sanctions?
Yes, on arms. The EU is often a little bit careful, but in this case, Europe is the first one to lift [sanctions]. Now in Vietnam the arms embargo is lifted by the United States, which also signals the role of China in the region and that they're trying to counter this.
Have you learned any lessons from those offices?
Yes. It will take some time to build networks. I think what we can learn from Vietnam is [how to operate when] the capital is far from the business area. The business is in the south, but in Nay Pyi Taw the decisions will be made. So I think here there will be some challenges logistically to tap into that. We will probably have to build some representation there as well.
Apart from moving the capital back to Yangon, what can the NLD government do to make it easier for new companies to invest?
Hah! It's very important to make an investment-friendly climate. Companies should be able to send their expats to set up businesses, so the localisation should come in steps, it shouldn't be forced on the companies. It should be a natural economical reaction coordinated by the companies themselves.
China was, for instance, very successful at creating the perfect landing for foreign investment. They had, and still have, one-stop services and designated areas for foreigners. They had clear, transparent visa regulations. They had as many things as possible; good hospitals, good schools where foreigners can send their children.
This kind of infrastructure is crucial for attracting investment. The financial sector, there is huge need to improve that. Also housing costs are really high. All these things need to change if they want to attract foreign investment.
And peace. Investors like peace. They don't want to have their company photographed in some ethnic conflict. They want to show to the shareholders that they are investing in a safe and stable area.
Are you optimistic for Myanmar?
I think a lot will depend on the new government. I am optimistic. I have faith in the new government, they really want change. Ministers I have met strike me as really candid and honest people. They really want to change things for the good. But there's a lot of questions that have to be answered on their plans. We have only the [NLD] manifesto, where there are some lines on business and economy, but other than that there is not much at hand. We hope to engage in dialogue and get some answers.
There's an investment protection agreement being finalised between Europe and Myanmar. We really think this agreement will benefit both sides. An agreement itself will not guarantee that there will be new investors, but it will help.
What's your prediction for Myanmar in the next five years?
I think Vietnam is a very interesting example. Twelve years ago, I saw a city [Ho Chi Minh City] that looked to a certain extent like parts of Yangon. I was very surprised to see it after 12 years…what they have achieved in building a beautiful area for their citizens by tapping into the opportunities given by foreign investors. And now Vietnam is one of the big investors in the surrounding countries, competing with Europeans.
So the question is, will Myanmar succeed in doing the same? Or will they slip into corruption and a more chaotic situation that scares away investors?