By RJ VOGT
YANGON — Two minutes into the fight, and Myanmar's favorite son stalks his prey: in this case, an MMA world champion on his back.
Aung La Nsang has just belted ONE Championship middleweight titleholder Vitaly Bigdash with a savage uppercut, throwing a left hook seconds later that sends Bigdash sprawling.
Now the roar of more than 8,000 sweaty fans in Thuwunna Indoor Stadium begins to build. Aung La Nsang climbs into a ground and pound position, straddling Bigdash and raining down alternating fists in a tantrum on the man's face.
"One, two, three, four, five, six, seven, eight, nine, 10 – I had to count in my head, ya know?" Aung La said at the post-fight press conference, grinning as he remembered the moment. "To make sure I didn't burn out. There was a thought process there, making sure I didn't get overly excited."
The patience paid off, as it would eventually take five five-minute rounds and a judge's decision to declare Aung La Nsang the winner in his rematch against Bigdash at last night's ONE Championship "Light of a Nation" event.
The victory makes him the first Myanmar national to win a major MMA world title, and more broadly, the most successful individual Myanmar athlete on the international stage.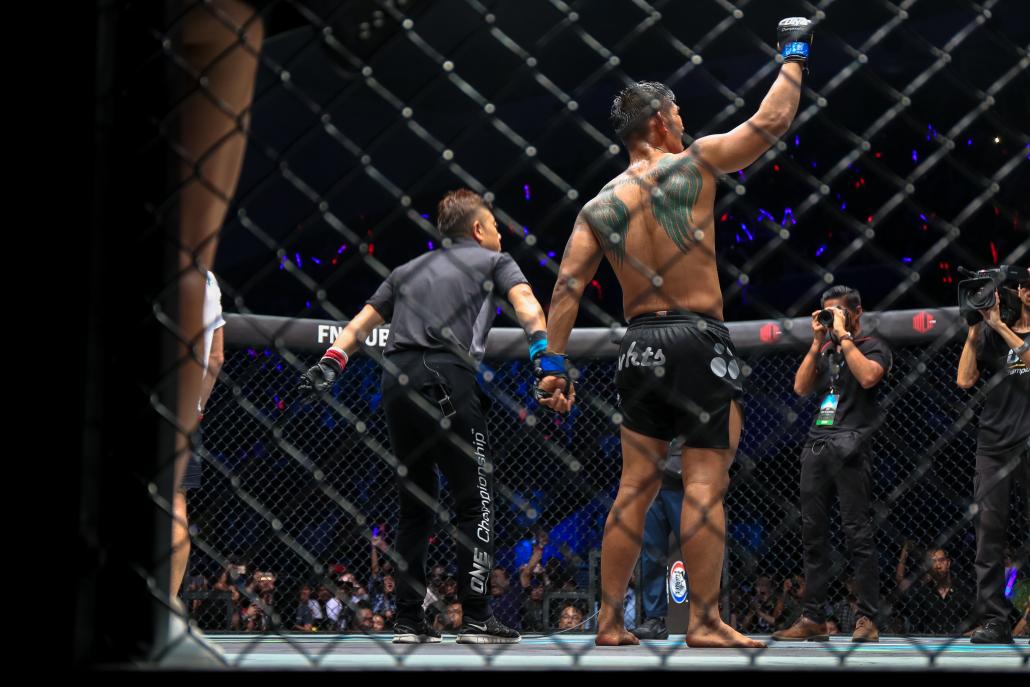 "I'm not talented, I'm not good, I'm not fast," he said through tears immediately after winning. "But with you [pointing to the crowd] I have courage, I have strength. I have what I need to win the world title."
More than three quarters of a million people watched the fight live on Facebook, with many more watching on television or gathering at local beer stations, and casual MMA fans tuning in from 118 countries around the world.
In Myitkyina, the Kachin State capital where Aung La Nsang was born, hundreds of refugees at the Mai Na IDP camp clustered around a projector screen to see him fight.
Aung La Nsang delivered $6000 worth of aid to the camp earlier this year, and in footage of the watch party shared online, little girls can be heard shrieking with terror whenever their hometown hero seems to be in trouble; after he is declared the winner, the entire camp erupts into jubilation.
A tone of relief underscored the joy at the camp and in the stadium, where a crowd unaccustomed to MMA rules had no idea which way the judges would score the fight.
Bigdash had appeared to have the upper position for most of the second and third rounds, managing multiple takedowns and forcing Aung La to play defense. But for all the time Aung La spent pinned against the cage or mat, he made up for it by tagging Bigdash with consistently accurate striking across all five rounds.
"I avoided all the damage, except for this one right here," he said in reference to the bandage over his right eye. "But the game plan for this fight was to keep it at striking distance."
The strategy catered to ONE's unique rule set, which is drastically different than the UFC and many other MMA promotions. In ONE, judges do not use an official point system or judge each round individually, instead scoring the bout in its entirety.
ONE's judging criteria also ranks damage and striking as more important than takedowns, two more factors that may have helped Aung La Nsang earn the unanimous decision.
Soon Aung La Nsang will look to defend the belt – "I'll fight anybody," he said, immediately after the fight – and some online commentators have already predicted a rubber match between the two middleweights that have split their first two match-ups.
But until then the "Burmese Python" can revel in his historic place as Myanmar's first champion.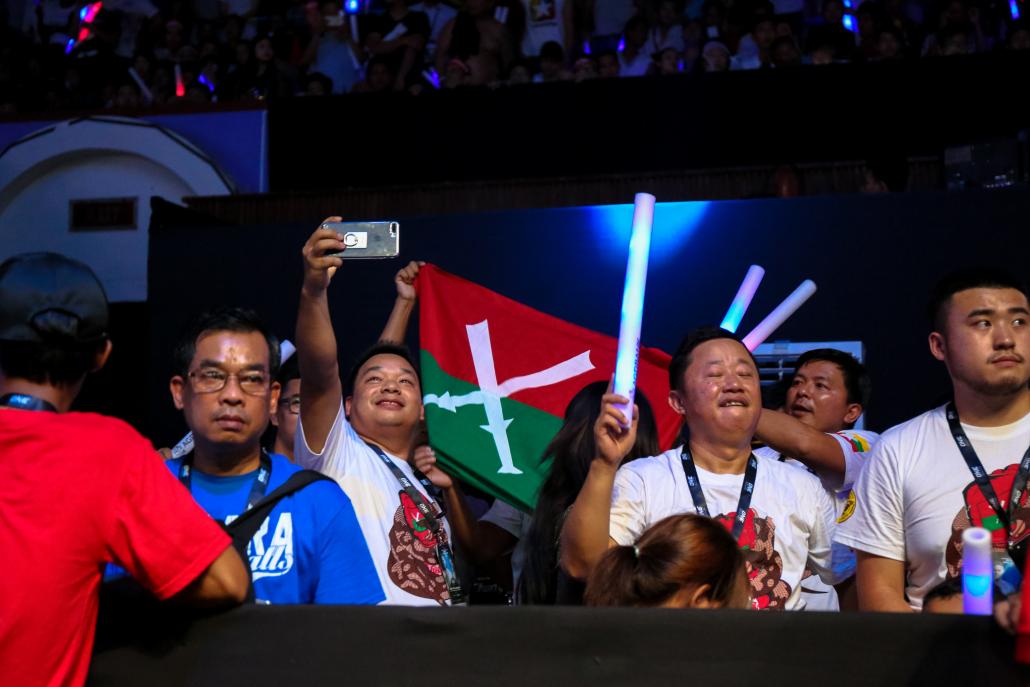 Victor Cui, ONE's international CEO, told media that Aung La's achievement represents a foothold for MMA in Myanmar. Champions attract interest, and when he first started talking about bringing ONE into Myanmar, Cui said he asked himself: "How can we find a way to build a world champion here?"
It's part of ONE's company mission. Asia's largest MMA outfit has made a pointed effort to develop regional superstars in each of their native markets, promoting fighters like Filipino Jimmy Yabo and Japan's Mei Yamaguchi, both of whom also fought on the undercard at "Light of a Nation".
This type of grassroots, national-pride approach appears particularly effective in Myanmar. Leading up to the main event, opportunistic vendors sold national flags and stickers outside the stadium. A pair of sisters wearing Myanmar flag stamps on their cheeks told Frontier that they'd never come to an MMA fight before.
"But Aung La is Myanmar," they said, fists in the air. "He is our fighter!"
And yet he leaves in a few days – the Myanmar national hero will return to his home and family in the United States, where he has lived and worked since moving there for school in 2003. He'll go back to his day job at the Crazy88 gym, teaching kids jiu-jitsu and Muay Thai and waiting for a chance to train for another fight.
This time, it'll be him with the belt to protect.