Mixing competition with social camaraderie, Brazilian jiu jitsu is winning a dedicated following amongst aspiring grapplers from Yangon to Lashio.
By TOM SANDERS | FRONTIER
Two figures in white cotton suits are locked together, limbs interlaced. The only sound is heavy breathing, and the mat is soaked through with sweat.
With a sudden twist, one is tossed to the ground. As he falls, he pulls his opponent forward and wraps a leg over his head. He adjusts his position, leans back, and breaks the posture of his opponent, locking his legs over his head. This technique, a triangle choke, compresses the arteries on either side of the neck, cutting off the blood supply to the brain.
Only seconds from suffocation, the trapped figure taps his hand on his opponents arm. The choke is released instantly and the partners grin, slap hands and prepare to engage again.
Scenes like this are playing out from Lashio to Yangon. Offering a combination of self-defence, social camaraderie and bracing competition, Brazilian jiu jitsu (BJJ) has gripped Myanmar's gyms and shows no signs of letting go.
Mixed martial arts (MMA) aficionados will already be familiar with BJJ, which emphasizes chokes, submissions, and controlling the opponent's body on the ground. The style has its roots in Japanese traditional martial arts such as judo, but was adapted and, some would say, improved by the Brazilian Gracie family, who put the B into BJJ and created a deadly new fighting style.
The Gracie family was so confident in the supremacy of BJJ that they created a "Gracie Challenge", offering cash prizes to fighters from any style who could defeat them in one-on-one combat. This "open invitation" eventually evolved into today's Ultimate Fighting Championship, where fighters from any art can compete. The prominence of BJJ within MMA has contributed to a global following. This has spread to Myanmar, where striking arts such as lethwei have traditionally dominated.
"It's a very complicated sport, and it takes time and commitment to become skilled. But if you stick around, it can be one of the most rewarding things you do for yourself," says Joey Kyaw, owner of Transcend Fitness in downtown Yangon, which runs BJJ classes six times a week.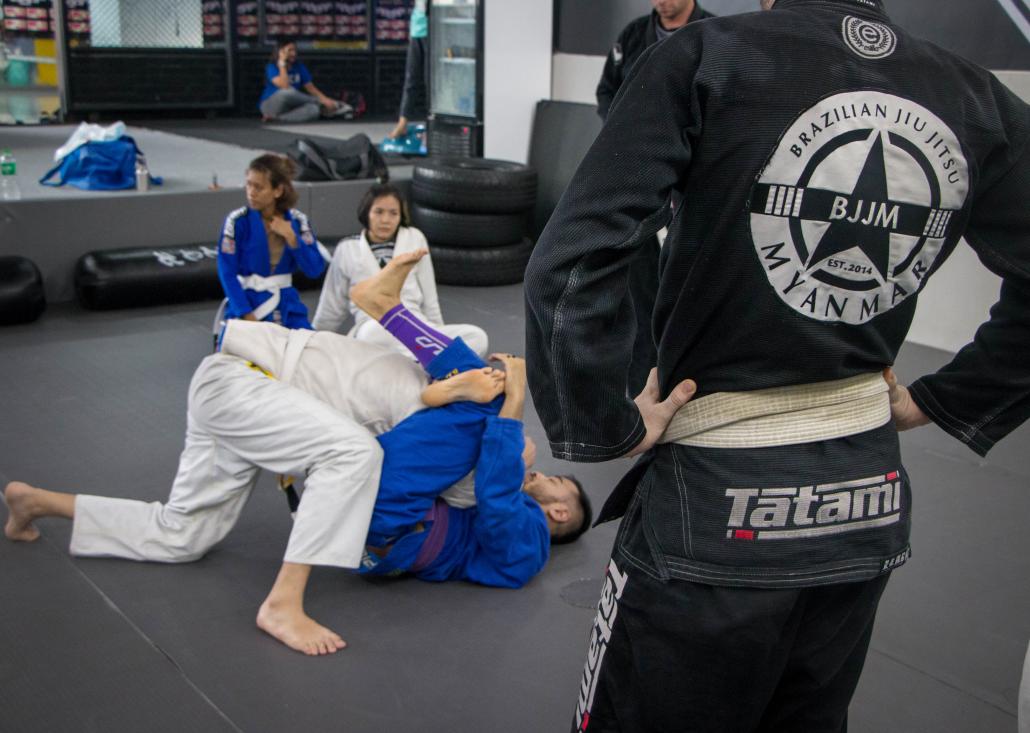 At the Transcend gym, members from Myanmar, the UK, New Zealand, Japan and Singapore train shoulder to shoulder. Visiting masters from other countries often drop by to share their expertise, creating a lively and friendly community that welcomes new members.
This friendliness helps because BJJ training can be tough for new students. The first few months usually consist of hanging on for dear life and learning to deal with the claustrophobia that skilled practitioners can inflict.
BJJ doesn't require remarkable athleticism or bulging muscles; the main requirements are humility and patience. A smaller grappler can defeat a larger one with superior technique, outthinking their opponent with strategies that more closely resemble chess than brute violence. As such, BJJ attracts men and women of all sizes, ages and backgrounds. And while the difficulty in learning the martial art leads to a high attrition rate, for Joey it explains why people are attracted to it.
"There's so much to learn that the martial arts benefits are actually amplified. Like discipline, patience, calmness and a sense of closeness with your training partners," says Joey.
The experience of being effortlessly controlled and submitted by smaller, less physically imposing opponents sends some students scurrying for the door, but for others it's what makes the sport so addictive. An emphasis on live sparring teaches students to thrive under pressure, as they learn to both escape from and control their opponents, while being always a hand tap away from release and safety.
McCulloch Sakuhei, popularly known as Mac, is a BJJ purple belt and owner of the Yangon RAW gym, where Myanmar MMA star Aung La Nsang taught grappling classes in a charity seminar in December. Mac's coaching helped a BJJ Myanmar team return from the Copa de Bangkok tournament earlier this year with several medals, and his no-nonsense teaching style has made him popular with the BJJ Myanmar team.
Unlike muay thai or lethwei fights, which attract spectators who are often eager for drama and violence, BJJ tournaments are relatively low on theatre. Strategy and physical conditioning are the keys to victory, and while dramatic finishes do occur, the action can be slow for spectators unfamiliar with the sport's intricacies.  But while fans of flashy knockouts may want to look elsewhere, the gruelling experience of competition has created a tight bond between members of the BJJ Myanmar team, who are hungry for future opportunities to represent Myanmar in BJJ.
Mac advocates BJJ as a martial art suited to competitive people who want to avoid getting injured.
"At first it's tough. But about three months in, you start figuring it out. And because you don't have to worry about head trauma, like boxing, you can practice with 100 percent intensity," he says.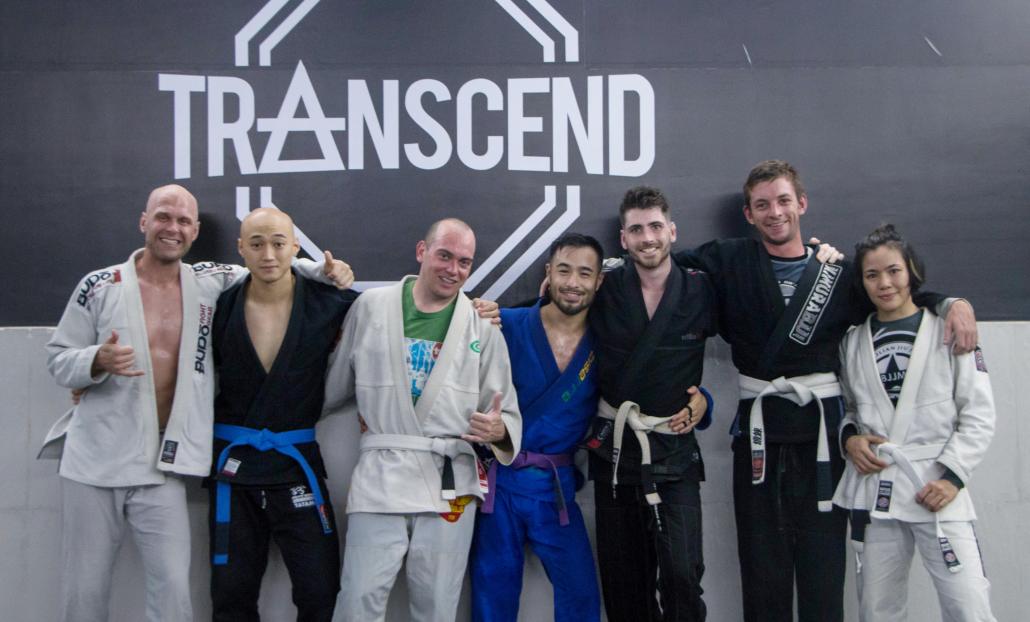 MMA fighter Phoe "Bushido" Thaw is no stranger to intensity. He was on a six-fight undefeated streak before he collided with Keanu Subba at a ONE Championship MMA contest at Yangon's Thuwanna Indoor Stadium in October. Subba won in the first round with a guillotine choke, a BJJ technique that took striker Phoe Thaw by surprise. It was the first defeat for the Myanmar national. Speaking in his Yangon gym, Phoe Thaw explained how this had promted him to overhaul his approach.
"I will never forget that moment. That two seconds gave me the best motivation in my life," he told Frontier.
The no-holds-barred style of MMA requires fluency in a universal range of fighting styles. Phoe Thaw now believes that BJJ is essential for victory.
"MMA has two options. If I go inside the cage with only one option, it's already a 50 percent possibility I will lose."
Phoe Thaw has since enlisted the services of Japanese BJJ veteran Shunichi Shimizu, who took up residence in his gym in December. Shimizu will be teaching not only Phoe Thaw, but also four aspiring fighters – three men, one each from Kachin and Kayah states and Magway Region, and one Karen woman. This hungry new generation of Myanmar MMA warriors have been drawn to Phoe Thaw's gym by his open and inclusive approach to training, and the future of Myanmar MMA largely rests on their shoulders.
BJJ is also an effective method of self-defence. Mark Brown, a lecturer at Yangon University and a BJJ blue belt, previously lived in Lashio. While in the northern Shan State town, he began teaching local women BJJ to defend themselves from attack.
Word spread around Lashio of the foreigner and the new style of fighting that he was teaching, and soon Mark found more and more men turning up to his class. Now that he has returned to Yangon, he still enjoys the occasional visit from the young men and women he knew in Lashio.
The women fighters of Lashio, Phoe Thaw's team and the combatants at Transcend have all come to BJJ for different reasons. BJJ may be for anyone, but it's ultimately not for everyone. The difficulty and struggle involved will put many off. But for the dedicated few, the ground game has only just begun.
Where to train
Transcend Fitness – Level 5, Junction Mawtin; 09-9689-68675
Raw Yangon – 132 A, Inya Road; 09-2553-19431
TOP PHOTO: Strategy and physical conditioning are the keys to victory in Brazilian jiu jitsu. (Thuya Zaw | Frontier)