Yangon holds its first municipal elections in more than 60 years with universal adult suffrage, but most residents stay shy of the polling stations.
By SU MYAT MON, YE MON, MRATT KYAW THU, KYAW LIN HTOON and BEN DUNANT | FRONTIER
YANGON — Hundreds of thousands of voters – and possibly more than a million – cast ballots today in Yangon's first municipal elections in more than 60 years with universal adult suffrage, but quiet polling stations and a subdued atmosphere suggested a low turnout was likely.
While official turnout figures have not yet been released, many residents appeared to have ignored appeals from candidates and officials – in some cases using loudspeakers – to exercise their democratic right.
Voters interviewed by Frontier around Yangon expressed hopes for a better-managed city under a democratically elected Yangon City Development Committee, as well as some exasperation toward fellow city residents who did not vote.
Residents who chose not to vote told Frontier that they were either not interested in municipal affairs or had little faith that voting could help to overturn what they saw as the lazy or corrupt nature of city governance. Some, however, explained that they were registered to vote in parts of the city were far from where they live or work. There were also isolated reports of a significant proportion of voters in some neighbourhoods being left off the voter list.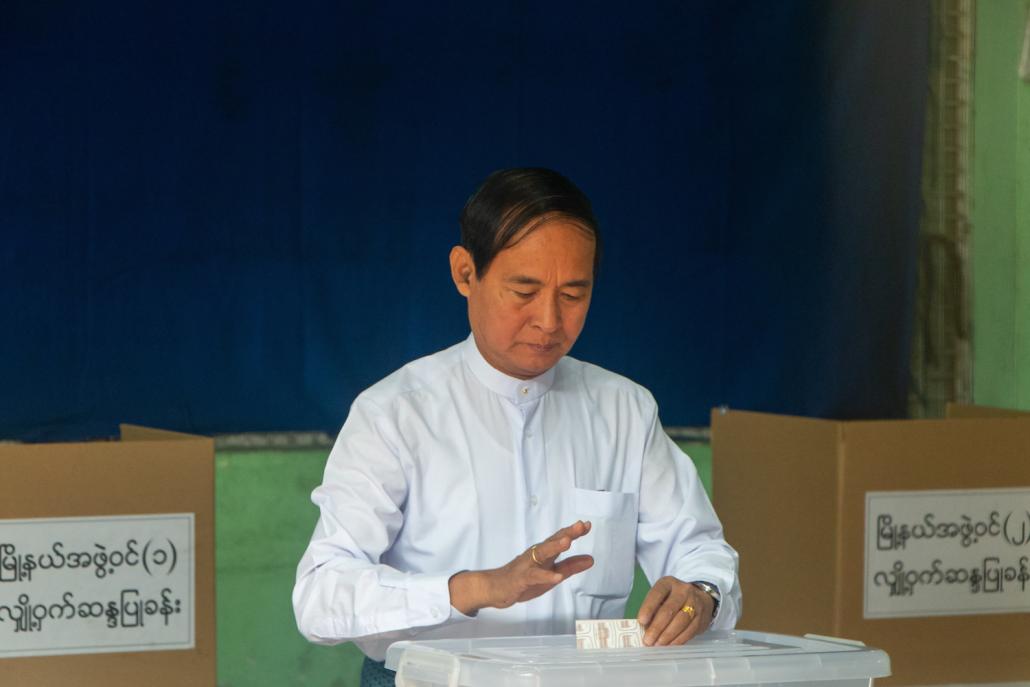 Four ballots, two-year terms
Voters could cast four ballots: one for an elected seat on the central YCDC executive committee, which has six seats that correspond to different areas of Yangon; and three votes for the local township municipal committee, including the chair.
Five of the 11 members of the executive committee will remain appointees of the Yangon Region government, including the chairperson, who holds the title of Yangon mayor. Two of the five members of each township committee will also remain unelected. While the Yangon vice mayor will be chosen by committee vote from among the six elected executive members, the position lacks clearly defined powers.
The winners in the contests for the municipal committees will have to re-contest in two years' time, because the new Yangon City Development Law enacted last year synchronises the terms of the YCDC bodies with that of the regional government, which will end in March 2021.
In the last Yangon municipal election in 2014, only one person per household was allowed to vote, similar to elections in other municipalities in Myanmar, and party endorsements and campaign posters were banned. Turnout was around 25 percent, with barely 100,000 people bothering to vote.
This election, any citizen aged 18 or over who could prove a year's residence in Yangon was eligible to vote. Both the National League for Democracy and the Union Solidarity and Development Party fielded candidates alongside a number of independents, and several candidates ran high profile, expensive campaigns.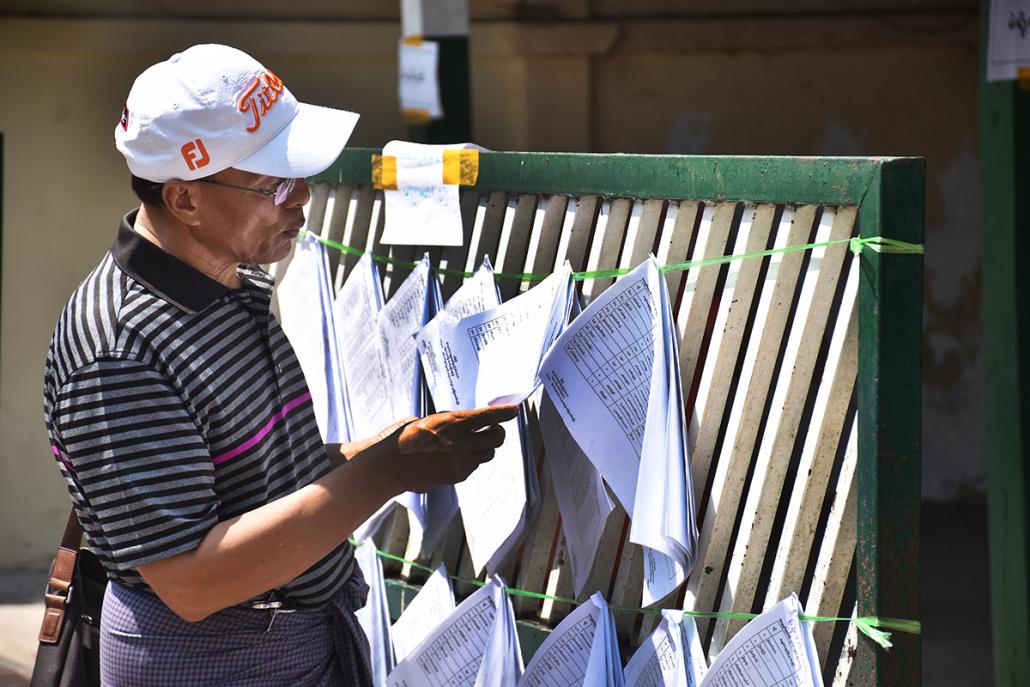 'I wish others would vote'
Frontier found that the opportunity to vote in a historic and hotly contested city election had been embraced eagerly by some. Daw Kyi Thein said that she had come to vote to at the No.4 Basic Education High School in Botahtaung Township because she believed it was her responsibility as a citizen. She made sure to come early – a little more than an hour after polling began at 6am – so she still had time to go to the morning market. The rest of her family would vote later in the day, she said.
"I believe we have to support candidates that can help bring development," she said, proudly adding, "I only voted for NLD [candidates]."
At a polling station in the No. 1 Basic Education Middle School in Mingalar Taung Nyunt Township, Ma Ei Ei Cho also cast a vote on her way to the market. She said that her grandfather, a retired soldier who she said was knowledgeable about politics, had urged her to vote.
She said that voting for good candidates was important for addressing many of the problems in the city, such as traffic congestion, a hostile and confusing environment for pedestrians, and shoddy rubbish collection and disposal.
"I wish others would vote, because it is a chance for them to exercise their rights," she said.
U Hla Myint, 80, from Thingangyun Township, echoed her frustration. "There are a lot of people who didn't come and vote … only by voting can we create a better city. If they don't vote, it means that they aren't fulfilling their duty. It's the responsibility of a citizen," he said.
Some voters expressed enthusiasm about the election despite lacking knowledge about the range of candidates on offer.
Daw Khin Than, 85, said after casting her vote at a polling station in South Okkalapa Township, "I had no favourites at first when I entered to the room with my daughters.
"But on the ballot, I voted for Daw Aung San Suu Kyi," she said, seemingly indicating that her votes went to NLD candidates.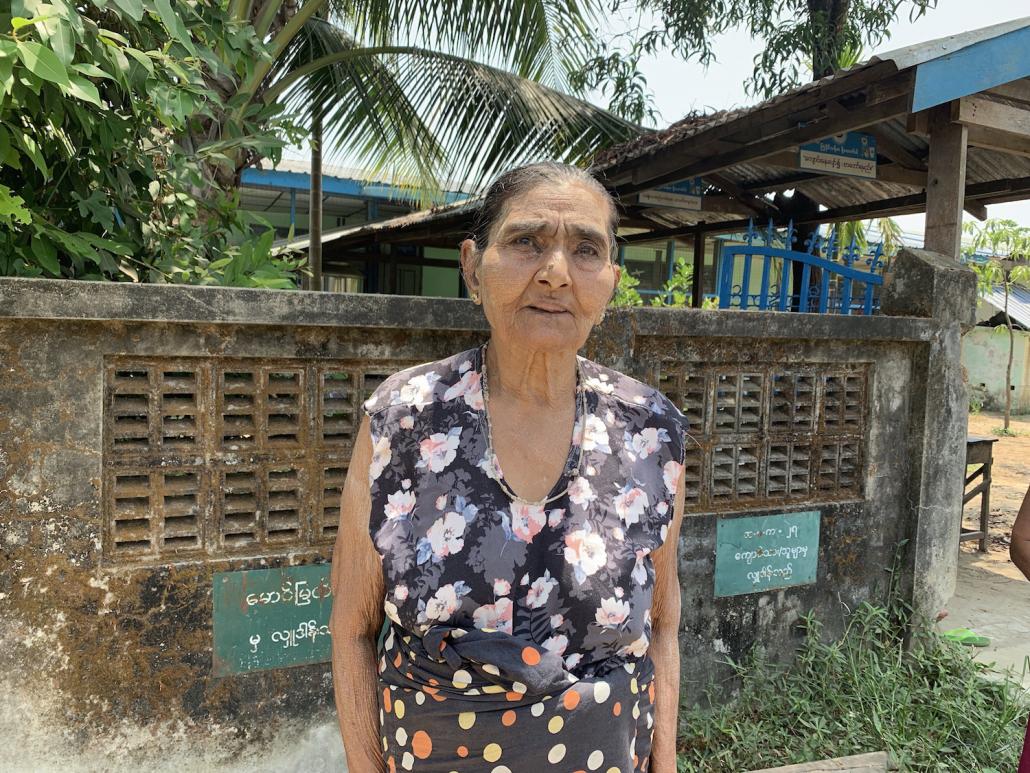 Ko Win Naing, 24, who voted in the same polling station, said of the ballots, "Some did not have the faces of the candidates so I couldn't decide who is good or bad. Finally, I chose one gentleman who looks smart. I hope he is good for our township."
Some voters appeared to have done at least a little prior research on candidates in their constituency.
Lawyer U Than Htun, who lives and voted in Kyauktada Township, said both he and his wife had gone for U Myo Myint, a construction tycoon who chairs the Myanmar Construction Entrepreneurs Association and is vying for a seat on the YCDC executive committee.
He said he voted for Myo Myint because of his commitment to the city and his vision for Yangon to emulate the ambition of Mandalay and become a "smart city". He said that the city's growing population gave this an added urgency.
However, he noted that a lot of people had shown little interest in the election. "This is sad," he said.
Ko Aung Khant, an independent candidate for the YCDC executive committee in Constituency 3, told Frontier that the election commission should allow candidates to place information about themselves and their policies at polling stations to better inform voters.
"Some voters don't know about the candidates," he said. "So their votes are likely to go to NLD candidates. It doesn't seem fair."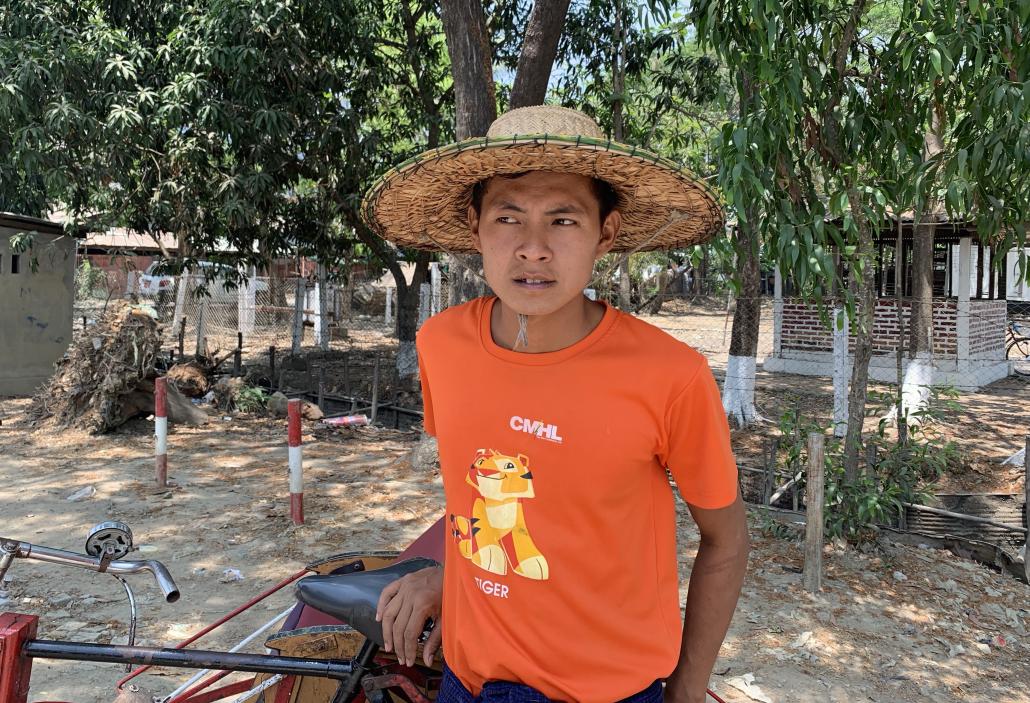 YCDC 'the worst part of government'
Car salesperson U Maung Maung Myint, 45, who works in Mingalar Taung Nyunt and lives in Thaketa Township, was among the many who chose not to vote.
He said it would take up too much time, particularly since his household registration, and therefore his place on the voter list, was still in South Okkalapa Township where his parents live.
Regardless, he said he was not interested in voting because he could not see how it would benefit him or his family, and it would distract from his work. "Working for family is more important than spending time voting," he said.
South Okkalapa Township resident Ko Wai Lin, 33, said he was originally from Magway Region and hadn't bothered to go through the process of enrolling to vote in Yangon. "If I want to vote, I would have to at least do household registration here but I'm not patient enough to go through all of that bureaucracy," he said. "And anyway, I'm not that interested in this election. Whoever wins, I hope they work hard for our township and make Yangon become more beautiful and developed."
Retired teacher Daw Khin Khin, 62, didn't vote for similar reasons. Originally from Thingangyun, she now lives in South Dagon and recently moved wards. "For our new place, we haven't yet made a guest household registration list, so if we wanted to vote we would have to go back to Thingangyun. I planned to do it but my mum was sick today so I couldn't leave her alone," Khin Khin said. "I hope in future they will make it easier to vote – for example, so that we could vote at any polling station just by showing our ID card."
Just a few steps from a polling station in Mingalar Taung Nyunt Township, Frontier met a group of men who said they would not vote, citing both a lack of interest and a lack of trust in government. One in the group, aged 60, explained that those serving in government had failed to help the public, and so there was little point in voting.
However, one voter in Mingalar Taung Nyunt, U Soe Thein, 25, said the poor performance of YCDC was all the more reason to vote. "Speaking openly, it is the worst part of government, and it never does its work well," he said.
He complained that previous attempts by YCDC to clean up rubbish or resolve drainage problems were mostly staged for cameras and little effort was made to follow up on these publicity stunts.
"We need to vote so they can change," he said, adding that voters should give a chance to younger candidates such as Aung Khant and Ma Htet Htet Htun, who are both running for the same seat on the YCDC executive committee.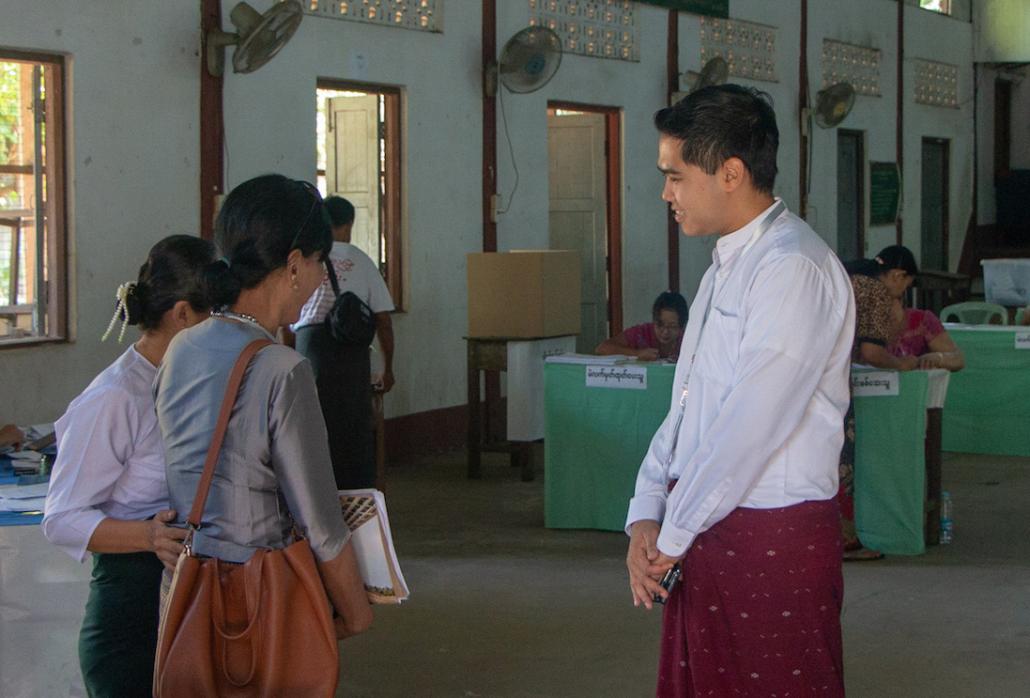 Smooth, orderly voting
Despite prior concerns over the management of the election, polling witnessed by Frontier reporters and official election observers suggested an orderly process. The Union Election Commission, which administers national as well as state and regional elections, was not involved in Sunday's poll. The YCDC only appointed an election commission in January, leaving little time for necessary preparations.
The People's Alliance for Credible Elections, an observer group which deployed 348 monitors across Yangon, said in a statement midway through election day, "Overall, PACE observers found that the process for the Yangon municipal elections so far has been smooth and there have been no significant problems."
The group said that 96 percent of polling stations were equipped with all the necessary materials and 91 percent opened on time. However, PACE said that only 42 percent of the polling stations that it observed were accessible to voters using wheelchairs.
Some candidates reported alleged violations of electoral rules that prohibit any canvassing for votes or campaign activities around polling stations.
U Nay Lin Zin, an independent candidate vying for the YCDC executive committee from Constituency 3, said some volunteers at polling stations were telling voters who to vote for. He refused to say where the incidents had occurred, but said he had recorded them and would submit a complaint to the election commission.
Voters turned away
The chief complaint from candidates and voters was over the voter list, which had been created quickly by the YCDC election commission using household data from the General Administration Department.
While the voter list was completed on time, there were reports of significant numbers of people within certain neighbourhoods being turned away from polling stations because their names were not on the voter list. Many of those whom Frontier interviewed said they had voted in the 2015 general election.
Polling officials at No. 1 Basic Education Middle School in Mingalar Taung Nyunt Township said at 10am that nearly 100 people had voted, but a further 10 would-be voters who turned up were not on the voter list.
Nay Lin Zin, the YCDC executive committee candidate, said some voters from his constituency had complained to him because they were not on the voter list. The election commission had asked those eligible to vote to check between February 27 and March 5, when sections of the voter list were publicly displayed outside ward offices, whether they were included. But Nay Lin Zin said that very few voters had actually done so.
"Is it a free election? I would say that it cannot be a free election," he said.
Daw Aye Mu, a resident from Zaykalay ward in Kyimyindaing Township, said that she and five members of her family had been eager to vote and were surprised to learn that they weren't on the voter list. "I was really hoping to cast a vote for the NLD candidates but I couldn't. It's really bad for me and the NLD candidates," she said.
Ko Naing Win Tun from Tarmwe Township said he and six family members had been turned away at the polling station. Not a single resident of his building had been able to vote, he added.
"I didn't check the voter list because I was sure we would be on it. We even cast votes in the [November 2018] by-election," he said.
TOP PHOTO: Voters display inked fingers in Kyimyindaing Township. (Thuya Zaw | Frontier)