A defecting soldier and a newly trained medic defied warnings against joining Myanmar's armed resistance movement, finding love in a conflict zone before they were forced to flee the country.
By FRONTIER
Ko Kyaw Zin Oo* glanced at his watch. It was 8pm. He quickly scanned the river.
"Are we taking a boat?" he asked the stranger who had brought him and his wife Ma Phoo Phoo* to the riverbank.
"It's better than a boat," said the man who called himself "the transporter".
The transporter made no further comment, and as they got closer to the river, he put a finger to his lips demanding silence, before disappearing into the thick underbrush nearby. He emerged five minutes later with a large black plastic basin, typically used to wash clothes.
"Sit inside here, sister," he told Phoo Phoo, placing the basin in the water.
As Phoo Phoo climbed into her plastic vessel, she was chilled with fear.
"I was quite hesitant, not only because I was crossing the border illegally, but also because I didn't trust the man who was taking us. I was afraid he would just sell me to some gang," she said. "I couldn't see anything in the dark. It was just the three of us. And I was always plagued with the possibility that once we crossed over, we could be arrested."
The transporter told Kyaw Zin Oo to put his valuables in his backpack. It was only then that Kyaw Zin Oo understood he would be wading across the river on foot. He watched nervously as the water passed his waist, feet slipping and stumbling on sharp rocks.
"Brother, don't worry," the transporter whispered. "Slap me if the water reaches your neck. Just be very careful when you get to the other side. The current is stronger there."
Kyaw Zin Oo said he distinctly remembers the sound of karaoke music from the Myanmar side of the border fading away, as lights twinkling in Thailand grew brighter. From the shore, he took a final look at the country he had fled.
"My eyes filled with tears, but I stopped myself from letting them out. I quickly turned back to face the wild grass and prepared to set off."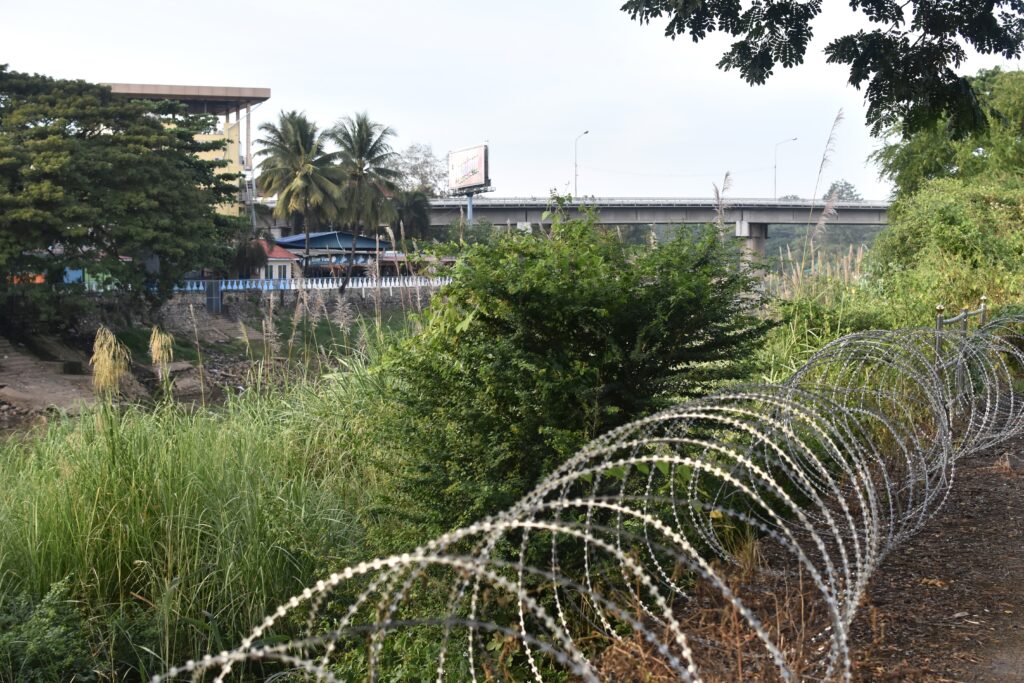 Absconding from the military
While Kyaw Zin Oo's journey is similar to that of thousands who have fled Myanmar for Thailand since the coup, he is no ordinary political dissident. A former sergeant from the Tatmadaw's Light Infantry Battalion 550, based in Rakhine State, he faced death threats for deserting the military in protest of the February 2021 coup.
Kyaw Zin Oo was stationed in Ponnagyun Township the day of the coup, where internet access had been restricted for years as the military fought with the powerful Arakan Army.
"Our battalion commander told everyone to line up and told us that the military had seized power. He warned us to stay alert," he said. "I felt right away as if something very personal had been robbed from me without my consent."
Before Kyaw Zin Oo joined the military, he had been a poet who went by the pen name Ga Nite, a profession often associated with political activism. The night of the coup, he snuck out of his barracks to climb a hilltop where he could access 2G internet and check who had been arrested.
"Then I made some phone calls to my fellow poets and artists to see what I should do next," he said. "I knew I had to do something."
But like many soldiers wishing to desert the military, he couldn't make his move just yet. As he waited for a chance to slip away, he watched more and more peaceful protesters gunned down in the streets, rage building inside him. In March 2021, unable to control himself, he changed his profile picture to a red circle, the color associated with the overthrown National League for Democracy. He was consequently reduced in rank to a private, and in June he was reassigned to a small outpost near the Bangladesh border.
He was finally able to make his escape in September 2021, fleeing with a fellow soldier to the state capital Sittwe via motorbike taxi, but they weren't able to bring their various identification documents with them.
"So, I had to bribe the local ward administrator with K50,000 to give me a fake letter of recommendation to travel like a Rohingya," he said, referring to the severe restrictions on movement imposed on the Muslim minority group.
Unlike the Rohingya, he says he was able to board a flight with just this recommendation letter. He and the other soldier arrived in Yangon, where Kyaw Zin Oo began providing training to emerging urban guerrilla groups, but was quickly exposed by a military informant.
"They wanted me dead or alive. Because I served very closely with the Chief of Staff in Rakhine, where I signed off on all the top-secret telegrams that came in and out of our base," he said, adding that he also had evidence of military corruption. Kyaw Zin Oo claimed he was contacted on Facebook by a lieutenant who threatened to kill him if he didn't return to the military.
"I replied: 'Do whatever you want, I will make sure the dictatorship fails,'" he said.
But at this point, Kyaw Zin Oo realised he was no longer safe in Yangon, and contacted members of the Karen National Union's Brigade 6 to plan his escape to Lay Kay Kaw, a town near the Thai border where many dissidents were sheltering under the KNU's protection.
In October 2021, Kyaw Zin Oo and his fellow deserter hid in an onion truck to smuggle themselves out of Yangon to Phaya Gyi in Bago Region. From there, they caught another ride to Hpa-an in Kayin State, then Mawlamyine in Mon State and finally Myawaddy in Kayin.
Their most frightening moment occurred on the way to Hpa-an.
"We were stopped by the security forces at a highway checkpoint in Bago Region in Waw Township," Kyaw Zin Oo recalled. "Three soldiers pointing guns at our heads asked us to come out."
But after the soldiers searched their bags and found nothing of interest, they let them continue. They arrived in Myawaddy and that same day – October 20, 2021 – left for Lay Kay Kaw.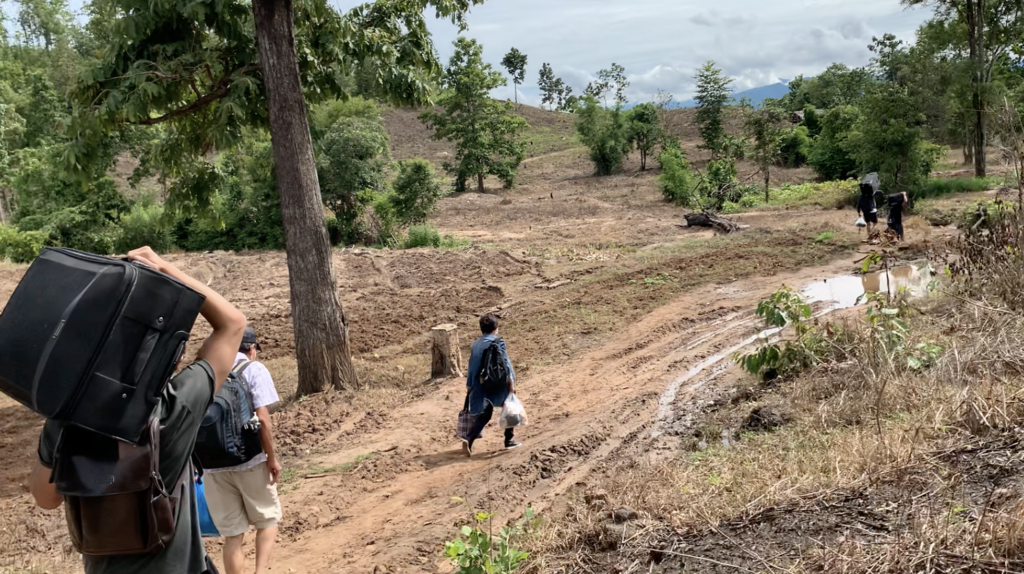 Finding love in Lay Kay Kaw
There, Kyaw Zin Oo met his wife Phoo Phoo, who had her own extraordinary story. Before the coup, she worked in marketing for a Yangon-based company and had little interest in politics. When COVID-19 struck in early 2020, out of a sense of civic duty, she completed a basic nursing course in order to serve as a volunteer in private clinics.
Like many other young Myanmar activists, the coup was her political awakening, and she quickly joined the mass street protests in February 2021.
"[My parents] advised me to support the movement from the safety of our home," she said. "But an indomitable spirit took hold of me."
Following the military massacres of peaceful protesters, she told her parents she wanted to join the resistance that was beginning to coalesce in border areas, but they tried to talk her out of it, partly because of her chronic thyroid disorder.
"My mother forbade me because of my poor health and because of the events of 1988," Phoo Phoo said. In 1988, students and other young protesters also formed armed groups in border areas to take on the military regime, but with much less success than the current movement.
But Phoo Phoo wouldn't be swayed. She snuck out of her house in May 2021, finding herself stuck in Myawaddy for a month before making it to a "liberated area" controlled by the KNU's Brigade 7 in June. Drawing on her COVID-19 training, she served as a medic with the KNU, and in September that year, was sent to Lay Kay Kaw to receive further training from striking public healthcare workers.
They met in October, when Kyaw Zin Oo came into the clinic to get treatment for his asthma. They fell in love quickly, and when Phoo Phoo's training ended in late November, travelled to Brigade 7 territory together, where they were married in a ceremony overseen by KNU officials. After the wedding, Kyaw Zin Oo returned to Lay Kay Kaw, but the military launched an assault on the town in December, capturing dozens of political dissidents and displacing most of the other residents.
Kyaw Zin Oo rejoined Phoo Phoo in Brigade 7 territory, where they lived together for a year – Phoo Phoo working as a medic while Kyaw Zin Oo trained new recruits. But unfortunately, Phoo Phoo's health problems continued, including suffering two miscarriages, a complication more common for people with thyroid disorders. One miscarriage occurred when the couple was forced to flee into the jungle to avoid a military attack.
"I feel really bad for my husband since he needs to take care of everything for me when I'm bedridden," said Phoo Phoo in an interview this month, just after another stint sick in bed. "I miss home. I really miss my parents, especially when I'm sick."
Kyaw Zin Oo said he never planned to go to Thailand, but Phoo Phoo had to go to Myawaddy for treatment in late December last year. He chose a private hospital, thinking it would be safer, but was later warned by KNU officials that the owner was connected to the military.
Sure enough, the hospital was soon surrounded by Tatmadaw soldiers and members of the Kayin State Border Guard Force. Kyaw Zin Oo said he and Phoo Phoo slipped away wearing face masks and hats, sheltering in a hotel for a few days before making the difficult decision to leave Myanmar.
"I'm not sure if it was because of us or not. But I'm glad we managed to escape," he said.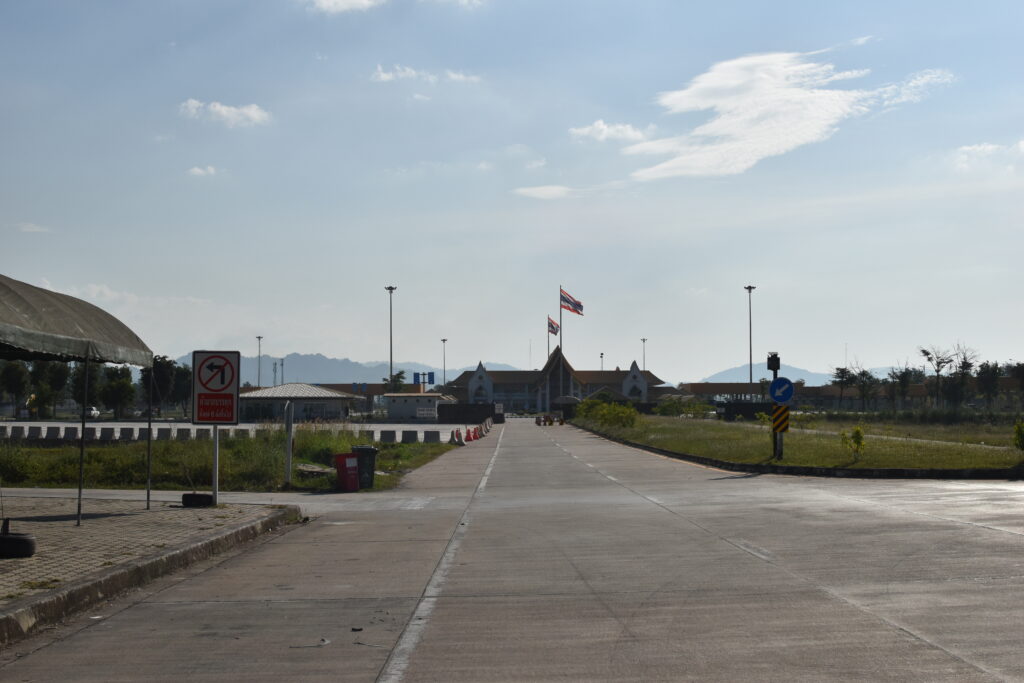 A route to Thailand
"Be prepared to be arrested at anytime," the transporter said after they crossed the river into Thailand. "Don't light up your phone and most importantly, don't talk."
Kyaw Zin Oo remembers he and Phoo Phoo gripping each other's hands tightly. "Then we nodded to each other and took off," he said.
They walked about 45 minutes through fields and thick brush with thorns and tall grass, before a narrow path opened up in front of them. The transporter made a call, and then passed the couple on to another man.
"So, brother, give me 7,000 baht ($200), " the transporter said, gesturing to a new guide. "He will take you to the main road. You're almost there."
The new guide introduced himself with a warning.
"Listen, the closer we get, the riskier it is. Follow me very carefully," he said.
He took them through even thicker jungle, sometimes needing to crawl on all fours with just shafts of moonlight guiding their way, before they reached a clearing in a banana grove 30 minutes later. He made another phone call, but soon after a headlight flashed from the road.
All three of them dropped to the ground.
"My heart was racing and pounding," Kyaw Zin Oo recalled. "I thought we had been caught."
They saw a Thai border guard truck drive past, followed closely by a motorcycle.
"Thank God, that was so close," said their guide after the vehicles had passed.
Another motorcycle approached soon after, and the couple turned to run and hide again, but the guide stopped them. "It's alright. He's only coming to pick you up," said the new guide.
When the motorbike took off from the banana grove in Thailand, Kyaw Zin Oo realised his lower body was still wet from the river crossing and began shivering. They passed neon lights as fields gave way to scattered houses and then a village.
"You can ease your mind now, this is my house", said the driver, stopping at a small, isolated farm.
Standing in the doorway was the wife of one of his best friends, who quickly ushered them inside.
Life in Thailand still has its struggles. In February, the pair were arrested when trying to move from the safehouse to their own home closer to the city, but were able to quickly negotiate their release. He works as a citizen journalist on a freelance basis for one of Myanmar's major independent news outlets, but the pay isn't much.
"We still need a lot of support since my wife's in bad shape," Kyaw Zin Oo said.
"Here, we are starting our lives from scratch," said Phoo Phoo. "But I have a dream. One day, when this is all over, I want to have a little farm in our backyard where we grow vegetables and open a bookshop of my own."
*denotes use of pseudonym for safety reasons