A town built for displaced Karen became a hub of the anti-coup resistance. A devastating military raid scattered its occupants, but some of them dream of taking it back.
By FRONTIER
"Staying at Lay Kay Kaw was the happiest time of my life," Ma Cindy, 23, recalled with a sigh in the small room where she was living with her husband, Ko Toe, in a town on the Thai-Myanmar border.
The modest room they had called home for nearly a year was cluttered with bags of rice and cooking oil provided by the United Nations refugee agency, the UNHCR.
"I'm sure it would be safer to stay here on the border and begin a new life as refugees, but we've decided to return to Myanmar," said Ko Toe, 25.
Although headed elsewhere, both longed to return to Lay Kay Kaw in Kayin State, 14 kilometres south of the trade hub of Myawaddy on the Thai border. In 2015, a new town was built at Lay Kay Kaw with Japanese support to house Karen people displaced by decades of conflict.
The town was not intended for the likes of Ma Cindy and Ko Toe. Before the military coup in February last year, they both lived in Yangon, where they were born, and where Ma Cindy worked in a bank and Ko Toe was employed as a mechanical engineer.
After the military brutally cracked down on anti-coup protests, thousands of young people headed to border areas to seek refuge with ethnic armed groups and learn how to fight back. The couple joined this exodus, travelling to Lay Kay Kaw and receiving military training from the Karen National Liberation Army, an armed wing of the Karen National Union.
However, their stay was cut short after eight months. In December last year, the military raided Lay Kay Kaw, rounded up dissidents and fought fiercely with the KNLA, prompting Ma Cindy and Koe Toe to join a fresh wave of displacement to the Thai border.
On the one-year anniversary of this rout, many of the town's residents remain displaced or are being forced by the military to return. Its more fleeting occupants like Ma Cindy and Ko Toe, meanwhile, are leading precarious lives on the border or attempting to re-join the anti-coup fight in other areas. With the Tatmadaw now encircling the town, its once-pivotal role in the struggle lives on largely in memory. For those that once called it home, this is a source of sadness but also inspiration to keep on fighting.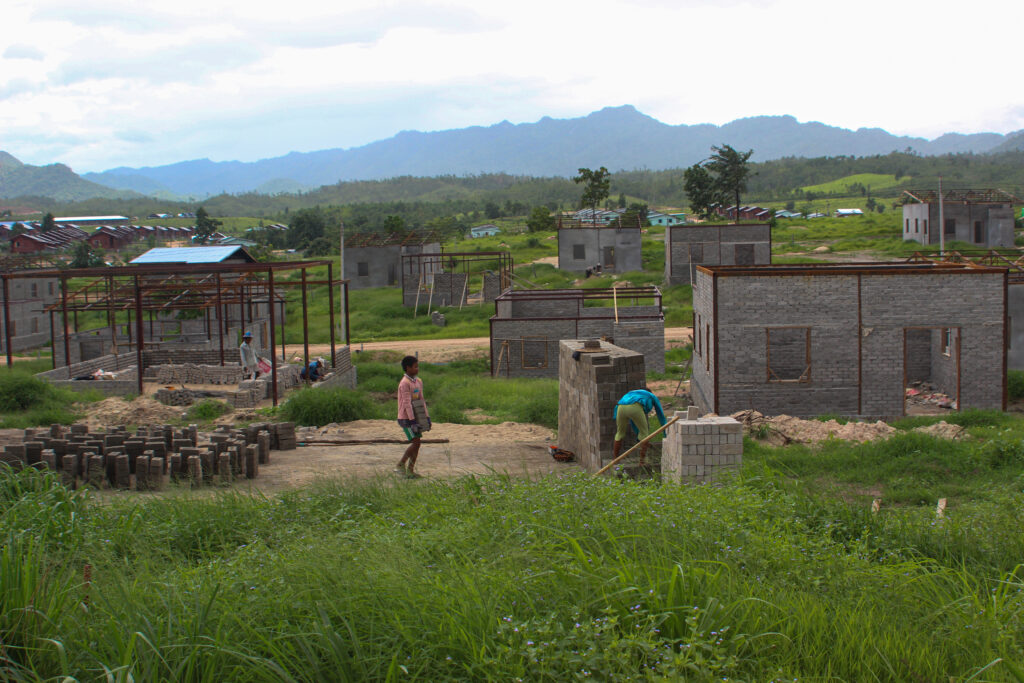 Fall of a 'peace town'
There is a bitter irony to the fate of Lay Kay Kaw. The new town was intended not only to give displaced Karen a fresh start, but also to promote peace following a ceasefire between the Myanmar military and Karen National Union signed in 2012.
Driving its creation was the Nippon Foundation, a non-profit funded by Japan's foreign ministry and chaired by Sasakawa Yohei. By maintaining friendly relations with Myanmar's military and ethnic armed organisations, Sasakawa, who is now Japan's special envoy to Myanmar, remains a prominent player in the country's various peace efforts. As recently as November, he was credited with brokering an informal ceasefire between the Tatmadaw and the Arakan Army in Rakhine State, following several months of renewed conflict.
At the outset, Lay Kay Kaw Myothit (New Town) was governed by the KNU with administrative support from the Myanmar government, which provided its new residents with identity documents and household registration. Although jobs remained scarce and the area was plagued by land grabs, resettlement to the town offered some respite from war and displacement.
After the coup, with its promise of KNLA protection, Lay Kay Kaw became a haven for activists, dissidents, former MPs, journalists and others from Yangon and elsewhere. While residents welcomed these newcomers, the influx strained the social fabric of the town and put it within the Tatmadaw's sights.
"The number of people coming to the town was growing every day; it was too many for the [KNU] administration to record," said Lieutenant-Colonel Saw Yan Naing of the KNLA's Brigade 6, who helped found Lay Kay Kaw Myothit.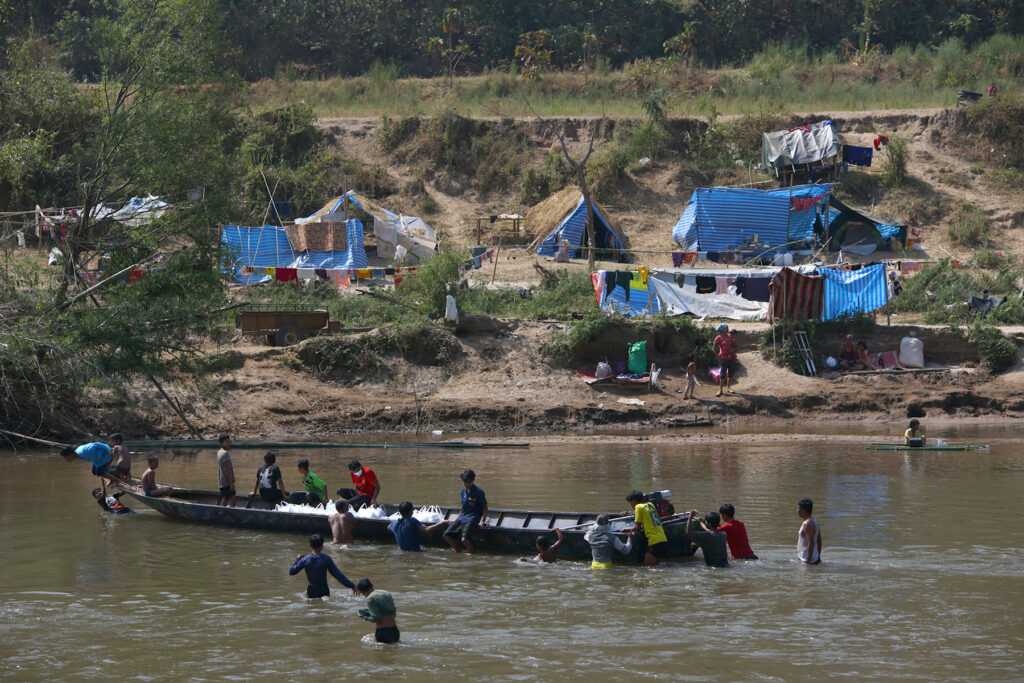 Before the coup, Lay Kay Kaw had more than 800 houses and a population of about 4,000. Yan Naing said that in the months that followed, almost every resident was sharing their home with new arrivals. Some house owners, meanwhile, rented their properties to resistance groups and relocated to temporary huts in fields.
As a transit centre for young people seeking military training from the KNLA, newly formed People's Defence Forces thronged Lay Kay Kaw.
"The town became like a weapons market. There were even some explosions when accidents occurred while testing weapons. The town was uncontrollable, with busy days and nights, and the enemy targeted it eventually," Yan Naing told Frontier.
Ma Cindy and Ko Toe met and fell in love at a military training camp near Lay Kay Kaw and had a traditional Karen wedding. Ma Cindy undertook PDF training and Ko Toe served in a drone operating force because he was already skilled in the technology.
But after a few heady months, which Ma Cindy described as a "worldly paradise", the military struck.
KNLA sources said senior Tatmadaw officers had ordered soldiers to seize the town eight times but each time frontline forces had negotiated with the KNLA and the attacks were postponed.
Then on December 15, soldiers under Military Operations Command-13 raided Lay Kay Kaw and arrested more than 60 people, including two MPs from the deposed parliament and dozens of dissidents and activists. Many of the new PDF fighters wanted to fight back but lacked the weapons to do so, and so fled to safety.
"That night thousands of us ran to the Thaung Yin River and crossed it to enter Thailand," Ma Cindy said, referring to the narrow stretch of water, called the Moei River by the Thais, that forms the border. "We were in a big hurry and couldn't wait for boats. Ko Toe put me in a huge plastic tub and pushed me across," she said.
"Without arms, soldiers and refugees are not so different," added Ko Toe.
The KNLA, with the help of better-armed PDF units serving under its command, resisted the occupation and battles raged for months. Both sides deployed infantry and fired heavy weapons, while the military used air strikes on civilian areas. This prompted the residents of Lay Kay Kaw and about a dozen nearby villages to flee to the banks of the Thaung Yin, while the peace town's Japanese backers stayed silent.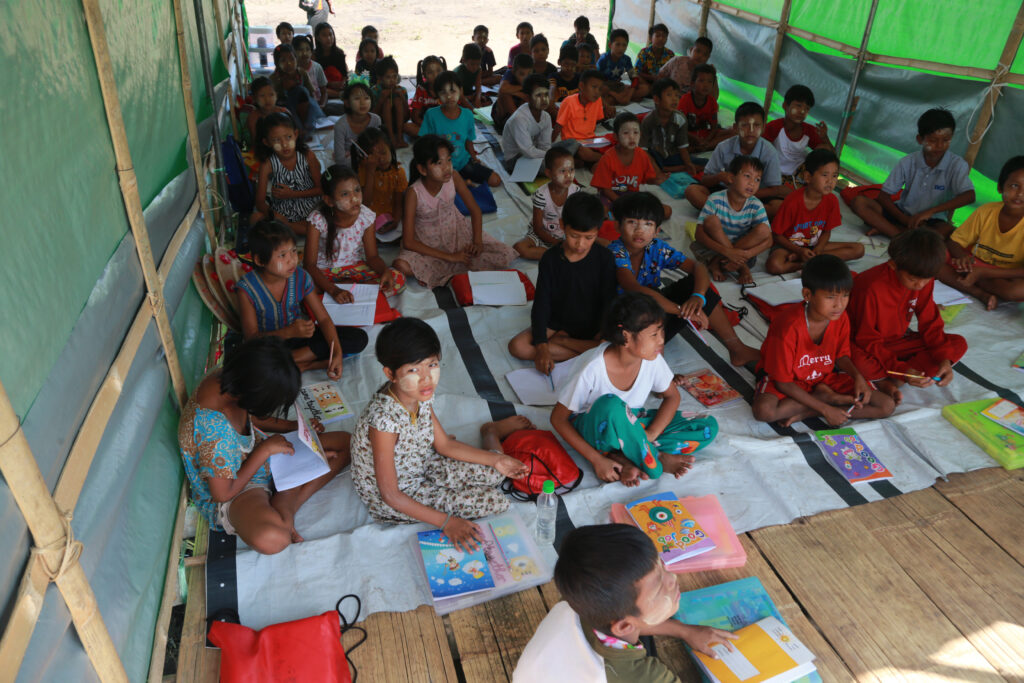 'We will take back Lay Kay Kaw'
Yan Naing said useful lessons were learnt from the fall of Lay Kay Kaw, the first of which was to avoid presenting too clear of a target to the Tatmadaw.
"The attack taught us to keep our mouths shut, that in war one must keep secrets. It also showed the strength of the KNLA when supported by PDFs in fighting back against the military," he said. "The bad thing is that it created so many refugees and others who had to flee to Thailand."
Ko Phoe Thagyan, secretary of the Overseas Irrawaddy Association, which has been helping Myanmar migrants in Thailand for 18 years, said the fighting in the Lay Kay Kaw area displaced more than 10,000 people who sought shelter along the Thaung Yin.
Many of them crossed the river to Thailand but were soon pushed back by Thai authorities. Since then, they have been forced to live in makeshift huts on the Myanmar bank, relying on charitable donations to survive.
Those with friends and other connections in Thailand, such as Ma Cindy and Ko Toe, were able to remain in the country illegally. The couple gave up on fighting against the junta but struggled to adjust to their new life and find jobs online. Although free from the Tatmadaw, they stayed inside their rented room all day to avoid Thai authorities.
"For a long time, we were at a loss for what to do – and there were so many people like us," said Ma Cindy.
Ahead of the anniversary of the fall of Lay Kay Kaw, the couple decided to return to Myanmar – but not to their old civilian lives. Leveraging connections established during their time in Kayin, Ma Cindy and Ko Toe have committed to fight under the KNLA.
"It was a hard decision, but we decided not to give up," she said of their renewed commitment to the resistance war.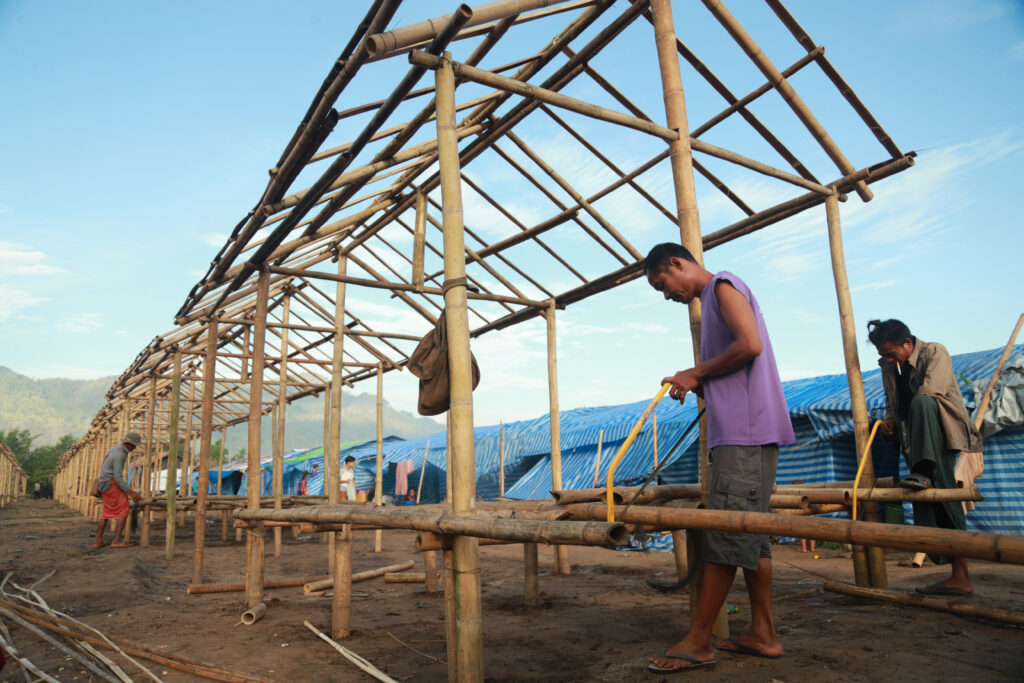 However, Ma Cindy and Ko Toe will not be returning to Lay Kay Kaw. Since last year's raids, the Tatmadaw has established positions on hills overlooking the town. Although KNLA and PDF fighters gained the upper hand at first, the military has since pushed back across this strategic stretch of the Thai-Myanmar border, which includes the village of Thay Baw Boe.
Located on the Myawaddy-Waw Lay road, Thay Baw Boe had been in the hands of the Tatmadaw since the 1990s. In May this year, it was taken by an alliance of the KNLA, the Cobra Column and other PDF groups under its command. According to civil society group the Karen Peace Support Network, the Tatmadaw fired a barrage of 38 rockets at the village from jets on May 18 alone, yet was unable to recapture it.
In November, however, junta forces reoccupied Thay Baw Boe. Yan Naing said the military's ground troops fired constant salvoes of heavy artillery, while jets launched more than 60 airstrikes to regain control.
Many displaced residents of Lay Kay Kaw and neighbouring villages had found shelter at Thay Baw Boe. Since it recaptured the village, the military has pressured these displaced people to return, one of them told Frontier by phone, and on December 1 provided them with 200 sacks of rice as an inducement.
However, he said many feared returning to a "ghost town" under the watch of the Tatmadaw: "We can't go back to an unsafe place; we would rather sleep under plastic sheeting than live under the military regime."
Phoe Thagyan from the OIA said this pressure was being applied across multiple settlements for displaced people, with soldiers ordering returns to Lay Kay Kaw over loudspeaker. The Democratic Karen Benevolent Army, a KNU splinter group, has reportedly been assisting the military in these efforts.
"I think the displaced aren't willing to return, but when the junta threatens them they won't resist for long," Phoe Thagyan said, adding that some were also concerned about their farms and villages being seized.
An additional push factor is the severing of cross-border aid. Phoe Thagyan said the OIA has had to stop providing regular support to camps along the border since the military re-established control over the area.
But some former occupants of Lay Kay Kaw say they'll only return with a conquering army.
Early this month, Ko Toe texted Frontier to say he and Ma Cindy had arrived in an area under the control of the KNLA and he had re-joined the drone force. 
"We'll take back Lay Kay Kaw and when all this is over, I'll spend the rest of my life there with my family," he said.