There's huge potential for startups in Myanmar, but entrepreneurs need resilience, determination, passion and financial backing to turn their bright ideas into successful businesses. More government support would help, too.
By OLIVER SLOW | FRONTIER
MA MAY MON THU first tried to establish her bespoke branding company in Thailand, where she had moved in 2009 to study and later worked for a telecommunications company in the capital, Bangkok.
"But there was too much competition and we were finding it difficult to grow the company. We saw how things were changing [in Myanmar], and thought, why not give it a go here?" she told Frontier at her company's office in Yangon's northern suburbs.
Mampers, which she founded with two friends in March 2015, provides companies with branded products and marketing services. Its products include T-shirts, coffee cups, key chains and "anything you can think of", branded with the company's logo.
As a startup, May Mon Thu said Mampers faces many challenges including access to finance and hiring adequate staff, but one of the biggest is convincing customers to pay more for quality products.
"People aren't used to this. They often want to get everything as cheaply as possible, but we're hoping that will change over time," she said.
A new age for entrepreneurs
Changes in attitudes and tastes among young entrepreneurs inspired to launch startups are contributing towards a transformation of Myanmar's economy.
For decades, the economy was dominated by a small elite which benefited from close ties with members of the junta, which often awarded them contracts for big projects. It was not an environment in which there were many opportunities for small-scale businesses to prosper.
However, the space for entrepreneurs has started to widen in recent years. Although there are still many barriers for small companies, there is much optimism that the sector will flourish.
In July, the government released a 12-point economic policy that it said would focus on inclusive sustainable growth. Although light on detail, the policy includes developing an economy that creates opportunities to "nurture the young generation" and to establish a system where "all citizens can cooperate to always get good results by innovation and effort". A business environment that encourages entrepreneurs would help the government achieve these goals.
Improved connectivity, especially in Yangon, has helped to nurture a new wave of entrepreneurs in technology. Although internet speeds remain slower in Myanmar than neighbouring countries, many believe a golden age of tech entrepreneurs is just around the corner.
One example is Kargo, an online platform that connects customers with a pool of drivers to transport products in Yangon, and around the country, and was launched by Ko Htun Khaing Lynn and his Australian business partner, Mr Alex Wicks, in September.
The idea for Kargo came when Htun Khaing Lynn was moving house and couldn't find a driver, or a vehicle, to move his furniture.
"We quickly realised that this was an issue for a lot of people, foreigners and local people," Htun Khaing Lynn told Frontier. "We also noticed that a lot of the trucks around the city weren't really being used, so connecting people with these drivers made a lot of sense," he said.
Wicks said one of the biggest challenges the company faces as a tech startup is finding staff with the right qualifications.
"There are people who are skilled in that area, but it's a very limited number at the moment. The whole concept of tech here is very new but it's growing quickly and I think we're ready to see a big explosion in it," he said.
Wicks also expressed confidence in the outlook for the economy.
"The lifting of [US] sanctions is obviously a big step and has the potential to have a knock-on effect to some of these smaller businesses, creating new opportunities to become part of the supply chain," he said.
"It has the added benefit of improving confidence, both from investors abroad and in the country."
In October, the Myanmar Young Entrepreneurs Association released a report highlighting the key measures it says the government needs to take to achieve "inclusive and sustainable growth".
The MYEA says it wants Myanmar to become a regional leader in entrepreneurial activity by 2025. The report says achieving that goal will require Myanmar to have: entrepreneurs providing high quality goods and services in all sectors; people taking risks and benefitting from political stability and a strong legal and policy structure; young people aspiring to start their own businesses; and, a climate that makes it easy to do business in Myanmar and with other countries.
The report compared Myanmar with other Southeast Asian countries, including Thailand, Vietnam, Singapore and Cambodia, and found that it ranked among the lowest in access to markets and finance, human capacity, a culture of entrepreneurialism and entrepreneurship policy.
In the 2017 Global Entrepreneurship Index that assesses 138 countries and territories, Myanmar ranked 120th – down from 117th the previous year – trailing Cambodia (114th) Vietnam (87th), Thailand (65th), Malaysia (54th) and Singapore (24th).
The MYEA report said major barriers for entrepreneurs included inflation and fluctuating exchange rates. It said political instability in the past "greatly reduced incentives for investment and innovation", and also referred to a lack of dialogue between the government and the small business community.
Ko Cedric Pyi Soe Thein, the chief executive of Mampers, said the government should create a committee to serve as a link between it and the entrepreneurial community.
"As small startups, we have difficulties with many things such as documentation or understanding the tax laws – we cannot spend a lot of money like big companies on lawyers or agency fees. A government agency could help us to better understand important things such as taxes, or link up with other like-minded people," he said.
The MYEA report said Myanmar needs to focus on six "pillars" to boost entrepreneurial growth: expanding access to markets; providing better access to finance; improving human capacity; building support networks; creating an entrepreneurial culture; and implementing a comprehensive entrepreneurship policy.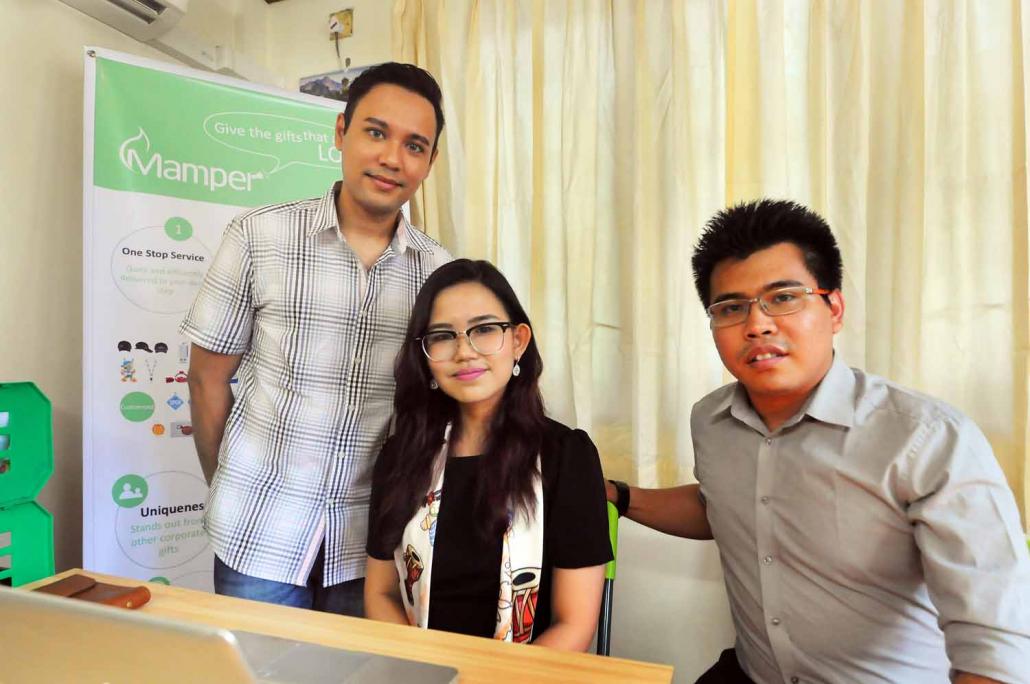 The report also recommends the introduction of bankruptcy laws and ending a reliance on property as security for loan financing to help promote risk-taking in business.
"In Silicon Valley, the hub of so many successful entrepreneurs, having failed at a start-up or two is actually seen as providing experience and insights. Prior experience with failure should be treated as an advantage that gives confidence and encourages backers and financiers in a later venture. Reducing the stigma of failure, and its consequences, is thus important," the report said.
Ms Josephine Price, managing director and co-founder of Anthem Asia, an investment and advisory group, said the key to assessing investment opportunities in Myanmar was finding entrepreneurs who were resilient and determined.
"It's really tough, and you need a huge amount of 'hustle'. You've got to really believe in what you are doing and be prepared to take a little bit of pain. We look for someone who can stand a bit of pushback, someone who can justify their decision. And then of course, they have to have a really good idea," Price told Frontier.
Finance options
One of the biggest challenges facing entrepreneurs in Myanmar is access to capital.
Cedric Pyi Soe Thein said Mampers was initially self-funded but was seeking financing options to expand the business.
"It's something we've started to look at more closely. Something we learned is what kind of product we want investors to invest in and how we can expand. We also learned how to pitch and convince potential investors to invest in our country," he said, adding that Mampers was speaking to potential investors in Myanmar and abroad.
Another financing option is a bank loan.
U Zaw Lin Aung, head of small and medium enterprises at KBZ Bank, said that the lender's credit policy is based on an assessment of a company, including profitability, experience, reputation within the industry and trustworthiness.
He said the strong distrust of banks in Myanmar – a legacy of demonetisations, the 1997 Asian financial crisis and a run on lenders in 2003 – had eased in the past three years.
"Deposit and loan markets are growing very fast. It shows the gain in public trust in banks," Zaw Lin Aung said. Trust in banks would be further strengthened if regulators and the Myanmar Banks Association educated the public about financial literacy, he said.
Mr Rahul Batra, an Indian national who is co-founder and chief executive of local technology company Bindez, has led his company through four rounds of funding. Although amounts differ according to the country, he said a typical startup goes through multiple rounds of financing. They begin with what's known as the "seed" round (usually between US$25,000 to $50,000), followed by an "angel" round ($50,000 to $250,000) to test an idea, a "super angel" round ($250,000 to $1 million) to take it further, and a "series A" round ($1 million to $3 million).
"Myanmar's startup and investment scene has been different," said Batra, who previously worked for Google in India, Australia and the United States. "For a small amount ($25,000 to $50,000), an investor would expect 50 percent of your venture," he said, an expectation not typical in other countries.
"While it's easy to understand the reasons behind this attitude, it impedes future fund-raising and expansion greatly, and almost kills any chance of long-term success. This has stifled risk-taking," he said.
However, he said, the situation is changing as the market matures.
"Things are beginning to look more reasonable. There are cases of startups from seasoned technologists and businessmen scaling and sustaining well over time. The spurt of optimism owing to the exponential growth in mobile connectivity opening up the stage to new ideas is encouraging."
Batra's advice to entrepreneurs seeking financing is to think long-term, engage and learn from those who have had similar experiences, and most importantly, "never lose your passion and purpose in the process."
Mr Loring Harkness, partnerships manager for Building Markets Myanmar and founder of fintech Ngwe Su, has also observed that investors in Myanmar typically seek more equity than they would in other countries. He agreed with Batra that this could work against a successful startup's future interests by making it more difficult to attract other investors in the long term.
A typical investment would follow the "18-20 rule", in which the investor provides enough funding to sustain a company for 18 months and takes about 20 percent in equity, he said. 
"That really helps set up the company for success, because not only does it give the founders time to launch products, maybe fail or pivot, but it also sets up the right dynamic so that the founder has enough equity to remain motivated, and there's also enough equity to sell to subsequent investors in later rounds," said Harkness.
Many potential investors were looking closely at Myanmar but were not yet ready to commit because of a perception that there were not enough investment-ready companies, he said.
"There are people and companies who are making investments in Myanmar, doing it regularly, investing in good companies, and those companies are growing," said Harkness.
"I think that with angel investments, we really just need to see more of it," he said. "The more angels invest, the more investable companies will be, the more sophisticated angels will be and the more sophisticated the companies will be. It's a little bit of a chicken and egg scenario, but the solution is more investment."