The poor reputation of domestic carriers in Myanmar may not be justified, with five of the six airlines scoring reasonably well with organisations that monitor international aviation safety.
By KONRAD STAEHELIN | FRONTIER
AIRLINES in Myanmar tend to promote their safety more than carriers in other countries. When Yangon Airways was rebranded as Air Thanlwin in early October, it also changed its slogan from "You're safe with us" to "Safe wings to fly". In another example, the most recent issue of Shwe Hintha, the inflight magazine of Golden Myanmar Airlines,  mentioned safety issues in nine different places.
A fear of crashes is one reason why many Myanmar people are reluctant to fly when conditions are not optimal. "During the monsoon season, locals are afraid and reluctant to fly and some won't do so even if we gave them free tickets," GMA's chief executive officer, U Kyaw Nyein, told Myanmar Times in an interview in August.
Visitors to Myanmar would certainly steer clear of a restaurant if they knew it was actively avoided by locals. So is it safe to fly with airlines in Myanmar?
Most domestic airline representatives who Frontier approached for this report declined to comment. The exception was an executive at one carrier who initially agreed to be interviewed and then declined when told about the subject.
There appears to be a high level of secrecy in the industry about safety. The reluctance of airlines to speak about their safety records raises suspicions, and they were partly reflected by what Frontier discovered when it investigated the issue.
There are five carriers competing for a share of the domestic market: privately owned Air KBZ, GMA, Air Thanlwin and Mann Yadanarpon Airlines (MYA), and state-owned Myanmar National Airlines (MNA), which also serves foreign destinations. Myanmar Airways International (MAI) operates internationally but has code-share agreements with  Air KBZ, and both carriers are owned by KBZ Group.
While MNA and MAI are battling for market leadership on international routes, domestically MNA and Air KBZ, with 17 and 10 aircraft, respectively, dominate the market. Aviation market intelligence platform CAPA said in a report last February that they account for more than half of the domestic market.
The safety rating agency
There have been no fatal incidents in the industry since Christmas Day 2012, when an Air Bagan flight from Yangon crashed on landing in heavy fog at Heho airport and burst into flames, leaving a passenger and a motorcyclist dead.
But this year there have been four known civil aviation incidents, of which three involved Myanmar carriers.
In May, a Biman Bangladesh Airlines De Havilland DHC 8 crashed on landing at Yangon International Airport, and 19 of the 36 people on board were hospitalised. A few days later an MNA Embraer E190 made a spectacular emergency landing at Mandalay International Airport after its front landing gear misfunctioned, but no one was hurt.
On August 2, both nose wheels came off during touchdown by a GMA ATR 72-600 at Yangon airport, leaving no one injured but forcing the closure of the airport for two hours. A week later, another GMA flight had to make an emergency landing at Mandalay airport when its electrical system failed, reported Eleven Myanmar. It was unclear if the plane involved was the same one involved at the mishap at Yangon airport a week earlier.
It was after these two incidents that the international non-government organisation Oxfam decided to shun GMA. "Based on the incidents … it was recommended to least use GMA. We keep monitoring the development," said Oxfam representative U Oung Kham Oo.
In his emailed response, Oung Kham Oo said GMA was in the same category as other carriers in Myanmar, according to what he described as an "airline safety guide". He was most likely referring to the Airline Safety Assessment Mechanism, a database compiled by the International Association of Oil and Gas Producers as a guide for energy industry workers in developing countries, who frequently have to travel on domestic carriers.
The mechanism is a complex industry index based partly on airline-specific indicators, such as fleet age, financial standing and operational conduct, and on country-specific indicators, such as regulatory oversight and air traffic control standards.
About 1,200 airlines are rated by the mechanism, of which the safest 20 percent are listed in category A, the next 30pc in category B, the following 30pc in category C, and the bottom 20pc in category D.
As a general rule, Oxfam does not fly with carriers that fall into either categories C and D, said Oung Kham Oo.
According to a recent ASAM report provided to Frontier by another international NGO, five of the six Myanmar-based carriers were listed in category B. Only Air Thanlwin, which was still flying as Yangon Airways when the report was compiled, was listed in category C, but this was due to airline-specific factors that do not include accidents. The database does not say what indicators informed the category C rating.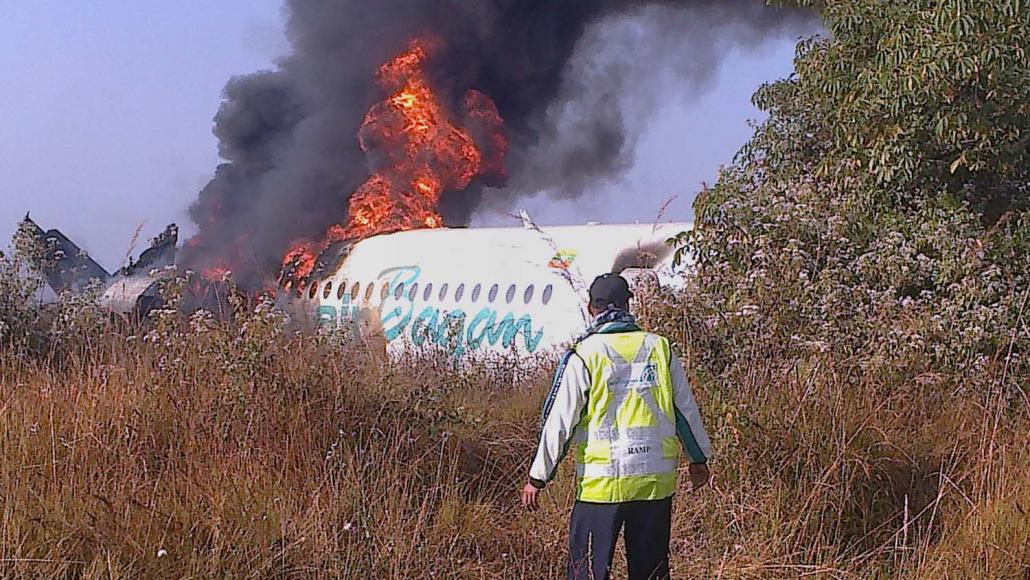 An almost catastrophic coffee break
All safe except Air Thanlwin and GMA then? It's not that simple.
First, MYA and MAI would argue that they are the only Myanmar carriers to be evaluated under the International Air Transport Association's Operational Safety Audit (IOSA) programme. This is a voluntary – and expensive – safety audit conducted by IATA experts and includes visits to a carrier's maintenance facilities.
A major problem in Myanmar and other Southeast Asian nations, according to an aviation industry source who asked not to be named, is a lack of reporting. The source explained that the non-punitive self-reporting of mishaps and safety breaches has become standard in developed economies and was one of the reasons for a sharp decline in aviation fatalities. However, the system of self-reporting is less prevalent in Myanmar and elsewhere in the region..
Myanmar's Aircraft Accident Investigation Bureau, a specialised department under the Ministry of Transport and Communications, tries to promote a "voluntary and non-punitive confidential aviation incident reporting system", according to its webpage. The bureau has not publicly released any reports since the end of 2017, but some of those that were published contain worrying aspects.
One incident in 2017 took 11 days to be reported to the AAIB, which can be seen as an example of a reluctance to report. It occurred on December 18, 2017, and involved a Thai Smile Airbus A320 that was poised to take-off from Yangon Airport but did not receive clearance until an arriving MYA ATR 77-600 was less than a minute from touchdown.
The duty air traffic controller, a trainee with three months' experience, had forgotten that she had given line-up clearance for the runway to the Airbus, and when its crew told her they were already on the runway, she did not know what to do.
Meanwhile, the watch air traffic controller, who was required to monitor the trainee at all times, had gone "to the coffee bar to make coffee", according to the AAIB's report. A potential tragedy was averted by the intervention of the approach air traffic controller, also an intern and who was sitting next to the duty air traffic controller, who gave take-off clearance to the A320. The appropriate action, said the AAIB, would have been to cancel the take-off clearance for the Thai Smile aircraft and instruct the MYA plane to execute a go-around, or missed approach.
Another "serious" incident, which took place on May 3, 2017, was not reported at all by the responsible parties, according to the AAIB, which does not write in its report how it became aware of it. A Sichuan Airlines Airbus A330 en route from Chengdu to Dubai came dangerously close to a China Southern Airlines A319 on its way from Kathmandu to Guangzhou when flying at 35,000 feet above Lashio in northern Shan State.
"The duty air traffic controller and the pilot from (the A330) listened carelessly to their conversation in their radio communication", the AAIB report stated. A potential disaster was avoided by the intervention from the neighbouring Chinese air traffic control who had received an automated warning sign. The report also found that radar coverage between Lashio and the Chinese border "was insufficient and did not work properly … [and] there had been such deficiencies for long time".
As concerning as these incidents appear, the Myanmar aviation authorities appear to perform satisfactorily when compared to other countries. The Airline Safety Assessment Mechanism's country ratings list Myanmar just short of nations such as the United Arab Emirates or Mexico.
A safety audit by the International Civil Aviation Organization, which measures more than 12,000 indices, also rates Myanmar just above the global average.
Safety as a financial liability
Although Myanmar rates fairly well with global industry bodies, the determination of its carriers to achieve optimum safety levels is not so clear.
"There will have to be a commitment to finance the training of personnel such as pilots, air traffic controllers and aircraft engineers to meet the demands of a booming industry," Mr Alan Khee-Jin Tan, an aviation law and policy professor at the National University of Singapore, was quoted as saying by Voice of America after MNA's crash at Mandalay in May.
His words were echoed by the industry insider who requested anonymity. "Some Burmese airlines only see training as cost, not as an investment. As none of the companies have a sustainable business model, they are all focused on saving costs rather than generating value," he said.
"Profitability […] has been unachievable this decade by virtually all airlines in Myanmar," said intelligence platform CAPA. One of the problems is overcapacity in a country in which only a fraction of the population can afford to travel by air.
CAPA data shows that 2.7 million passengers flew on domestic routes in 2018, and 4.5 million travelled from Myanmar to foreign destinations. The data shows that in early 2019, MNA and MAI combined accounted for less than 20 percent of those international trips, with the rest being on foreign competitors. In comparison, Thai regional carrier Bangkok Airways carried six million passengers in 2018 and Air Asia Group carried 44 million.
In Myanmar, where competition is intense, many carriers fly the same routes and, in many cases, at the same times. There was even more competition in the market three years ago, but since then Air Bagan, Apex Air, Air FMI, Air Mandalay and Asian Wings have ceased operations, a correction that many industry insiders had been expecting due to the saturated market.
There has been no significant market improvement for the remaining carriers. Fuel prices remain high, despite the government's recent decision to end an aviation fuel monopoly. The cost of avgas can account for up to a third of a domestic carrier's cost base, said Mr Leithen Francis, managing director of Singapore-based PR firm Francis & Low, which has a focus on the regional aviation industry.
"Also, aircraft leases are paid in US dollars, and so are some pilots. The business's expenditures are in US dollars, but the revenue is in local currency. With the Myanmar kyat having depreciated heavily over the last years, that poses a big problem for the companies," Francis told Frontier.
With GMA, MYA and Air Thanlwin all operating fewer than five aircraft, and in an unfavourable market environment, further consolidation remains possible – and it may help to support further investments in safety.