The National League for Democracy's re-election was helped by generous cash and in-kind contributions, but loose campaign finance rules kept much of this support off the books.
By SWE LEI MON and HTIN LYNN AUNG | FRONTIER
In the electoral battleground township of Meiktila in southern Mandalay Region, massive convoys of supporters from both the National League for Democracy and Union Solidarity and Development Party were an unmissable feature of this year's election campaign.
With vehicles draped in flags and blaring campaign songs from huge speakers, and with supporters clad in party T-shirts hanging from every available space, the convoys were a highly visible sign of the NLD's intent to snatch the seats in the township from the USDP. Most importantly, in a campaign hobbled by COVID-19, they helped to circumvent Union Election Commission rules that limited campaign events to no more than 50 people, as they were not considered formal rallies.
It's not clear whether these colourful convoys were an important factor in the NLD winning all seats in Meiktila on November 8, depriving the military-aligned USDP of one of its few remaining strongholds in central Myanmar. What is certain is that the cost of the convoys won't be found in the campaign expense reports submitted by the successful NLD candidates to the UEC.
Ko Bhone Kyaw, who won the local Amyotha Hluttaw seat of Mandalay-7 for the NLD, said the convoys were excluded from campaign finance reporting because they were arranged by "supporters" rather than the party or its candidates.
"[The supporters] aren't related to us," he told Frontier on November 25. "They acted by themselves because they wanted the NLD to win."
He added that it would be impossible to calculate how much such supporters spent on campaign activities. "Because they were acting of their own volition, we shouldn't have to include the cost of their events in our spending reports," he said.
With the cost of the convoys excluded, Bhone Kyaw said he was confident that his spending would not exceed the legal K10 million limit.
The neighbouring township of Pyawbwe was also the scene of an intense battle between the NLD and the incumbent USDP, with similarly raucous convoys of supporters parading through the town and rural areas.
There, too, many of the costs of the campaign will not feature on campaign expense reports.
NLD MP-elect U Nyi Nyi Lwin, who won the Amyotha Hluttaw seat of Mandalay-10, which covers Pyawbwe and Yamethin townships, said wealthy supporters had shelled out money for party-branded T-shirts and snacks that were handed out to villagers during official campaign events.
"We can't use our money for that because we don't have enough," he said. "We have to think carefully about our expenditure."
Nyi Nyi Lwin said he visited more than 500 villages in his constituency during the campaign but had kept his expenses to between K3.5 million and K4 million because he made the visits "simple". "I didn't donate money or rice, and no donations were made for religious reasons. It kept costs low," he said. "Because of COVID-19 restrictions, there really wasn't that much to spend money on for our campaigns."
But at least one NLD supporter who arranged a truck for campaigning in Meiktila was able to calculate the expense – and if it had been added to the candidate's reports, it would have put them much closer to the K10 million limit.
U Kyaw Myo Naing, the chair of LPG distributor Awra Trading, established a group called Union State Success National League for Democracy to support the party's campaign in Meiktila. The group used a large truck decorated with party logos that played campaign songs while touring wards and village in Meiktila and surrounding townships, as well as townships in Magway and Bago regions and Mon and Kayin states.
Asked how much it had cost to run the truck during the campaign period, the business magnate said his wife had calculated the expenses at about K35 million. "The main expense was petrol and meals for the supporters who joined the tours," he said.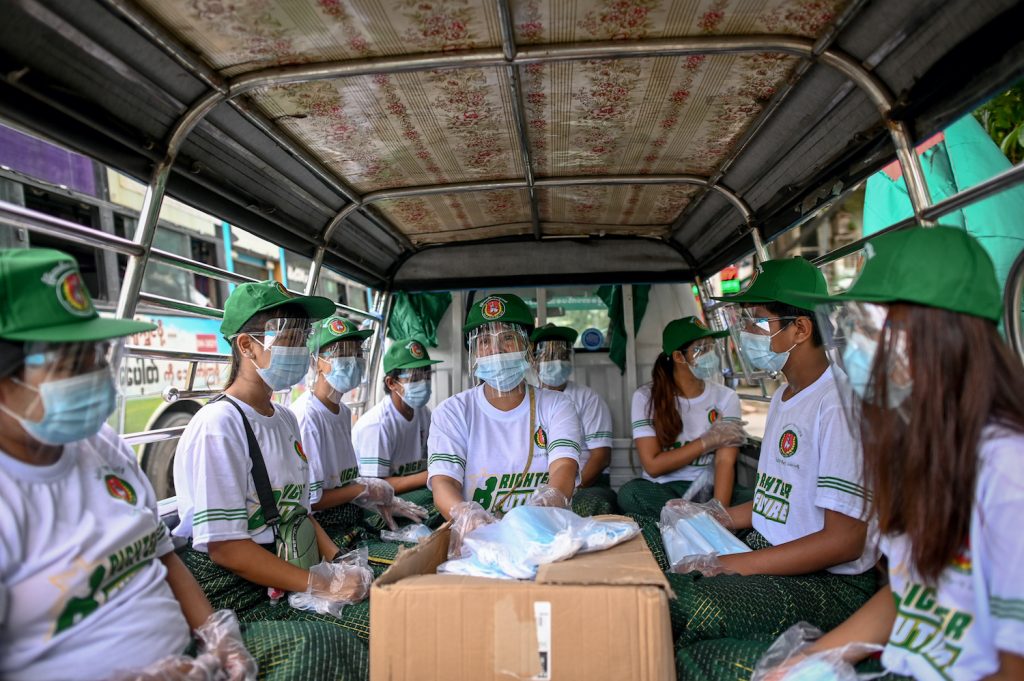 Blurring the line
The blurry line between a candidate's campaigning expenses and those of party supporters is one of just many shortcomings in the electoral framework for campaign finance.
Electoral law requires all candidates to provide the UEC with an itemised record of their spending on the election campaign within 30 days of the relevant regional or state election sub-commission confirming the result. Candidates spent a busy few weeks before the deadline – which tended to fall between December 10 and 15 – finalising their reports, which had to include expenses for both in-person and social media campaigns.
But beyond submitting a completed form by the deadline that shows expenses coming in below the K10 million limit – or K15 million for those contesting ethnic affairs minister seats in state and regional hluttaws – candidates have little to fear from the UEC.
Following the 2015 election, United States monitoring group the Carter Center recommended a sweeping review of the campaign finance framework, which it said had numerous shortcomings.
Chief among these is that it's essentially an honour system. There's no mechanism for monitoring or auditing campaign expenditure, so anyone who submits a report by the deadline that shows they spent under the limit is considered to have complied, the Carter Center said.
But there are many other areas in which campaign finance rules fall short of best practice, and in some cases create loopholes for candidates to spend far beyond the limit. Spending before the official start of campaign does not have to be reported, for example, and expenses incurred by the party rather than the candidate do not need to be declared. There's no limit to the size of individual contributions, nor any requirement to disclose the donor, and campaign finance reports are not published, though they are available to any registered voter on payment of a small fee.
Parties and candidates receive no public funding, making them wholly reliant on private contributions. The lack of transparency around donations and spending therefore poses a grave corruption risk and threatens democratic accountability.
Although the Carter Center suggested a raft of potential reforms, over the past five years the UEC has made no changes to the campaign finance framework.
Ko Sai Ye Kyaw Swar Myint, the executive director of Yangon-based election watchdog the People's Alliance for Credible Elections, said there were many legal weaknesses and grey areas in election spending rules.
These include unclear instructions for online campaigning, which is not differentiated from in-person campaigning, and a lack of restrictions on donation amounts, he said.
He also drew attention to the large rallies and events organised by wealthy "supporters", saying they were problematic from a campaign finance perspective.
"It's okay to describe an ordinary person wearing a party T-shirt and attending a rally as a supporter, but how can a businessman who spends a lot of money and funds events involving thousands of people be called a 'party supporter'?"
The rules for political party accounts are similarly perfunctory. Under section 17 of the Political Parties Registration Law, parties are required to prepare an annual financial statement listing their assets. The UEC and its sub-commissions have the power to request an audit of this financial statement under section 18 of the law, but the statement is not audited as a matter of course and party accounts are not made public.
Sai Ye Kyaw Swar Myint said PACE was preparing a report that would recommend tighter regulations on campaign spending by both candidates and parties, but conceded the issue is "very complicated and difficult to examine".
Because PACE lacks the capacity to monitor election spending, during this year's election it focused on whether any parties or candidates were benefiting from the use of state assets during the campaign.
"We found that candidates mentioned projects funded by the government but didn't use government assets," Ye Kyaw Swar Myint said.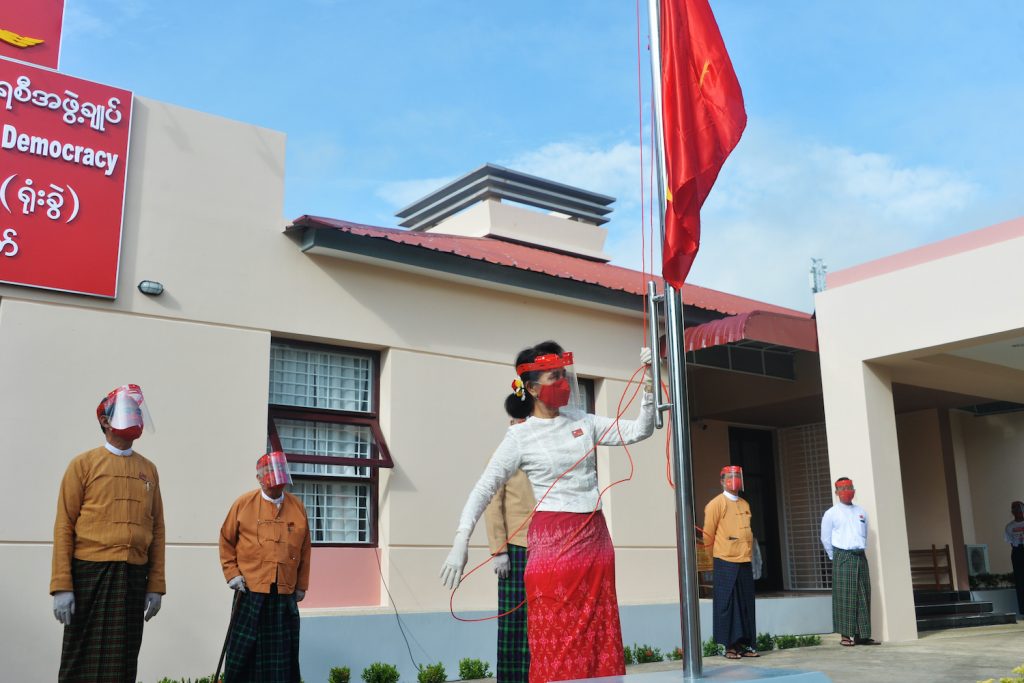 How to fund a winning party
The November 8 election delivered the NLD another landslide victory, with 920 of the party's 1,106 candidates elected to national and regional assemblies. In the Pyidaungsu Hluttaw, the national parliament, the party won 396 seats, bettering its 2015 result of 390, and easily eclipsing the 322 required for an absolute majority.
Party spokesperson Monywa Aung Shin refused to reveal precisely how much the NLD spent on the election, saying such a disclosure had no precedent among political parties in Myanmar. "But we are always ready to show the relevant government officials if they want to check," he said.
In light of its overwhelming success, and the difficulty in disaggregating candidate expenses from those incurred by the party, Frontier has spoken to a range of sources to understand how the NLD financed not only its campaign but also its party activities more broadly.
The NLD relies on a mixture of sources: a proportion of lawmaker and minister salaries, small donations from members, and bigger contributions from corporate and private donors.
Unlike some other parties – most notably the USDP – the NLD does not generate income from businesses, senior officials say. Under Myanmar's Political Party Registration Law, parties are allowed to own and run businesses and use the profits for their activities. The NLD also does not rely on a single benefactor, in the way that the newly formed Union Betterment Party largely depends on the wealth of U Shwe Mann, a former high-ranking Tatmadaw general and parliament speaker.
With its many dedicated grassroots members, the NLD has an advantage over most other parties. It can reliably bank K1 billion a year from its more than one million members, who each contribute an annual membership fee of K1,000, Monywa Aung Shin said.
But he said the main source of funds for the NLD, at around K200 million a month or K2.4 billion a year, is deductions from the salaries of party members who are lawmakers or cabinet members.
Since early 2016 it has deducted 25 percent of the salary of lawmakers in the Pyidaungsu Hluttaw, who earn K1 million a month, and 20pc of those in state and regional assemblies, who take home K500,000 a month. It also retains 25pc of the salary of all ministers, from President U Win Myint down to state and regional cabinet members.
The policy has not been popular with all lawmakers, particularly those from large rural constituencies, who say that with the deduction they are often unable to afford travel expenses to meet with constituents. About 10 MPs who refused to contribute were not allowed to re-contest their seats this year, Monywa Aung Shin said. "They won under the NLD's logo but refused to contribute to the party. We cannot choose those people to stand again."
Local branches also raise their own funds, in part because the party headquarters does not contribute to their running costs.
U Aye Cho, township chair of the NLD in Pyawbwe, said the party's office rent and other expenses were covered by contributions from the more than 500 members in the township in addition to their annual membership fee.
"Each month we collect K2,000 from regular members and K5,000 from wealthy members and that covers all our costs," Aye Cho told Frontier on November 25. However, funds are generally tight, he added. "We are moving [the office] to another location this month because the building owner increased the rent from K100,000 to K200,000 a month."
This system, too, is changing, thanks largely to the salary deductions. Monywa Aung Shin said the party had used the money to build almost 200 township offices, and 16 state and regional offices. "In the past we had to rent space in almost all townships. Now, we own about half of the party offices in the country," he said.
Despite this spending spree in recent years, the NLD was still sitting on a considerable war chest before the election – at least, by the standards of Myanmar politics.
In June, three months before campaigning got underway, Myanmar Now quoted senior party official Dr May Win Myint as saying that the party had more than K4.4 billion deposited in AYA Bank, owned by prominent businessperson U Zaw Zaw, and more than K400 million in state-owned Myanma Economic Bank.
The party spent at least some of that cash on election expenses. For the first time, the NLD provided financial support to its candidates – K1 million each, for a total outlay of more than K1.1 billion – to help cover their campaign expenses. This spending would likely be among that accounted for on their expense reports.
Dr Zaw Myint Maung, the party's deputy leader, told Myanmar Now in June that the NLD also provided K3 million to each state and regional office and township office, and K1 million to each district office, as a contribution towards organisational costs ahead of the election. In contrast, this spending is unlikely to have been counted on expense reports.
With COVID-19 hindering in-person campaigning in some areas of the country, social media advertising became an important tool for some parties and candidates.
NLD headquarters, however, imposed a strict ban on boosting content on party and candidate Facebook pages, said U Kyi Toe, a member of the party's central information team and a leader of its social media campaign.
For this year's election, Facebook introduced an ad library that shows how much organisations and individuals spent on election-related advertising – including political parties and candidates.
The Facebook Ad Library confirms that the NLD and its candidates, unlike those from other parties, did not spend anything boosting their pages and posts during the election.
The library shows that UBP chair Shwe Mann spent US$279 on his personal page and $5,610 on the party's official page, and People's Pioneer Party chair Daw Thet Thet Khine spent $2,274 on her own page and $1,877 on the party's.
However, one prominent page supporting the NLD was also among the top spenders. Khutdaung Aung Lan Pyithu Athan (Peacock Victory Flag People's Voice) was launched on September 15 and has more than 132,000 followers.
The page highlights "reforms under the NLD government" and features documentaries filmed throughout the country by actor Zenn Kyi and director Christina Kyi, featuring interviews with chief ministers and local residents. A research team from the Institute for Strategy and Policy-Myanmar found that more than $4,000 had been spent boosting election-related content on the page to the end of October. "In the week from October 26 to November 1, more than $2,400 was spent," ISP-Myanmar said in a report.
Kyi Toe from the NLD central information team said the party had no control over the boosting of pages founded by NLD supporters.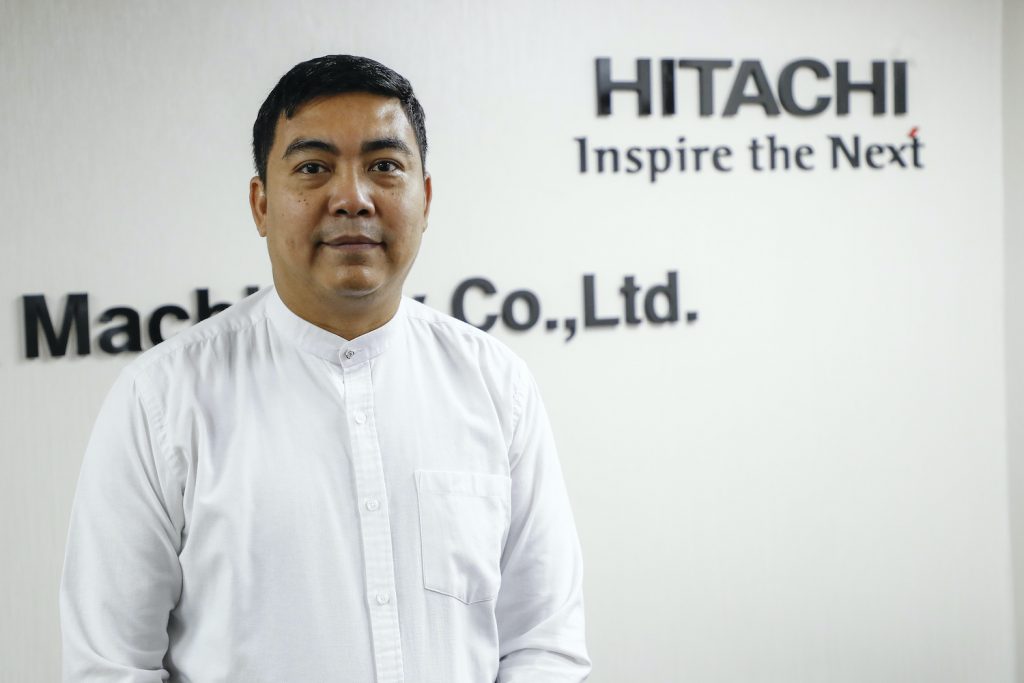 Businesses rally behind the peacock
One area where the NLD is less transparent is donations from companies and wealthy individuals, both to the party generally and to its election campaign activities.
From the time it returned to formal politics in late 2011, the NLD began attracting financial support from wealthy tycoons who had previously benefited from close ties to the military regime.
Some of these provided significant donations to finance its 2015 election campaign, and since the party formed government have continued to provide millions of dollars for NLD-backed initiatives such as the peace process, development in Rakhine State and the public health campaign against COVID-19.
This support from wealthy individuals has continued through this year's election, but the amount donated to the party has not been disclosed. In one example of the sums involved, however, an undisclosed buyer paid K240 million in a September auction for a poem written by party leader Daw Aung San Suu Kyi. The poem was owned by film director and activist Min Htin Ko Ko Gyi, who donated the proceeds of the auction to the NLD's election campaign.
Senior NLD spokesperson Dr Myo Nyunt acknowledged that the party received donations from "people who trust the NLD".
The NLD does not set a limit on the size of donations, he said; its only policy is that they be unconditional, in the national currency and from Myanmar citizens, he said. Companies also have to be able to prove they've paid tax on the money they plan to donate. If they follow these rules, "individuals can donate as much as they wish," Myo Nyunt said.
Many of the businesspeople who donate to the party are not household names.
U Kyaw Min Tun, who runs Soe Electric & Machinery, a transformer manufacturer founded by his father in 1993 that formed a joint venture with Japanese company Hitachi in 2015, has been a strong backer of the NLD in recent years.
In December last year, he arranged a huge welcoming event for Aung San Suu Kyi when she returned to Nay Pyi Taw after representing Myanmar at the International Court of Justice in the Netherlands against charges of genocide. Earlier the same year, his Soe Electric Foundation donated seven tonnes of bronze, valued at more than K50 million, to construct a statue of Aung San Suu Kyi's father, independence hero Bogyoke Aung San, in Nay Pyi Taw.
He's also taken on leadership roles in NLD-led business and health initiatives, including an industrial zone upgrading committee formed in Yangon and a COVID-19 volunteer team for Nay Pyi Taw.
This year he donated about K60 million in total to support the party's election campaign, including K2 million for each of the 10 candidates in Nay Pyi Taw and K10 million to the party's "victory committee" in the capital.
Kyaw Min Tun, who described himself as a long-time supporter of the NLD, said that he wasn't a member of the election victory committee but had provided it with cars and equipment for the campaign, on top of the cash donation.
"I made the donations because some NLD lawmakers are old friends, and I trust and love the leadership of amay [mother] Daw Aung San Suu Kyi," the 42-year-old businessperson told Frontier on November 28.
Kyaw Min Tun said he supports the NLD because its government is improving the country and does not expect to receive any special favours in return.
Kyaw Myo Naing, the businessperson who arranged the truck in Meiktila, said he too is "not expecting anything in return" for his efforts to help the NLD, which also included financing development projects in nearly 400 villages in Meiktila in the name of the party.
"I just wanted to support the party that I trust and to help democracy to flourish in this country," he added.
However, events elsewhere in Myanmar suggest that donors stand to materially benefit. In recent weeks the NLD's Chin State chapter has been rocked by a scandal in which an MP-elect issued a recommendation letter for six companies that had bid on an education department tender, noting that they had made donations to the NLD's re-election effort.
Ce Zar Cung, who was elected the Pyithu Hluttaw MP for Thantlang and is also NLD chair for the township, is now under investigation by the party, Salai Isaac Khen, chair of the NLD victory committee for Chin State, told Frontier.
Isaac Khen said a state-level disciplinary committee had summoned Ce Zar Cung on November 28. "We submitted our findings to the party's central disciplinary team," he said. "Soon the party will make a decision."
A document seen by Frontier shows the businesspeople in question donated between K500,000 and K1 million to the NLD.
"We don't invite donations from people, but if people want to donate of their own volition then there must not be strings attached," Isaac Khen said. "The party can't accept this kind of issue. These things will be more strictly enforced in the future."
Daily Eleven reported on November 16 that Ce Zar Cung had submitted his resignation, though the party has yet to accept it.
NLD spokesperson Myo Nyunt told Frontier the central disciplinary team was still examining the case. If the allegation is substantiated it will take action against Ce Zar Cung, he said.
There had been no similar reports of "give and take" between donors and party officials in other states and regions, he said, but acknowledged the party needed to tighten up its internal rules to ensure there was no repeat."We need to have more specific rules so we can avoid this problem in the future," he said, "and so we can take immediate and effective action if someone breaches the rules."