Rock walls near Mandalay and Hpa-an are favourite destinations of a growing group of technical climbing enthusiasts pushing their minds and bodies to the limit.
Words & Photos NYEIN SU WAI KYAW SOE | FRONTIER
OUR MOTLEY crew enjoyed early morning starts to make the most of the good weather, which was perfect for climbing. Our destination was a 30-minute drive from Mandalay's downtown, past green fields and golf courses and through a few villages to the foot of Yay-Ta-Khon ("Waterfall") Mountain in Patheingyi Township.
Yay-Ta-Khon is in a range of majestic limestone mountains and reached by a steep and bumpy road. We park and stroll to the climbing wall. It's named after Steven Davis, an American who fixed climbing bolts to the rock face in 2011 to make it easier to climb.
Yay-Ta-Khon Mountain is composed of granite, which makes for great climbing. It's part of the Thar Kho mountain ranges, which run through Shan State to the Patheingyi region.
"I can see all of Mandalay and the Ayeyarwady River; it's a tremendous view," said Ko Nyi Nyi Aung, who began climbing in 2008. "I like outdoor climbing because it's a challenge, and travelling with new people is a lot of fun," he said.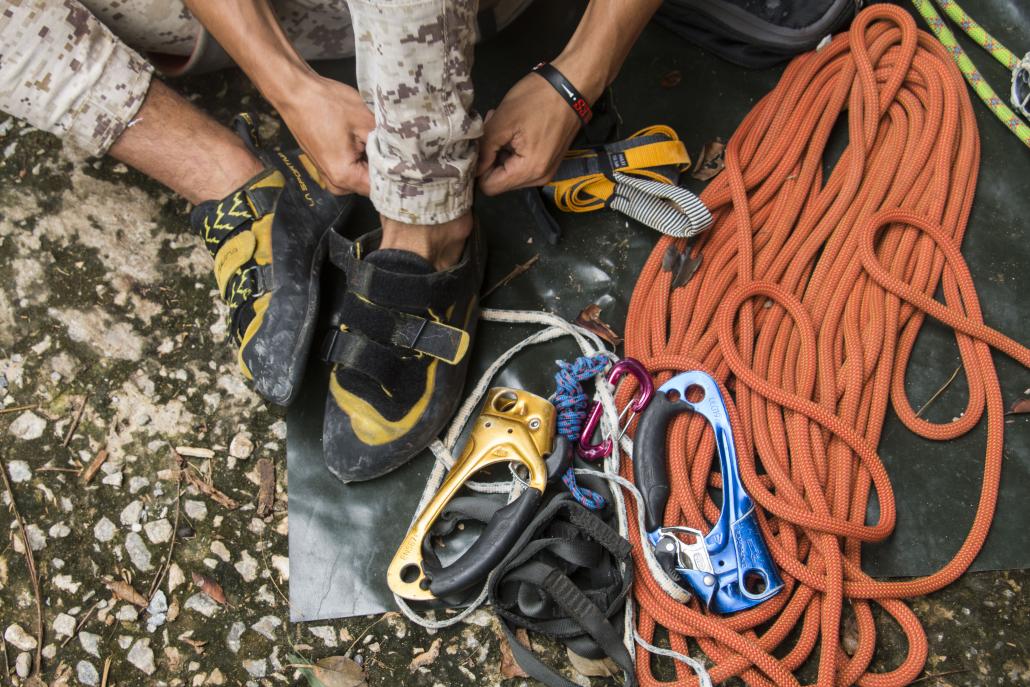 Climbing is an intellectually demanding sport that requires nerves of steel. Your only competitor is yourself, or more accurately, your inner demons.
We climb Steve's Wall, which is beside the road. Four climbers are inching their way up the rock face at the base of which are the members of the team known as belayers. Belaying is holding the rope for a climber to stop them if they start falling and is an essential climbing skill.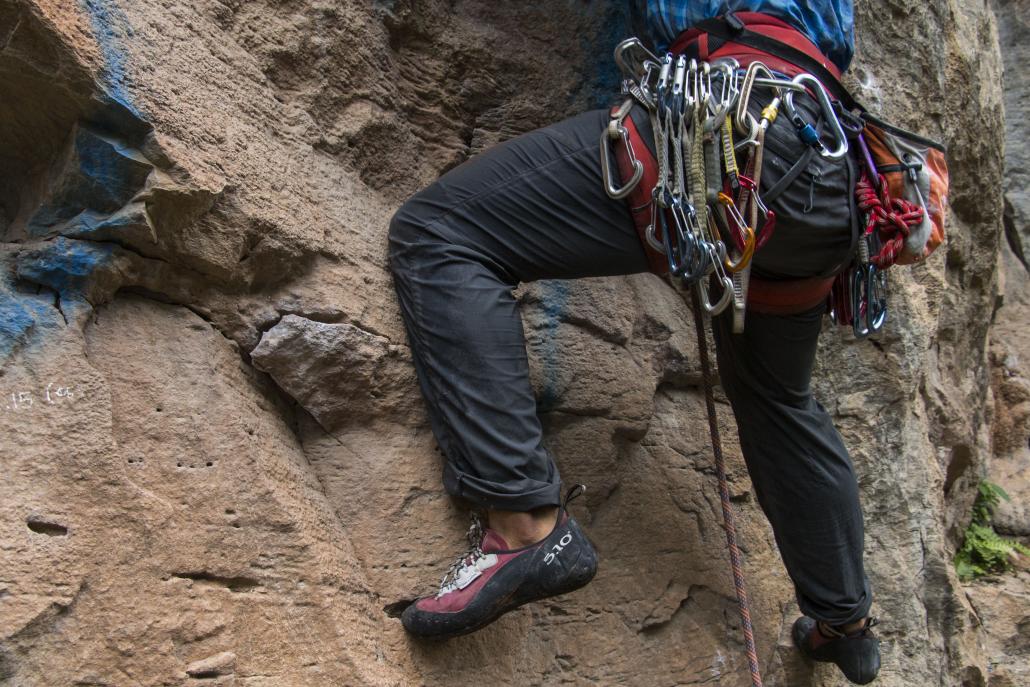 Suddenly, Mandalay climber Ko Ye Htut, who is making good progress, yells "Drop!" We quickly move away from the wall as a loose rock crashes down.
"I had nearly reached the top of the rope, when I grabbed a rock that was loose. I was in shock. I knew I had to drop it," Ye Htut said after descending to the road. "Most of the wall is solid, but sometimes we encounter loose rocks," he added.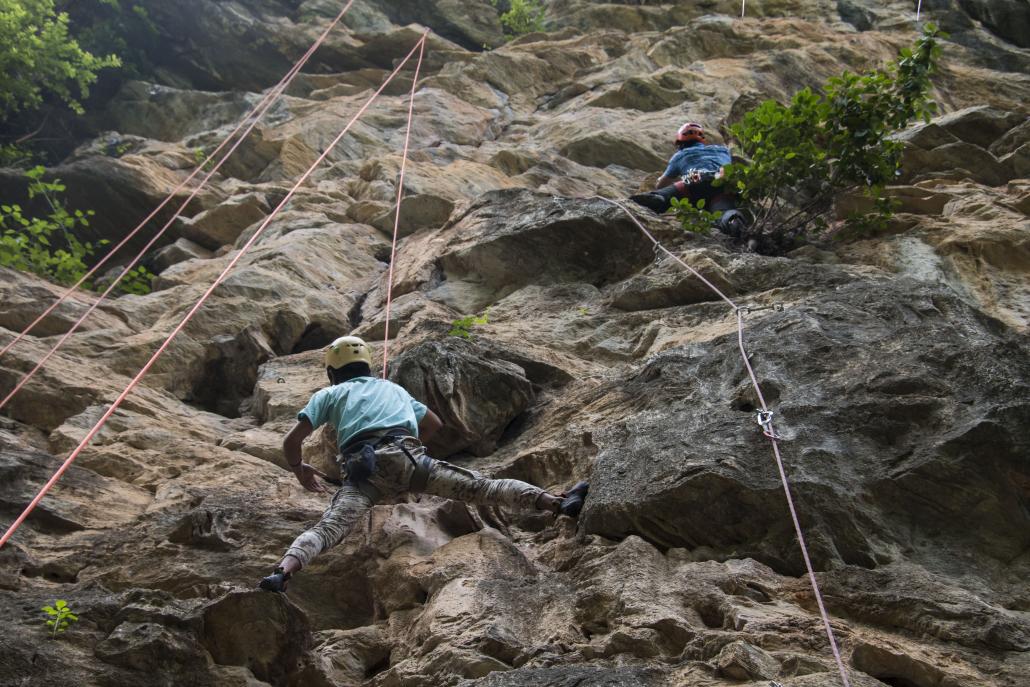 Climbers and their belayers work together as a team and communicate using terms aimed at minimising the risk of a fall.
"On belay," said top roper Ko Htet Wai Yan Oo to his belayer, Ko Thet Wai Yan, who replied, "Belay on". "Climbing," said the top roper, as he began advancing up the wall. "Climb on," replied the belayer. "Take!" yelled the top roper when he wanted to take a rest. "OK," replied the belayer, who tightened the rope. When the top climber reached the top of the rope, he shouted to his belayer, "Done! Lower me!", and descended to the road.
Shouted climbing terms and cheerful words of encouragement punctuate the quiet mountain environment.
Ko Zaw Zin Khine was a hiker before he became interested in rock climbing. "I started hiking in 2004 and some treks involved negotiating icy mountains with rock faces, so I knew I needed to learn about rock climbing," he said.
In 2014, Zaw Zin Khine joined the Technical Climbing Club of Myanmar, which was founded in November 2011, and started indoor rock climbing.
"My friends, Ko Win Ko Ko, his wife, and my French friend, Mario, taught me some climbing movements," he said, adding that he also watches climbing videos on YouTube. "When I meet my friends or when we're climbing, we are always discussing steps, movements to stay on the rocks for a long time. It has all helped to improve my skills."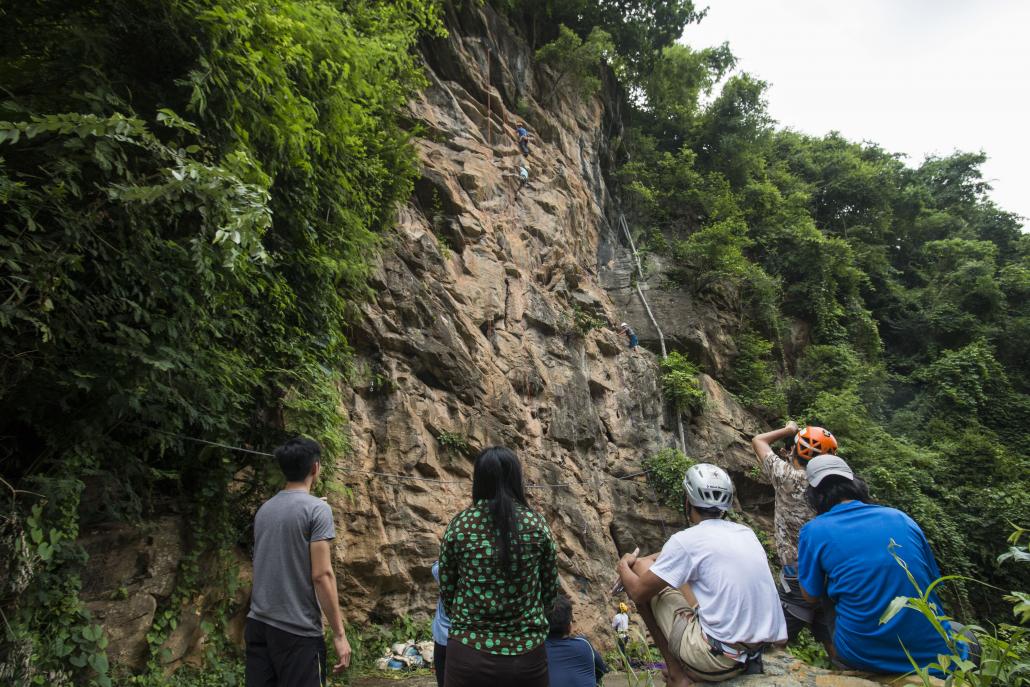 The thrill of climbing becomes addictive. "Rock climbing is very important to us," Zaw Zin Khine said.
Rock climbing demands balance, endurance and flexibility and good climbers literally "dance" on the rock surface.
Ko Aung Khaing Myint, a member of TCCM, and many other climbers became interested in rock climbing after watching YouTube videos. They were also aided by experienced foreign climbers such as Davis and Australian Mr Dean Creer, who have helped climbers hone their skills and to promote the sport in Myanmar.
"At first, I started climbing at an indoor gym and learned about technical gear and how to use it to create and climb difficult routes," said Aung Khaing Myint.  "Indoor climbing is kind of boring; outdoor climbing is more challenging and active. But I like both," he said.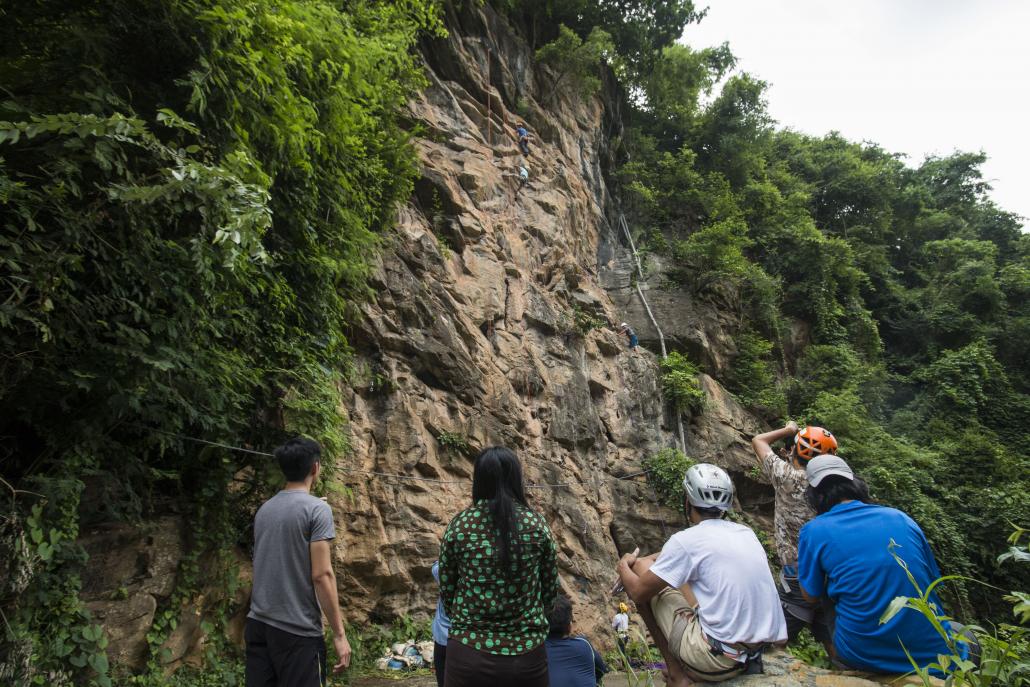 Climbing equipment, such as the bolts, hangers, nets and quick draws fixed to rock faces to make them easier to climb, is expensive, as is the gear, which includes helmets, harnesses and climbing shoes. Near the top of Fire Wall, which is located close to Steve's Wall on Yay-Ta-Khon Mountain, there's a series of bolts that took the TCCM about one and a half months to install.
"Most of the gear and bolts is donated by foreigners and we also get donations from people," said Ko Aung Khaing Myint, a TCCM member.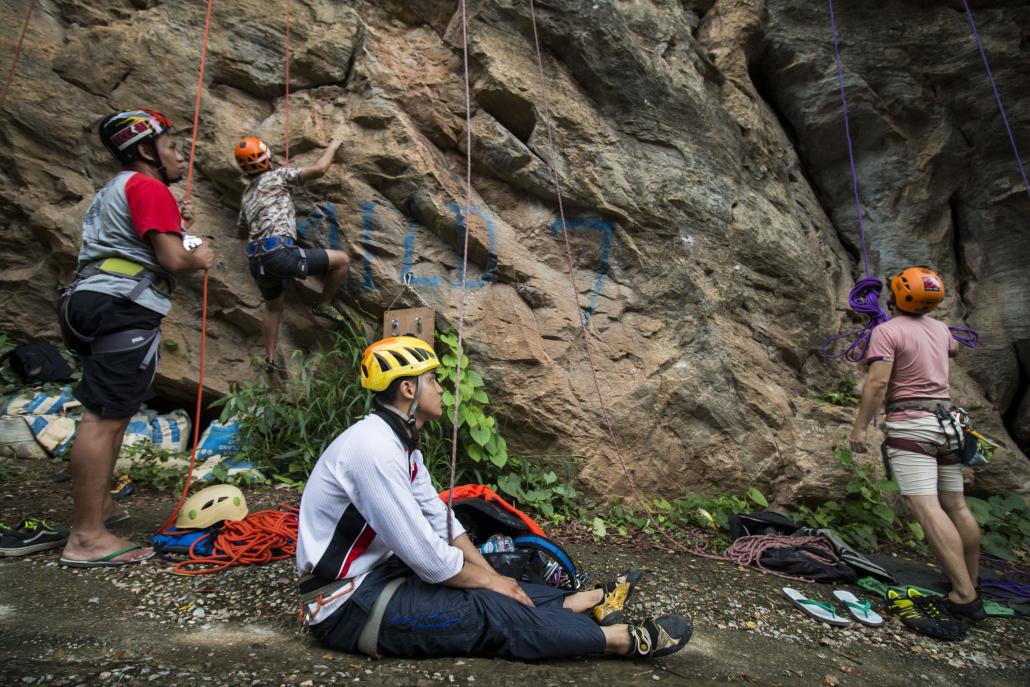 The favorite destinations for climbers are areas near Mandalay and Hpa-an because they are easy to access.
"We only have to get permission to climb from the monks at nearby monasteries. We bolt rocks and climbs in those areas at least once a month," Nyi Nyi Aung said.
"There are other places to climb, such as the Ba-Yin-Nyi Cave [behind a large temple at the base of sheer limestone cliffs on the road between Hpa-an and Thaton], but some places are difficult to reach," he said.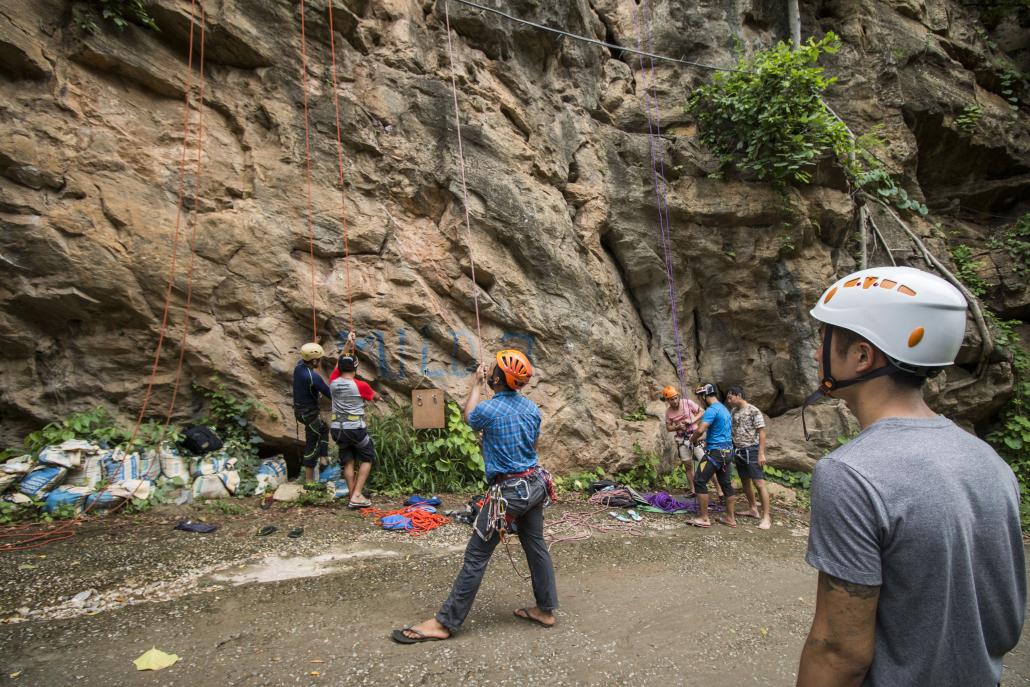 Climbing at Mandalay was easier than around Hpa-an because it has a drier climate, Nyi Nyi Aung said.
"Hpa-an is really rainy and in the rainy season some of our walls are under water," he added.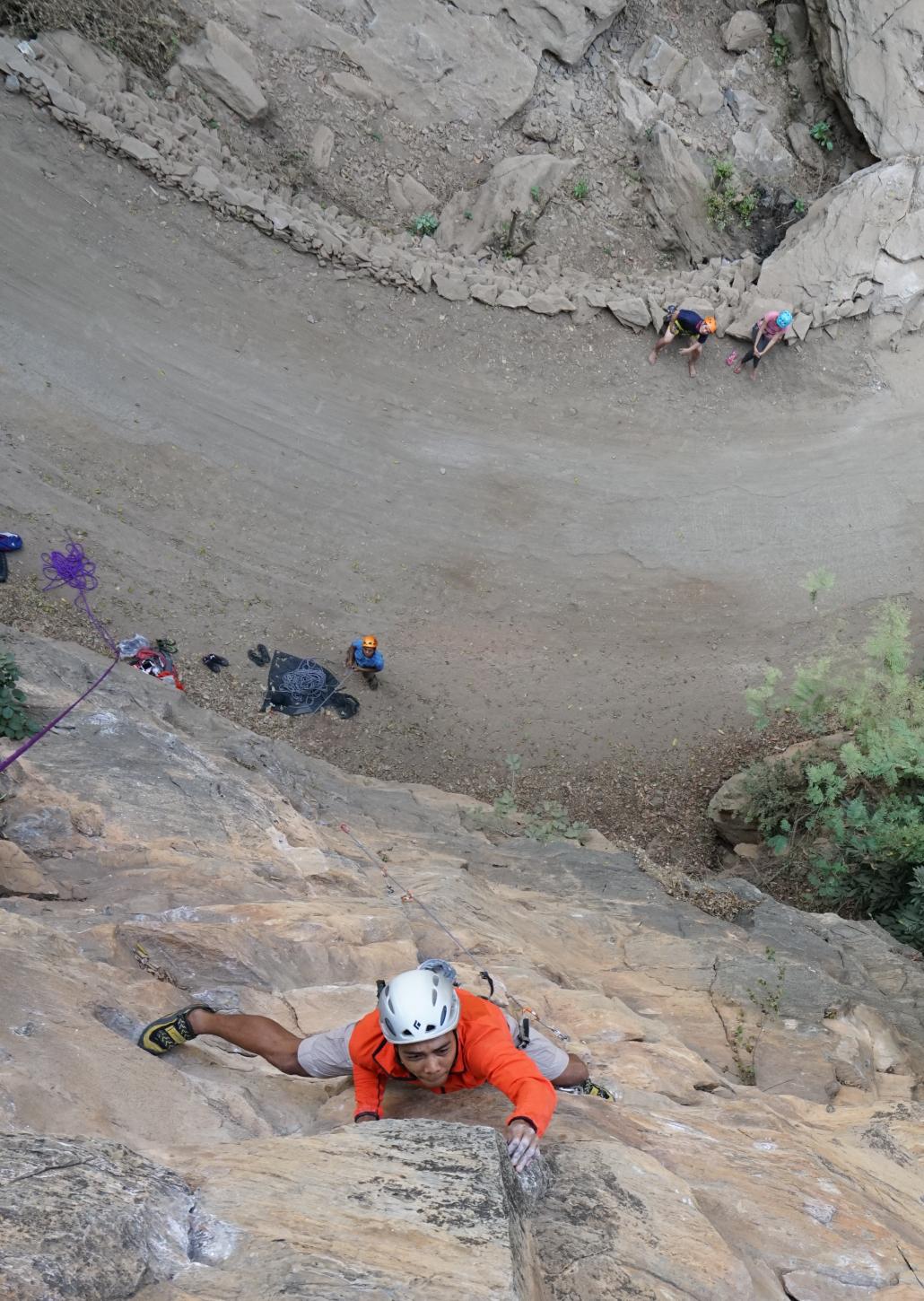 Climbing is not only about reaching the top.
"The sport requires mental focus and good discipline," said Aung Khaing Myint, who began rock climbing in 2014. "When I climbed for the first time, I was very happy when I reached the top; I felt very confident, physically and mentally," he said.
Nyi Nyi Aung said he loves the exhilaration of climbing.
"Getting high, without drugs; that's my favourite motto," he said.