Shortages of adequate supplies of safe, nutritious food continue to affect poor rural communities hit hard by last year's floods, says a report by two UN agencies.
By OLIVER SLOW | FRONTIER
More than seven months after severe flooding throughout much of Myanmar, many poor communities in rural areas are still facing major food security problems, say UN agencies.
Widespread flooding followed unusually heavy rain in much of the country in late July and August and was exacerbated in the west by Cyclone Komen that devastated parts of Rakhine and Chin states.
The flooding claimed at least 100 lives and affected more than one million people. It was the worst natural disaster in Myanmar since Cyclone Nargis battered the Ayeyarwady Delta in 2008, killing at least 138,000 people.
A March 17 report by the Food and Agriculture Organization and the World Food Programme said rural poor in Chin and Rakhine states were still struggling with food security problems caused by the flooding. The situation highlighted "their vulnerability to withstand similar emergencies in the future," said the report, based on crop and food security assessment visits to affected areas last November and December.
Although the flooding initially caused severe crop damage, many farmers were able to replant after water levels receded and the report estimated that national paddy production in 2015 was down three percent on 2014 and was two percent below the average for the last three years.
However, in hard-hit Chin and Rakhine states, paddy production was expected to fall by up to 15 percent and cause shortages that would drive up prices.
The report said Rakhine State and Sagaing Region were the hardest hit by livestock and fisheries losses.
"This has not only negatively affected people's livelihoods but also reduced their ability to meet protein-intake needs," the report said.
Ms Bui Thi Lan, the FAO representative in Myanmar, said it was providing crops, seeds and livestock for farmers, as well as repairing fishing gear and boats. FAO was also focusing on longer-term initiatives that would allow farmers to cope better in future emergencies.
WFP said another issue for farmers was access to cash. It said farmers would need to be provided with cash assistance to recover from the effects of the flooding.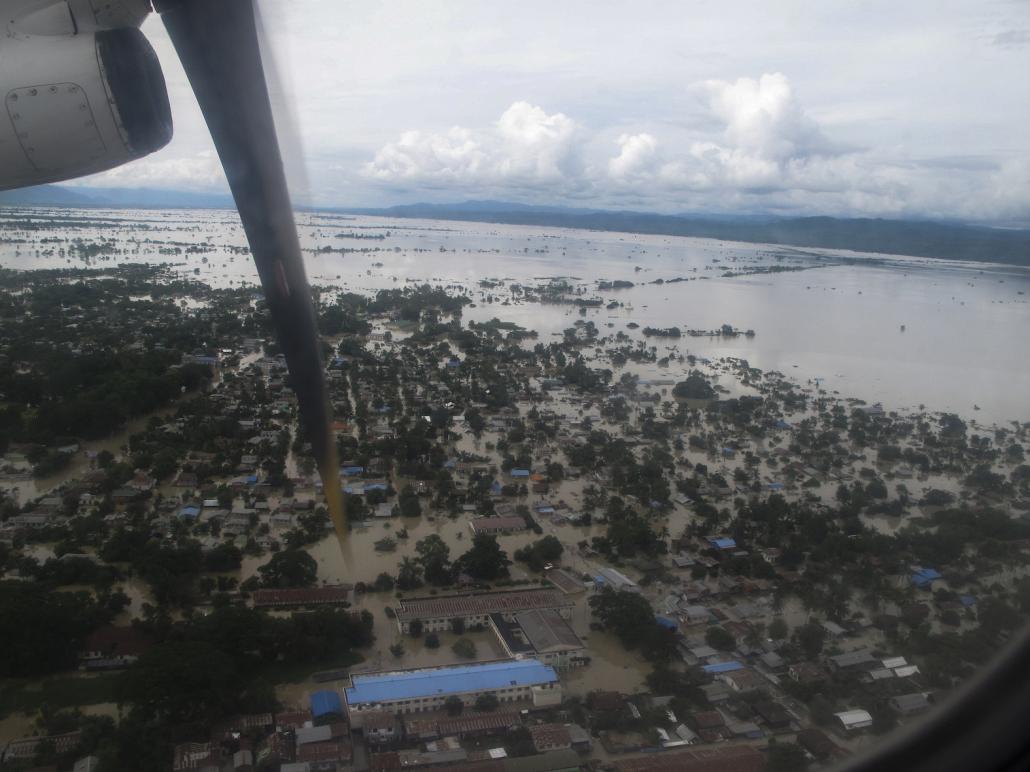 The report recommended the immediate distribution to farmers of seeds for the coming monsoon planting season as well as the provision of water and pest-resistant storage containers to protect seeds. It said there was also an immediate need for drying nets and post-harvest equipment, and the urgent restocking of livestock, such as chickens, ducks, goats and pigs, to avoid a fall in protein intake.
The report also contained recommendations for long-term recovery, resilience building and disaster risk reduction. They included developing grain banks at communal and regional levels to reduce post-harvest losses, building micro-dams in suitable areas and establishing a national information and early warning unit on food and nutrition security.
The ability of both UN agencies to provide assistance has been affected by funding shortfalls.
WFP said it would continue its flood response for 104,000 people until mid-year to prevent a further deterioration of the food security and nutrition situation, but faced a shortfall of US$47 million to meet all food assistance needs until the end of 2016.
FAO said it aimed to meet the immediate needs of 332,750 farmers still recovering from the floods, but would need extra funding of $7.1 million to meet all targeted beneficiaries.