The fisheries industry says it deserves more help from the government to deal with a downturn caused by the pandemic, but some government officials insist that it's business as usual in the sector.
By KYAW LIN HTOON | FRONTIER
Myanmar had its sights set on a record-breaking year for fishery exports until the coronavirus pandemic swept away orders, closed factories and jeopardised millions of jobs. Now industry sources say the sector needs government support to remain strong and survive well into the future.
However, private sector stakeholders and the government offer vastly differing assessments of the impact of COVID-19 on the fisheries industry, one of the nation's most important export earners.
The Department of Fisheries under the Ministry of Agriculture, Livestock and Irrigation believes the sector has continued to thrive despite COVID-19, and has figures to justify its rosy assessment. They show exports are strong and rising, averaging just over $81 million a month in the fiscal year beginning last October, up from $60.16 million a month in 2018-19.
Exports in the eight months to the end of May totalled US$651 million, compared to $722 million for the entire previous fiscal year and $700 million in 2017-18.
But industry figures poured water over any suggestion Myanmar could meet a $1 billion target set last year. They say exports began to slump from February, as buyers cancelled orders and Myanmar factories, including processing plants, were forced to temporarily close due to COVID-19 prevention measures.
Sinking feeling
U Myint Zin Htoo, deputy director-general of the Department of Fisheries in Nay Pyi Taw, said that since the start of the fiscal year in October there had been no decline in fisheries exports through border trade or normal trade, which involves transporting products by sea or air.
Although an annual offshore fishing ban from June to August to conserve fish stocks has already begun, he said "there are fishery products in cold storage to be exported, as well as the catch from inshore fishing".
"I'm quite confident export earnings will at least equal that of the previous fiscal year," he added.
The private sector is not so hopeful – particularly the marine fishery, or seafood, industry, whose exports mainly go to the European Union, United States, Japan and Hong Kong.
The sector has been badly affected by transport disruptions and the consequences of other measures imposed since March to prevent the spread of the coronavirus.
Although trawler owners have benefited from lower operating costs because of a fall in fuel prices, weak demand has made it difficult to sell their catch at the anticipated price when they return to shore, say industry sources.
For them, the causes are two-fold. Seafood processing companies have been hit by a shortage of orders from international buyers, but the domestic market has also been affected by the closure of restaurants and hotels, and a general drop in consumer spending.
The effects of the pandemic on the fishery sector began being felt in late February but industry sources said April was the worst month.
U Hnin Oo, deputy chair of the Myanmar Fisheries Federation, said that despite positive government figures he estimates that export earnings could decline significantly compared to the last fiscal year because of the impact of COVID-19 on normal trade.
"Since the start of the fiscal year we have been trying to reach $1 billion in export earnings, but COVID-19 has dashed our hopes as demand in all markets has dropped," Hnin Oo told Frontier.
"There have always been differences between the department's data and the actual situation on the ground," he said. "It's really hard to know the real income of exports in the private sector."
U Win Kyaing, secretary of the MFF, estimated the volume of normal trade fell by up to 80 percent in April and the amount of airfreight exports dropped to zero for the whole month due to flight bans.
"Although we can say the worst is over, the situation remains far from normal because prices and volumes are not stable yet," he said.
Despite the apparent impacts, the fisheries sector has not yet received any specific support from the government. A K100 billion ($70 million) COVID-19 fund offering one-year emergency loans at 1 percent interest has focused mostly on micro, small and medium sized enterprises in the garment and tourism industries.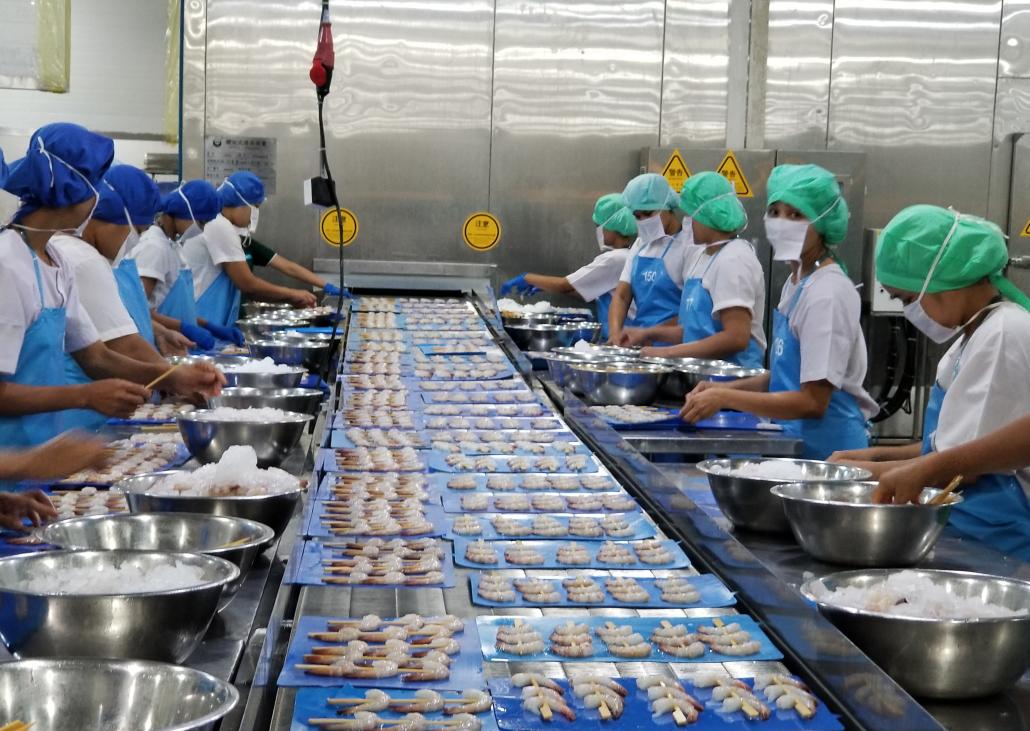 Job losses
At the Golden Bay Ltd seafood processing plant at Yangon's Insein Township, orders began drying up in March as lockdowns began to hit is export partners in Europe. Meanwhile, its smaller stake in the domestic market also collapsed after the closure of restaurants and hotels during the month, said its managing director U Myo Nyunt.
Golden Bay stopped processing in April but is continuing to pay full salaries, he said.
"COVID-19 affected our entire supply chain," he added. "Exporters that buy fish and shrimps from the marine fishery have problems when they have no export orders; we cannot sell those products domestically as most Myanmar prefer freshwater fish and shrimps. Fish from the sea are also more expensive."
Myo Nyunt, who is also secretary of the Myanmar Fishery Products Processors & Exporters Association, said the government should provide more support to the fisheries industry because millions of workers rely on the sector for their livelihoods.
"Businessmen like us can wait for the market to recover … but we are especially concerned for our workers and are trying hard to secure orders so we can keep our factories operating," he said.
The MFF says the sector, which includes marine and inland fisheries as well as aquaculture, provides jobs for more than 3.3 million people. About two-thirds work in the marine sector, more than 300,000 are employed in processing plants, and many of the rest are informal workers, it says.
The impact has been perhaps hardest-felt in Tanintharyi Region, where about 75 percent of its population rely on the fishery sector to make a living, said U Tin Ko Ko Oo, founder of Our Future Initiative, a Myeik-based non-government organisation focused on the sustainable management of marine resources.
Despite the commercial fishing ban, Tin Ko Ko Oo said he has not seen a government plan to help workers in fisheries and informal small-scale fishing operations.
In Myeik, less than one-third of marine fishery workers are registered, he said, meaning the government must "think well how to help all-inclusively".
"But the problem is that we haven't seen any efforts [to provide support] yet – even for the formal sector," he added.
In Mon State, the fisheries business is down about 80 percent, U Myint Soe, chair of the Mon State Fisheries Federation, told Frontier in an earlier interview.
Businesses in Mon normally export most of their catch to China but have been unable to since China introduced restrictions on the border because of COVID-19, he added.
Golden Bay's Myo Nyunt said other exporters were facing similar hardships to his company.
Processing and exporting companies are now concerned that if orders rebound in June and July they may go unfulfilled because of the offshore fishing ban.
The MFF has requested the ministry shorten the ban by one month, Myo Nyunt said, adding that scientists from the Norwegian research vessel, RV Dr Fridtjof Nansen had also recommended the ban should instead run from February 15 to May 15.
"Our situation is like a person who has recovered from illness but has nothing to eat," said Myo Nyunt.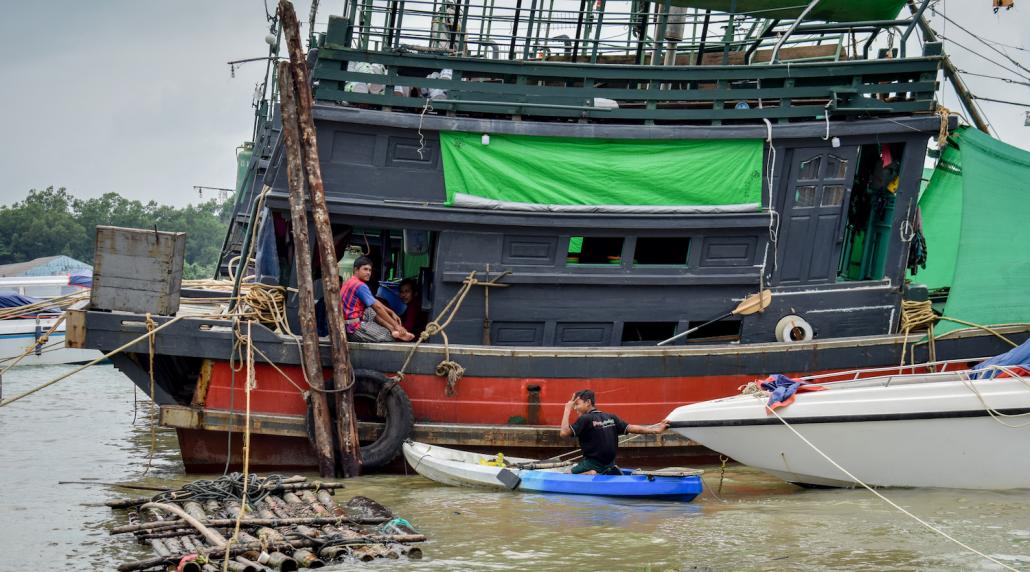 No fishing allowed
Some argue the ban should be lifted altogether. This includes Our Future Initiative's Tin Ko Ko Oo, who, when Frontier met him in July last year, said the fisheries department needed to conduct more research on fishery stocks and that a targeted ban on fishing during the breeding season could be more effective than the blanket three month ban.
"We need to find out exactly which species breeds in which block at what time; if we know the basic facts, we can ban fishing only in specific blocks, as happens in other countries," he said.
But fisheries department officials, especially those in Tanintharyi, oppose the proposal to shorten the ban by a month.
The ban was introduced at the suggestion of experts and businesspeople had supported it, said U Thant Zin, head of the fisheries department for Kawthaung District, at Myanmar's southern tip.
"I can't think of a reason to shorten the ban because of COVID-19," he added.
Two land border crossings in the south, at Htee Khee and Maw Taung, have been closed because of COVID-19 and the only crossing open for exports is at Kawthaung, a short boat ride from the Thai port of Ranong.
The fisheries department at Kawthaung said seafood exports via Ranong had earned $172 million in 2018-19. This fiscal year, from October to May, exports totalled $219 million, the department said.
Fisheries department deputy director-general Myint Zin Htoo said he understood the call for a ban reduction and his department helped submit it to the cabinet.
He believes that the Ministry of Agriculture, Livestock and Irrigation has done enough to help the sector, but admits that "they may also want loans with low interest rates because they are businesspeople".
The fisheries department has also proposed its own support package that includes loans of K10 million for trawler owners, between K100 million and K200 million for jetty owners, and K300 million for seafood factory owners, he said, adding that the plan is still waiting for cabinet approval.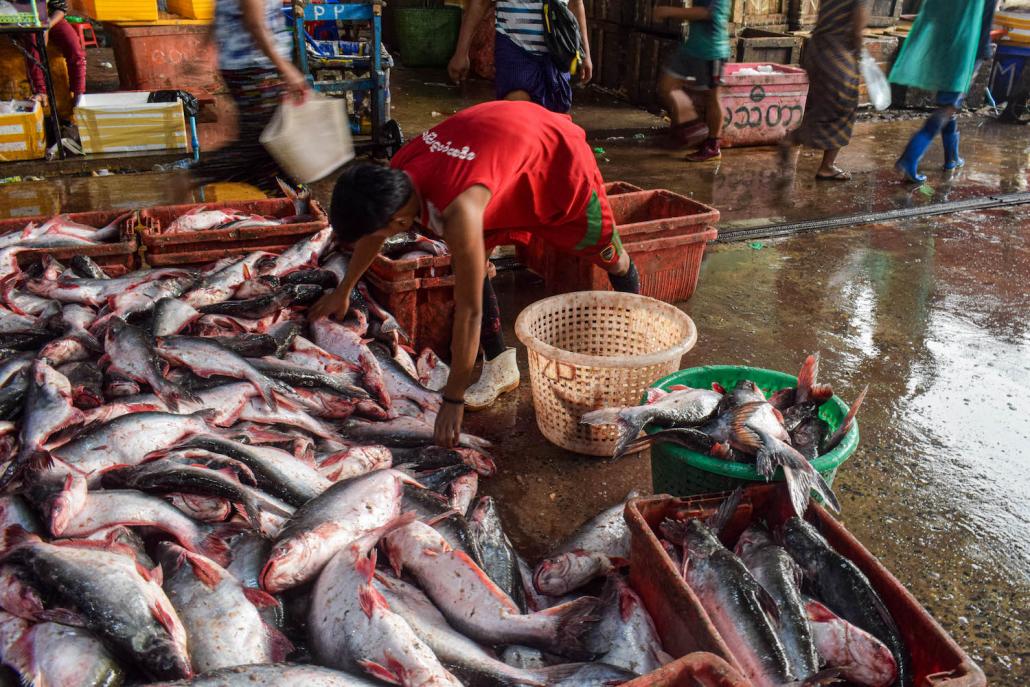 The shrimp perspective
As trawler owners and seafood processors chafe over the offshore ban, the aquaculture sector is also facing challenges marketing the shrimp it produces.
U Kyaw Tun Myint, who owns a shrimp farm in Ayeyarwady Region, said both the domestic and export markets for shrimp had contracted since March when COVID-19 was first recorded in the country.
More than 80pc of inland fishery products that go overseas – mainly to the Middle East – come from aquaculture, said U Hnin Oo from the MFF. Lakes and ponds across Myanmar usually harvest livestock in November and December and sell out by January.
Now is the time to start farming again but most aquafeed comes from overseas, said Kyaw Tun Myint, a channel that has been blocked because of halted international transport.
The high cost of shrimp compared to other food products in the domestic market is also dampening demand and pushing some to mull breeding smaller varieties of the crustaceans, added Kyaw Tun Myint, an executive member and former president of the Myanmar Shrimp Association.
He said shrimp farmers needed to reduce production costs, including by being able to buy cheaper feed, and ensure that the shrimp they produce is affordable while also maintaining their infrastructure in top condition.
"Our farms are facing many challenges right now," he said. But, at least, he added, "the market is reopening slightly again now."
Kyaw Tun Myint said the shrimp association had reported its situation to the fisheries department. The government should buy high-quality shrimp breeds to resell at a discounted rate to farmers, offer loans, and use state-owned factories to produce feed domestically, he said.
"None of our expectations have come true yet," he added.
Businesspeople in the fishery industry say it deserves better government support because of the contribution it makes to national development through export earnings and job creation. More support would also enable the industry to compete more effectively in international markets, they say.
Hnin Oo said Vietnam and Thailand earn $10 billion and $7 billion, respectively, from seafood exports, "but Myanmar hasn't even reached $1 billion".
He said the government had neglected the fishery sector for many years, which was one reason why it had been so badly affected by the coronavirus pandemic.
"It's sad that the government hasn't come up yet with serious ideas about how to help the industry," Hnin Oo said, "at a time when the growth of all businesses in our sector has stalled."
TOP PHOTO: Seafood processing factories in Yangon say exports collapsed in April due to the impact of the coronavirus on world trade. (Thuya Zaw | Frontier)