Opposition to the military regime is complicating efforts to combat a COVID-19 third wave that a government doctor in one of the worst-affected areas says is "out of control".
By FRONTIER
On May 26, a government hospital in the small town of Cikha in Chin State was suddenly overwhelmed with patients. Nearly 100 residents presented with high fever, shortage of breath, exhaustion and a loss of their sense of smell – all of which are symptoms of COVID-19.
Tike Nal Say Yone hospital performed rapid diagnostic tests and by the next day, 11 of the patients had tested positive for the virus. Cikha, located in Tonzang Township, is only about 10 kilometres from the border with India, and health officials and residents suspect the outbreak was caused by people travelling illegally between the two countries.
After another five cases were detected in Tonzang on May 28, the military regime's Ministry of Health and Sports issued a stay-at-home order for the township. Amid the growing anxiety among residents about the rising number of cases, township authorities also banned gatherings at churches from the end of May.
Dr Htang Shan Khai, head of the health department in Tonzang Township, told Frontier on June 4 that the situation was "out of control". Authorities were doing what they could to control the pandemic, he said, but the infection rate was "still high". He added that responding to the outbreak had been made more challenging because half of the 191 personnel in the township's medical services and public health departments had joined the Civil Disobedience Movement and were on strike.
According to Htang Shan Khai, nearly all of the COVID-19 patients at Cikha also suffered from diarrhoea, a symptom of one of the highly transmissible COVID-19 variants that have emerged in recent months.
Fears about the spread of new strains of COVID-19 were confirmed on June 15 when the health ministry said three highly transmissible and more severe variants had been found in the country.
The ministry said the three variants were detected in tests conducted by the Defence Services Medical Research Centre of the junta-controlled Ministry of Defence on swabs provided by 11 people: four from Mandalay, three from Myeik, two in Tamu, one from Kalay, and one from a foreign returnee.
Three public health experts interviewed by Frontier earlier in June had predicted that the variants would affect Myanmar, as they have with other countries in Southeast Asia and the Indian subcontinent.
One of the public health experts, who spoke on the condition of anonymity, said controlling the latest outbreak would depend mainly on the government's response. But its response is likely to be hampered by a lack of health workers and volunteers, deep suspicion from a population still angry at the February 1 coup, and a reluctance from foreign donors to provide support.
The third wave has begun
The decision by the junta's health ministry to impose stay-at-home orders in Tonzang Township and Tamu Township in neighbouring Sagaing Region on May 27 came a day before it declared that a third wave of COVID-19 had begun in Chin State.
As case numbers rose, the ministry imposed stay-at-home orders in Sagaing Region's Tamu Township and Chin State's Tonzang on May 28. It followed suit with Kalay township in Sagaing on June 2 and Tedim, Falam, Thantlang and Hakha townships in Chin State on June 4. Schools in all seven townships, which had only just reopened, were ordered to close. Two weeks later, stay-at-home orders were also imposed in Letpadan Township and Pyu Township in Bago Region, on June 18 and 21, respectively.
"The COVID-19 third wave has begun in Myanmar. The public needs to follow the ministry's preventive measures," Dr Khin Khin Gyi, director of emerging infectious diseases at the ministry's Central Epidemiology Unit, told Frontier on June 4.
75,114 people were tested for COVID-19 in the last month, and a total of 6,609 new cases were found and 53 deaths were recorded. As of June 23, Myanmar had reported 149,927 cases with 3,269 deaths since the start of the pandemic.
On June 23, Myanmar announced 680 new cases, the highest number of cases recorded in a single day since the coup. Khin Khin Gyi said community transmission continued to account for most of the COVID-19 cases.
Health ministry figures show Chin State alone has reported 1,024 new cases. With a population of around 500,000, that means that around 1 in every 500 residents tested positive for COVID-19 within the last four weeks.
"Every resident is worried about the rapid infection rate of the COVID-19 outbreak," said
Ko Biak Suang, 23, a university student and a volunteer with a Tonzang COVID-19 charity group. "People are now wearing masks when they go out. Some street stalls have been closed," he told Frontier on June 8.
But the real situation is likely to be far bleaker than these numbers suggest. With so many health personnel on strike, testing has collapsed since the coup, down from an average of about 17,000 tests a day since October 2020 to just a few thousand.
As case numbers have risen in recent weeks, the positive percentage rate – the percentage of tests that comes back positive – has jumped sharply, from below 2 percent in mid-May to as high as 13pc.
"The number of swab samples being tested each day is small and therefore the infection rate seems low, but it is not giving a true picture of the situation," said a public health expert interviewed by Frontier. He previously worked for a healthcare NGO and asked not to be named out of concern for his safety.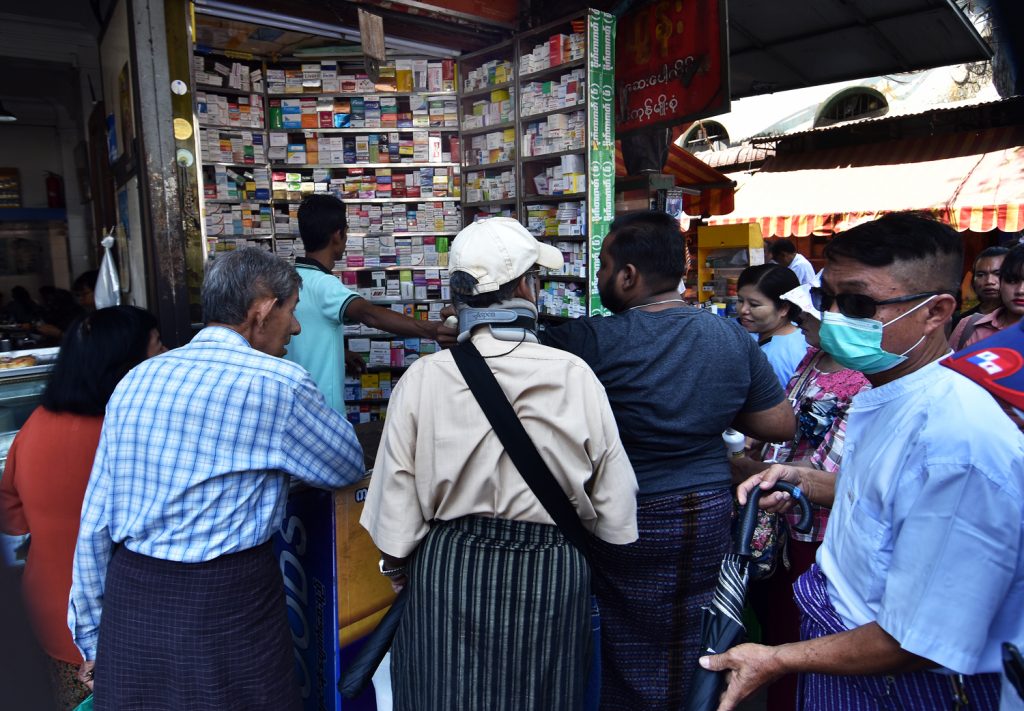 Signs of carelessness
Long queues of people at ATM machines continue to be a common sight as the financial crisis continues, as is the lack of social distancing, wearing masks and using hand sanitiser in these lines.
An official at the Yangon Region Health Department said it had instructed bank officials, staff and security guards to encourage the public to adhere to preventive measures.
"The COVID-19 third wave has begun in the country and people should not be careless. Everyone must follow the directives to prevent the spread of the virus," said department head Dr Tun Minn.
The Mawlamyine Rescue Organization, which operates ambulances in the city, told Frontier on June 15 that eight employees at a bank in the Mon State capital had tested positive for COVID-19 that day.
In Yangon, Frontier has observed that passengers on YBS buses and shoppers have also become less disciplined about observing preventive measures since the coup.
"Before the coup, nearly all YBS drivers wouldn't allow passengers to board if they were not wearing a mask, and basins, soap and water were provided at bus stops, but you don't see that now," said Ko Aung Htet, 30, who lives in Thingangyun Township.
Frontier asked the owners of three YBS buses about the preventive measures being enforced on their vehicles, but they refused to comment.
Adhering to the preventive measures is essential to help bring the coronavirus under control, stressed the public health experts interviewed by Frontier.
One of them warned that the longer it takes to bring COVID-19 under control throughout the world, the greater the risk from new variants.
Combating the variants
On April 19, a 30-year-old merchant who had recently returned to Yangon by ship was admitted to the Phaunggyi COVID-19 Treatment Centre in Hlegu Township after testing showed he had contracted one of the new variants, the Yangon Rescue Organization, a charity group, said. His symptoms included redness of the eyes, fever, and shortness of breath.
At midnight on April 27, Myanmar imposed a temporary ban on travellers from India and Bangladesh in response to reports that a new variant of the coronavirus was overwhelming healthcare systems in the two countries.
The ban applies to residents of India and Bangladesh and to travellers who had been in either country within 14 days of their intended arrival in Myanmar.
Despite the ban, Rakhine State reported 79 new cases between May 12 and June 23. Of the 79 new cases, 78 were sailors and workers on boats involved in trade with Bangladesh.
On the country's eastern border, restrictions were imposed on migrant workers returning from Thailand in April through the border crossing at Myawaddy as a preventive measure in response to Thailand's own third wave of infections.
An average of about 600 migrant workers a day had been returning home through Myawaddy before the authorities restricted returns to 200 people on alternating days.
On June 1, Myanmar closed the border at Myawaddy entirely, stranding hundreds of workers, and did not reopen it until June 15. Priority was given to workers who had been waiting the longest, but the authorities maintained the limit of 200 returnees on alternating days.
According to U Ye Min from the Aid Alliance Committee, a labor rights organization focused on migrant workers in Thailand, the Myawaddy border was shut again on June 18 and has remained closed since.
Myanmar has also once again extended its ban on arrivals from international commercial passenger flights. The ban was introduced on March 30, 2020 and has been extended monthly since. Myanmar media outlets reported on June 17 that domestic airline services to Dawei, Kawthaung, and Myeik in Tanintharyi Region; and to Tachilek and Kengtung in Shan State; and Kalay in Chin State have also been suspended until the end of June because of the increase in COVID-19 cases.
Limited facilities and vaccine hesitancy
Adding to Myanmar's pandemic woes is a lack of COVID-19 treatment and quarantine centres and fever clinics, and the medical staff to run them. In addition to government healthcare providers participating in the CDM, many citizens are also shunning a vaccine they see as tainted by its connection to the military regime.
A general practitioner from the Yangon Fever Clinics Network, who requested anonymity, told Frontier on June 21 health officials had established 29 fever clinics in Yangon Region for COVID-19 screening before coup, but now all clinics are closed due to lack of volunteer medical doctors and a lack of spaces willing to host them.
Before the coup, the Yangon regional health department had prepared 205 quarantine centres and seven government hospitals designated to treat COVID-19 patients. There are now only five government hospitals providing treatment to COVID-19 patients, and it is unclear how many quarantine centres are still operational.
Dr Khin Khin Gyi told Frontier that the ministry has planned to prepare 37 facility quarantine centers with a capacity for 3,000 people to service Yangon Region, which has a population of over 7 million people.
Some healthcare providers who want to provide help to those with COVID-19 have been trying to re-establish the resources that existed before the coup. The Yangon Fever Clinics Network have tried to reopen fever clinics in Tarmwe, Kyimyindaing, Ahlone, Mingalar Taung Nyunt and North Dagon townships, the general practitioner said.
"We have submitted requests to respective township administrators and the Yangon SAC to reopen the clinics but still haven't received any response," he said.
The CDM and a reluctance to cooperate with the military-controlled health ministry has also slowed the country's vaccine rollout.
Myanmar has received 3.5 million doses of various vaccines to date, and has ordered an additional 28 million.
Whereas in other countries, vaccine hesitancy is often caused by doubts over the safety of the vaccine, many in Myanmar are resisting out of a desire to defy the regime. These include medical workers who have refused to receive their second dose.
Vaccinations began on January 27, and just over 4 percent of 38.3 million people in Myanmar above the age of 18 had received their first and second doses to date.
At a media briefing on June 8, Dr Tedros Adhannom Ghebreyesus, director-general of the World Health Organization, urged countries to share vaccines in order to end the acute phase of the pandemic, and said that it was vital to vaccinate at least 10pc of the population in every country by September.
"We need an additional 250 million COVID-19 vaccine doses, and we need 100 million of those doses in June and July," he warned.
Myanmar is expected to receive another 3 million doses over the next two months, but health experts have predicted that Myanmar may face difficulties sourcing more vaccines, as India, the world's biggest producer of pharmaceuticals, grapples with its own recent rise in infections.
"It is difficult to say when a COVID vaccine will be available at private hospitals," said Myanmar Private Hospitals' Association president Dr Htin Paw.
An official at the MPHA told Frontier on May 11 that the planned import of Indian-made Covaxin vaccine for use at private hospitals has been stalled by an export ban ordered by the Indian government to address the domestic shortage, so those who want to be vaccinated at a facility untainted by association with the junta will have to continue waiting.
One of the public health experts interviewed by Frontier said she understood why people have taken a political stand, but criticised the refusal to be vaccinated as a threat to public health safety and particularly those who are most vulnerable to COVID-19: the elderly and people with underlying health conditions.
"They should protest in another way," she said.