The government plans to take action against mining companies regarding outstanding payments in the precious metal, but at least one company is putting up a fight.
By KYAW YE LYNN | FRONTIER
THE GOVERNMENT is stepping up moves to extract more revenue from gold mining companies accused of falling behind in tax payments made in the precious metal.
The No. (2) Mining Enterprise of the Ministry of Natural Resources and Environmental Conservation plans to sue companies that have failed to pay the gold tax for several years, its managing director, U Than Daing, told Frontier on June 11.
An audit of more than 300 small-scale gold mining companies by the Union Solidarity and Development Party government in 2013 found that most had failed to pay the gold tax.
The companies were established in 2007 and 2008 when the Ministry of Mines granted permission for gold mines to operate as small businesses in return for agreeing to pay 35 percent of extracted gold as tax, Than Daing said.
"Those small companies had a contract with the government to pay the gold tax each year since 2007-08, but because of flooding or other reasons, they have not paid and year after year the debt in gold has accumulated," he said.
Than Daing said that because of issues including flooding and the fact some firms were operating in conflict-affected areas, the previous Union Solidarity and Development Party government had written off the debt of about 50 companies.
He said that up to 100 small mining companies still owe the government at least 13,000 ticals, or about 217 kilogrammes, of pure gold, as of June 1. At current prices 217kg of gold is worth about US$9.1 million.
"I think that some of these companies no longer exist, but the debt is still on paper," he said. "But there are some companies that will not pay even though they are still producing gold; we have been trying to recover the debt from these companies through legal avenues," he said.
Than Daing said the ministry had launched legal proceedings against some companies over outstanding debts in 2015 and civil cases were underway against at least seven companies.
"We are suing another 10 companies this month," he said.
Than Daing confirmed that the ministry intended to sue National Prosperity Co Ltd, one of three big mining companies whose operating permits were revoked in February over outstanding gold debt payments.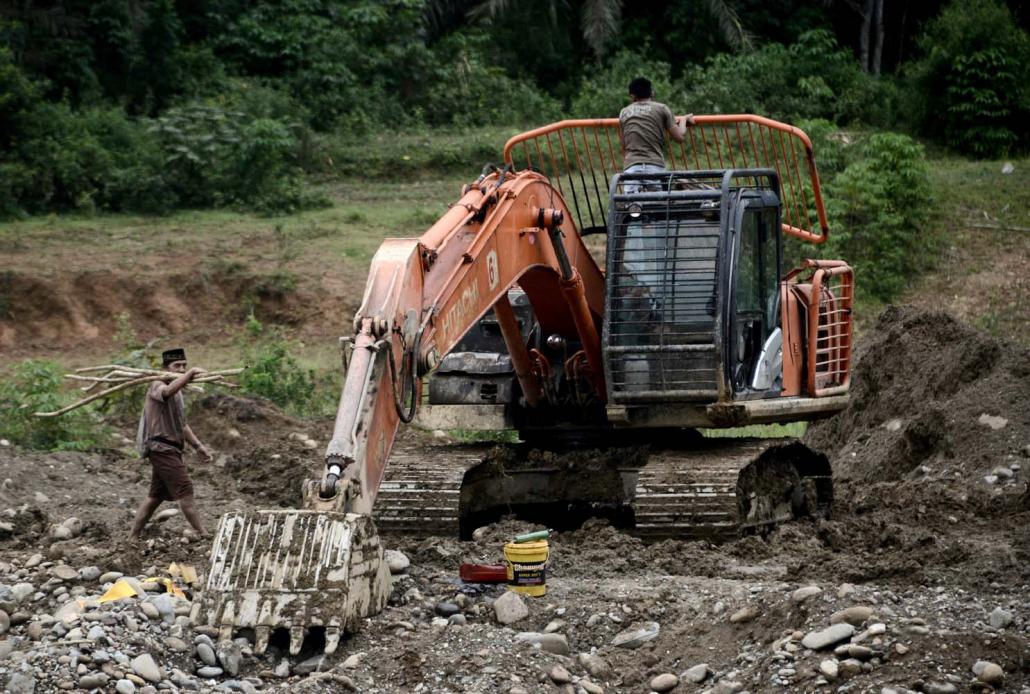 The ministry says it is owed about 63,000 ounces by National Prosperity, worth about $82 million.
In 2011, National Prosperity won a tender to mine on a 6,105 acre (2,470 hectare) block in the gold-rich Moehti Moemi area of Mandalay Region's Yamethin Township.
The other two big companies to win tenders in 2011 were Shwe Moe Yan Co Ltd, for an 8,485 acre (3,433ha) block at War Phyu Taung in Mandalay Region's Yamethin Township, and Geo Asia Industry & Mining Co Ltd, for a 6,726 acre (2,722ha) block at Shwe Minn Phone in Shan State's Kalaw Township.
The government says that in return for mining rights for five years, NPC agreed to pay 5.577 tonnes of gold, Shwe Moe Yan 5.117 tonnes and Geo Asia, 2.2058 tonnes.
Than Daing said the contract with NPC was revised in 2013 and 2014 after the company said it was unable to meet its debts to the government, but no change was made to its gold tax payment amount.
Despite concessions by the government NPC failed to meet the gold payments agreed in the contracts, Than Daing said, adding that the two other companies also failed to meet their contractual obligations.
"We sent the first letters demanding that NPC and the two other companies suspend all activities late last year," he said.
"The other two companies followed the instruction, but NPC continued mining and it also ordered protests against the order to suspend operations."
"We revoked the mining permits of all three companies on February 17; then we terminated NPC's contract on May 17."
Than Daing said the main reason for taking action against NPC was because it has produced about five tonnes of gold at Moehti Moemi but had only paid the government about 300 viss, equal to 489.87kg or 1,080 pounds.
The ministry had been consulting with Mandalay Region's Attorney General's Office about filing a civil lawsuit against NPC for a month and had also taken some "necessary measures" against the company, he said.
"We asked the Ministry of Home Affairs not to allow the company's directors to leave the country and we also froze their bank accounts," Than Daing said.
He said it was possible that Shwe Moe Yan and Geo Asia would be permitted to resume their gold mining operations.
Shwe Moe Yan was trying hard to meet its contractual obligations and the amount of gold in the area being mined by Geo Asia was very small.
"These facts have been reported to the president, who will decide if the companies will be permitted to continue mining," Than Daing said. "The chance is still there for them to be granted permission to continue their operations," he said.
NPC chairman U Soe Tun Shein confirmed to Frontier that the company was told of the plan to sue over the non-payment of the gold tax at a meeting with government officials.
He acknowledged that the government had the right to sue under the terms of the contract.
In written correspondence between NPC and the government's No. (2) Mining Enterprise, seen by Frontier, the company said that when it tendered for the Moehti Moemi block it was estimated by the government to have gold reserves of 38.06 parts per million, but when the mine went into full operation in early 2016, reserves were found to be only 9.01ppm.
The letter, which was written by Soe Tun Shein, said that because the gold content in the ore was four times lower than expected it was impossible for the company to meet the originally contracted payment of 5.557 tonnes of gold over five years.
"The proposal to change the original contract to extend the deadline to give gold was submitted on 29 July, 2016," the letter, dated June 4, said.
In an interview, Soe Tun Shein told Frontier that the company had "material evidence and human evidence" for its claims.
"We won the contract giving the highest bid believing the gold content mentioned in the contract. We lost because the area does not bear gold as mentioned in the tender," he said.
Soe Tun Shein said that, according to the contract, the company was required to provide 93 viss of gold per month (about 152kg), but could only realistically provide 60 viss (about 98kg).
"So it is simply impossible for the company to give that amount to the government," he said.
However, Than Daing said no such data was provided by the government when tenders were called.
"The gold content is not mentioned in tender documents provided by the government. They took the assay result of the Ivanhoe company for granted," Than Daing said, referring to results from a survey conducted by the Canadian mining giant, which had a 50 percent stake in copper mines in Mandalay's Monywa Township until 2011.
NPC also accuses the government of having breached the contract when it ordered the suspension of mining operations.
NPC says paragraph 19 of the original contract outlines a dispute resolution process that begins with negotiations and if they fail, to be followed by an investigation involving a board with one representative from each side. If the investigation fails to resolve the dispute, a decision must be made by a tribunal agreed by both sides.
In its letter, NPC says the suspension of mining operations and withdrawal of permission to mine contravene paragraph 19 of the original contract and amount to a miscarriage of rules and regulations.
NPC says its only demand was for the ministry to grant the company more time to pay the gold tax.
In its letter, NPC said it only became aware of the low levels of gold reserves after it had invested significant money for machinery to be installed.
"That is why the company proposed extending the contract to be able to pay the 5.557 tonnes of gold. The company is not refusing to pay gold as agreed in the contract," it said.
Soe Tun Shein said NPC worked with about 40 other small companies as subcontractors at Moehti Moemi and its total investment in the mining operation exceeded K100 billion.
"After production was suspended we lost K60 million a day," he said, adding that the mine employed about 5,000 people.
Soe Tun Shein confirmed that all eight members of the company's board of directors were not allowed to travel abroad.
He said they included U Thiha Zaw Lin, who was "unpleased" with the ministry after being stopped from travelling overseas at the airport and had lodged a complaint with the National Human Rights Commission. "It is unfair because no judge or court has found the company guilty," Soe Tun Shein said.
"The Ministry of [Natural Resources and Environmental Conservation] sent letters to other ministries and departments telling them to have nothing to do with NPC and its related companies; I think that's against the law," he said.
TOP PHOTO: Myanmar's government is planning to take action against mining companies regarding outstanding payments in the precious metal. (AFP)