Private print and online news organisations were already under pressure when COVID-19 struck and some will not survive the economic fallout of the pandemic.
By NAW BETTY HAN | FRONTIER
The COVID-19 pandemic has created enormous challenges for news media organisations, ranging from lost advertising revenue as businesses close or suspend services, to trying to arrange interviews or gather information while complying with social distancing and travel restrictions.
The pandemic has only exacerbated the financial pressures that the global news media industry has been under for more than a decade as a result of readers moving online.
The situation is no different in Myanmar, where the slump in advertising accelerated by the pandemic has had a serious effect on most news outlets. Some have had to reduce staff or slash salaries and several have closed down or are on the brink.
There is deep concern in the sector and among those who value independent media that Myanmar's media organisations will be so crippled by COVID-19 that they will struggle to fulfil their "fourth estate" role as a pillar of democracy, along with the legislative, executive and judicial branches of government.
Speaking at a World Press Freedom Day event on May 3, Myanmar Press Council chair U Ohn Kyaing said COVID-19 had been devastating for the industry.
"Journalists and media are drifting in floodwaters created by the COVID-19 storm," he was quoted as saying.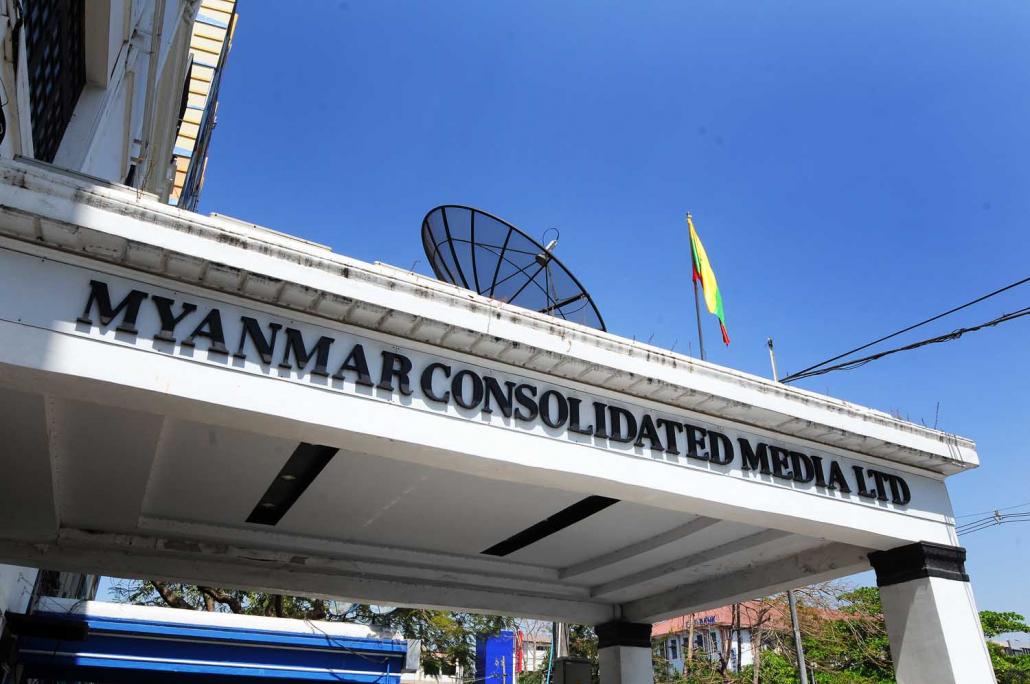 Closures and lay-offs
Arguably the most high-profile casualty has been Myanmar Consolidated Media Co Ltd, publisher of the Myanmar Times. Founded in 2000, the company recently decided to close its Burmese weekly and lay off 45 staff.
It continues to publish its daily and weekly editions in English and a Burmese daily, but the future of at least 41 more staff is unclear and senior company officials say the outlook is bleak.
MCM chief operating officer U Wai Linn said that COVID-19 had resulted in a 90 percent slump in advertising revenue and cash collection problems for the company's sales department.
He said the situation was so bad the company had considered taking 367 staff off its payroll temporarily but had instead limited the cuts to around a quarter of that number.
On April 22, MCM announced that 86 employees, including reporters and editors, would be forced to take leave from May 1, receiving half of their normal salary in May and no salary in June.
"We are trying to reduce extraordinary expenses and doing our best to ensure the survival of Myanmar Times," Wai Linn told Frontier.
"Even before COVID-19 it was a struggle every month," he said. "After COVID-19, the situation got even worse … the newspaper business looks like it is failing."
The affected Myanmar Times workers complained about the company's decision to the Ministry of Labour, Immigration and Population. The complaint led to four rounds of negotiations at the Kyauktada Township labour office attended by the newspaper's human resources manager, the Kyauktada Township administrator and the suspended employees.
The company decided on May 7 to terminate 45 employees and the remaining 41 will learn their fate at the end of June.
U Htoo Chit, spokesperson for the Kyauktada labour office, said those who had already lost their jobs would receive compensation totalling more than K100 million. "We have successfully negotiated on behalf of 45 employees and we are ready to represent the others if they are not re-hired in June and seek compensation," he said.
Another major media organisation that has reduced its staff is The Irrawaddy. One journalist who was recently laid off said the former exile media group had cut 25pc of its staff in April, but Burmese edition editor U Ye Ni declined to comment to Frontier.
The Voice Daily has maintained its 15-member newsroom but they have not been paid for April or May, said editor Ko So Pyay. Publisher Living Color Media has told staff they will receive the money owed in the second week of June, he added.
"The company has been facing budget difficulties – the main problem is that income from advertising is totally down since March," he said. "We don't plan to reduce the number of staff but we will reduce salaries in the future."
It's not just large print media organisations that are feeling the pinch. Online-focused media have also been pummelled by the impact of COVID-19 and have either had to reduce staff or shut down. The latest to close is Yangon-based, Burmese-language outlet AKonThi.
The news agency's former editor, Ko Myo Thu Aung, said AKonThi's parent company, Myanmar Digital Service, told staff on April 29 that it was closing in two days' time.
"We had no idea before we were told on April 29 that the news agency was going to be shut down for financial reasons and we would lose our jobs," Myo Thu Aung told Frontier. The news agency had employed more than 40 people, including reporters and editors, he said.
"We didn't get any compensation even though we are entitled to at least three months' salary as compensation according to the labour law," he said.
Myo Thu Aung said staff were negotiating compensation with AKonThi's owners and expected a payout at the end of June. If they couldn't reach an agreement, they would take the case to the labour office, he said.
Ko Kyaw Swar Min, the general secretary of the Myanmar Press Council (sometimes referred to as the News Media Council), said many media organisations were in a similar predicament.
Although the council does not have a full list of shuttered media organisations or jobless journalists, Kyaw Swar Min said the council was providing food aid to 142 journalists through a recently established support fund. He said the council has allocated funding to help up to 300 journalists.
"When COVID-19 started spreading in Myanmar we held a meeting to discuss how we could help journalists," he said. "We published an announcement inviting journalists who had lost their jobs to apply for food support."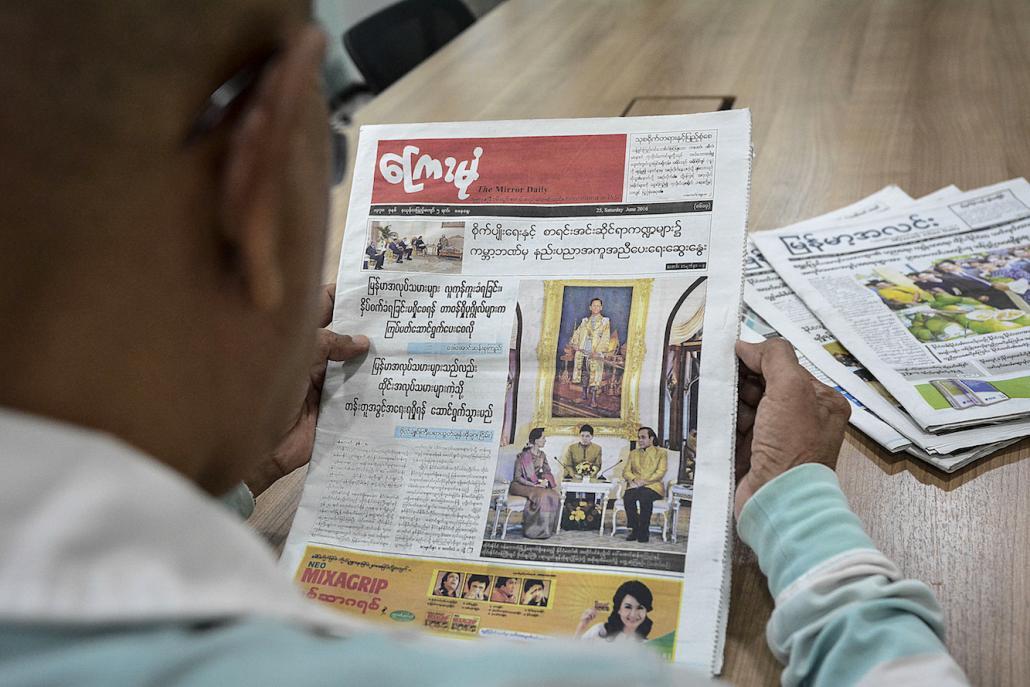 Navigating a way forward
Those best-placed to survive have managed to diversify away from print and internet display advertising.
Ko Ahr Man, chief editor at 7Day News Journal, said COVID-19 has created a "crisis" for the media and the wider economy, with both advertising and circulation revenue in freefall.
However, Ahr Man said the company had no plans to cut salaries or reduce staff.
He said 7Day News could cover its newsroom costs through partnerships with mobile operators under which users subscribe to SMS news updates and revenues are split between the media organisation and the operator.
"I am encouraging my reporters and editors to stay strong during this pandemic because our hard work now will be important for the future of the company," he said.
Frontier Myanmar has not been spared the effects of COVID-19. The emergence of the pandemic has had a severe impact on commercial revenues, both from Frontier – through memberships, circulation and ad sales – and Black Knight Agency, an integrated marketing communications agency under the same parent company, Black Knight Media. Most of Black Knight Agency's projects were suspended or cancelled in February and March due to the pandemic, and Frontier had to temporarily cease publication of its print edition because of distribution challenges and to ensure the safety of its staff.
Publisher and chief executive officer U Sonny Swe said the company responded by reducing costs where possible, including through salary cuts for higher-paid staff. It launched a drive for new members to generate short-term cash flow and began applying for emergency funding for COVID-19 reporting from organisations like Google, and existing partners such as Fondation Hirondelle, with which it produces the Doh Athan podcast.
Thanks to these measures, Frontier has been able to maintain all of its editorial staff and expects to return to normal salary levels soon, he said.
Sonny Swe says the crisis highlighted the importance of shifting from advertising revenue, which is highly susceptible to short-term shocks. Frontier's shift to a reader-based model, through a membership programme launched in January, came at exactly the right time.
"It's still an extremely challenging environment, but we can now see a path forward," he said.
Still, the harsh impact of COVID-19 on many independent news media organisations has sparked calls from journalists for the government to consider granting the sector tax deductions or other forms of financial relief.
Prior to COVID-19, many publishers and journalists from private media organisations had already expressed frustration at the government's continued subsidies for state-owned newspapers, which they argued undercut the development of the private media sector.
"I noticed that state leaders are providing help for other sectors but not for the media; no one remembered to rescue the media from the waterways and heading towards ruin," Ohn Kyaing said at the World Press Freedom Day event.
Deputy Minister for Information U Aung Hla Tun, a former Reuters journalist, told Frontier he was "so sorry" that media workers, particularly journalists, had lost their jobs as a result of COVID-19. He said that the ministry was planning to help television and radio broadcasters that had partnerships with the Ministry of Information, but could not assist other private media. State media had been affected "to a certain extent but of course we don't need to lay off any staff", he added.
"There are about a dozen private media organisations that have been carrying out television and FM radio broadcasting after entering into long-term contracts with the Ministry of Information. At their request, we're seeking approval [for a] relief package for them," he said.
"I'm afraid our ministry isn't in a position to provide the other private media houses and journalists with any assistance directly."
He said the Myanmar Press Council's financial and in-kind support for journalists across the country who have been affected was an example of indirect state support.
"We're very thankful to the MPC for this. Since the budget of the MPC is provided by the state, we can honestly say that the MPC is carrying out the relief work on our behalf," he said.
But MPC general secretary Kyaw Swar Min rejected this suggestion. He confirmed that the press council's budget comes from the state with the approval of the national parliament, but the money to set up the COVID-19 support fund was separate and had come via donations. "It is totally not related with the Ministry of Information," he said.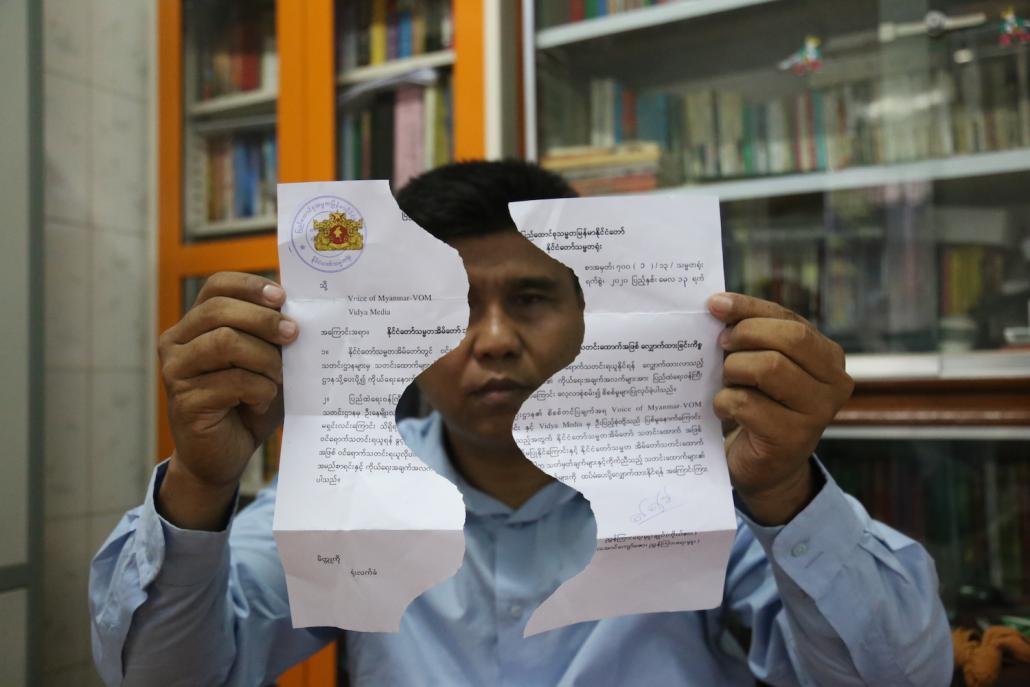 Blocked news websites
The financial difficulties imposed on news organisations by COVID-19 have also coincided with a government crackdown on websites, including news outlets, that has drawn criticism for stifling access to information. It is the first known case of the Myanmar government blocking websites since restrictions from the military era were lifted in 2011.
In the second half of March, the Posts and Telecommunications Department ordered mobile operators to block more than 2,000 websites, including 67 sites allegedly distributing "fake news". In May, it followed up by instructing them to block a further 22 sites alleged to contribute to "fearmongering" and "misleading of the public in relation to the coronavirus".
Neither the government nor the operators have released a full list of the blocked websites, but among those that can no longer be accessed belong to several registered news media organisations, including Rakhine State-based Development Media and Narinjara News, Karen News from Kayin State, Mandalay-based In-Depth News and Mekong News, which is based in eastern Shan State's Tachileik.
Another that has been blocked is Mandalay-based Voice of Myanmar, whose editor-in-chief, Ko Nay Myo Linn, was arrested after publishing an interview with the Arakan Army shortly after the government had designated the group a terrorist organisation.
Nay Myo Linn was released on April 9 after prosecutors decided not to proceed with charges against him under sections 50(a) and 52(a) of the Counter-Terrorism Law, for which the maximum penalty is a life prison term.
But the government order to mobile operators to block access to the Voice of Myanmar site means his company now faces the threat of closure because it can no longer generate advertising revenue. Partner media companies can now also no longer afford to buy news from Voice of Myanmar because of the effect of COVID-19 on their financial situation.
"I launched the news agency with my own investment and I have no other income or funding from international organisations," Nay Myo Lin said.
He said media organisations targeted by the ban had complained to the Myanmar Press Council on April 1, and were told the council had passed on their complaint to the Ministry of Information but are yet to receive a response.
In the meantime, Nay Myo Linn said he had been trying to sell off some office equipment to keep the newsroom going.
"We will keep this newsroom operating," he said, "until the day we have nothing."
TOP PHOTO: Copies of daily and weekly newspapers for sale at a streetside stall in downtown Yangon on June 5. (Hkun Lat | Frontier)