Former Brigadier-General David Abel was in charge of three economic ministries during military rule but most of his proposals for reform were shunned.
By SYLVIA McKAIGE & OLIVER SLOW
Photos ANN WANG
"It was difficult, very difficult," said former Brigadier-General David Abel, reflecting on his years overseeing the economy as the key economic advisor during the years of military rule. "What I wanted to achieve, at first I was promised a free hand, but later I was restricted from doing what I wanted to do," U David Abel told Frontier in his office near Yangon's Kandawgyi Lake.
Although aged 82 and suffering health problems, the former minister has retained much of his stoicism and determination from his years in the Tatmadaw, regularly punctuating his speech with passionate asides about his time in the military and his service to the country.
Born in Insein Township in 1935, U David Abel joined the Tatmadaw in 1952. He served "for 40 years and 113 days," he said proudly. His military service included a stint studying at the British Royal Military Academy Sandhurst from 1953 to 1956, graduating with an economics degree, and military campaigns from "the southernmost tip to the northernmost tip" of Myanmar, as well as battles against the Mujahadeen in the west of the country in the 1950s and the Burmese Communist Party (BCP) in the 1970s in northern Shan State.
Pushing for Privatisation
In 1988, he was one of the first members of the State Law and Order Restoration Council; overseeing the economy as Minister of Commerce, Minister of Finance and Revenue and Minister of National Planning and Economic Development and at one time, running all three ministries simultaneously. Later, he was appointed to the Chairman's office as an advisor in economic affairs. One of his early decisions as Minister was to establish the country's largest state-owned enterprises: the Union of Myanmar Economic Holdings Limited (UMEHL) and Myanmar Economic Corporation (MEC).
"I was using Singapore as a model," he said, referring to Temasek Holdings, an investment company set up in 1974 by the Singapore government to create and promote key industries. U David Abel said the strategy was twofold: the creation of an investment holding company that sets up a portfolio of state-owned enterprises (SOEs) covering a broad spectrum of sectors including telecommunications, transportation, energy and resources. This would be followed by the privatisation of the SOEs to give them freedom to expand, improve productivity and competitiveness, create more jobs and eventually list on a stock exchange so that the Myanmar public could have shares and ownership.
"I wanted a model for private companies. I wanted the private sector to be able to compete, but my ideas were blocked," he said, referring to the privatisation of SOEs. Asked who had blocked his ideas and why, he dismissed the questions with a flick of the wrist and sideways nod. "Can't say," he said, with a wry smile.
U David Abel believes that had the model established for UMEHL and MEC been allowed to flourish in Myanmar, the economy would be much stronger today.
"Myanmar needs more of that type of business model," he said referring to a holding company owning businesses in different sectors. He added that SOEs need to welcome private and foreign investment to achieve further growth. "They are controlled by politicians, so their expansion is limited. Now, they should expand, they must expand," he said, growing surer as he spoke. "The telecommunications industry is already doing it, energy is doing it," further suggesting that the pharmaceutical and railway sector should privatise as well.
"The rich are getting richer, and the poor are getting poorer. The situation is not good and the next government will have a hard time uplifting the lives of the people. We have to be Robin Hood! That should be the policy of the next government."
U David Abel said he looked to Britain's former Prime Minister Margaret Thatcher as his "mentor" and admired her success in privatising of SOEs and turning "small- and medium-sized state-owned industries to big industries." Thatcher was one of the most polarising figures of modern British politics, and her conservative political and economic policies remain controversial today.
U David Abel – a Roman Catholic and one of the few non-Buddhists in the military government – was known for his outspoken views on economic issues as a military representative.
He punctuated the interview with repeated expressions of regret that he was not able to implement his proposals aimed at strengthening private sector industries. Frontier asked how he felt about not being able to implement his ideas. "Very difficult. Sometimes I had to say things which I thought was right and which was beneficial to the country and I was refused. [How did that feel?] Very bad. You feel very depressed. You feel like you are finished."
"I think the situation [economy] would be much better if I was allowed to implement my ideas then. Myanmar would be much more stable and we could have got out of the least-developed country list," U David Abel said. "I tried to achieve something, but I didn't succeed. I was successful in terms of forming the UMEHL and MEC, but I couldn't bring it forward. It's a big regret."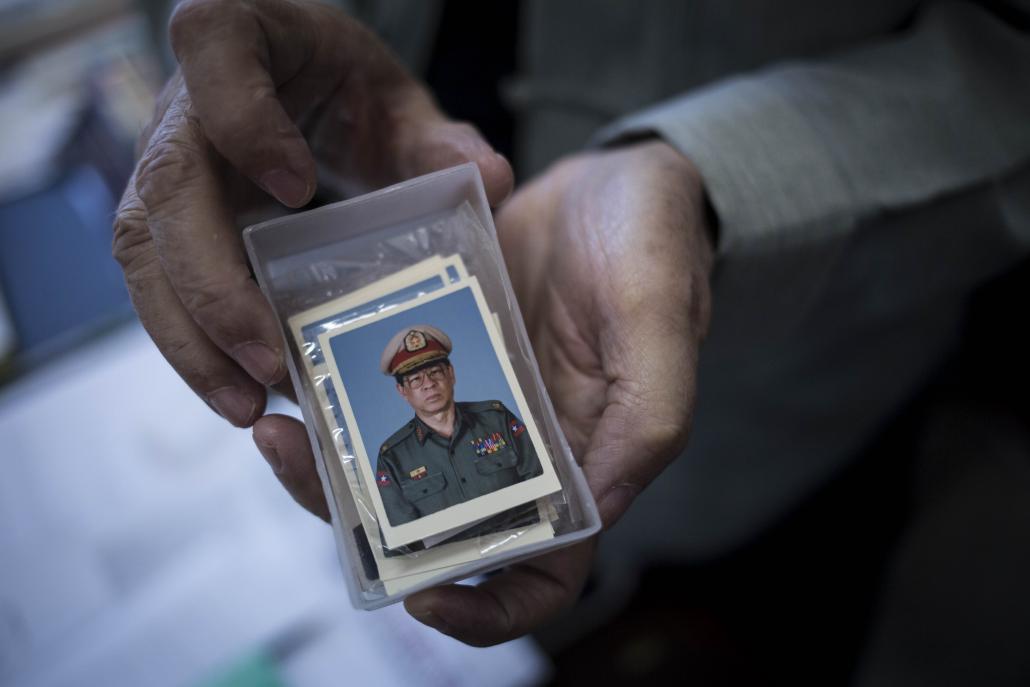 Myanmar's economic future
U David Abel says it is important for him to keep working and he draws motivation from a lingering desire to implement his ideas. Every weekday, he goes to his office from 8am to noon to run his consulting company ASK. He is a consultant to a group of companies that have business interests in areas including hydropower, telecommunications and construction. "For the sake of my country, to serve the country, I'm still doing it now."
He believes that the new National League for Democracy-led government will have difficulties overhauling an economy that has stagnated and contributed to inequality. He adds that the country needs to adopt a selectively managed economic model.
On currencies, U David Abel believes the kyat should be pegged to the US dollar. "We have a basket of 6 currencies, but the main [one] is the USD because 90 percent of our trade is in US dollars." He strongly feels that monetary policy has to be managed very thoroughly, making reference to Singapore's model of management of the exchange rate against an undisclosed basket of currencies of its main trading partners.
In December, Myanmar announced the trade deficit for the first half of the 2015-2016 fiscal year had risen by 27 percent over the same period a year previously, which was already an 88 percent increase on the 2013-2014 previous year.
U David Abel does not accept the opinion of those who say a trade deficit has benefits for Myanmar's growing economy and argues that a trade surplus would improve consumer confidence.
"There should be no deficit," he said. "A trade deficit is debt, and you have to pay that debt. If you have a surplus, you can import more freely. If you have a deficit, you have to pay interest on that."
He believes there should be no export tax to encourage exports so that the country can earn foreign exchange, and that the corporate tax rate – of 25 percent – "is quite sufficient." But he warned that the main problem is poor enforcement of tax collection. "The tax department has to be reorganised. You can get away with anything now. Corruption, you must get rid of corruption at all levels."
U David Abel is also a firm advocate of transparency.
Despite allegations of corruption appearing in certain sectors of the media a decade ago, U David Abel is still widely known as a 'clean general'. "It is important not to worship money," he said, citing his Roman Catholic beliefs when asked about corruption.
"Now nothing is transparent. There must be 100 percent transparency, but it will only happen slowly. You cannot expect 100 percent straight away, but start with 30 percent, then 40 percent, then 50. That way it can be done," he said.
The growing disparity between the rich and the poor worries him. "The rich are getting richer, and the poor are getting poorer. The situation is not good and the next government will have a hard time uplifting the lives of the people," he said. "We have to be Robin Hood! That should be the policy of the next government," he said, further elaborating on the need for equitable distribution of wealth. "The people feel the government is robbing them for nothing because socially they do not do anything for them. There is heaps of rubbish at the side of the road," he said as one example.
Job creation and the modernisation of the agriculture sector are other key area on which the new government needs to focus, said U David Abel. "We do not have mills to produce better quality rice. There is a loss of 27 percent (of rice) from harvesting to the table. Loss in the fields due to insects and transportation, due to storage, due to milling, bagging etc. This is a result of inefficiency."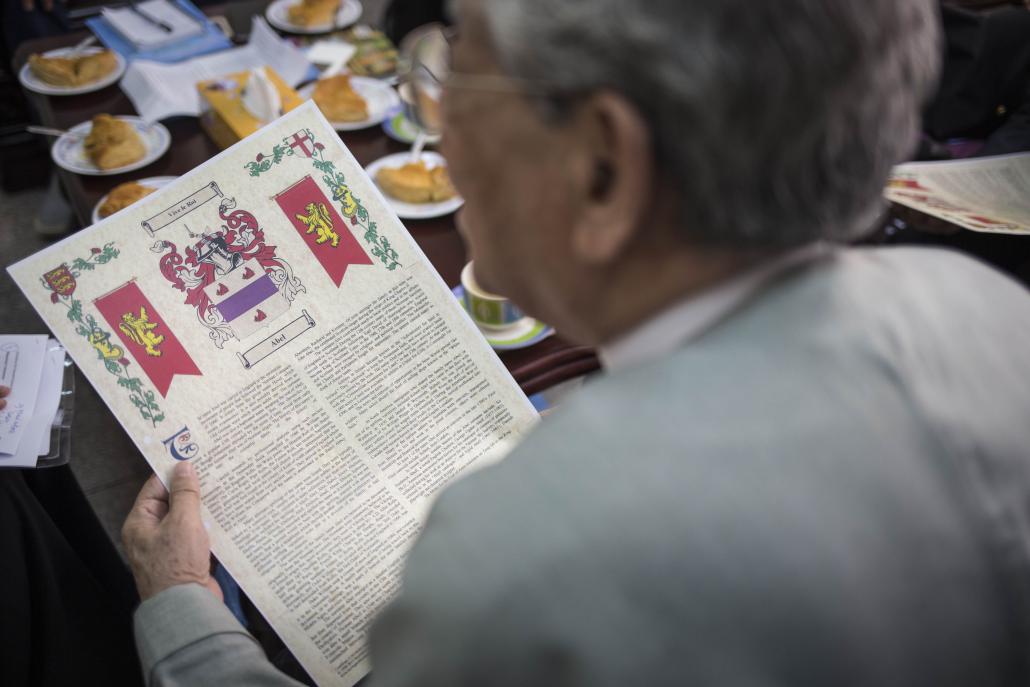 Reflections
In common with many who spent years serving in the Tatmadaw, U David Abel is fiercely patriotic and believes the military has only ever worked for the good of the country.
"We gained independence for the country, we safeguarded the country from being overrun," he said, referring to the Tatmadaw's success in eventually repelling the various insurgent groups that threatened Burma after it became independent in 1948. However, U David Abel agrees that the military's place is in the barracks and not in the corridors of power.
"We should not be involved [in politics]," he said, and quoted a comment by Britain's Field Marshall Bernard Montgomery that the armed forces of a country should not be involved in the unedifying business of politics but should have political understanding.
U David Abel maintains the military's well-worn mantra that the sole purpose of junta rule was to make the country secure before there was a transfer of power. He believes Myanmar will finally achieve peace because "everybody is coming to understand the cause. The cause is the country, the people."
As Myanmar continues its transition, he has a word of warning for those who believe that democracy is take, take, take.
"It is freedom of speech, freedom of movement, but democracy also has obligations," he said. You must obey the laws of the country, you must obey the church – that's for me [as a Christian] – and you must obey the law of the family."
The military's money makers
The Union of Myanmar Economic Holdings Ltd and the Myanmar Economic Corporation are both owned jointly by the Defence Ministry's Directorate of Defence Procurement and serving and retired military personnel.
Established in 1990, UMEHL's interests include gem production and marketing, garment factories, wood industries, goods and beverages, supermarket, banking, hotels, tourism, transportation, construction and real estate, computers, telecommunications, electronics and equipment, and steel and cement industry. Much of the foreign direct investment in Myanmar involves joint ventures with UMEHL.
In recent years, UMEHL has come under criticism for its minority stake in the controversial Letpadaung copper mine, in partnership with Chinese defence manufacturer Norinco, and last year was named as one of the biggest beneficiaries of Myanmar's illicit jade trade in a report by watchdog Global Witness. UMEHL also administers the military pension program through its subsidiary, the Myawaddy Bank.
MEC was established in 1997 and is also involved in a wide range of economic activities. They include trading companies, agricultural produce, hotel and tourism enterprises, telecommunications, gems and mineral extraction and exploration, extraction and sale of petroleum and natural gas.
Both companies remain on the US sanctions list as a result of their ties to the military.