Speakers at a TEDx event in Yangon that symbolised the hope for a better future make a powerful impression with recollections of the nation's troubled past.
By SEAN GLEESON | FRONTIER
"Each era in Myanmar rebels against the one that came before. Each of these eras have their own ideology and their own propaganda."
And so it is now. U Aung Soe Min's words onstage at last week's TEDxInyaLake were not intended as a warning, but are highly relevant to where the country finds itself today.
Myanmar's history is marked with radical disjunctures and sudden change, and the custodians of each new order have always worked to erase the memory of what came before.
As Myanmar takes its first tentative steps into a new era, "national reconciliation" has become a constant refrain of the incoming government: The grievances and tragedies of years past are to be forgotten. For Aung Soe Min, author, amateur archivist and founder of the Pansodan Art Gallery, the past is never dead.
"I'm curious about the other things happening in this society – not just what the government wants me to know," he told the audience.
Memory loomed large at the TEDx event, held in the ballroom of the Inya Lake Hotel before an audience of about 200. Themed "Myanmar Connects", a reference to the country's telecommunications revolution and re-emergence from international isolation, Aung Min Soe's words could have been the unofficial motto of the day. The program was at times uplifting and joyful, but it was the moments of pathos and sorrow at the recollection of past memories that will be a lasting legacy of the event.
For Ma Yin Myo Su, an Intha woman born and raised on Inle Lake, the turmoil of 1988 galvanised her into action as a student demonstrator at the age of 16. As the founder of the Inthar Heritage House in Nyaung Shwe and leader of a program to reintroduce Burmese cats to Myanmar, she told the audience how lucky she was to be abroad and able to continue her education while the former military regime was shutting universities. It was a sad acknowledgement of an opportunity denied to most of her contemporaries.
Ma Mogok Pauk Pauk, a renowned fashion designer, described the 1988 uprising as a "blessing in disguise" that enabled her to escape bullying by peers over her sexuality and attempts by her family to force her into a career as a gems trader. Allowed to travel to Milan to pursue a career in fashion design, she returned because she believed in blending traditional fashion styles and modern techniques. The capriciousness of the society to which she returned taught her a "hard lesson" when she was jailed for a month after staging a fashion show without a permit.
These bitter memories were not confined to those who ran afoul of the old order.
U Aung Naing Oo, head of the Directorate of Investment and Companies Administration, prefaced his presentation on civil service reform by recalling his days as a military officer fighting insurgents in eastern Shan State. Steven Sui Uk Thang, a student at the Chin Institute of Social Science, recalled the rebukes he received from teachers when his curiosity exceeded the straitjacket of Myanmar's rote-learning education system.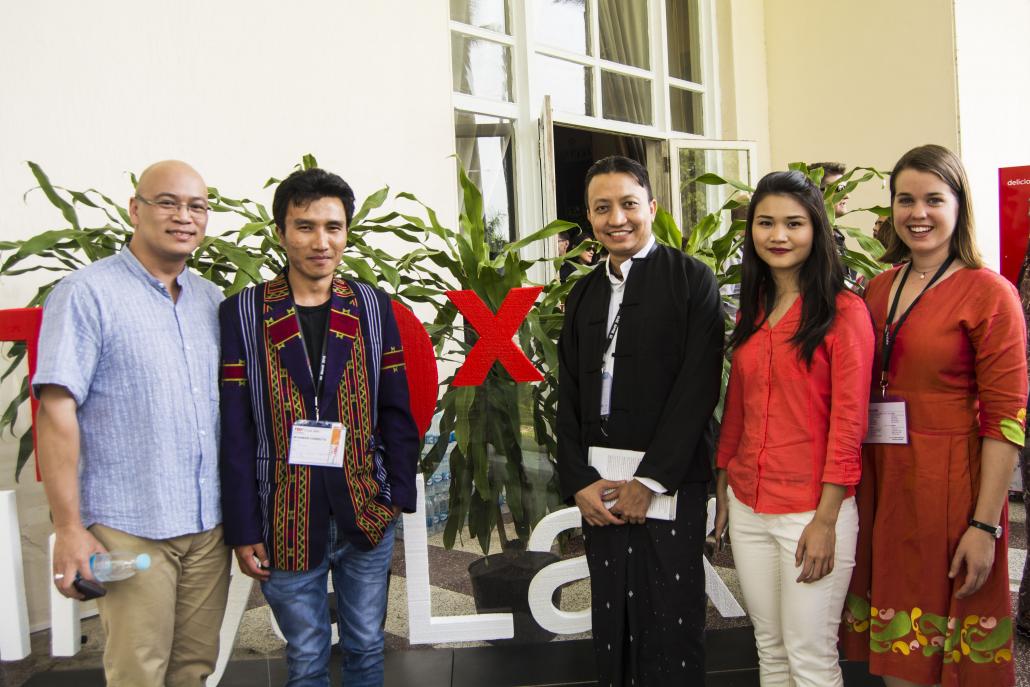 The shock of the new
At this point I should confess that I am a TED talks sceptic. The conference format has been around for decades – long enough for it to be used as a vehicle for self-promotion by wealthy business leaders, become rigid in its conventions of boring humour, indulge in ridiculous fantasies about technocratic utopias and be parodied mercilessly by people who feel the same as I do.
Yet the conference program was an unqualified success precisely because it had the courage to abandon those conventions, instead building something that both facilitated a collection of moving personal stories for a Myanmar audience and acted as an intermediary for a group of people clamouring to share their love for and commitment to this country with the rest of the world.
Unlike other regional TEDx conferences in recent years, the focus was kept solidly on the citizens of its host country. The first of only two people born outside Myanmar to speak, US educator Helen Waller, set the tone early in the day when she said foreigners working in local development programs should strive to keep sight of their aims and responsibilities.
"I am in the business of making myself obsolete," she told the audience. "It's when a student no longer needs me that I know I've done my job."
Entrepreneur Debbie Aung Din Taylor continued the theme, gently ridiculing those with good intentions who develop tools to alleviate rural poverty without consulting the intended beneficiaries, only to express surprise that no-one wanted to buy their products.
U Thura Ko Ko, managing director of YGA Capital, charmed the crowd with his meditations on Burmese culture, touching on an earlier theme raised by Phandeeyar's Ko Yan Naung Oak that poverty and shortages had left Myanmar with some of the most resilient and innovative people in the world.
Preserving the old
There is excitement almost everywhere in Myanmar about what the new era will bring. It may prove to be a fleeting moment, but there is optimism that the time of unrest and privation is nearing an end. Last week's conference was an expression of that sense of hope.
Many speakers discussed the means of economic transformation and of lifting people out of financial misery to build a more inclusive society, but each presenter spoke in language rich with affection for Myanmar and mindful of why they were proud to be part of this society.
In a conference dedicated to the liberating power of technology, it was appropriate for educator U Nay Oke to open the day's presentations with a heartfelt tribute to the generation that preceded those onstage. Recalling the poetry written by his mother, who died soon after his birth, Nay Oke told the audience that the sensitive and melancholy verse she composed resurrected her image in his mind.
Whatever changes may come, some traditions should be preserved, he said, because "jobs may feed the stomach, but poetry feeds the heart".
TEDxInyaLake presentations will be uploaded to the official TEDx YouTube page by the end of April.