By THOMAS KEAN | FRONTIER
New Telenor Myanmar CEO Lars Erik Tellmann speaks to Frontier about improving data speeds in urban areas, aggressive promotions and the factors that will drive future growth.
Telenor raced out of the blocks in 2014 and quickly pulled away from the other new operator, Ooredoo. What were the key factors behind your initial success?
Our strategy when entering Myanmar in 2014 was simple yet very clear. Firstly, we wanted to ensure that our services could be attractive to the "mass market", and not just limited to a small higher income segment. We did so by being the first operator in the country to lower voice tariffs to K25 per minute when others were still at K50 and K35 per minute. We invested in both 2G and 3G nationwide, to ensure that all handsets would work without any problems in our network.
Secondly, we made a promise that we would be best in distribution. We … have over the last two years built what I consider to be one of the best sales and distribution models the mobile market has seen. We currently have a national distribution model consisting of over 170 distributors and close to 80,000 points-of-sale across the country
Growth in new users has been slowing, though. How will the next phase in the battle for subscribers be won?
When we launched our services in 2014, we entered a market with enormous pent-up demand. Telenor today serves more than 17 million customers and the growth of new customers are being limited as the population coverage is expanding.
We will soon see that those who want to have a SIM card will have acquired one or several. Remember, Myanmar is also unique in that it is a multiple SIM market. Our focus is on being the customer's preferred operator, even while they have secondary and to some extent even third SIMs on-hand.
Beyond growth in subscriber base, we are also focused on growing the number of active data users. Approximately 64 percent of our customers today are already active data users, putting us on par with established peers like Malaysia and Thailand in the Telenor Group. Will it grow even more? Absolutely, and if you ask me a year from now, I am sure that I probably have underestimated the growth figures again.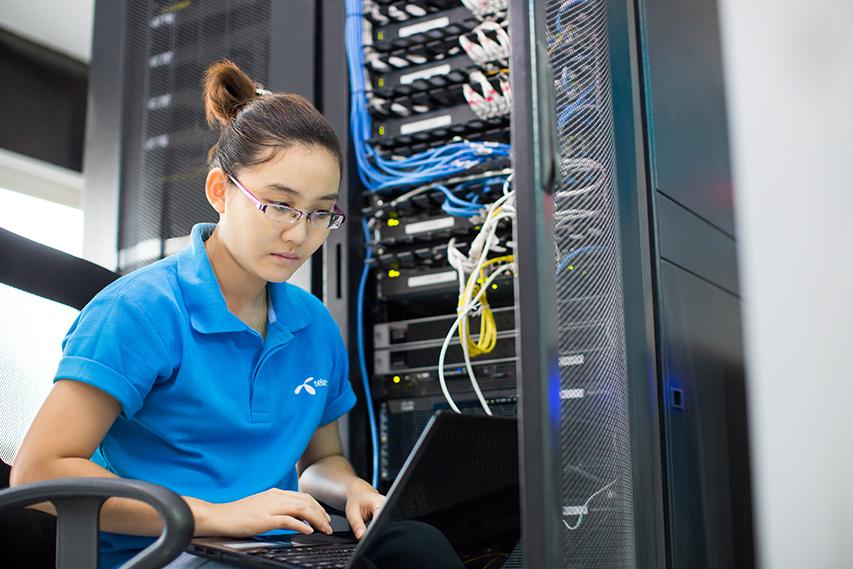 Consumers are enjoying some very aggressive promotions from the three operators. Can they be sustained?
Competition is always healthy, and Telenor welcomes all competition with the spirit that it makes us better. However, for a market as young as Myanmar, it is essential that competition remains rational in the face of the large investments that is still ahead of us.
Extreme data needs from consumers beg for even higher investment in new technology upgrades from operators. For this to be enabled there needs to be a sustainable business model over time to support this development.
What's the status of your network rollout?
Telenor today has the largest network in Myanmar with over 6,100 sites on air – which we believe is approximately 30 percent [more] than our closest competitor – and we aim to be at more than 7,000 sites by year end.
Besides [geographic] coverage, we are also actively focused on improving quality in the cities and the most populated towns. In order to deliver the best data experience in these areas you either need to build more sites which results in a tighter network grid, and/or gain access to a wider spectrum portfolio for more capacity.
At the moment we are in close dialogue with the government on the latter and hope that we will see the 1800 MHz spectrum be made available in [the fourth quarter of] this year as we understand is the planned timeline.
What are the key trends you expect to see in the mobile sector over the next 12 months?
Firstly, we expect that data adoption will continue to grow in Myanmar, as variety and availability of smartphones grow and as prices fall. We see Facebook and other social media platforms as being key drivers of data adoption.
Online games will also continue to surge in Myanmar; we saw this over the last two years with games like Clash of Clans, and will continue to see even more of these as game platforms converge with location-based technology, such that is being observed with Pokemon Go. Finally, we see perfect conditions for the growth of mobile financial services in Myanmar.
With a large "unbanked" population, mobile money will not only enable person-to-person money transfer services which will be so essential in Myanmar, but also open up possibilities for payments and business transactions.
This interview originally appeared in Frontier's Digital Myanmar 2016 special edition.