The participation of tens of thousands of government medical personnel in the Civil Disobedience Movement has created gaps in healthcare that striking doctors and colleagues working at private hospitals are struggling to fill.
By FRONTIER
When Dr Aye Chan Khaing, a physician at Mandalay General Hospital, joined the Civil Disobedience Movement on February 3, she gave up her job of nine years and her government-provided housing.
But she hasn't given up on her patients. For the past four months she has offered treatment at private hospitals, clinics operated by charities, and via tele-consultations.
But Aye Chan Khaing, who asked that a pseudonym be used for her safety, does this under constant threat of arrest. She has twice had to flee charity clinics while treating patients because security forces had come to search the clinics for striking doctors. When she leaves for work, she carries neither medical equipment nor her phone because she fears the security forces will detain her if they realise she is a doctor. She always checks the location of security forces before leaving for work at charity clinics; if there are any along the route, she has to make a detour, which means she often arrives late.
"I used to go to clinics every day for my patients, even though it's not safe. I didn't dare take even my cherished stethoscope because if the junta forces see it, they will ask a lot of questions. So I leave my stethoscope at home," she told Frontier on May 23.
Aye Chan Khaing still goes to the clinics when she can, but because of the risks to her safety she is no longer able to work every day.
Aye Chan Khaing is one of tens of thousands of medical professionals who have joined CDM in the wake of the February 1 coup, leaving many state-run hospitals and clinics shuttered or desperately short of staff.
The regime has labelled them "murderers" for abandoning patients, but most striking medical professionals have instead been providing free treatment at private hospitals, and at private or charity clinics, three doctors told Frontier.
Like Aye Chan Khaing, they are doing so at great risk, because they could be arrested at any time by the regime.
The military junta has been prosecuting striking government doctors for incitement under section 505-A of the Penal Code, for which the maximum penalty is three years' imprisonment. It has also threatened to suspend the licences of private hospitals and clinics if they employ striking doctors and other medical professionals.
As a result, the owners of many private hospitals and clinics are no longer allowing striking doctors to work, which has only further hindered access to healthcare. Aye Chan Khaing spends most of her time treating patients at charity clinics.
The situation has also complicated efforts to respond to Myanmar's emerging third wave of COVID-19 infections, and public health experts say the junta should allow striking medical professionals to provide treatment at charity clinics, private hospitals and private clinics.
"Government hospitals can't fully operate, so most people have to rely on private hospitals and clinics, and charity clinics. Not allowing CDM doctors to treat there could negatively impact the healthcare of low-income communities," a public health expert who requested anonymity told Frontier.
"I also worry about COVID-19 infections; the political situation could mean we will be unable to control a resurgence of the pandemic," he added.
Targeting doctors
In a statement issued on May 5, the United Nations country team warned of the impact on public health and the response to COVID-19 from attacks on medical personnel and facilities, and reiterated a call for health workers, health workers and patients to be protected.
Citing the World Health Organization's global surveillance system, the statement said there had been at least 158 reported attacks on medical personnel and facilities in Myanmar since the February 1 coup, resulting in at least 11 deaths and 51 injuries.
Of the 158 attacks, 83 involved facilities, 21 involved ambulances, 76 affected health personnel and 73 affected patients.
The statement also said that at least 139 doctors taking part in the CDM were reported to have been charged under section 505-A of the Penal Code.
A Frontier review of announcements on state-run MRTV found that at least 389 medical professionals accused of taking part in the CDM were facing charges under section 505-A of the Penal Code, as of May 7 – the last day 505-A lists were announced for medical professionals. Those targeted include professors, specialists, assistant surgeons, medical superintendents and township medical officers under the health ministry.
Meanwhile, figures released by the Assistance Association of Political Prisoners show that 38 doctors had been detained by the regime for participating in CDM as of May 29.
In addition to filing criminal charges against medical personnel, the military council has also threatened to revoke the passports of healthcare professionals who joined the CDM.
"What the military junta is doing is coercive and should not be done," said Dr Tayzar San, a leader of the protest movement in Mandalay city who volunteers at a free clinic called Hnalon Hla, or "beautiful heart", that striking medical workers set up in early May. "The junta's forces are deliberately persecuting CDM medical doctors who do not recognise the military government."
Tayzar San knows this better than most. Not only is he wanted by the authorities for alleged incitement, but social media posts have promised a K10 million bounty to anyone who captures him or provides information that leads to his arrest.
In its May 5 statement, the UN country team addressed the issue of detaining highly specialised health personnel. They warned that the expertise of medical staff could not easily be replaced, which would significantly impact both the quality and availability of health services.
The statement quoted Mr Andrew Kirkwood, the acting interim UN resident and humanitarian coordinator, as saying that the UN stood ready to continue its support for the national COVID-19 response – if the regime ceased its attacks on medical workers.
Closer cooperation would require "a return to the comprehensive response to the COVID-19 pandemic previously underway, that the inviolable nature of health facilities and health workers and patients is respected, and the immediate release of urgently needed medical and technical personnel detained or arrested while exercising their rights to freedom of expression and peaceful assembly," Kirkwood said.
The involvement of healthcare personnel in the CDM has seriously disrupted public hospitals. The CDM Medical Network estimates around 50,000 government healthcare workers are on strike, from professors to general workers.
Most of the country's 1,777 government hospitals cannot function properly because of the CDM, said an assistant surgeon from the 1,000-bed Nay Pyi Taw General Hospital who is participating in the strike.
"We look after our patients free of charge outside government hospitals, but the coup regime accuses us of earning money at private hospitals while refusing to provide treatment at our assigned hospitals," said the assistant surgeon, who said 80 of their 90 colleagues are on strike.
Aye Chan Khaing, meanwhile, said that at Mandalay General Hospital more than 1,000 of its 1,500 medical personnel, from assistant surgeons to professors, are taking part in the CDM.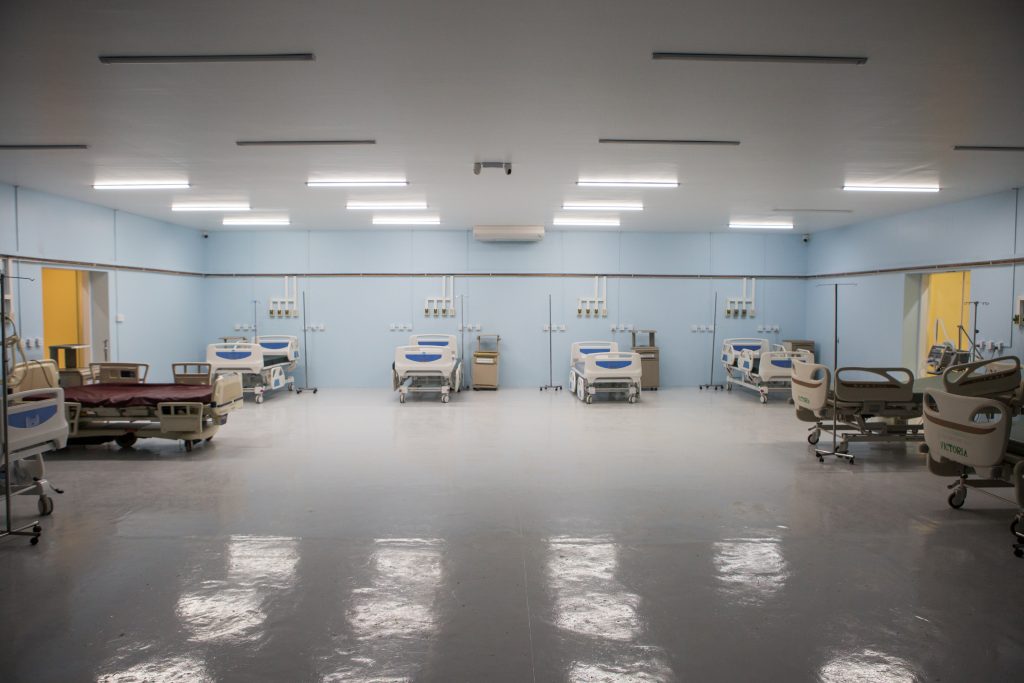 Struggling to get care
Another factor driving patients away from government facilities is the presence of soldiers. The UN's May 5 report said 51 healthcare facilities have reportedly been occupied by the security forces since the coup. Of those, 31 still had soldiers present, and the UN said these facilities were reporting a decline in people seeking treatment.
A doctor at a private hospital in Sanchaung Township and another at a charity clinic in Tarmwe Township told Frontier that patient numbers had risen sharply because government hospitals cannot operate at full capacity.
At the same time, however, many private and charity clinics and hospitals are refusing to allow CDM staff to work because of threats from the regime.
This has made it difficult for some patients to get treatment in a timely manner.
"It is difficult to find a suitable doctor to replace the one who normally treats me, because the junta has banned our doctor," said Daw Yi Yi Win, 65, a diabetes patient who lives in Yangon's Thingangyun Township and is treated at Aung Yadana Private Hospital. "We have to wait a long time to receive treatment from our new doctor because of the large number of patients."
A volunteer general practitioner at a Myanmar Red Cross Society charity clinic in Yangon's Tarmwe Township told Frontier the number of patients seeking care each day had risen from about 20 to an average of 60.
"Some patients come here to see their regular doctor, who is not allowed to practice at a private clinic because they have joined the CDM, and others come because they cannot afford to be treated at private hospitals," he said.
Most patients are seeking treatment for chronic diabetes, as well as heart and kidney diseases. A volunteer doctor at the Tarmwe Red Cross clinic said patients in need of urgent care are referred to private hospitals or clinics, and they help to negotiate down the fee if the patient cannot afford the cost of treatment.
In Yangon, Myanmar Red Cross Society also operates charity clinics in Dagon Seikkan and North Dagon townships.
"In the current situation, charity clinics are very important for low-income people since government hospitals are not fully operational," Daw Yin Yin Hla, a 45-year-old diabetes patient from East Dagon Township, told Frontier. "We mainly rely on them for our healthcare and medical treatment because we can't afford to go to private hospitals."
Puppets of the regime?
In light of the problems at state hospitals and clinics, the Myanmar Private Hospitals' Association plans to provide treatment to patients who would not normally be able to afford private care, an official said.
The official said administrative boards at the individual hospitals now have to make decisions on whether patients get free medical services, discounted services, or get charged regular prices.
"We do not turn away people from our hospitals if they can't afford it. We especially help patients with life-threatening conditions, in accordance with the hospital administrators' decisions," said an official at the private Sakura Hospital in Sanchaung Township.
The private sector relies heavily on medical professionals from the Ministry of Health and Sports, many of whom supplement their low government salaries by working at private hospitals and clinics.
The MPHA official, who asked not to be named for safety reasons, said about 95 percent of the staff at the country's 250 private hospitals also work at government hospitals. This equates to more than 10,000 people, the official said – of which they estimated 7,000 have joined CDM.
But the official rejected suggestions that many had been fired on the orders of the military. In practice, the official said, many were still employed, and it was mainly those facing section 505-A charges who had been forced to stop working.
However, other striking doctors disputed this, saying many of their colleagues had been forced to give up jobs in the private sector.
Nearly 300 medical officers at 17 private hospitals in Yangon, Mandalay, Taungoo, and Thanlyin signed a statement on April 21 objecting to a decision by the MPHA to suspend doctors who have joined the CDM and to fill vacancies with military doctors. More than 50 of the doctors who signed the statement have resigned.
"In-service assistant surgeons and specialists have risked their lives and futures to reject the military coup. Therefore, we have to support them," a medical officer from a private hospital in Mandalay who resigned over the issue told Frontier on May 25.
Health practitioners also feel betrayed by the Myanmar Medical Council, a body responsible for registering and licensing medical practitioners, who they feel have not supported the CDM. According to doctors, the council has also been processing complaints filed against doctors for participating in the CDM at the behest of the junta. The doctors Frontier interviewed for this story all accused the Myanmar Medical Council of being a puppet of the regime.
In its May 5 statement, the UN country team warned that attacks on health care pose a grave risk to the delivery of essential health services, as well as the COVID-19 response, and could potentially have devastating consequences for Myanmar and beyond.
"At a time when Myanmar needs them most," it said, "health workers fear arrest or detention for exercising their rights to freedom of expression and freedom of assembly."