Entrepreneurs in Yangon are tired of waiting for the government to tackle the city's squatter problem and are skeptical of a recent promise to solve it before the end of its term.
By KYAW LIN HTOON | FRONTIER
WHEN THE government's Private Sector Development Committee held its regular meeting with businesses in Yangon last month, housing was at the top of the agenda.
Speaking on behalf of industrialists, Union of Myanmar Federation of Chambers of Commerce and Industry chairman U Zaw Min Win said that a solution to the large number of people living illegally on industrial zone land would have a bigger positive impact than providing a steady, reliable electricity supply.
Yangon Region Chief Minister U Phyo Min Thein responded that his government would "solve the squatter problem" before the end of its term. While his pledge was welcomed, many also expressed doubts about the government's current strategy and questioned the lack of detail given by the chief minister.
"We urge the regional government to avoid utopian ways of trying to solve the problem," said U Aye Thaung, chairman of the Shwe Lin Pan Industrial Zone management committee. "We want it to discuss the issue with us and consider our suggestions."
Since taking office, the chief minister has promised repeatedly to tackle the problem, which was largely ignored by the U Thein Sein administration. With the government having ruled out mass evictions, resettlement in new housing projects is seen as its only real option.
But the scale is huge: So far more than 130,000 squatter households have been registered and issued with smart cards, under a project initiated in the final months of the former government and continued by Phyo Min Thein.
"There are over 130,000 households and the population could be around 440,000," said U Win Naing, deputy director of the Department of Urban and Housing Development.
Progress towards resettling those households has been very modest. The regional government is inviting applications from registered families to purchase one of 1,000 apartments around the city.
As one industrialist noted, this barely represents progress. "If it takes a couple of years to just build a few thousand apartments, how long do we have to wait to resettle up to 150,000 households?"
Phyo Min Thein's plan
A more ambitious plan is in the works, but the details remain hazy outside of Phyo Min Thein's inner circle. Lawmaker Dr Kyaw Zin Oo (National League for Democracy, Twante-1) said he recently submitted a question to the Yangon Region Hluttaw about a project to resettle squatters on 3,000 acres in his constituency, but the government has not yet responded.
However, the Yangon Region government has announced plans to develop 200 acres in Twante's Padan Yay Kyaw village-tract as a pilot project, he added. On December 18, Phyo Min Thein went to the area and met farmers who had refused compensation for their land, during which he agreed to modify the project so that their land was not acquired.
"Up until now the government hasn't yet disclosed any clear information about it," Kyaw Zin Oo said. "I've heard that the government has already signed a contract with a company for this housing [pilot] project but I don't know which company it is or how many years the project will take."
He said he would push for more disclosure from the government to parliament.
"At the moment it seems like they're just going to announce the project once it has already started," Kyaw Zin Oo said. "If they want to do a project like this they should submit it to the parliament and let all MPs and government officials discuss it, and it should be voted on. The way they are working now, it's like they think they can do whatever they want without getting the parliament's approval."
Win Naing from the Ministry of Construction's Department of Urban and Housing Development confirmed the plan and said the chief minister was personally handling the project. "Building a new city in Twante is his plan. We just drew a design and concept for it but don't know anything more about how it will proceed," he said.
Aye Thaung from the Shwe Lin Pan industrial zone said he had concerns about the Twante proposal – particularly its location. He suggested that Htantabin, in rural western Yangon Region, would be a more suitable location given its proximity to Hlaing Tharyar.
"Most of the squatters in Hlaing Tharyar are there because they can get jobs in the nearby factories. While not all of them are actually factory workers, most of them earn a living from the working classes – for example, they run shops and sell things to them."
Private sector solutions
In some cases, private enterprises have got sick of waiting for the government and begun trying to solve the affordable housing problem themselves. At the Shwe Lin Pan Industrial Zone, the management committee has overseen development of the Taw Win Hninsi housing estate, which features 28 buildings of 60 apartments each. Those living and working in Hlaing Tharyar who don't own property are able to buy one of the apartments, which start at K6.2 million.
Resident Ma Khaing Khaing Zin moved with her husband from Bogale Township in Ayeyarwady Region to Yangon's Hlaing Tharyar Township about a decade ago. She soon found a job in a garment factory and for many years she rented a single-storey wooden house measuring around 400 square feet, most recently paying K60,000 a month. But her life changed when she was given the opportunity to buy an apartment at Taw Win Hninsi. Of the K6.3 million asking price, K3 million was required upfront. But the rest could be paid back according to what she could afford on her salary.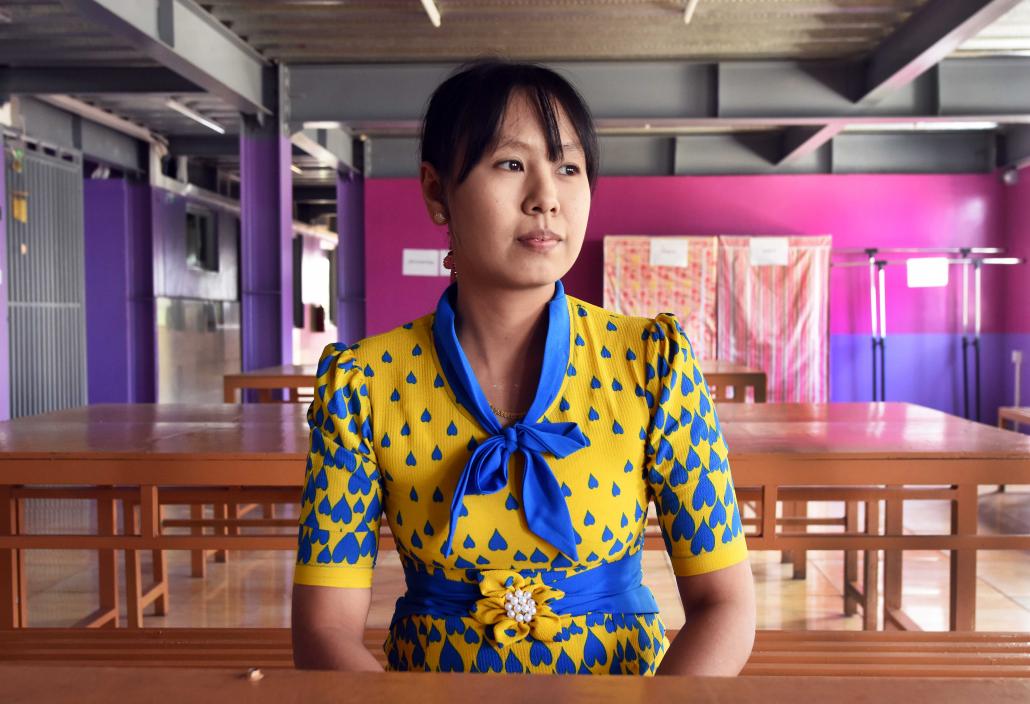 Khaing Khaing Zin never bothered applying for one of the government's "so-called low-price apartments", as she put it. While the repayments on these are manageable, she said the total price is too high: typically about K20 million. If she went down that route, she would be paying off the apartment for more than a decade, even with a substantial deposit.
"This is affordable – next year it will be all ours. There's no noise, no fighting – it's a clean environment," she said excitedly. "If other people who rent houses or squat in the industrial zones had the opportunity to live in this kind of place, I think their behaviour, lifestyle and health would definitely improve."
While most squatters live in industrial zones, the management committees of these zones are limited in what they can do to address the issue. The committees were formed under instruction 1/97 issued by the military government in 1997. With no other legal basis, they have little formal authority and are dependent on the regional government.
While there were some highly publicised evictions of squatters under the former government, for the most part it only acted when the squatters were on military or government land.
To better manage the industrial zones, the Thein Sein government had started writing an Industrial Zone Law. Despite going through three drafts over the years, it is yet to be submitted to parliament, let alone enacted.
Aye Thaung said a more concerted effort was needed. "Everything is delayed. We just wish the government and the parliament representatives would work faster and more effectively."
Asked whether he believed Phyo Min Thein would stick to his promise to resolve the issue, he said: "I don't know what to say anymore. All of these conversations with the government tend to just disappear into the air."
TOP PHOTO: Steve Tickner | Frontier