Rakhine State villagers dwelling on the Bay of Bengal coast huddle beneath their homes when cyclones lash their land. But they need more than roof iron to survive long term in this volatile environment – their resilience depends on robust embankments and sluices to protect their food security, livelihoods, paddy fields, homes and access to fresh water.
By JENNIFER MACINTYRE | TAT LAN
Farmer U Phyu Htun Sein squats on an embankment and looks out over his paddy fields. The administrator of Kyee Gaung Taung village, he prays that the sluice at his back will protect his people's food security and help him repay his own debts.
His village of 1,400 has weathered five cyclones in the past 12 years. Cyclone Giri in 2010 left their fields so salty they couldn't plant paddy until 2014. While that season was productive, in 2015 floods following Cyclone Komen wiped out 480 acres of paddy.
Homes, embankments and paddy were destroyed when the logs in the wooden sluice, which was built by their fathers 48 years ago, failed to release Komen's floodwaters. The lost harvest left 53 Kyee Gaung Taung farmers heavily in debt, so they formed a farmer's group to work together to protect their land.
"We rebuilt the embankments ourselves, building them up to a six foot [1.8 metre] level, beyond the height of any tidal surges we have known," says Phyu Htun Sein.
Tat Lan also provided US$13,000 to rebuild the sluice in order to protect their land and the community's food security.
Robust, cyclone resistant embankments
Every year, Pauktaw, Myebon, Minbya and Kyaukhpyu townships in Rakhine State are battered by violent storms, powerful sea surges, king tides and torrential monsoon rains that flood the plains. To build resilience in 259 vulnerable villages, the Livelihoods and Food Security Trust Fund, LIFT, commissioned the Consortium of Dutch NGOs (CDN) to assess the geography of these townships to see if their paddy fields and livelihoods could be protected from the destructive forces of nature and climate change.
In 2013, CDN recommended rebuilding 640 kilometres (400 miles) of embankments constructed by farmers with government funding. LIFT responded by investing $17.7 million in Tat Lan to fund agricultural development and build nearly 250km (153 miles) of embankments and 116 sluices according to CDN designs. Tat Lan and the Department of Irrigation consulted on embankment location, prioritising construction based on needs.
Tat Lan embankments vary to suit the environment, but they usually have a base width of 8.5 metres (28 feet), a height of 1.8m (6 feet), and a flat 1.2m (4 foot) wide walkway across the crest. The engineer-designed side slopes proved their worth when 140km (87 miles) of embankment stood strong against Komen's waters, which flattened infrastructure throughout Myanmar.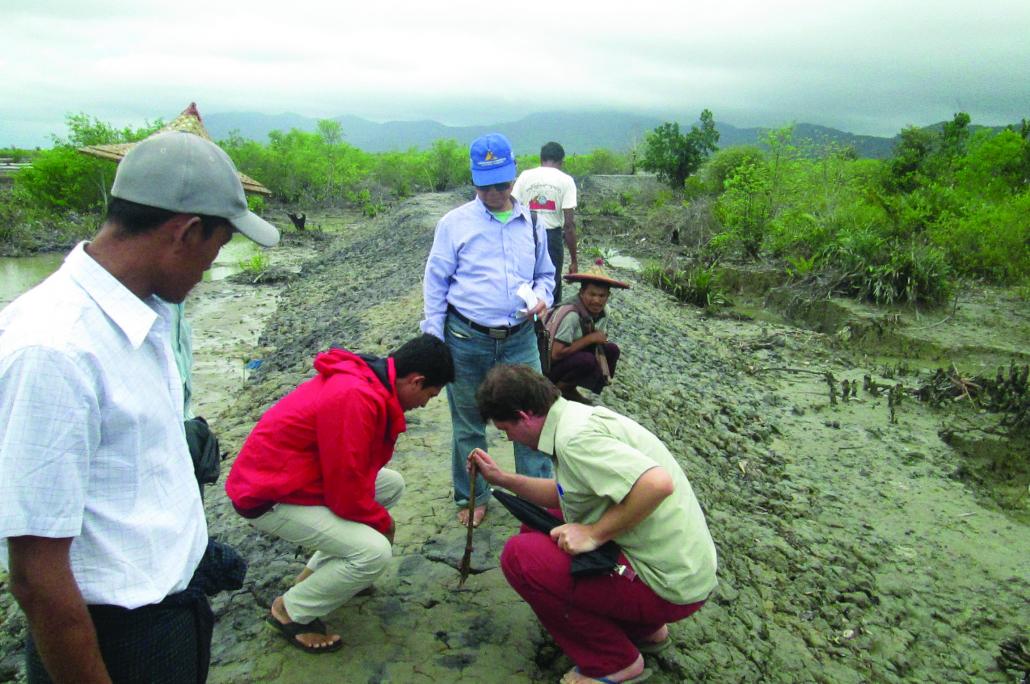 Forceful seaside waves, combined with extreme fresh water flooding fractured only 10km (six miles) of Tat Lan embankments. The damage was mainly caused by old, traditional sluices that were blocked with logs to reduce water loss from paddy fields during the dry season and to prevent intrusion of saltwater. During a cyclone, it is impossible to move the logs to release water. In contrast, the Tat Lan sluices have flaps that automatically open when water levels in the paddy fields are too high, releasing excess water into creeks.
CDN engineer Mr Timmo Gaasbeek says successful paddy land protection lies in the combination of strong embankments to keep out seawater and solid sluices to let excess rainwater flow out before crops drown. "With Tat Lan," he said, "we have clearly shown this is possible in a low-tech manner, which can be handled by local communities."
Sluice construction and maintenance
Sluice sites are selected in consultation with farmers who will be responsible for operating and maintaining them. Tat Lan's sluice expert, U Zaw Win, takes surveyors to each site to modify their designs based on a range of factors, including rainfall, the density of foundation soil, the area of farmland needing protection and the highest known spring tide.
Embankment soil is also tested for compaction, because embankments subside if the soil is not strong enough to keep its shape. Due to the lack of machinery to compress the soil, Tat Lan embankments are built to a height of 2.4m (8 feet) to allow for subsidence.
All embankments are hand-built, giving 33,000 villagers precious additional income. Working in teams, men and women earn equal pay for equal work. Groups of 15 people can build 275m (900 feet) a month; to date they have built 210km (130 miles) of embankments and 110 sluice gates that protect 30,000 acres of paddy land.
The 7,000 farmers who benefit from the infrastructure are responsible for maintaining it. When the Tat Lan project ends, all embankment and sluice designs will be shared with the Department of Irrigation, so farmers and the department can work together if more technical maintenance is required.
The sluices and robust embankments – combined with Tat Lan's investment in fertiliser, seeds and knowledge sharing – will potentially enable these farmers to double their paddy yield in this year's harvest.
"Now that our land is protected from seawater and floods, we hope to gain an increase in yield that will help us repay our debts," says Phyu Htun Sein. "We will apply the new farming techniques we have learnt at our Farmer Field Schools and we plan to plant high-yield, salt tolerant paddy seeds to increase our harvest."
The Tat Lan programme is building resilience in 259 vulnerable Rakhine State villages through an integrated programme aimed at improving food security, livelihoods, water, sanitation, nutrition, community participation and governance. The programme is funded by the Livelihoods and Food Security Trust Fund (LIFT).