Community and government consultation, collaboration and cooperation are critical for the development of Rakhine State.
This article was produced and paid for by the Tat Lan programme.
By JENNIFER MACINTYRE | TAT LAN
When 104 village leaders from Minbya and Myebon townships gathered for a workshop in Myebon, it was the first time they had met a member of parliament. During the workshop, which was organised by the IRC Tat Lan community mobilisation team, they enthusiastically discussed critical community needs with Rakhine State MPs U Aung Win, U Hla Aung Nyunt and U Hla Thein Aung.
These consultations were recommended to the government by the Rakhine State Advisory Commission, which was led by former United Nations secretary-general Mr Kofi Annan. In its final report, the commission said the government "should mandate regular township-level civil society dialogue meetings" attended by civil society groups, local administration representatives, ministry officials and members of the state and Union parliament.
The commission saw these meetings as essential opportunities for communities and civil society to give feedback on the design and impact of national policies. It noted that the state assembly "has minimal influence over the formulation or implementation of key policies" and the Rakhine State government's primary task was implementation of policies decided by Nay Pyi Taw.
State MPs can still advocate for their constituents, however, and Myebon lawmaker Aung Win assured the 104 representatives – two from each of 52 Tat Lan village development committees – that he understood the challenges they face in Rakhine, which is by some measures Myanmar's least developed state.
"People are very poor and face many challenges compared to other states in Myanmar. There are no employment opportunities – youth have to leave home to migrate for their living. People are just surviving, risking their lives for their livelihoods," he said.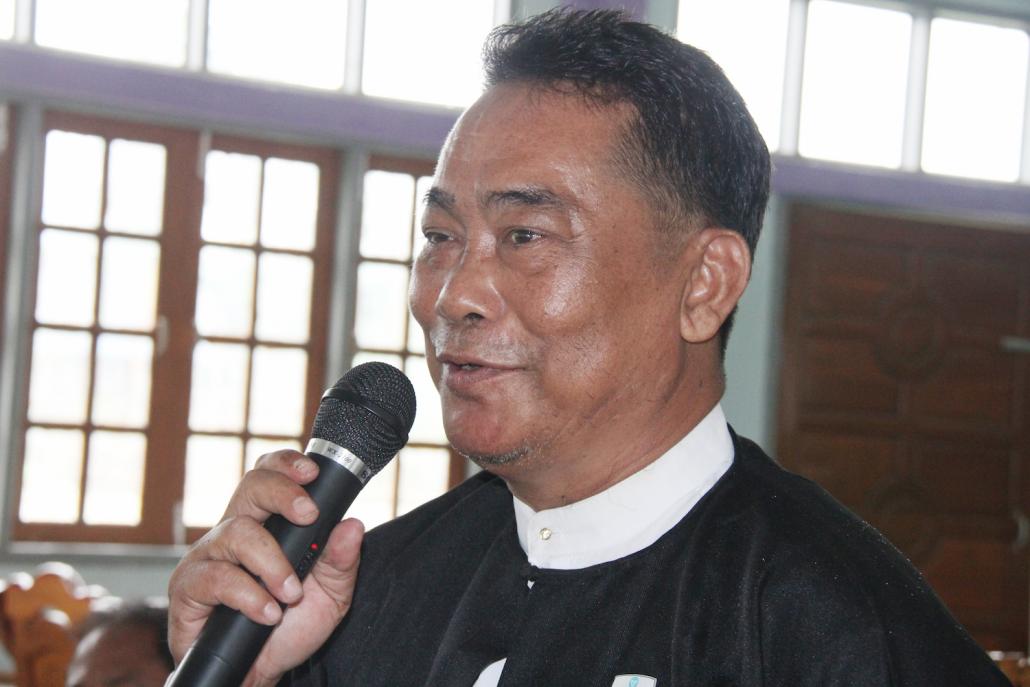 Aung Win noted that the state had high school drop-out rates, with most children not studying beyond grade five because of the lack of post-primary schools. Limited access to medical care, including clinics and hospitals, was also a critical concern. "It is very difficult for people to go to the clinic or hospital. If something happens they have to travel by boat to a town for medical attention," he said.
Village leaders welcomed his invitation to present their problems openly, particularly with regard to infrastructure, transportation, education and health. "The government is not investing very much in village development, so tell us what you need so we can represent you," said Aung Win on behalf of his fellow MPs.
"Our community doesn't have a school," said Yee Gaung Chaung village development committee chairman U Kyaw Win Naing. He explained that while the village has a branch school, it does not qualify to receive government teachers. "For years, we have been asking the government for this support."
Aung Win provided advice on how the development committees could communicate most effectively with government departments. For example, he encouraged them to submit proposals for new primary school buildings instead of asking the government to employ more teachers. "Teachers will be appointed to the new schools," he assured village leaders.
U Tin Shwe Myint from Kyein Chaung village presented the MPs with a well-prepared document outlining the proposal that he had submitted to the education department for a fully accredited high school. The submission showed what his community had achieved so far, and how they would work with the government to build a school to educate senior students from nearby villages.
Looking through the paperwork, the MPs promised to endorse the application, which also asked the government to build roads to nearby villages. "We need the roads for transportation and for student access to education, so we can build the economic wellbeing of our communities," said Tin Shwe Myint.
Village development committee chairman for Lay Taung village, U Maung Thein Myint, pleaded for the MPs' help to secure approval for a bridge that the village has been lobbying the government to build for the past 10 years.
"We need the government to provide K30 million to build a very important bridge between Lay Taung and Yet Chaung, so children can safely cross the river. The tide is dangerous during the rainy season when children cross the river by boat. Their education depends on a bridge being built," he said, adding that the bridge would also improve access to the Sittwe to Yangon highway – a point noted by the MPs.
Minbya lawmaker U Hla Thein Aung encouraged community leaders to go directly to their member of parliament. "Tell them your challenge and ask them how you can work together to develop your community," he said. He then led a session on proposal writing, describing government laws and regulations, so leaders could know how to approach government officials. He outlined funding they might be eligible for and ways they could work together with the government for village development.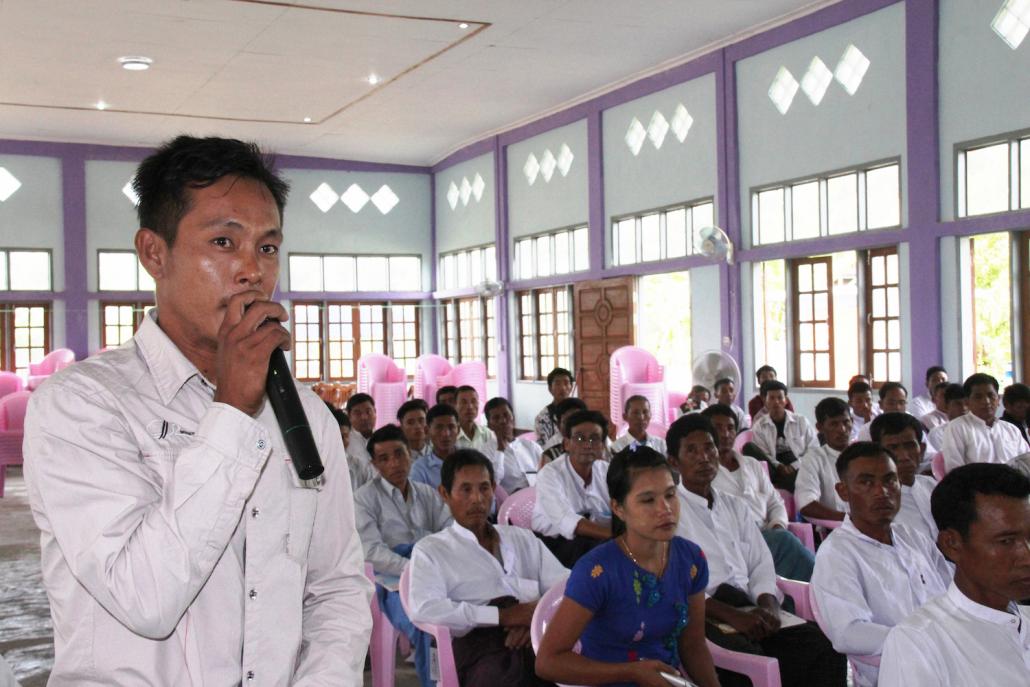 The MPs urged village leaders to provide maps and detailed estimates of the cost and community contribution, so that government departments can clearly understand what the community is asking for. In response to the presentation of one such proposal, the MPs agreed to support the distribution of electricity to Kan Ni and five neighbouring villages.
Accessing development funds
While government development funds are available to communities, few know how to apply for them. There is little scope for communities to engage with the government on how budget allocations from Nay Pyi Taw are spent. This has often led to a lack of transparency and accountability, and undermined community trust towards the government.
MPs outlined two government funds that are allocated to community development and accessible to villages. The parliamentary fund is available for large-scale infrastructure, such as bridges connecting two villages across a river. Meanwhile, the Green Emerald Development Fund, administered by the Department of Rural Development (DRD) will contribute to community infrastructure such as ponds, village lanes and small bridges. It can also provide small loans to start businesses.
The MPs said these funds allow village committees to make decisions about the management and allocation of government resources at a local level. So, for the first time in their lives, villagers can influence how government funds impact their lives and livelihoods.
As the meeting ended, the MPs agreed to present 20 proposals from the village leaders to the upcoming parliament, and they left sharing their contact details and agreeing to meet the leaders again before they draft the budget for the next financial year.
Kyaukphyu investment
In September 2015, residents in Pyaing Seik Kay village, Kyaukphyu Township, received K30 million from the Green Emerald Fund. The DRD explained that it selected the village because residents had a successful Village Savings and Loans Association, established under Tat Lan two years earlier. Their energy and commitment to grow through savings and repaying loans had impressed the DRD.
The Pyaing Seik Kay villagers chose a seven-member committee to manage the funds and agreed on a fair interest rate of 1 percent a month. In December 2015, 128 people received loans ranging from K100,000 to K300,000, and in 2016 another 24 people were given the same opportunity. The committee distributed loans to the most vulnerable members of their community first. Daw Khaing Mar Oo, 48, who had been entrusted to lead the Village Savings and Loans Association, was elected chair of the fund committee.
"Everyone in the committee makes decisions together," she said. "There was a risk that people would start fighting when we got the fund, so I made sure to ask advice from the village leader, elders and monks as well. I have also posted a list of all the loans on the village signboard in an effort to be transparent."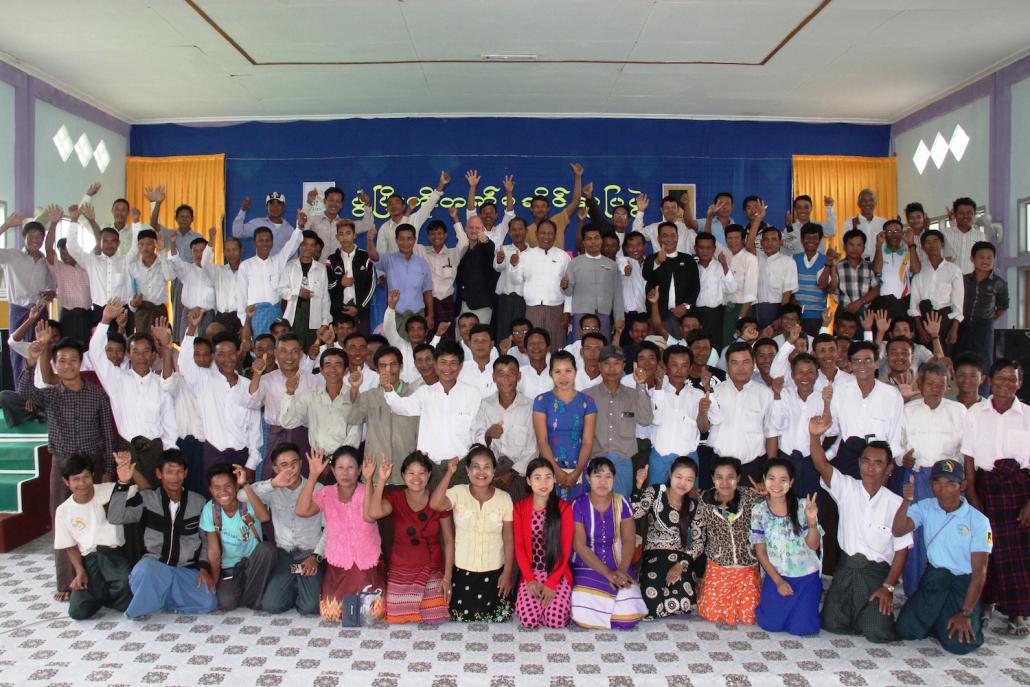 The aim of the Green Emerald Fund is to give communities loans to increase incomes, strengthen livelihoods and increase resilience in a sustainable way. The DRD has also provided technical trainings on agriculture and fishing to encourage people to produce a profit within the year and repay their interest.
"Everyone has proved themselves able to pay the monthly 1 percent interest rate, on time," Khaing Mar Oo said. This year, the committee expects the accumulated interest will reach K10 million, which they will use to enlarge their village water pond.
Preparing for climate change
As the climate changes, communities in central Rakhine are exposed to increasingly frequent cyclones. In Pauktaw, Myint Gar Thit village administrator U Shwe Maung and village development committee secretary U Aung Myint Soe plan to build laneways to connect all residents to the high school, which is a potential refuge in a cyclone. Encouraged by their state MP Aung Kyaw Htwe, the Myint Gar Thit village development committee recently submitted a proposal requesting government assistance to build lanes to give people access to each other during monsoon rains and disasters, when many village pathways throughout rural Rakhine become impassable.
Aung Myint Soe, the charismatic village administrator, mobilises residents from all 170 households to participate in community development projects. "Our villagers are united and always willing to contribute to village development. Everyone recently contributed their labour and cash to build and fence three new village ponds. So, they will now have enough water in the summer," he said, explaining that villagers used knowledge gained from Tat Lan to build their ponds.
However, as the Rakhine State Advisory Commission recognised, community access to knowledge and funds is not equal. Accordingly, events such as the visit to Myebon by the state MPs are important opportunities for village leaders to learn from each other, so they can develop diplomacy and negotiation skills to present government with "win-win" proposals. This is the only way to overcome deadlocks many Rakhine State village leaders have been in for years, as they have attempted to improve their communities' access to clean water, livelihoods, health and education.
The Tat Lan programme is building resilience in vulnerable Rakhine State villages through an integrated programme aimed at improving food security, livelihoods, water, sanitation, nutrition, community participation and governance. The programme is funded by the Livelihoods and Food Security Trust Fund (LIFT).