An altruistic businessman training a team of baristas and an NGO showing farmers how to grow top-class Arabica beans are helping to cultivate a specialty coffee culture in Myanmar.
By PETER JANSSEN | FRONTIER
Photos ANN WANG
"I want to be a barista because I'm crazy about coffee," said Ko Phyo Thu Aung, 29, a trainee at the Sithar Coffee Co Ltd in Yangon's Bahan Township. Phyo Thu Aung started drinking coffee when he was a teenager but like most Myanmar people his coffee experience was limited to an instant three-in-one product.
His month of training at Sithar Coffee opened Phyo Thu Aung's taste buds and nostrils to a new world of high-grade caffeine as he learned how to make the perfect cup of espresso, café latte or cappuccino. "It's difficult to make the foam for the cappuccino with only one hand, but I will master it," a determined Phyo Thu Aung told Frontier.
Phyo Thu Aung is one of six disabled people undergoing barista training at Sithar Coffee, a leading distributor of coffee paraphernalia and a producer of two coffee brands – 'Sithar' and 'Highland' (the latter can be found at most upscale supermarkets in Yangon and the higher-grade Sithar is sold directly to coffee shops, hotels and restaurants).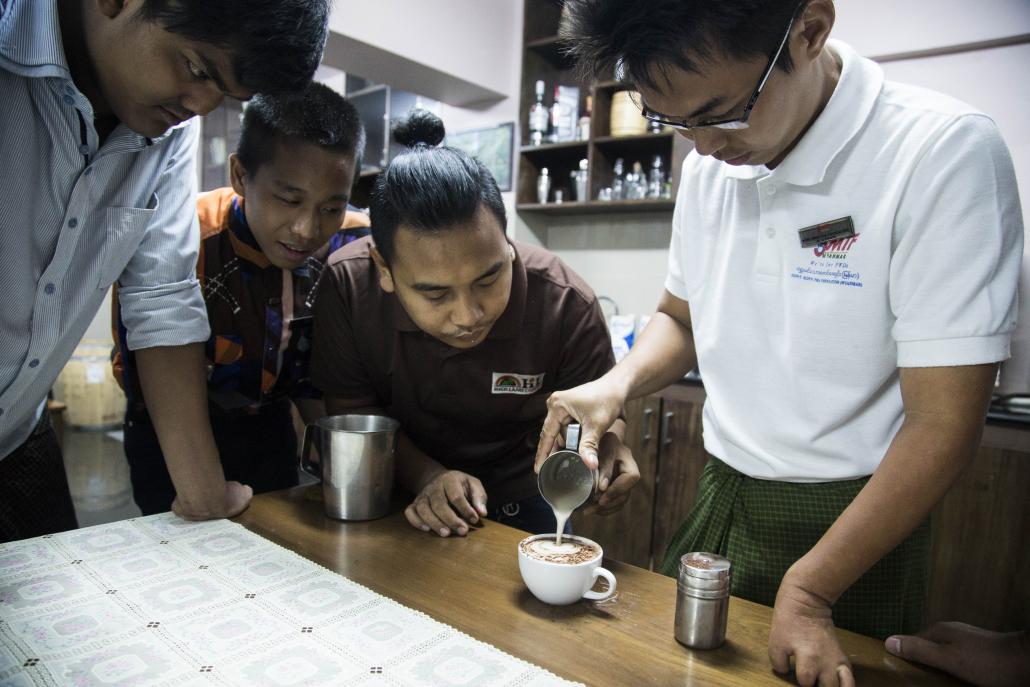 Sithar Coffee's executive director U Thu Zaw is hoping to train a team of baristas – selected from among the 9,000 members of the Myanmar Federation of Disabled Persons – as part of his bigger plans to introduce a specialty coffee culture to Myanmar, a country that has just begun to get the coffee bug. "If they have the qualifications, when Starbucks or other international coffee chains come here, they will have a job, a career," Thu Zaw said.
Foreign coffee shop chains have already started to discover Myanmar. Australia's Gloria Jean's Coffees opened its first outlet at the upmarket Myanmar Plaza in March. Thai chains True Coffee, Black Canyon and Chao Doi and Taiwanese chain Gong Cha have launched in Yangon during the past year, joining a host of Myanmar-owned coffee shops.
The percolating café culture is good news for Sithar Coffee, which sells espresso machines and other equipment to the venues catering to foreign tourists and to an increasingly sophisticated domestic market. The demand for quality coffee has created demand for those who understand what quality coffee is.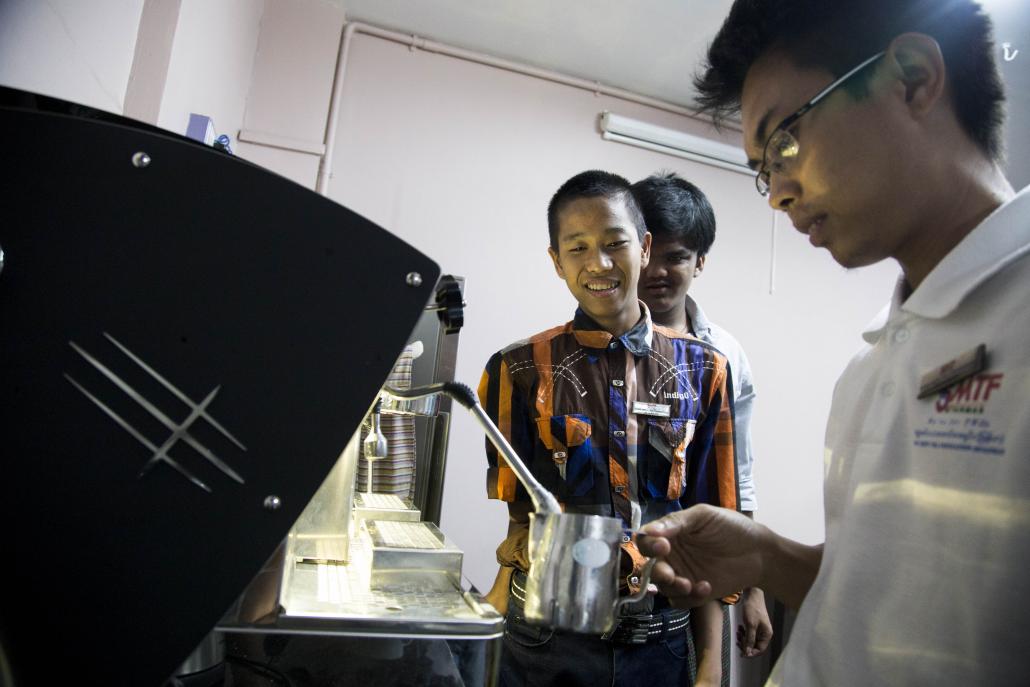 Myanmar is somewhat new to the coffee world and is unlikely to become a mass producer like Vietnam or Brazil any time soon. Coffee was introduced to the country by foreign missionaries in Tanintharyi Region in 1885, but large coffee plantations never took off under the tea-drinking British colonialists and, post independence, under the similarly tea-inclined Burmese.
Myanmar produces between 2,000 and 7,000 tons of coffee beans a year (estimates vary because of unreliable data). Because of its late start in the coffee industry, experts are encouraging Myanmar to move towards higher-end specialty coffee rather than the cheaper commodity class.
To support the production of specialty coffee, Winrock International, a US-based non-government organisation, with funding from the US Agency for International Development, has been training farmers to grow high-quality specialty Arabica beans. Arabica can fetch up to double the average price of commodity grade coffee, such as Robusta, which is selling for about US$3,500 to $4,000 a ton on the world market.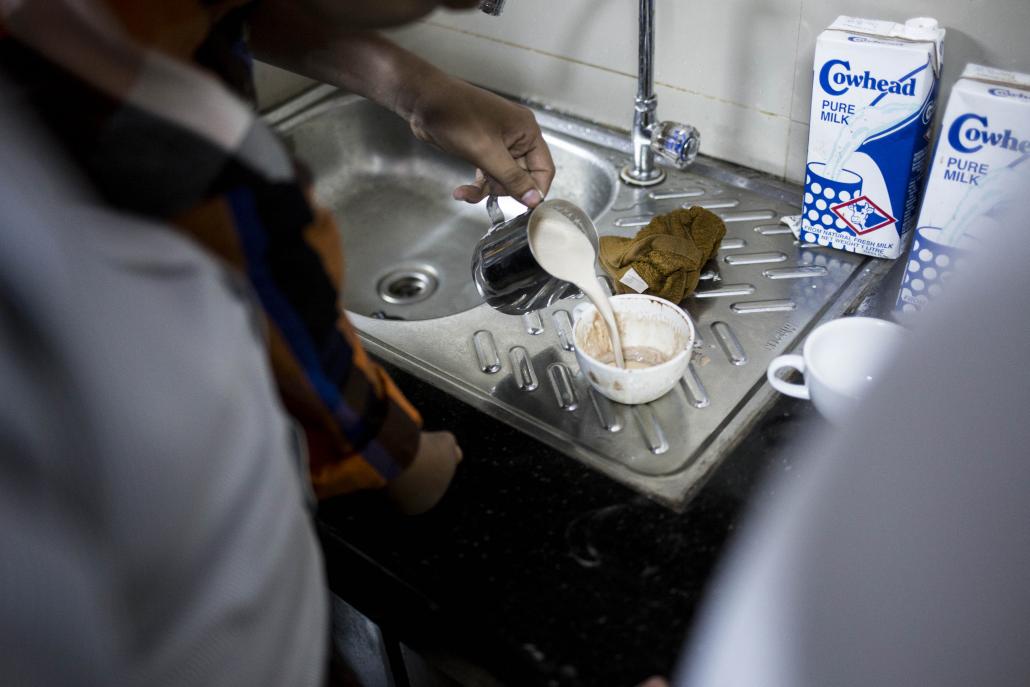 Winrock, which specialises in boosting rural incomes through social enterprise projects, has been training 3,400 Myanmar coffee growers in best agricultural practices, post-harvest techniques, drying and roasting and "cupping" (a protocol for grading coffee using 10 different characteristics such as aroma and texture) since 2014. The on-the-farm training appears to be paying off.  
At the first professional cupping event held in Myanmar last year, foreign experts flown in by Winrock rated only 20 of the 60 coffees they evaluated at higher than 80 points out of 100. Coffees graded above 80 by organisations such as the Specialty Coffee Association of America and Specialty Coffee Association of Europe are deemed "specialty" quality and can fetch higher prices. At a similar cupping event held at Pyin Oo Lwin in Mandalay Region in March, 56 of the coffees were graded above 80, with the highest awarded 87 points.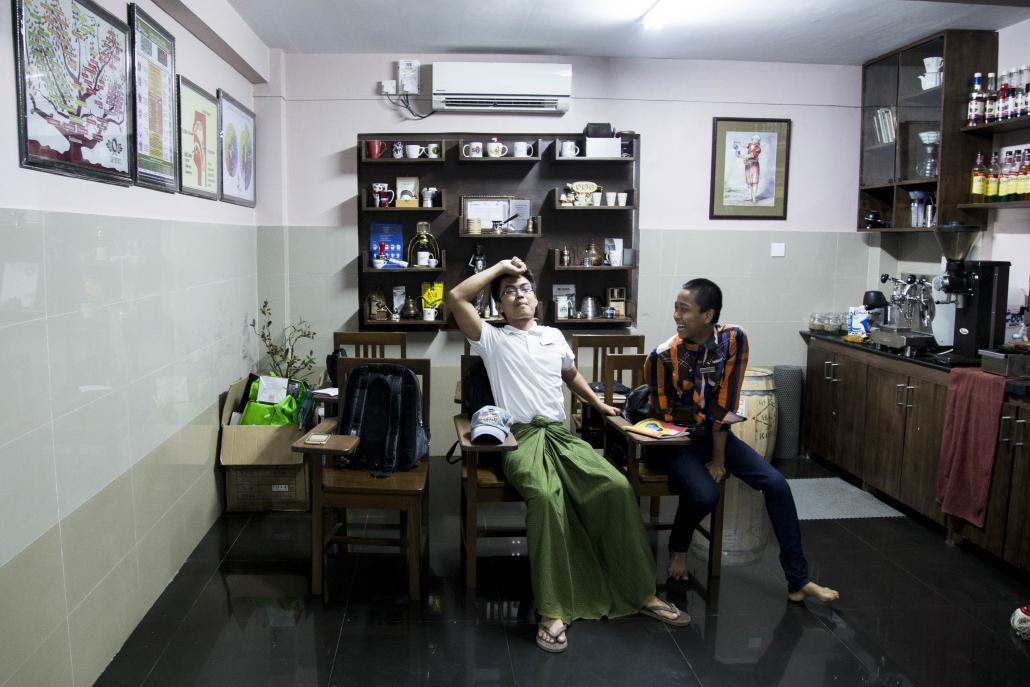 The challenge is to maintain high standards after the cupping experts have gone home. Maintaining consistent quality requires a constant flow of knowledge and feedback among players in the business, from farmers to baristas. "We need to know, as an industry, how our coffee is cupped," said Thu Zaw. "The coffee roaster, coffee barista, coffee plantation manager and even the farmers need to know how to cup."
As well as training them to be baristas, Thu Zaw hopes his fledgling team of disabled coffee experts will help to improve his coffee for the export market. Sithar was graded 83 in the April contest.
Myanmar's expanding coffee industry is offering unique career opportunities for a select few members of the disabled community, many of whom struggle to find jobs. The plight of the disabled is becoming a political issue and there is hope that the new government under State Counsellor Daw Aung San Suu Kyi will introduce a by-law that ensures more opportunities for the long ignored community.
"Daw Aung San Suu Kyi is one of the patrons of my foundation," said U Myat Thu Winn, the founder and general secretary of the Myanmar Federation of Disabled Persons, launched nine years ago.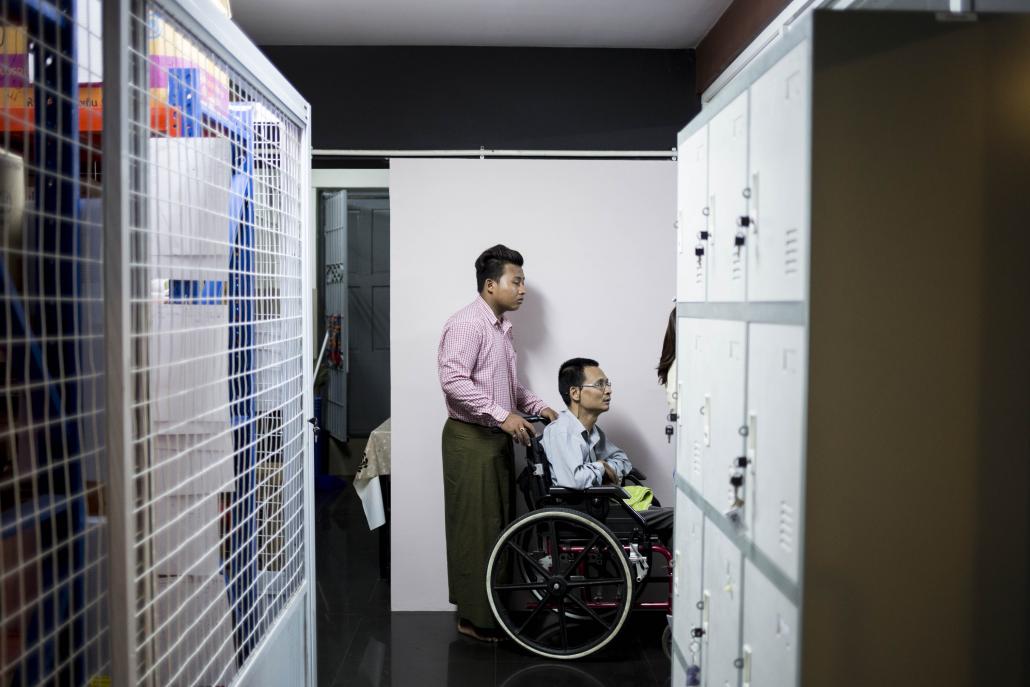 Myat Thu Winn, a paraplegic confined to a wheel chair, is pushing for a by-law to the Disabled Rights Law that will provide for special education for the disabled, disabled-friendly building regulations and tax rewards for companies that hire disabled people. Census data shows that 4.6 percent of the population is disabled, Myat Thu Winn said.
"Our main challenge is to find job opportunities for the disabled; it is difficult," he said.
Public transport in Myanmar is not designed to accommodate the needs of the disabled and their position in society is affected by social conservatism and fatalism.
"Many in Myanmar society believe in karma, and that some people become fortunate because of good karma, and disabled because of bad karma," said Myat Thu Winn, who despite considerable personal challenges has become successful in the real estate sector.
How did he overcome the karma stigma? "Actually it is also my karma," he said. "I have a strong belief in Buddhism and I believe good things done today will lead to good things in return tomorrow. But as for my last life I cannot do anything about it, but I must have the right to change this life."