Yangon's regional government hopes that a new water bus service on the city's rivers will go some way to alleviating the city's traffic woes.
By HEIN KO SOE | FRONTIER
"A NEW and strange form of water transportation is coming to Yangon," announced the MC at the opening ceremony of the Yangon Water Bus, held at the city's Botahtaung Jetty on October 7.
Indeed, anyone who looked out towards the Yangon River over the weekend of October 7 and 8 would have witnessed a new sight: distinctive yellow YWB boats that connect the city's Insein Township with Botahtaung Jetty.
The regional government hopes the initiative will go some way towards alleviating the commercial capital's traffic woes.
Thousands of Yangon's residents were present at the opening ceremony, which was also attended by Yangon Chief Minister U Phyo Min Thein, Union Minister for Transport and Communications U Thant Sin Maung, and Union Minister for Hotels and Tourism U Ohn Maung.
"We hope that the water bus will solve the traffic problems on the road," said Phyo Min Thein. "This is only the first step of our waterway transportation and the next step will be soon."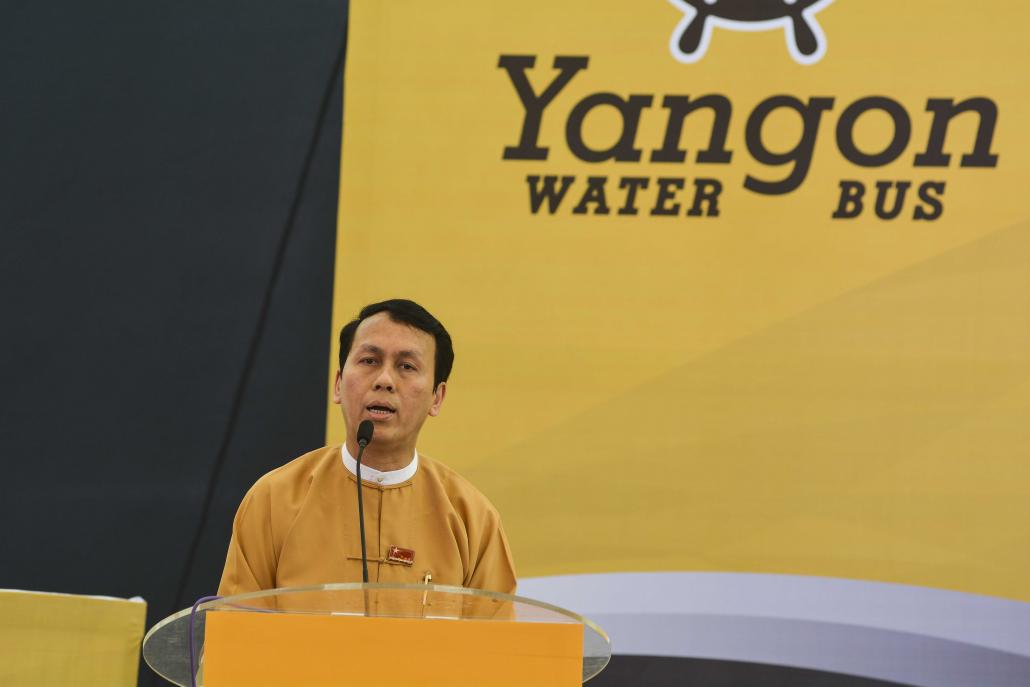 The Insein-Botahtaung route will make seven stops, namely at Botahtaung Terminal, Nan Thi Da Terminal on Pansodan Road, Lan Thit Jetty, Kyee Myindaing Terminal, Hlaing Terminal, Pun Hlaing and Insein Terminal. The regular service between Insein and Botahtaung will take almost two hours, according to a schedule published by YWB, while the "Express Service" will take 45 minutes.
YWB currently has a fleet of five boats – four made locally and one imported from Australia – and plans to expand to 16, with 10 boats made in Myanmar, three in Thailand and three in Australia. The maximum capacity of the boats will range from 60 to 200 passengers.
Tickets will cost K300 each way, and the first boat will depart Insein at 6.55am, arriving at Botahtaung at 9.05am, while the final boat of the day will depart Botahtaung at 6.50pm, arriving at Insein at 9.00pm.
As the new boats arrive, the schedule will become more regular, said U Tun Naing Lin, project manager for YWB. While tickets can be bought with cash, YWB has said it will issue prepaid cards using the Anypay system that can be loaded with a minimum credit of K500.
The second phase of YWB will be a ferry connecting Nyaung Tan Jetty in Pazundaung Township with a jetty in North Dagon, along the Pazundaung Creek. A third route is also being planned connecting Botahtaung with the Star City project in Thanlyin Township, but no timeframe for either route has been finalised.
YWB is being run by the Yangon Region Transport Authority, which operates the Yangon Bus System, in cooperation with Tint Tint Myanmar, which won the tender bidding, according to an article in the Global New Light of Myanmar.
Two companies applied for the tender, according to the report published on October 9, but the other unnamed company had no experience operating a boat service.
"A set of strict regulation had been imposed. We had emphasised on the regulation as it was a business in the water, hence more risks naturally," an official from YRTA was quoted as saying.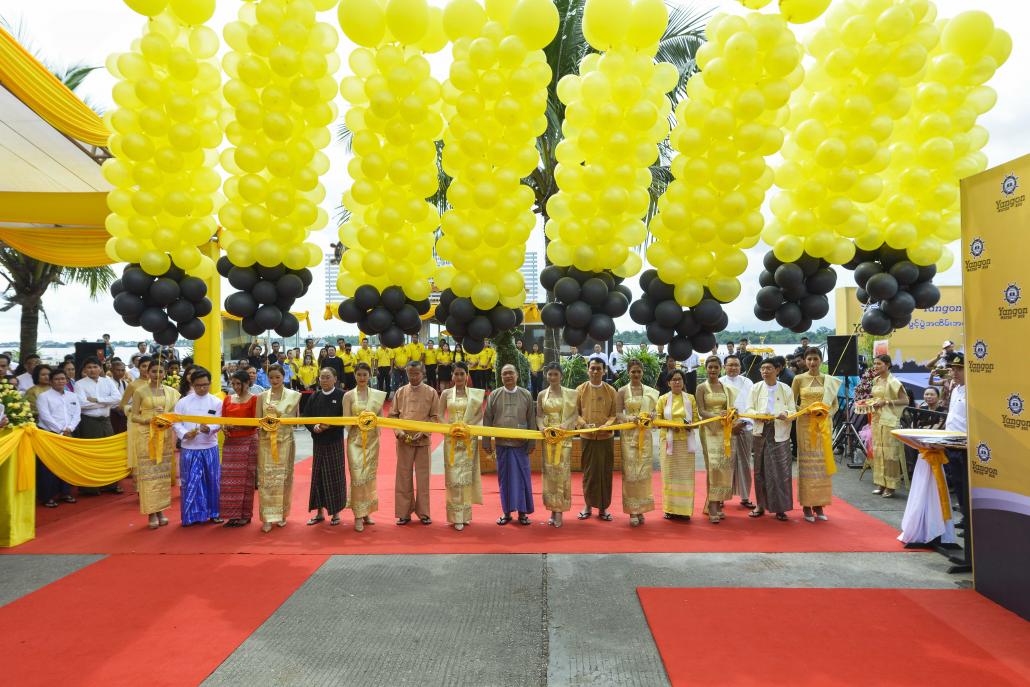 In the regional parliament on May 22, responding to a question from lawmaker Daw Sandar Min (National League for Democracy, Seikgyikanaungto-1), regional minister for electricity, industry and transportation Daw Nilar Kyaw said that "for the safety and convenience" of passengers, a ground inspection had been conducted on the Hlaing River and Pazundaung Creek by the YRTA, Myanmar Port Authorities and other officials.
In the state media article, Tun Naing Lin from Tint Tint Myanmar said the company would be careful not to overload the boats.
"We will not accept even one person over the passenger limit since this form of transport is conducted on water and not on land so we will not overload the water buses," he said.
It remains to be seen how successful the project will be, but the initial reaction has been largely positive.
Ma Pa Pa San, a resident in Insein Township said she used to travel to downtown by bus, a round-trip of about three hours a day. She tried YWB for the first time on October 9.
Although she has to take a bus from her home to Insein Jetty, she is hopeful that YWB will improve her commute.
"They are still testing it at the moment, but I think eventually it will reduce my [commuting] time," she said. 
TOP PHOTO: Teza Hlaing | Frontier