Knowledge is power and a group of students has built its own air quality monitor as part of a project to raise awareness about the dangers of particulate matter pollution.
By ZAW WIN HTET and EAINT THET SU | FRONTIER
THE SHWEDAGON Pagoda was our first stop on a mission to gather data on air quality in various locations across Yangon, which began one Sunday morning in late March. The air quality in the commercial capital seemed to have deteriorated throughout the hot season, and we wanted to know how bad it was and what was contributing to it.
The Shwedagon is one of the most visited sites in the country and it is especially busy on Sunday mornings. As we walked through the crowd, we checked the air quality on our hand-held monitor, an AirBeam2, which has sensors that can record particulate matter, one of the five major pollutants.
We wanted to gather data on the hazardous, microscopic particles known as PM2.5 that are a cause of respiratory and cardiovascular ailments. The World Health Organization says PM2.5 should not exceed an average of 10 microgrammes per cubic metre of air a year, or an average of 25 µg/m3 a day.
The average PM2.5 reading at the Shwedagon was 41 µg/m3, which is a potentially unhealthy level for sensitive groups, including the elderly, young children and those with respiratory ailments. Candles and incense amplified the reading, which reached 178 µg/m3 at its peak. Long-term exposure to such a high level of PM2.5 can cause serious health problems.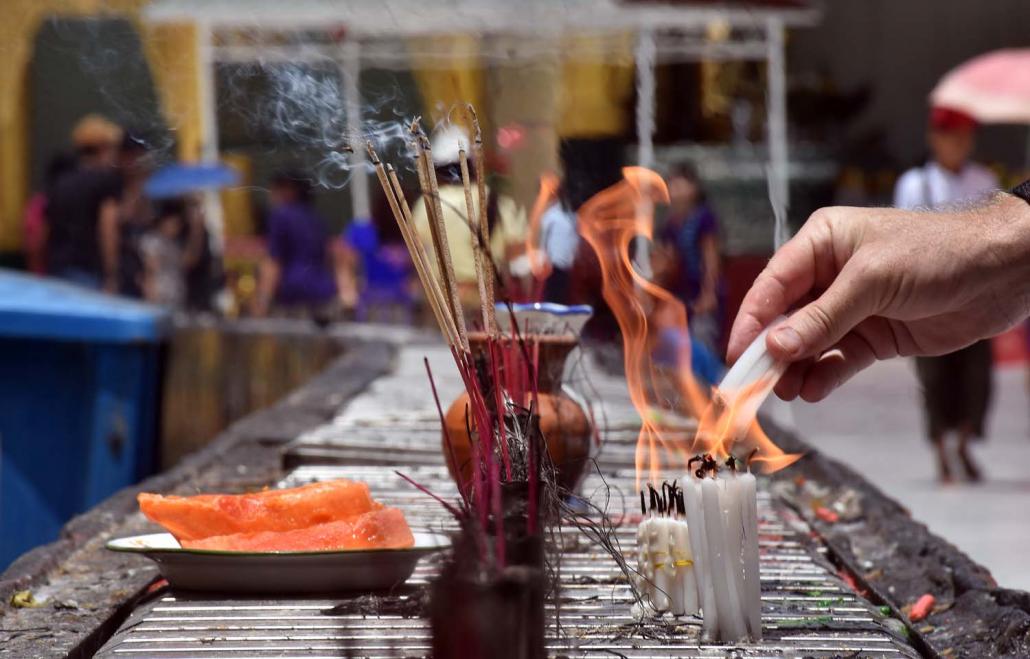 Leaving the pagoda, we travelled downtown in an air-conditioned bus that measured a surprisingly good PM2.5 reading, ranging from 27 µg/m3 to 5 µg/m3 at its lowest. The reading jumped to 38 µg/m3 as soon as we alighted on Sule Pagoda Road.
As we walked around Chinatown in downtown Yangon, we made an interesting finding: readings in a busy market, which was overcrowded and malodorous, were not noticeably different from the readings nearby on a normal, residential street. In fact, the humidity in the market seemed to help keep the dust down, so that on average the readings there were slightly lower. This suggested that although a crowded site does not have a proportionate effect on particulate pollution in that environment, humidity does.
We tested out this theory at Hledan, one of the busiest areas in Yangon. Although people packed the streets like sardines, with vendors on every corner, the PM2.5 reading was a reasonable 30 µg/m3 on average, lower than the average downtown reading. However, when one of the street vendors set up shop for the day, using charcoal rather than the gas preferred by most of the other vendors, the reading jumped to 77 µg/m3.
As well as PM2.5 readings, we also took the opportunity to gauge citizens' opinions about air quality. Most blamed worsening air pollution on an increase in population and the diminishing number of trees in the city.
"It felt healthier back then," recalled a former soldier who was based in Yangon until 1980, when he moved to Meiktila in Mandalay Region. A woman at Bogyoke Aung San Market said there was a noticeable improvement in air quality outside Yangon. "Going outside the city, even to places like Bago, there is a huge difference in air quality," the woman said. The air quality in rural areas such as her hometown of Kyaukse, also in Mandalay Region, "was a whole different story," she said.
Students had similar opinions. A group of university students encountered at Shwedagon Pagoda spoke of being aware of a gradual decline in the number of trees in the city as they grew up and a sharp increase in vehicles on the roads after imports were liberalised in 2011. They complained that cutting down trees for construction projects or to widen roads to cater for heavier traffic had contributed to less shade and more pollution.
However, tourists said the air quality in Yangon compared favourably with that of other big cities in the region. "It is not as bad as places like Hanoi or Jakarta," a tourist from Australia said.
There was broad agreement that air quality was affected by the increase in the number of vehicles on the roads. The number of registered vehicles in Myanmar has risen from about 267,000 in 2011, when imports were liberalised, to about 627,000 last year. However, with most imports being second-hand Japanese models made no earlier than 1999, their contribution to particulate pollution may not be as severe as widely believed because newer cars tend to be less polluting.
A walk down Pyay Road beside cars and buses showed an unexpectedly adequate PM2.5 reading that averaged 26 µg/m3. Even when the AirBeam2 was placed before an open bus exhaust, the highest reading of 38 µg/m3, in the "unhealthy for sensitive groups" range, was lower than the average reading during our visit to the Shwedagon.
Although vehicle emissions contribute to air pollution, so can other activities. We found that everyday activities, such as cooking with charcoal, burning incense and incinerating leaves and garbage, might be more responsible for air pollution than vehicles powered by fossil fuels.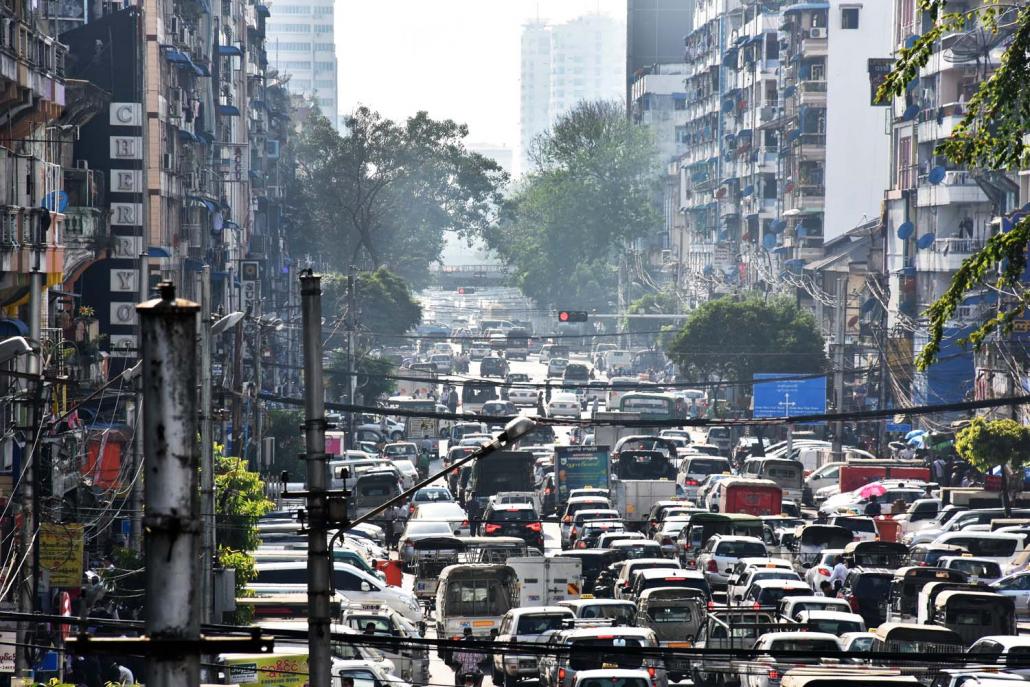 A student who lives on campus at Yangon University said the air was usually good, "except for early mornings when they sweep the leaves and burn them". He said another source of pollution was smoke from cooking at campus canteens. A data check at a canteen produced a reading above 35 µg/m3, higher than on other parts of the campus.
It's important to note that these findings only relate to particulate matter pollution, not to the other four major pollutants: ozone, nitrogen dioxide, carbon monoxide and sulphur dioxide. Mainly produced by emissions from vehicles and factories and from burning fossil fuels, wood, leaves and incense, particulate matter is categorized by size: PM10, PM2.5 and PM1, representing particles with diameters of up to 10, 2.5 or 1 micron, respectively.
PM2.5 is arguably the most hazardous pollutant in the air because its tiny particles can travel deeper into the lungs and eventually cause serious, permanent respiratory ailments, such as asthma and chronic bronchitis, as well as heart disease. WHO estimates that exposure to fine particles in ambient air pollution causes about seven millions deaths worldwide each year, including more than 22,000 in Myanmar.
The first step to improving air quality in Yangon is to conduct a thorough evaluation of the situation, though that's a challenge because of a paucity of data.
Yangon City Development Committee's Environmental Conservation and Sanitation Department has been monitoring air quality since 2015 but has not released the data to the public.
Speaking from his office on 47th Street, the department's deputy head Dr Aung Myint Maw told Frontier that YCDC had permanent air quality monitors gathering data around the clock at downtown (outside City Hall), suburban (Hledan flyover) and satellite township (Mingalardon) locations.
The department also has a mobile monitor that collects data at 64 locations throughout the city on an annual basis, he said. The monitors gather data on pollution caused by fossil fuels, such as carbon dioxide, carbon monoxide, nitrogen dioxide, sulfur dioxide and methane, and particulate pollution, PM10 and PM2.5.
Aung Myint Maw said he did not believe the air in Yangon had become significantly more polluted, but was adamant that the department needed at least five years' data to properly evaluate the air quality in the city. This would enable the municipal authority to create a "data inventory" he said and to responsibly inform the public whether the air quality in their city was improving or deteriorating.
Generally speaking, he said, carbon dioxide levels in Yangon are higher than the healthy level. Nitrogen dioxide and sulfur dioxide are abundant in industrial zones, but less present in residential areas. Methane, he said, was "abundant everywhere" – as it is internationally – while carbon monoxide is mostly concentrated in areas of traffic congestion.
As for particulate matter pollution, he said this was produced by the movement of cars on the roads and by construction sites, both in central Yangon and on its outskirts. Dividing the year into halves, he said the air was generally worse during the dry season. "But our measurements over three years show there has not been an annual increase in these particles, so there is not much to worry about," he said.
Once YCDC has collected data for five years, in 2020, if the findings in any township are cause for concern, the municipal authority would need to collaborate with factory owners and industrial zone committee members, local residents, non-government organisations and parliamentarians to draw up action and mitigation plans.
"For example, if sulfur dioxide is becoming excessive, we have to find out where it is coming from, why it is exceeding safe levels, and how we would mitigate it," he said. "In the downtown areas it usually comes from generators and car engines. Once we have identified the sources, then we can draw up a master plan together."
Aung Myint Maw said the data collected from YCDC's monitors has been published on its website for the past three years, but Frontier was unable to find the information on the municipal authority's website, and Aung Myint Maw refused to show us where to find it, instead asking his assistants to find us some hard copy data.
This data, from the fiscal year 2017 and 2018 showed that there had only been a "slight increase" in pollution levels over the years with PM2.5 ranging from 39 to 43.3 μg/m3.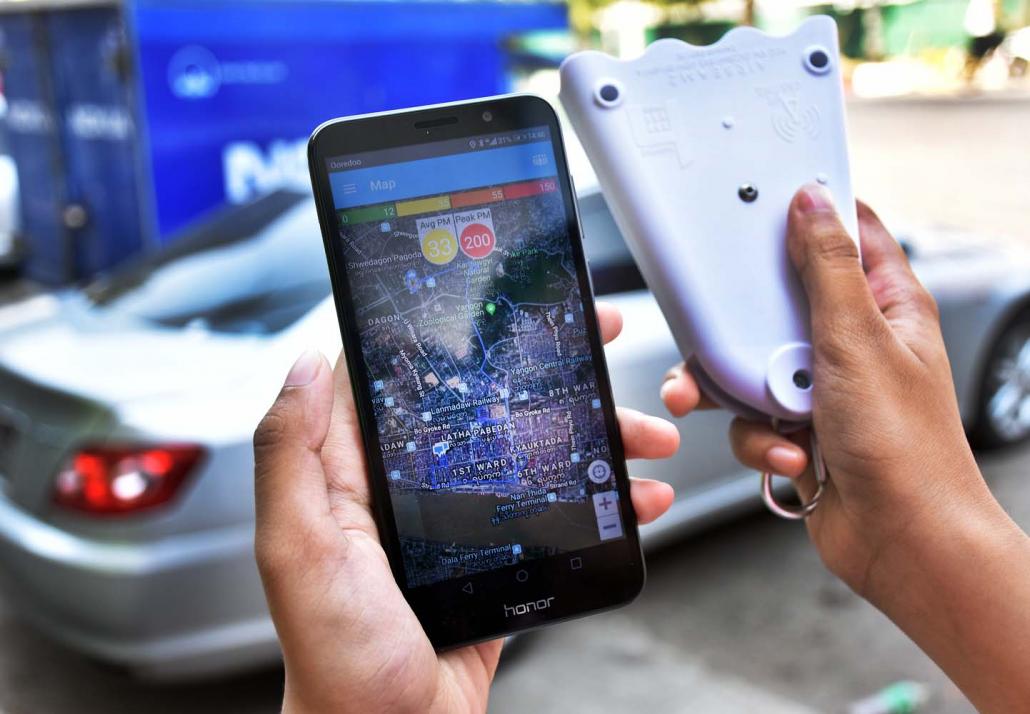 Citizen scientists
Dr Kirt Page, dean of academic affairs at Connect University on Inya Road, believes that the public should become involved in matters affecting their environment. Along with his students, he has set up or inspired the installation of about 10 PurpleAir air quality monitors in Yangon.
PurpleAir monitors use laser sensors that measure differences in the PM concentration in the atmosphere and have built-in Wi-Fi that enables readings to be displayed on the PurpleAir website. The data is accessible to the public, and can be found here.
A small group of students at Connect University, with the encouragement of Page, came together out of shared concern for the community and formed a student-based team, Air Quality Yangon, to help address air quality as "citizen scientists".
The team wanted to make air pollution data available and raise public awareness, but it faced two major challenges: air quality monitors are not readily available in Myanmar and those on the market are expensive.
So they addressed the situation by making their own PM2.5 monitor, which has an affordable dust sensor attached to an Arduino board and was displayed at the MakerFest Myanmar event at the American Center in Yangon in February. They are currently working on a second, more accurate prototype that uses the same technology as found in the PurpleAir monitors, but can be produced at a fraction of the cost.
AQY's Ma Thin Yadi Su said it was possible to make a monitor up to six times cheaper than a PurpleAir device using components available in Yangon. "Our biggest challenge was trying to code and calibrate it," she said.
The team is not worried that its device is not as accurate as commercial products because its objective is to provide the public with a general idea of air quality.
"This project has taught us a lot," said another team member, Ma Nang Khin La Pyae. "None of us had any knowledge or experience working with monitors before and we just had to learn as we went along."
The movement towards raising public awareness about air quality is gaining some traction. On April 6 community tech hub Phandeeyar held a workshop at which students from Connect University shared their work on collecting pollution data, and Phandeeyar's data scientist Mr Dominiquo Santistevan and tech for change associate Mr Alex Beatson gave lectures on their findings in the data.
Phandeeyar is also creating an aggregate website for all information on pollution in Myanmar. Santistevan told Frontier the website's first aim was to have a quick, clean portal that provides information to the community in both English and Burmese.
"I want people in Yangon, and hopefully Myanmar when more data is available, to use it as a single click way to check the air quality," he said.
On April 29, the first day of Air Quality Awareness Week, the US embassy in Yangon said it was proud to be supporting Connect University's STEM (science, technology, engineering and math) project to set up and monitor the air quality around the city.
But few of Yangon's residents are conscious of these developments yet, and many of the people we interviewed on the city's streets said they were not optimistic about the future, unless action is taken to ensure that air quality is carefully regulated and controlled.
The student we met in the grounds of Yangon University suggested that if smoke absorbers were installed in the canteens, and a ban was imposed on burning rubbish in residential areas, the air quality on campus would improve.
Another group of students said trees should not be cut down to make way for new development, but uprooted and planted elsewhere. Others said there should be stricter laws and penalties, such as fines for littering, or better public transportation options, to reduce the number of cars on the roads.
But Page and his students are also seeking more permanent solutions. Masks may be made available, rooms can easily be equipped with air purifiers and exhaust fans can suck smoke out of kitchens. But only long-term solutions based on community action, informed by air quality data made available to the public, can ensure that the air in Yangon becomes safer to breathe.
TOP PHOTO: Steve Tickner | Frontier