After years of careful, patient preparation, Japan Inc. is poised to lead an investment invasion in Myanmar. 
By KYAW PHONE KYAW | FRONTIER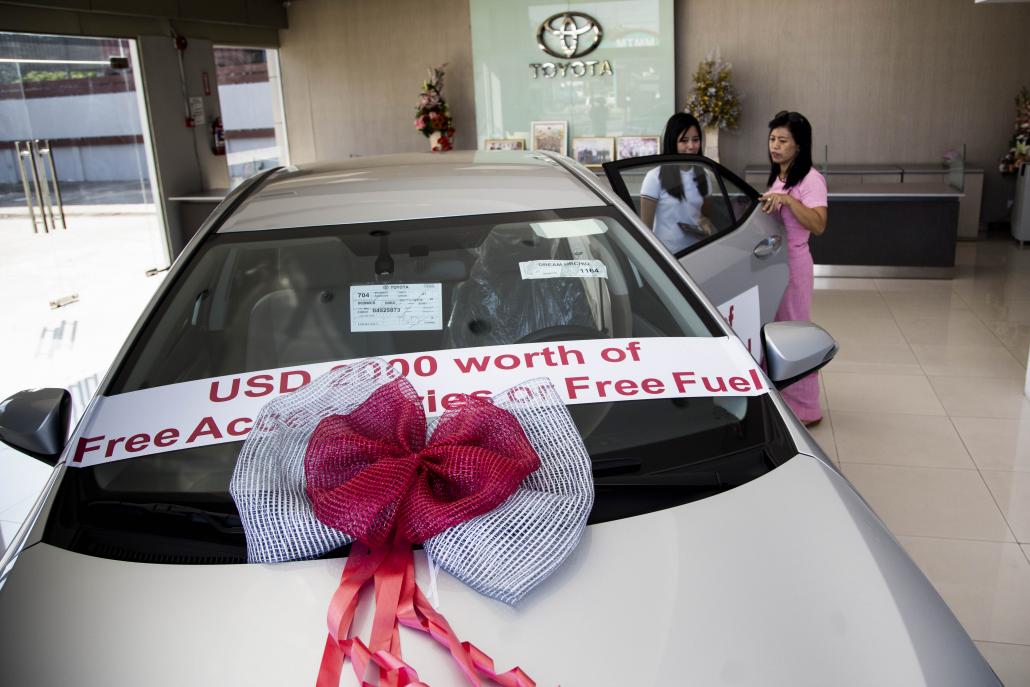 Myanmar's appeal as an investment destination took on a new shine after the peaceful November 8 elections resulted in a landslide victory for the National League for Democracy. Some experts predict that after the new government takes office on April 1, foreign investment will surge as new opportunities are sought in one of the world's last frontier markets. Japan Inc. is well prepared to lead the investment invasion.
In 2013, Myanmar Investment Commission secretary U Aung Naing Oo told a panel discussion at the first World Economic Forum held in the country that Japanese businessmen were coming "like tsunami waves". The first wave of Japanese businessmen hit in 2012–2013, when they flooded into Myanmar seeking investment opportunities. That wave came and retreated without leaving much in its wake. 
MIC figures to the end of October show it has approved 79 Japanese projects worth US$574.7 million, only 0.99 percent of the $58.034 billion invested since late 1988.
An MIC list ranks Japan 11th among the 41 countries or territories investing in Myanmar, after China, Singapore, Thailand, Hong Kong, Britain, South Korea, Malaysia, the Netherlands, India and Vietnam, in that order.
Although Japanese investments are relatively meagre, they are special. Japan Inc. is different from other foreign investors because of its unique style. For example, there is Myanmar's fledgling capital market. Two Japanese enterprises – Daiwa Securities Group and the Japan Exchange Group – own 49 percent of the country's first bourse, the Yangon Stock Exchange (YSX), which is due to open later this month. This was not an accident or a question of luck.
Deputy Finance Minister and Securities Exchange Commission chairman Dr Maung Maung Thein has said the reason the Japanese enterprises own 49 percent of the YSX is because "they have been waiting for 19 years, even before there was no sign of a stock exchange". Daiwa has also been licensed as one of the first securities companies at the YSX. 
Involvement in the country's first stock exchange is not the only example of Japanese firms being ahead of the game. They have also been a few steps ahead of the competition in other sectors, such as insurance. Although no licences have been issued to other international insurance companies, three Japanese firms have been licensed to provide insurance services, albeit limited to companies at the joint Myanmar-Japanese Thilawa Special Economic Zone, under development in Yangon's outer southeastern Thanlyin Township. Dr Maung Maung Thein said the reason they were granted this unique opportunity was because they had waited quietly and patiently for a long time. The Japanese firms had received a "reward for their patience," he said.
In contrast to Japan, some projects involving China, the biggest investor in Myanmar, have generated negative publicity. They include the Myitsone dam project on the Ayeryarwady River, that was suspended by President U Thein Sein in 2011 for the duration of his term in office, the Letpadaung copper mine in Sagaing Region, and the parallel natural gas and oil pipelines linking Kyaukphyu in Rakhine State with Kunming in China's Yunnan Province. These megaprojects have given Chinese investment a negative image in Myanmar and have generated antipathy among citizens over such issues as the violent suppression of protests, land compensation grievances and environmental degradation.
Companies from another top investor, South Korea, have also been criticised over their opposition to the breakthrough decision to introduce a minimum daily wage of K3,600 from September 1. Many South Korean garment factory owners fiercely opposed the minimum wage and some threatened to close their operations in Myanmar after it was approved.
Thailand is another big investor but its megaproject in Tanintharyi Region – the Dawei Special Economic Zone – has been plagued by accusations of corruption and inadequate environmental impact studies. The project has also been beset by delays over arranging finance and the political situation in Thailand.
Unlike other investors, Japan Inc. has yet to chalk up a bad track record. The Thilawa SEZ has been making steady progress and the first phase of the project, jointly owned by Japanese and Myanmar shareholders, was officially opened on September 24. Shares in the project worth K21 billion were quickly snapped up after they went on sale in April 2014 and are reported to have already doubled in value.
The experience and know-how gained by Japanese companies investing in other member countries of the Association of Southeast Asian Nations, such as Thailand, Indonesia and Vietnam, had delivered a "distinct advantage" in doing business in Myanmar, said Mr Hiroki Shimaoka, in charge of Japan-Mekong issues at the Japan Chamber of Commerce and Industry.
The Japanese government's overseas aid body, the Japan International Cooperation Agency, has been at the forefront in building a positive image for Japan Inc. and its investment methods in Myanmar. JICA supports Myanmar with financial and technical assistance and official figures show it has also provided low-interest, 40-year loans totalling $4.383 billion between 2007 and 2015.
JICA has drafted an urban development master plan for Yangon and has assisted in upgrading the Yangon-Mandalay railway as well as funding rural development projects.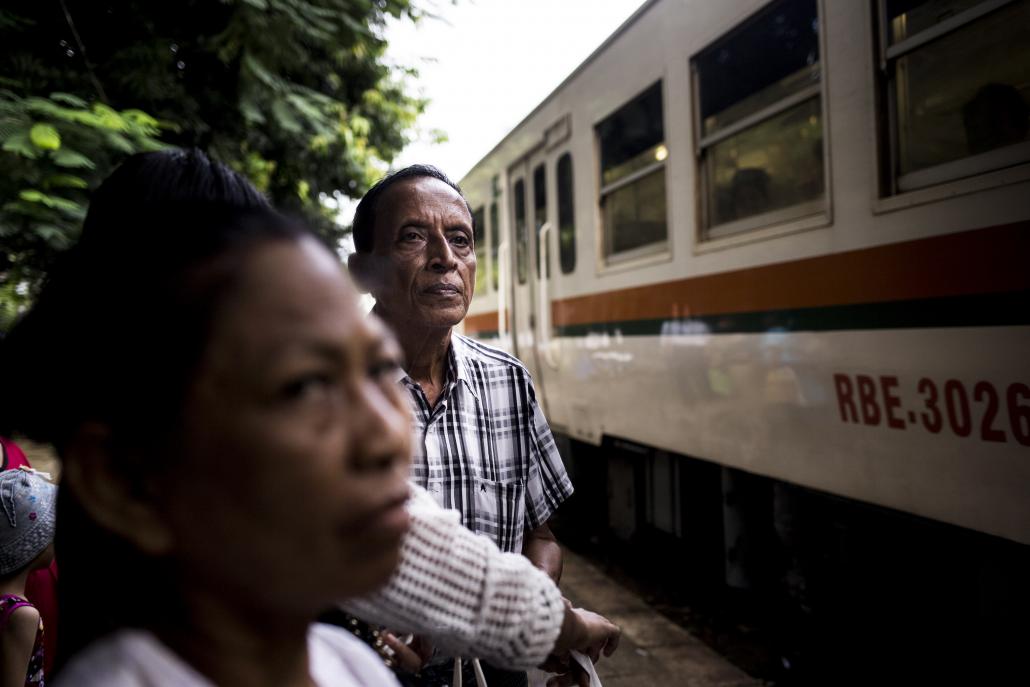 A consequence of this benevolence has been that Japanese businesses have been prioritised on the list of potential developments for some government projects, such as upgrading Yangon's surburban railway network.
"The Japanese government is donating and supporting at first, because Japanese think that infrastructure is the priority sector to improve," said Daw Susu Oung, director of the Association of Japan-Myanmar Mutual Cooperation. "They will lend the money for developing the infrastructure and while the development projects are ongoing, the small and medium businesses of Japan will enter first. It is their style," she told Frontier.
Daw Susu Oung said many Japanese firms had entered Myanmar three years ago to research investment opportunities and had contributed to the opening now taking place of small and medium businesses, mainly in the service sector.
The challenges facing Japanese companies wanting to do business in Myanmar included laws that lacked clarity and soaring real estate prices, said Mr Tomio Kurihara, the founder and chief editor of Yangon Press, a newspaper launched in May 2013.
Another challenge was that information provided by the Myanmar authorities was not detailed enough for Japanese, Mr Kurihara said.
"If these problems can be solved, a lot of Japanese will come in the future," he said.
Mr Kurihara said he expected it would be better for Japanese firms to do business in Myanmar under a National League for Democracy government but declined to reveal the sources on which the prediction was based.
The favourable impression that Japan has created in Myanmar from its development assistance programs and the readiness of its corporate sector to wait quietly and patiently for investment opportunities augurs well for Japan Inc. in the country.
"One of the reasons why (our relationship) has been successful seems to depend on our sympathies for Myanmar people. I hope it's vice versa from Myanmar side," said Mr Shimaoka.