The Kachin State capital boasts a spectacular array of eateries offering authentic Kachin fare and dishes from neighbouring Shan State. The three below are all notable for being operated by successful, confident women restaurateurs.
By EMILY FISHBEIN | FRONTIER
Green Bird Kachin Restaurant
Corner of Manau Park and Ngwe Pyaw roads (near Manau Park), Shatapru Quarter
10am to 10pm
K5,000 to K7,000 per meal
Ah Shawng Seng Htoi Mai, 28, does not come from a culinary family, but became interested in cooking at an early age. As a young girl in Myitkyina she reached an agreement with her siblings that she would do the cooking in exchange for not having to wash clothes.
This deal enabled her to develop her skills and practice recipes for her family to taste. She became interested in nutrition and learned that Kachin cuisine, with its low oil content and variety of greens, was rich in vitamins and has many health benefits.
Seng Htoi Mai worked hard for six years to turn her dream of opening her own restaurant into a reality. The restaurant, built in 2015, has been carefully designed to promote harmony with nature. The menu features traditional Kachin dishes honed to enhance their flavour, fragrance and appearance.
Highly recommended are Green Bird's take on standard Kachin fare, such as shat jam – a delicious rice salad with vegetables, herbs and shredded chicken – and sipa – a thick vegetable stew with wood-ear mushrooms and peanuts. Other popular dishes are hmo ket tamin thote, a rice salad with Kachin mushrooms; wet mo lwet see san, a pork tenderloin salad; and kyet san hlaw, chicken with stewed rice.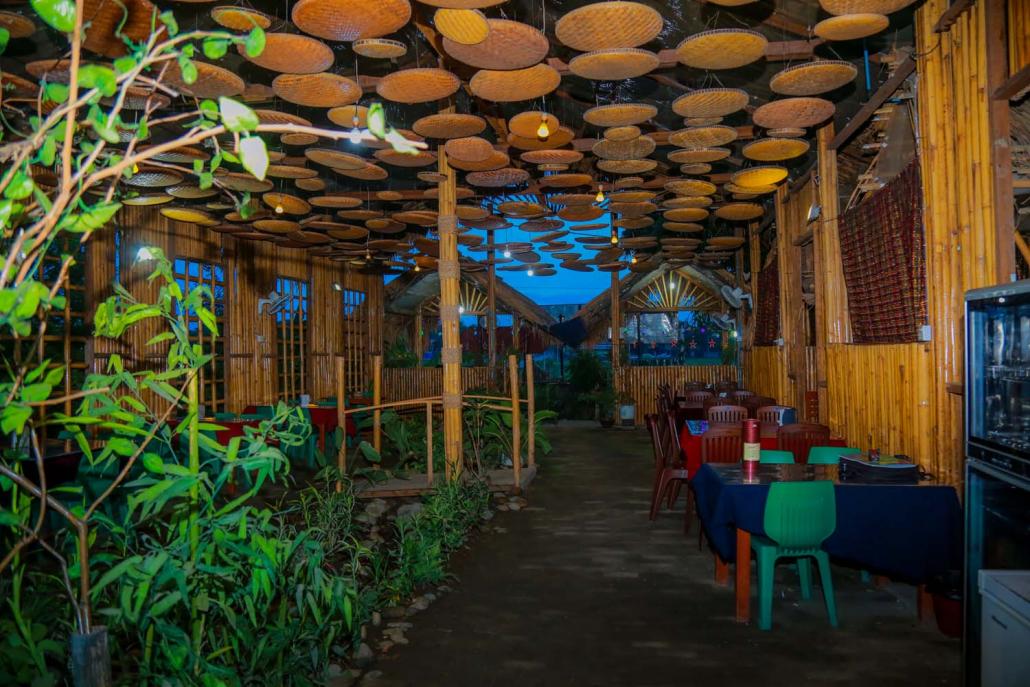 Ring Chying Kachin street-side restaurant
Si Pin Tharyar St, between Hotel Myitkyina and Yuzana Market, Yuzana Quarter
10am to 8pm
K1,500 to K2,500 per meal
For a diverse and affordable sampling of Kachin cuisine, another superb option is Ring Chying, a shophouse restaurant that offers a relaxed, quiet ambience. Diners have the choice of more than a dozen Kachin dishes, each served in small portions individually wrapped in banana leaves. Prices are affordable at K500 to K1,000 a dish.
The eatery, which mainly serves sit-down and take-away lunches, has been operated by Ah Shawng Kaw Raw and her relatives for 13 years. In addition to the staple chicken, pork, beef and fish cooked with Kachin herbs and spices, Ring Chying serves nga oun, fish grilled in herbs inside of a banana leaf; hmyit chin nga goun, sour bamboo with fish head; and eain kyet kyauk payone thee, or free-range chicken with white pumpkin. Another of its most popular dishes, and a staple of Kachin cuisine, is kayu chet, or snails cooked in lemon grass, basil, and other herbs.
All dishes are served with sticky rice and sides of chilli paste – often flavoured with pounded banana flower or mango – and bamboo, taro, or yellow lentil soup. It's best to arrive during lunch hour as popular dishes often sell out by late afternoon.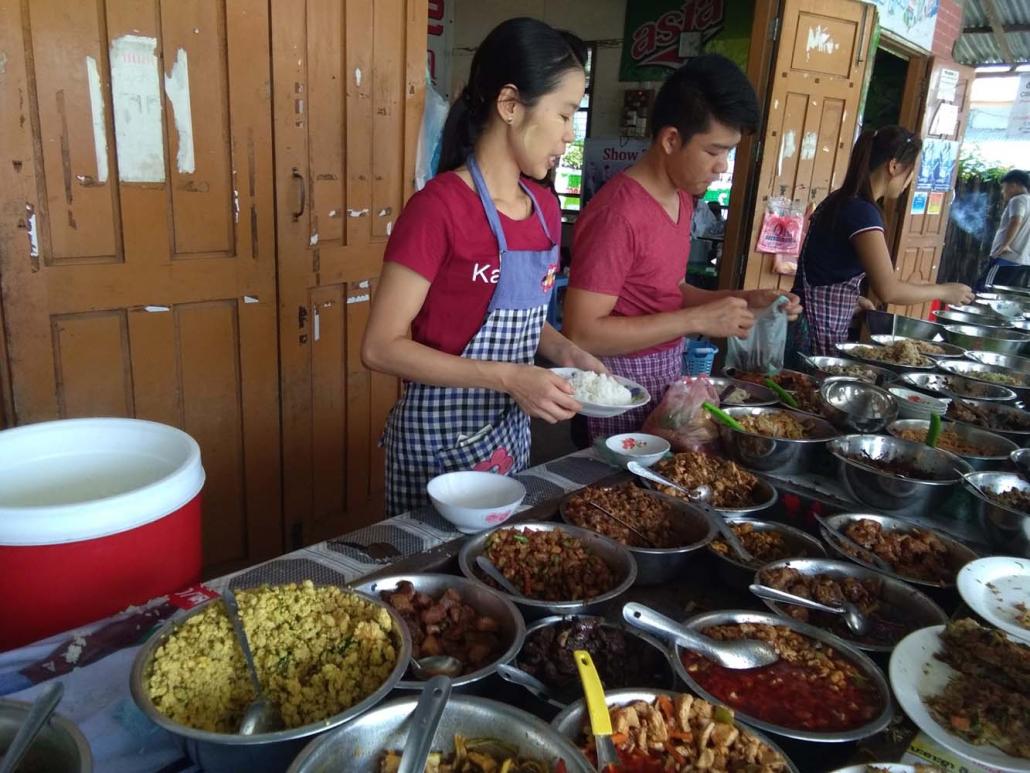 Shan Cherry street-side restaurant
Munkhrain Street opposite St Patrick's Church, Shatapru Quarter
6.30am to 7pm
K1,000 per meal
Shan Cherry has built a reputation for reliably delicious dishes, remarkable variety and affordable prices, so it's not surprising it serves an astonishing number of customers.
Owned and run by sisters Daw Khin Soe and Ma Ham Koe, this side-street eatery bustles with activity from opening to close. It's a great venue for making new friends because customers often have to share tables at busy times.
When the eatery opened four years ago, Khin Soe's vision was to serve hearty, healthy and affordable dishes for university students and families. At least 30 different dishes are cooked each day, all over wood or charcoal. The dishes are served pone sa style, with customers able to choose two meat and two vegetarian dishes, or five vegetarian dishes, for K1,000 including rice.
Recommended dishes include pe bote kyaw, a salty, pungent dish of crunchy fermented beans; than kaut thote, a curly fern salad with lemon and sesame; and hnan phat chin, a spicy, sour sesame paste. Meals are traditionally served with chili paste and a soup of chicken and greens.
TOP PHOTO: Green Bird Restaurant at dusk. (Emily Fishbein | Frontier)