One of the nation's most admired artists recalls a childhood marked by war and hard times as a student in Yangon before he found fame as a master sculptor.
By SU MYAT MON | FRONTIER
Sculptures fill the house in Yangon's North Okkalapa Township of one of the country's most respected artists, the nonagenarian U Lwin Maung.
A renowned master sculptor, along with his teacher, U Han Tin, who died in 2001, Lwin Maung's works can be found throughout the country. One of his most admired creations is an equestrian statue of Bogyoke Aung San at Kanthaya Park in North Okkalapa.
Lwin Maung, 84, retired in 1997 after more than 50 prolific years as a sculptor, and his work has been handed over to three sons.
In the 1970s, he was assigned by the government to create sculptures as a member of the Ministry of Construction's Architecture Department for 30 years.
The assignment came as the junta was erecting sculptures of national heroes in parks and other sites throughout the country.
Early childhood
Lwin Maung grew up in a small village, Wa Mhyaung, in Kyaukphyu Township, Rakhine State, where he was educated at a monastic school. His budding talent as an artist was encouraged by a kindly abbot.
Lwin Maung said pictures in a textbook had aroused his interest in art and he was constantly drawing whenever he had an opportunity.
On July 19, 1955, he arrived in Yangon to begin six years of study at the State School of Fine Art, then at the Jubilee Hall, where it was to remain until 1960.
The first year was a struggle because he had little money. The school year started in June but he was late to enroll because bad weather and stormy seas had delayed the departure of a boat that ran between Kyaukphyu and Yangon. As a result, he missed out on the K50-a-month stipend he would otherwise have received.
After arriving in Yangon he lodged at a monastery in Tarmwe Township but a tight budget meant he walked to school for six years because he could not afford the bus fare.
"I didn't have money and for food I made curries from watercress," he said, laughing.
Conversations with Lwin Maung are liberally sprinkled with memories from his childhood, including the fighting between Allied and Japanese forces during World War II.
The Japanese occupied much of Rakhine before they were driven out in April 1944 and Lwin Maung said a Japanese official in his village named Osaki arranged language training for the children.
"I can still sing Japanese songs," Lwin Maung said, adding that the Japanese treated everyone in his village well. "I don't know why people say the Japanese are rude."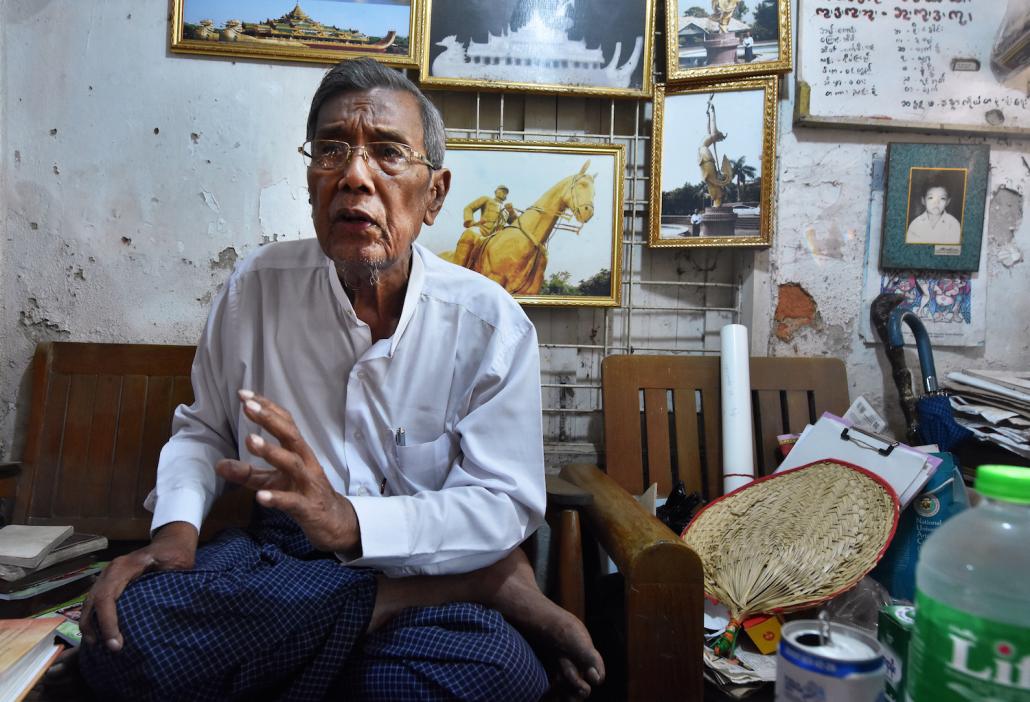 The sound of fighting could often he heard in the village, but Lwin Maung said it was ignored by the residents because they needed to continue working.
But the war did not leave Lwin Maung unscathed. When he was 10 he lost three fingers while playing with an unexploded bomb. He spent three months recovering in hospital.
Other children had played with the device, but nothing had happened to them.
"A button at the top of the bomb was interesting and I kept pressing the button again and again, but I finally tried to break it," Lwin Maung said. "The first time it did not break, but the second time I hit it, it exploded."
In the family
U Kyaw Kyaw Min, 49, the oldest of Lwin Maung's five children, is one of three sons who have followed their father's path as artists.
Kyaw Kyaw Min, who worked with his father in the Department of Construction Cooperation under the military government, has achieved prominence because he creates busts of prominent figures.
"In Myanmar, sculpting [the bust of] a person was rare because the country had adopted a culture of sculpting statues of famous monks, and spiritual things," Kyaw Kyaw Min told Frontier.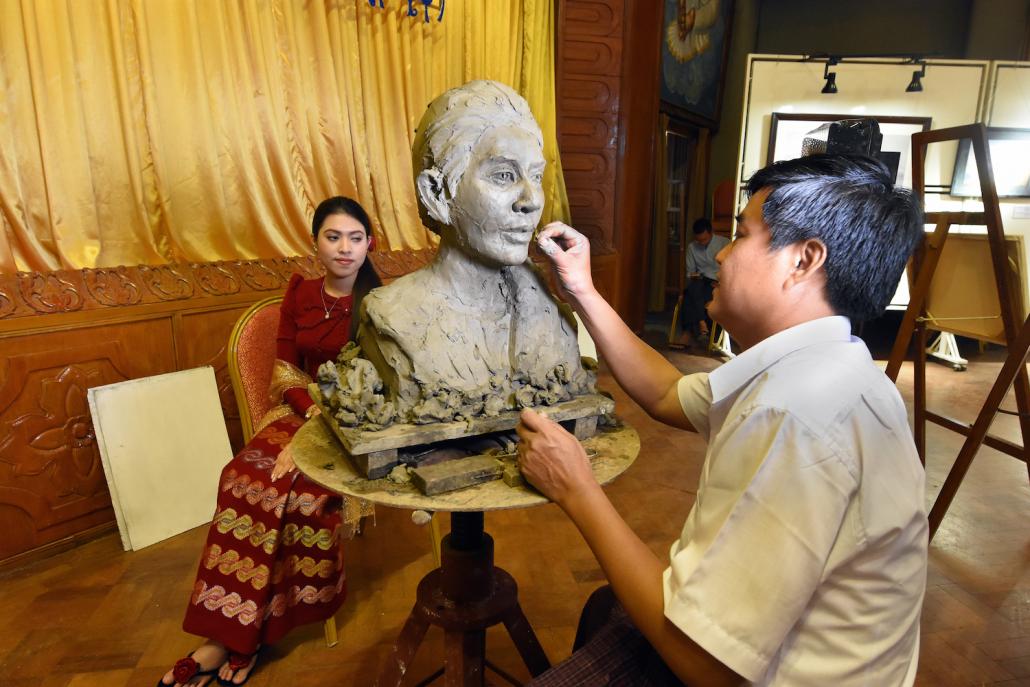 More than 50 famous people have sat in modeling sessions for Kyaw Kyaw Min while he sculpted their busts free of charge. They include actor and Free Funeral Service Society founder U Kyaw Thu, artists U Thaung Han and Soe Moe, cartoonist Aung Shein, meteorologist U Tun Lwin, writers Daw Than Myint Aung and U Chit Oo Nyo, and athletes Captain San Myint and Maung Maung Lay, who excelled at weightlifting and tennis, respectively.
"In the future, those I would like to sculpt face-to-face are Daw Aung San Suu Kyi, General Gun Maw [of the Kachin Independence Organization], and the famous traffic policeman Ko Khin Myint Maung," said Kyaw Kyaw Min, referring to the much-praised officer known affectionately as "Mr Smile" who competently directs traffic at the Dhammazedi and Link roads intersection in Yangon.
Kyaw Kyaw Min says he owes a great debt of gratitude to his father.
"The work I am doing was paved by my father. For me, walking in his steps is like following a well-made road," he said.
He said he greatly admired Lwin Maung's capacity for hard work, particularly his ability to pursue an education with little money.
"For my father, the way to this art was not an easy path," he said.
He said some of his father's best-known works can be found at the Karaweik Hall on Yangon's Kandawgyi Lake. Others include four elephants in People's Park near Shwedagon Pagoda and a stunning golden statue near the entrance of the Nawaday Cinema.
But Lwin Maung did not hesitate when asked about his favourite creation.
"Among all my sculptures, Bogyoke Aung San's statue in Kanthaya Park in North Okkalapa Township is my favourite," he said, adding that he believed the statue to have beautiful balance and posture.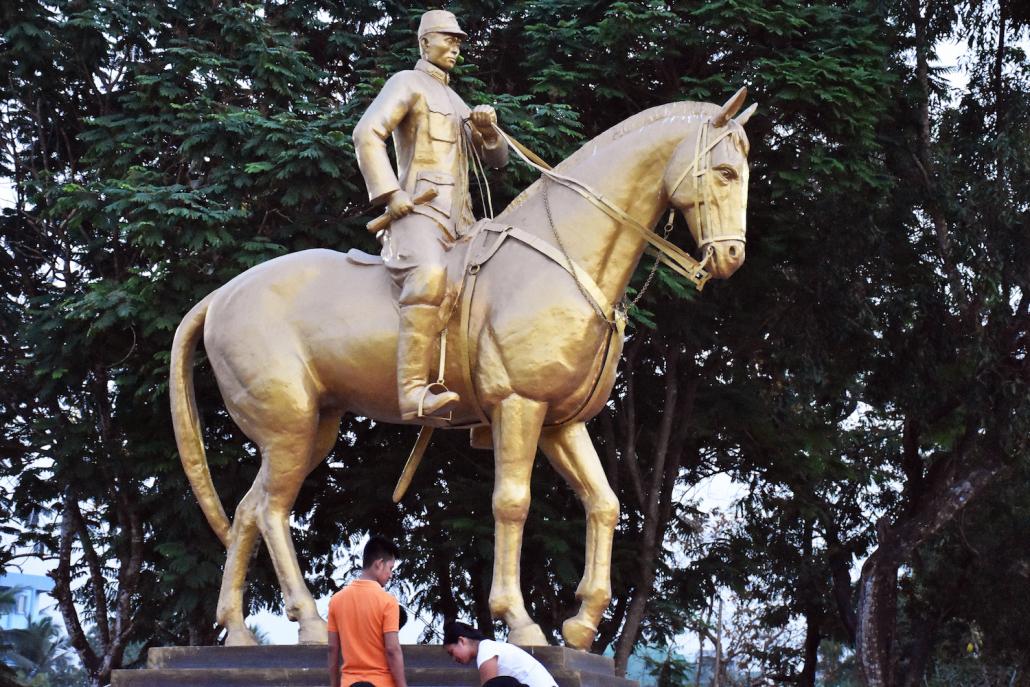 In 2013, Lwin Maung's health was deteriorating and he handed over to Kyaw Kyaw Min, who is proud to have the opportunity to follow in his father's footsteps.
"This job I inherited is like a rare treasure because my father learned his artisanship from the best sculptor, U Han Tin," Kyaw Kyaw Min said, adding that Lwin Maung had been a source of motivation and inspiration since he was young.
In the early 2000s, demand for sculptures plummeted and Kyaw Kyaw Min had to work as the import/export manager at a car company until 2013 to support his family.
"But after that, I dived madly into this field again," he said, adding that he wished the government would show greater interest in supporting the art of sculpture. "The government needs to create more activities to help develop the sculpting field."
TOP PHOTO: U Lwin Maung's house in North Okkalapa is filled with sculptures. (Steve Tickner | Frontier)