There are about 10,000 children and adolescents living with HIV in Myanmar and not enough of them are receiving the special care and assistance they need to cope with the disease.
By JARED DOWNING | FRONTIER
IT WAS hard enough for Ma Wint Htin Sar to fit in at high school, even without having to explain the medication she took with her lunch or dealing with not being invited to friends' birthday parties because parents thought she was dangerous.
But Wint Htin Sar, now 18, was born with the human immunodeficiency virus (HIV), and she became accustomed to being treated differently. She wasn't afraid of discrimination – she was afraid of herself.
"I always kept quiet and sat in the back of the room," she told Frontier. "I didn't want to be near the other students."
Back then, Wint Htin Sar understood little about HIV, which can lead to AIDS if not properly treated. She believed the virus could be spread by coughing and sneezing, dog bites, mosquitoes and kissing. She did not know that it was possible for people with HIV to have full lives, that the medicine she was taking made it all but incommunicable, and that she didn't have to wear her HIV status like a badge of death.
When she began to receive counselling through a clinic operated by Médecins Sans Frontières (MSF Holland), it changed not only the way she thought about HIV, but about herself. She began to speak up in class, developed a group of friends and even found a boyfriend.
Since graduating, she has worked with the Phoenix Association, a Yangon-based advocacy and resource organisation for people living with HIV, to help others like herself.
"Usually the people I work with don't have enough confidence. I try to encourage them and tell them that they can live a normal life," Wint Htin Sar said.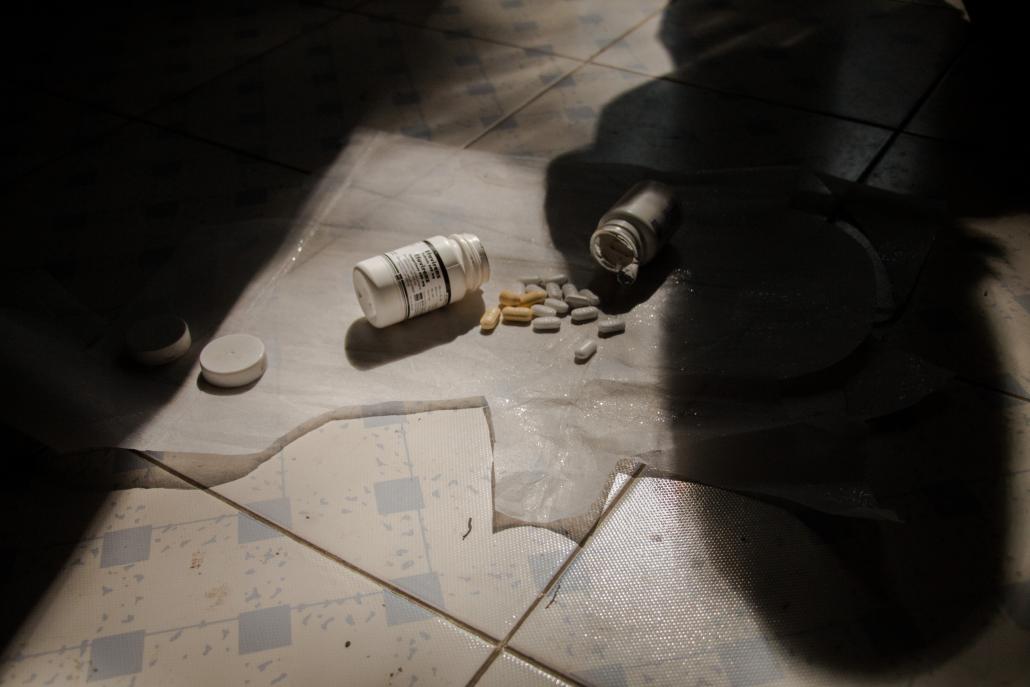 There are between 170,000 and 220,000 people living with HIV and AIDS in Myanmar. The care available to them has greatly improved since the Ministry of Health reported the first case of HIV in the late 1980s. 
The Ministry of Health under the National League for Democracy government has continued to expand its HIV program, with more HIV wards and clinics, access to free medication and public education campaigns. These efforts have been supplemented by organisations such as MSF Holland and the Joint United Nations Programme on HIV/AIDS (UNAIDS).
But the estimated 10,000 children born with the virus, many of whom have lost parents to the disease, face a different and often overlooked set of challenges. 
"It's a different kind of pressure that can weigh on these young people," said Ms Yasmin Rabiyan, communications manager for MSF Holland, which in 2003 became one of the first major NGOs to conduct HIV/AIDS programs in Myanmar.
Children with HIV are likely to live in single parent homes or be raised by other relatives. Many adolescents orphaned by AIDS – UNAIDS estimates the number to be about 110,000 – enter the foster system with the virus. When Frontier visited an HIV/AIDS shelter run by the NLD in South Dagon Township last year, 30 of its 180 residents were children.
It can be very difficult for children to follow the complex anti-retroviral treatment regimen without a full understanding of the disease, Rabiyan said. Among those helped by MSF Holland's programs, six percent of adults did not respond to "first line" treatment and were moved to the more intensive "second line" therapy.
Among patients aged from 10 to 19, that number almost triples to sixteen percent. Rabiyan believes the higher number is at least partly because children have more trouble following treatment regimens.
"Adhering to that treatment is already a difficult thing for adults. It's even more for children, especially if they don't know why they're doing it," Rabiyan said.
Young people with HIV need special education, mentoring and counselling tailored to their demographic, she said, but there are few programs aimed at helping adolescents.
"We need psychosocial support for adolescents," agreed Ko Nay Lin, operation manager for the Phoenix Association. "For their problems with the family, with school friends, boyfriends or girlfriends."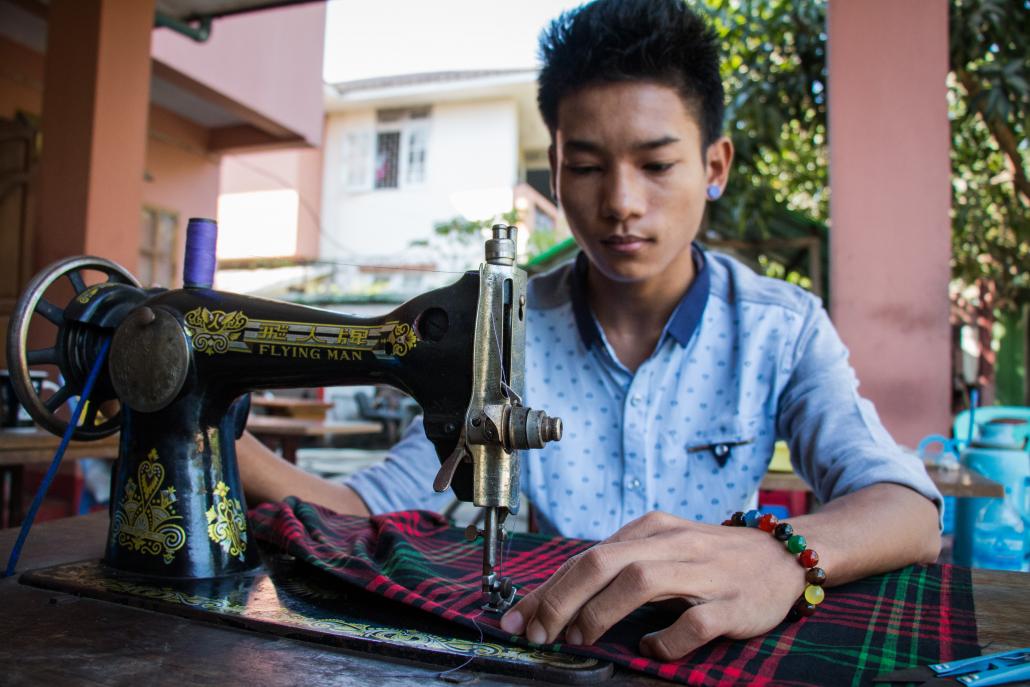 Nay Lin was in his early 20s when he was diagnosed with AIDS in 2003. Even as an adult, he knew almost nothing about the disease. "I wanted to die," he said. "I wanted to commit suicide by jumping in front of a train. There was no counselling."
Access to both treatment and counselling for all age groups has improved greatly in the last decade, but little of it is specifically tailored for adolescents. Although the Phoenix Association does have education and resources for young people with HIV, including a university scholarship program, it has yet to introduce projects designed specially for children, something that executive director U Thiha Kyaing deeply regrets. 
"I tried approaching donors and agencies about [funding for adolescents' programs], but they said 'no'. They have their own criteria and their own targets," he said.
The HIV targets to which Thiha Kyaing was referring are Myanmar's "key populations", such as female sex workers, men who have sex with men and injecting drug users, who represent the vast majority living with the virus.
Unfortunately, the 10,000 or so HIV-positive children often remain an afterthought.
"Living in their school community, their romantic life. They will marry someone, they will love someone. How do they deal with this life? How do they overcome these problems?" Thiha Kyaing said. "They need to prepare for life. No agency does that."
Rabiyan said MSF Holland has encountered situations in which teachers have forbidden students from taking medication in the classroom. Wint Htin Sar said her teachers showed understanding, but the parents of other students were sometimes wary about their children going to school with her.
Thiha Kyaing said that although accurate information about the disease is included in the school curriculum, "People want to skip these chapters. They don't want to have it explained."
He said that while the longstanding stigma and discrimination against people with the virus has slowly been easing, it remains a spectre in the lives of people with HIV, especially in rural areas and poorer communities. Children with HIV are regarded as dangerous or the products of an immoral household.
The discrimination these children face is unlikely to change when they become adults. Ignorance and discrimination pervades Myanmar neighbourhoods, workplaces and even hospitals, and there remains little legal protection for people with HIV. Thiha Kyaing said Phoenix has helped to draft the nation's first anti-discrimination law for people with HIV, and is lobbying support for it in Nay Pyi Taw.
The first negative image that children with HIV need to overcome, said Wint Htin Sar, is their own. "They need to know they can live and work as the other people. They need to have confidence in themselves."
TOP PHOTO: Ma Wint Htin Sar, 18, attends a vocational training class run by Phoenix Association in Hlaing Tharyar Township. (Nyein Su Wai Kyaw Soe | Frontier)