Around 600,000 people, or 10 percent of Yangon's population, are believed to be squatting in Myanmar's commercial capital. Many now face eviction.
By NOE NOE AUNG | FRONTIER
The first downpours of the monsoon have left their mark in Yangon's East Dagon Township. On muddy, unpaved streets, groups of children play in the rain. The older children watch over younger brothers and sisters.
"Their parents go to work," said Ma Than Than Htay, 40, nodding towards the children from the doorstep of her tiny house. "It is hard to live in a city like Yangon."
Ma Than Than Htay and her husband live illegally as squatters in the township's industrial zone. They settled on the vacant plot about two years after moving to Yangon from a village in Ayeyarwady Region.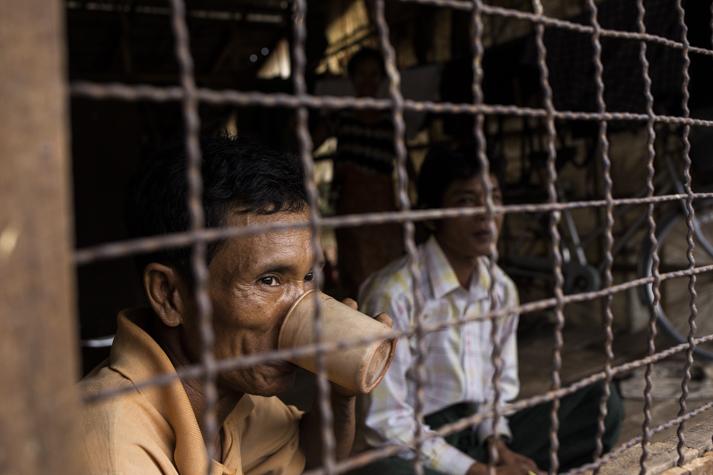 "We came here to work," said Ma Than Than Htay. "We thought we could make more money here than in our village. In a sense we were right; there is more work here, and the wages are higher. But Yangon is so expensive. We have to spend all our money on food and other necessities."
Ma Than Than Htay's husband, a mason, is a day labourer for construction companies. Ma Than Than Htay earns K1,500 a day cooking lunch for three workers in a nearby factory. If her husband can find work, the family income is K8,000 a day.
"The problem is, it is a not a regular job," Ma Than Than Htay, said of her husband's work. "If it rains for over a week all construction work stops. He has not been working recently, which means we have no money but at least we do not have to pay rent."
At least 40 families are squatting on the plot where Ma Than Than Htay and her husband live. Most are from villages far from Yangon.
Ma Than Than Htay's neighbour, Daw Khin Moe, who sells vegetables, said it would cost about K35,000 a month to rent a room of less than 100 square feet in East Dagon.
"We don't want to squat on someone's land, but we have no choice. Our income is too low to pay rent, which starts at K35,000 and you have to pay 10 months in advance," she said. "I don't have that kind of money. That's why I squat."
Still, even though the squatters have no rent to pay they have to cover the cost of electricity and water, said Daw Khin Moe.
Construction worker Ko Ye Naung, 32, also came to Yangon from Ayeyarwady Region in search of a better life. "If I had stayed in my hometown I would have to be a farmhand, but … I know next to nothing about farming," he said.
Ko Ye Naung earns between K5,000 and K6,000 a day, from which he spends about K1,600 on food and transportation. A day labourer has an uncertain existence. Ko Ye Naung says it is difficult to save money.
"If I make K5,000 today, I might have to eat into that money tomorrow if I don't get any work. I can't save in this situation," Ko Ye Naung said, adding that he hoped to save enough money to be able to return to live in his village. "Living in Yangon is difficult."
Ko Ye Naung said a recent pay rise for civil servants had led to higher commodity prices and a rise in the cost of living. "For low paid workers like us this is a big problem," he said.
Yangon supports a large squatter population. A 2013 report by the Yangon Region Hluttaw Legal Affairs Committee said that about 10 percent of the city's population, or about 600,000 people, are squatters. The report also said that about 20 percent of the dwellings occupied by squatters were built illegally.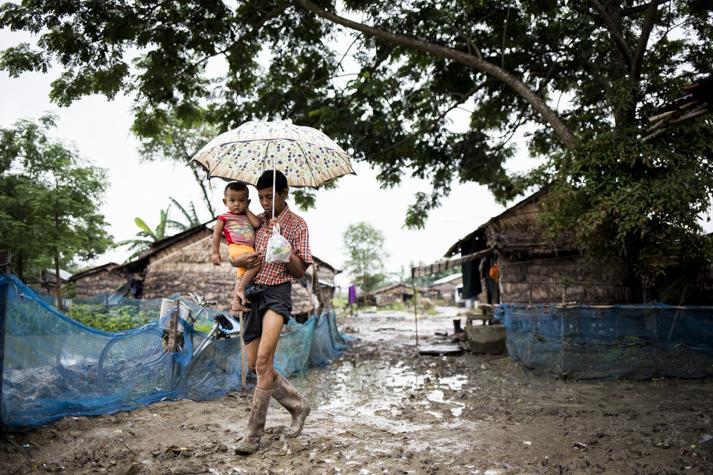 In early March, Yangon Region Minister of Security and Border Affairs, Colonel Tin Win, said there were an estimated 58,000 illegally built homes in Yangon, of which 5,000 have been destroyed in recent years under an eviction policy that has affected thousands of families.
"When we heard the news that illegal houses were going to be destroyed and squatters evicted by the YCDC [Yangon City Development Committee] we were very afraid," said Ma Than Than Htay. "Where will we live if they evict us? I don't know."
Near where Ma Than Than Htay lives, the Yangon Region government is planning a rental housing project on a 12-acre site that will involve 40 buildings each containing 48 apartments. A construction company has yet to be chosen for the project and the rent levels are still to be determined, though they are likely to be too expensive for squatters.
In an ominous development for Ma Than Than Htay, a fence was built recently on the plot behind her home, an indication that the owner has plans to use the the formerly vacant land.
Ma Than Than Htay is worried. "A few days ago a woman arrived, saying she was now the owner of the land. She didn't tell us to move. But I fear we will have to move sooner or later."