Factories in residential areas that cause air pollution and foul odours are making life a misery for some city and outer urban residents in Yangon Region.
By KYAW LIN HTOON | FRONTIER
WHEN ITALIAN agronomist Mr Paolo Cerati, 45, first moved to Myanmar he admired Yangon's clean, green environment. That was 13 years ago. Cerati, the founder of a successful fresh fruit and vegetable business, Fresco Myanmar, says the Yangon environment has deteriorated because of pollution. He feels it in his lungs.
Cerati welcomes the times when he can escape the city for the fresh, clean air of his chemical-free farm at Heho, near the Shan State capital, Taunggyi. His health is better in the hills and he doesn't need to use his asthma spray.
Cerati believes his asthma was exacerbated by sickening fumes emitted from a raw rubber processing business run as a home industry next to his house in Yangon's Mayangone Township.
As well as posing a health hazard, Cerati said the home industry, which processes rubber sheets, was also a fire risk. "If there was a fire in that house, a toxic cloud would spread over the area for days and force the evacuation of residents," he said.
The situation highlights zoning challenges facing the commercial capital, as accelerated growth driven by urbanisation and internal migration have resulted in factories that were once on the city's outskirts polluting the environment in residential areas.
The enactment of the Environmental Conservation Law in 2012 and the Yangon City Development Committee Law in 2013 have given the city authorities the legislative teeth they need to address zoning challenges. However, officials acknowledge that some factories and home industries are able to continue operating in residential areas because they were licensed before the laws took effect.
Residents of affected areas, environmentalists and some lawmakers say such factories and home industries need to undergo more stringent checks to determine their impact on the surrounding area, and then take action as required.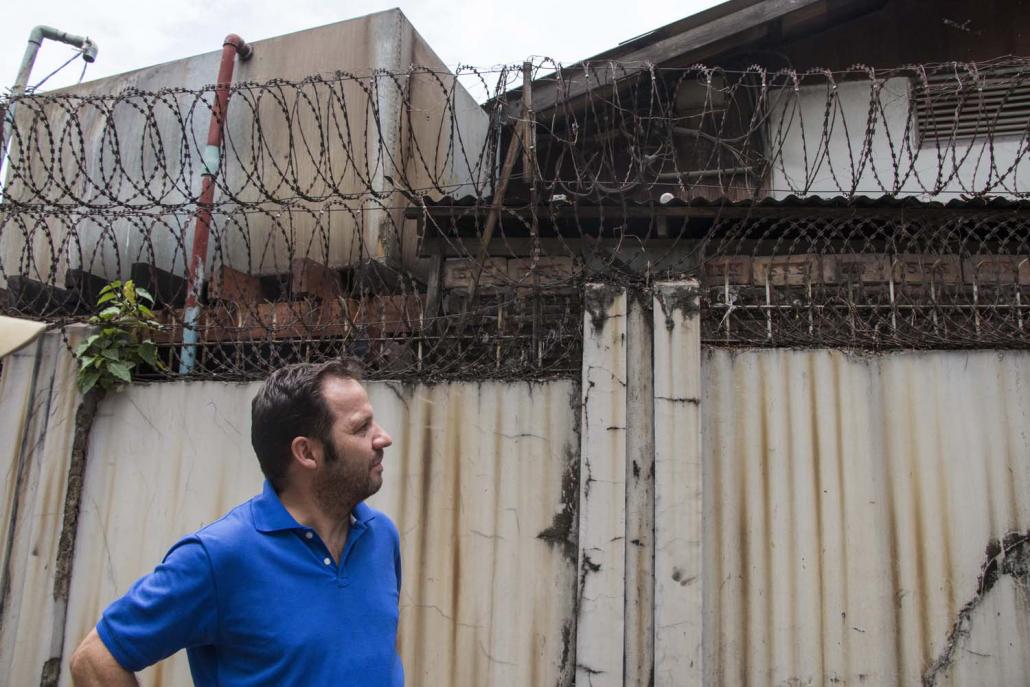 "The government departments are still weak at working together so they can identify and take action against industries causing environmental problems in community wards," said Daw Thit Thit Han, an environmentalist with Spectrum, a Yangon-based sustainable development knowledge network. "Another problem is that each department is either not well informed or is unclear about its responsibility."
Noxious neighbours
More than 12 years ago, U Maung Maung Lwin, 79, and his wife, Daw Baby, 73, moved from Thingangyun Township to the Shukhin Thar housing estate in Yangon's outer eastern Thaketa Township to enjoy what they hoped would be a pleasant retirement.
When they bought their fifth floor apartment, in a building at the southern end of the estate, it overlooked bare fields, with areas earmarked for a small market, a playground and a community park.
The apartment's previous owner told Maung Maung Lwin of the plan by the Housing Department, which built the estate, to establish the market and the park. He said other residents had given him the same information.
A few years after Maung Maung Lwin moved in to the estate, the land supposedly set aside for the market and park was bought or leased by Tet Lann Concrete Co Ltd, which built a factory on the site.
Meanwhile, on the eastern side of the housing estate, a palm oil refinery has been established by the Yuzana Group of Companies, one of the nation's biggest industrial conglomerates.
"In the afternoon and evening, I have to endure the smelly air pollution from the palm oil refinery and in the middle of the night my sleep is interrupted by the sound of the heavy machinery in the concrete factory," said Maung Maung Lwin.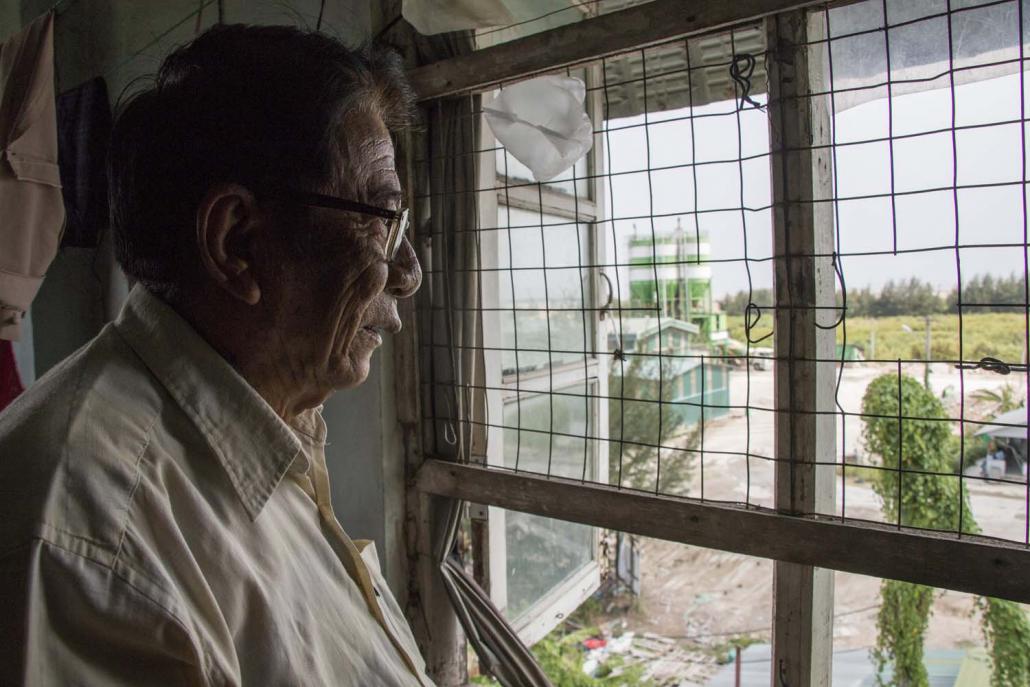 Another Shukhin Thar resident, Daw Than Than Soe, pointed to ash and white particles of dust thickening on a table in the living room.
"Since 2013, we have reported the situation to the township administration and the YCDC but nothing has improved," she said.
Long-time residents of Thaketa said a drainage channel that released excess water from drain in Thaketa into the Bago River had also been blocked up to build the refinery.
Eventually, residents complained about the smell and ash pollution from the palm oil refinery to Yangon Region MP Daw Thet Htar Nwe Win (National League for Democracy, Thaketa-2). She first raised the matter in the regional assembly in July 2017, explaining that her constituents were suffering every day because of the pollution and asking what the regional government would do to rectify the situation.
Answering on behalf of U Maung Maung Soe, the city's mayor and regional minister for municipal affairs, U Han Tun, the minister for agriculture, livestock, forestry and energy, said that if the palm oil refinery continued to emit ash and a foul smell to the detriment of community ward residents the regional government would shut it down immediately.
Nearly a year later, Thet Htar Nwe Win said the factory is still operating and continues to emit ashes and a foul smell.
In February of this year she raised the case again, this time with the parliamentary committee for government pledges, guarantees and undertakings, which arranged a site inspection with officials from the YCDC and the Environmental Conservation Department, of the Union Ministry of Environmental Conservation and Forestry.
The visit highlighted the power of YCDC over such matters – and the powerlessness of other government and elected authorities.
Acting on recommendations from the Environmental Conservation Department, the committee asked YCDC to instruct Yuzana Group to follow Environmental Conservation Department guidelines on emissions standards for factories.
U Maung Maung Than, executive officer of Thaketa Township's YCDC committee, said the municipal authorities had last year "postponed" an annual extension to the factory's operating licence.
"But we are allowing the refinery to operate as we monitor whether they are following the recommendation from the department," he said. "They have to inform us when they have improved their emissions controls … but if they cannot follow the guidelines well we may order them to move."
Maung Maung Than confirmed though that YCDC had not given Yuzana a deadline to improve emissions control at the factory – something that has frustrated lawmakers, residents and other officials.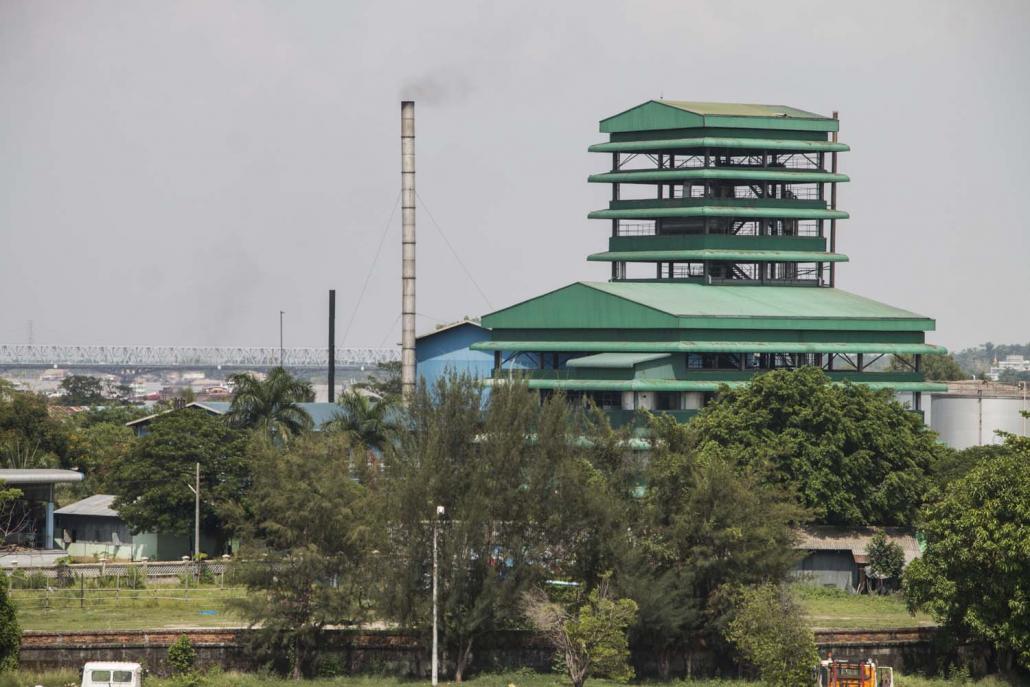 But Thet Htar Nwe Win said she hoped YCDC would follow through on its threat to shift the factory if it can't meet ECD standards.
Spectrum's Thit Thit Han said the government was prioritising the development of industry and faced some hard decisions.
"Because they have to promote such businesses, when this kind of case occurs it's hard for them to handle and they favour the businessman."
The chairman of the regional government's pledges committee, U Khin Maung Win, agreed that the situation had created a dilemma.
"It's really hard for us to demand that they shut down a factory which provides more than 10,000 jobs and at the same time is also helping with import substitution, as they grow and process the oil palms themselves," he said.
Khin Maung Win said the refinery needed to be on a waterway to facilitate the delivery of raw materials shipped from Yuzana's plantations in Tanintharyi Region.
"The only decision we can make now is to continue monitoring the refinery for six months or one year and urge them to pay attention to environmental management," he told Frontier.
A representative for Yuzana Group declined to comment to Frontier.
Land for industry
Yangon Region has 30 industrial zones, in which all the plots have been sold but some are yet to be developed. The regional government is planning to develop more industrial zones to help attract foreign investment and to address a shortage of land for industry.
Yuzana's palm oil refinery in Thaketa and smaller enterprises, such as the rubber processing operation in Mayangone, are among the businesses that are yet to move to industrial zones.
"The military government had ordered such factories to move since [the mid 2000s] … I don't know how they can keep operating [in residential areas] until now," said U Min Maw, director of the Environmental Conservation Department.
Although the Environmental Conservation Law was enacted in 2012, the enabling by-laws were not approved until June 2014. Since then, the department has been instructing factories built before 2014 and covered by the law to draft and implement an environmental management plan, he said.
"We have no right to decide where a factory might be, but we can make recommendations. However, the power to issue or withdraw a licence or take action against a company rests with the YCDC and the General Administration Department," Min Maw said.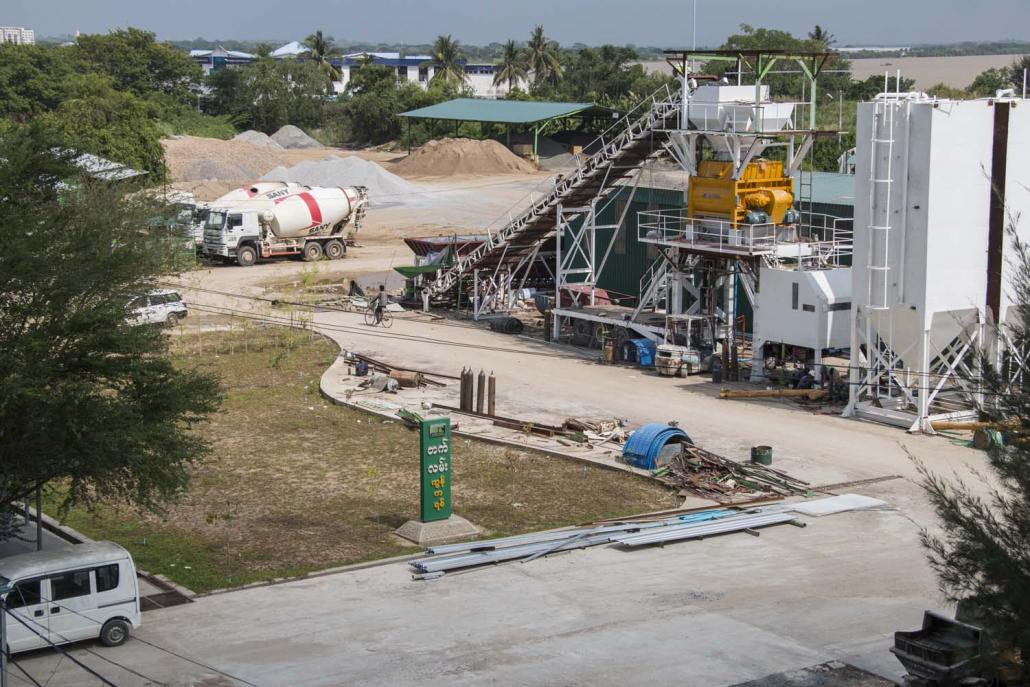 The residents of the three affected wards in Thaketa are disappointed that pollution continues to affect their quality of life. Meanwhile, Cerati's experience in Mayangone illustrates the challenges of seeking redress and the long-term expatriate acknowledges that he does not know what procedure he needs to follow.
The owner of the family-run rubber processing business, U Aung Htun, said, "We don't have to do anything until the government officials come and tell us to move. But even if they do, I will ask them the question, 'What about the other [businesses] around the city? Why only me?'"
Trishaw driver U Zayar Linn, 42, a father of two, lives in Thaketa's Ward Four and struggles more than most of his peers to make a living because much of his salary is spent on healthcare for his wife, who was diagnosed with a heart ailment four years ago. He does not blame air pollution from the oil palm refinery as the cause of his wife's condition but says she is badly affected by the foul odour.
"When the smell comes from the factory she feels worse and cannot do housework or feed the children because she has to lie down and cover her nose with a scarf," Zayar Linn said.
The Thaketa situation attracted attention because it was raised in the regional parliament, but for cases like the rubber processing plant in Mayangone, lawmakers and environmental activists suggest that the authorities should be more proactive in inspecting existing businesses.
"We don't have to do any such assessments up to now; but with new business proposals we make sure, if they are industries that can negatively affect the environment, that they are not located near residential areas," Maung Maung Than said.
Thit Thit Han from Spectrum has worked with the three-years-old Environmental Conservation Department on some projects and said it needed extra staff and increased powers to be more effective.
"Instead of sitting in their offices and only getting active when they receive complaints from the public, the department's staff should organize collaborative teams to conduct regular inspections of all kinds of factories, from home-based industries and SMEs to huge industrial sites," she said.
Cerati, meanwhile, is resigned to having to tolerate the fumes as long as he remains at his Mayangone address, into which he moved in March 2017.
Holding his asthma spray dispenser as he spoke to Frontier in his living room, Cerati recalled fond memories of the clean, green and pleasant Yangon of his early years in Myanmar.
"But now the city is changing," he said. "The Yangon government should think about this problem before it is too late."
TOP PHOTO: Nyein Su Wai Kyaw Soe | Frontier