By YE MON | FRONTIER
YANGON — Politicians, activists and civil society representatives will gather in Yangon on April 1 to expand their campaign against the Chinese-backed Myitsone Dam, leaders of the movement said at a small protest in Yangon on Monday.
U Aung Soe Myint, a leader of the movement, told Frontier the group had invited NGOs, political parties and environmental experts from every state and region to come together in opposition to the multi-billion dollar project.
"We have also invited National League for Democracy officials and NLD members of parliament, but I am not sure whether or not they will attend," Aung Soe Myint, who is also the vice chair of the People's Party in Mandalay, said at the 50-person demonstration in downtown Yangon on Monday afternoon.
The group will form an executive committee at the meeting, he said, and will devise strategies for campaigning against the dam.
U Myat Kyaw, a leader of the Anti-Adhamma Committee, a liberal Buddhist group that opposes ultra-nationalists, said at the protest that the people of Myanmar should not stay silent over the future of the mega-project, which was suspended in 2011 by President U Thein Sein in response to a growing national opposition movement.
Public concerns include large-scale displacement and loss of livelihoods, the destruction of cultural heritage and environmental degradation.
Myat Kyaw said it was time to unite against the damming of the Ayeyarwady River. Amid increasing pressure from China to restart the project, he said Myitsone would only be cancelled if Myanmar presented a united front, and suggested that the government needed the support of the people to stand up to China.
"We [our government] have to face China, one of the most powerful countries in the world," he said. "We need to be strong and united."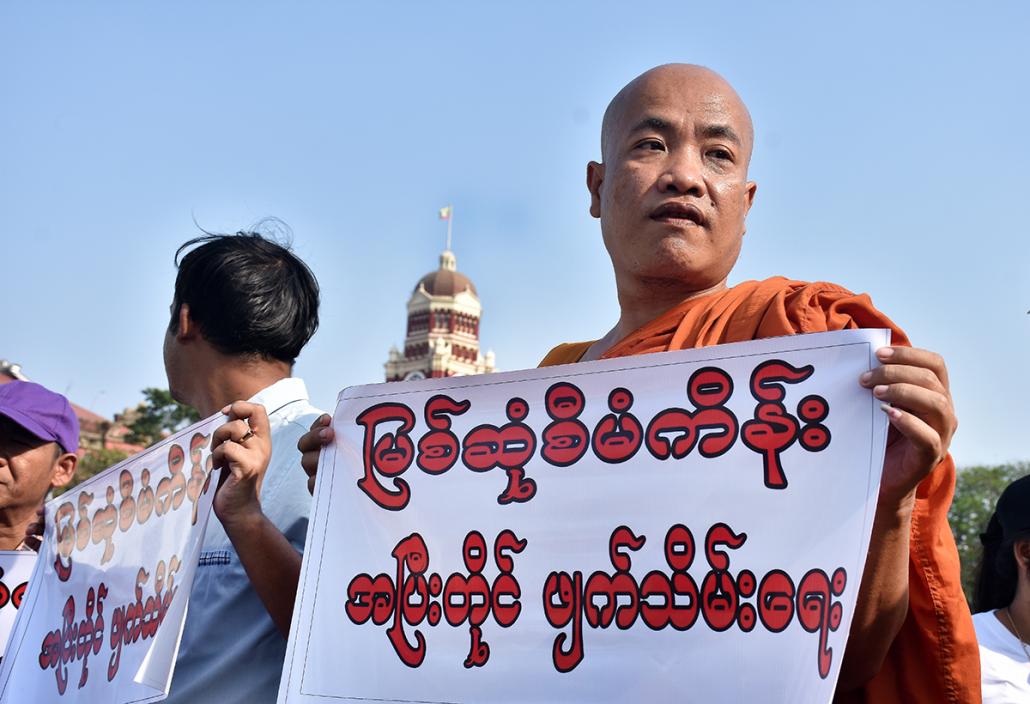 Activists in Yangon on Monday called for people to participate in the movement, which has gathered strength since late last year, when the Chinese government and developer State Power and Investment Corporation began ramping up pressure on Myanmar to resolve the future of the project.
A statement issued by the Chinese embassy following ambassador Mr Hong Liang's visit to Myitkyina in which it claimed that people in Kachin State supported the project has further fuelled the protest movement, including a peaceful demonstration in Myitkyina in early February that was attended by thousands.
Earlier this month, civil society groups from across the country convened in Mandalay to protest against large-scale hydropower development, which they said was driving conflict and undermining efforts to build a democratic federal union.
Participants said it was the first time that civil society groups from across Myanmar had come together to protest against hydropower.
But Aung Soe Myint said his movement would focus only on Myitsone. "We believe that we can succeed in getting the project abolished," he said.