By FRONTIER and AFP
YANGON — A pro-military rally in Yangon on Sunday drew thousands of supporters who condemned the international community for calls to bring Myanmar's generals to justice, while nationalist monk U Wirathu gave his first major public speech since being barred from delivering sermons last year. 
The ban, which ended in March, was issued by the State Sangha Maha Nayaka Committee, the supreme body representing the monkhood, who said Wirathu had "repeatedly delivered hate speech against religions to cause communal strife". 
The hate speech he espouses — which alleges a global Islamic conspiracy aimed at destroying Buddhism in Myanmar, and casts members of the Rohingya Muslim minority as terrorists and illegal immigrants — has also caused Facebook to ban him from their platform.
Yesterday's demonstration began at a monastery in Bahan Township at around 1pm and protesters marched south toward downtown Yangon's Maha Bandoola Park, waving Myanmar and Tatmadaw flags and holding aloft framed portraits of Tatmadaw Commander-in-Chief Senior General Min Aung Hlaing.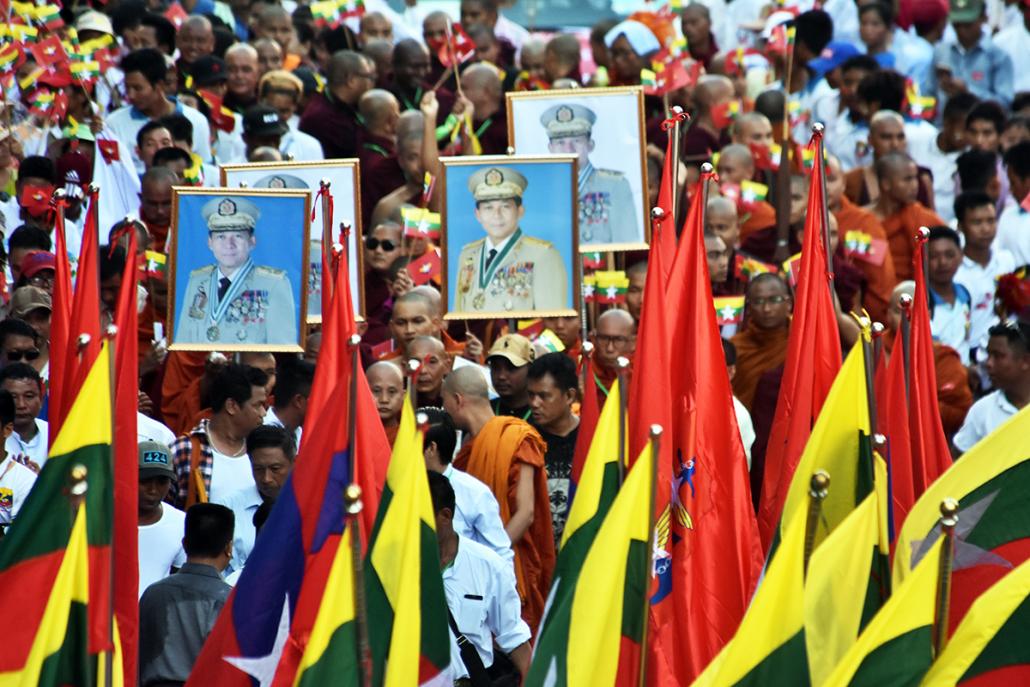 They gathered outside City Hall before a stage, whose backdrop was a bilingual sign, the English portion of which read: "The Obloquy to Condemn Foreign Countries and Organisations Which abuse and interfere [sic] the State and Tatmadaw".
Monks in orange robes took to the stage to castigate the United Nations, the European Union, global Muslim "influence" and the "one-sided" international media. When Wirathu took the podium he criticised the International Criminal Court's decision last month to open a preliminary probe into Myanmar's alleged crimes against Rohingya Muslims, including killings, sexual violence and forced deportations.
"The day when the ICC comes here…is the day that Wirathu holds a gun," he said in a speech that often referred to himself in the third person.
Reverting to his signature rhetoric, Wirathu also lauded China and Russia in the UN Security Council as "nationalist giants who stand with the truth" in their role of preventing any firm action against Myanmar.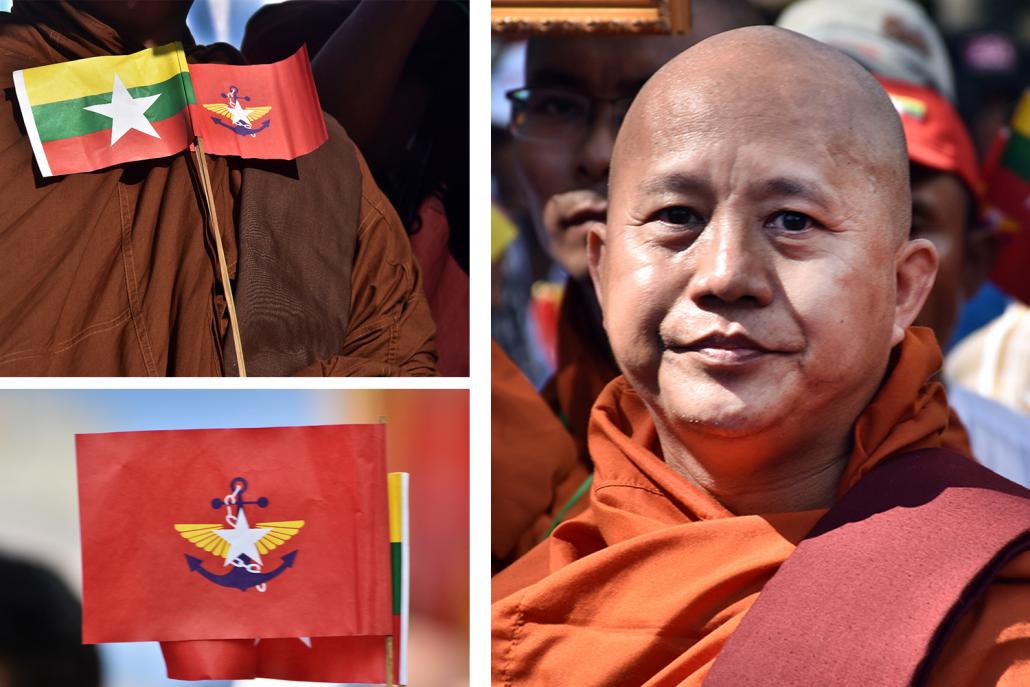 "Don't lie to the world saying that Bengalis are Rohingya because you want to promote Islamisation in Myanmar," Wirathu said. "Don't destroy our country by creating a fake ethnic group."
Wirathu's views on the Rohingya in particular are widely shared in Myanmar, though his occasional opposition to the Daw Aung San Suu Kyi-led National League for Democracy has put him at odds with mainstream public opinion. He received an enthusiastic response from the crowd on Sunday, leading sarcastic chants of "thanaa deh, thanaa deh" ("we care"), to express a defiant lack of concern with international criticism.
Vinyl signs, carried by demonstrators and attached to vehicles, bore slogans in Burmese and English. One in Burmese read, "oppose the dollar-eaters who pursue the Bengali cause". "Bengali" is commonly used in Myanmar as a substitute for the name Rohingya, to impute a foreign origin.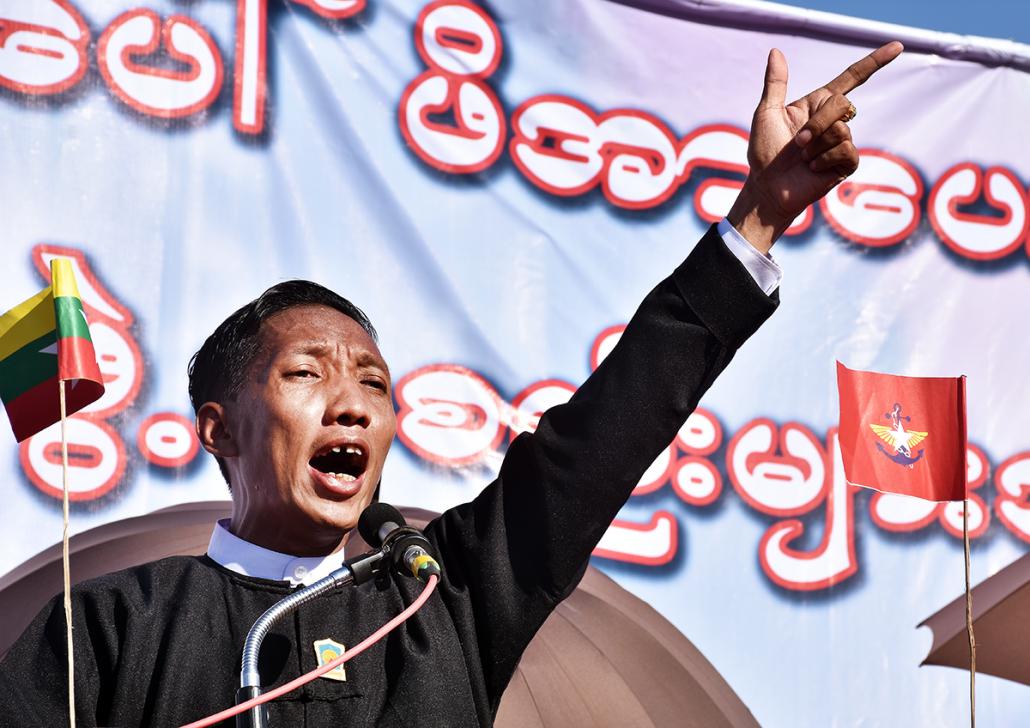 The military has said their brutal crackdown which led to more than 720,000 Rohingya fleeing across the border carrying accounts of rape, arson and murder, was warranted for combatting terrorism. 
While much of the world has regarded the unfolding Rohingya crisis with horror, the majority of people within Myanmar side with the military as the Muslim minority group is widely detested. 
The supporters showed up in force at Sunday's march, with hundreds gathering in front of downtown Yangon's iconic Sule Pagoda carrying giant portraits of army chief General Min Aung Hlaing, who UN investigators say is the most responsible.
"We can't stand the bullying of the army chief and the Tatmadaw by the international community," protester Ma Khine Thet Mar, 46, told AFP.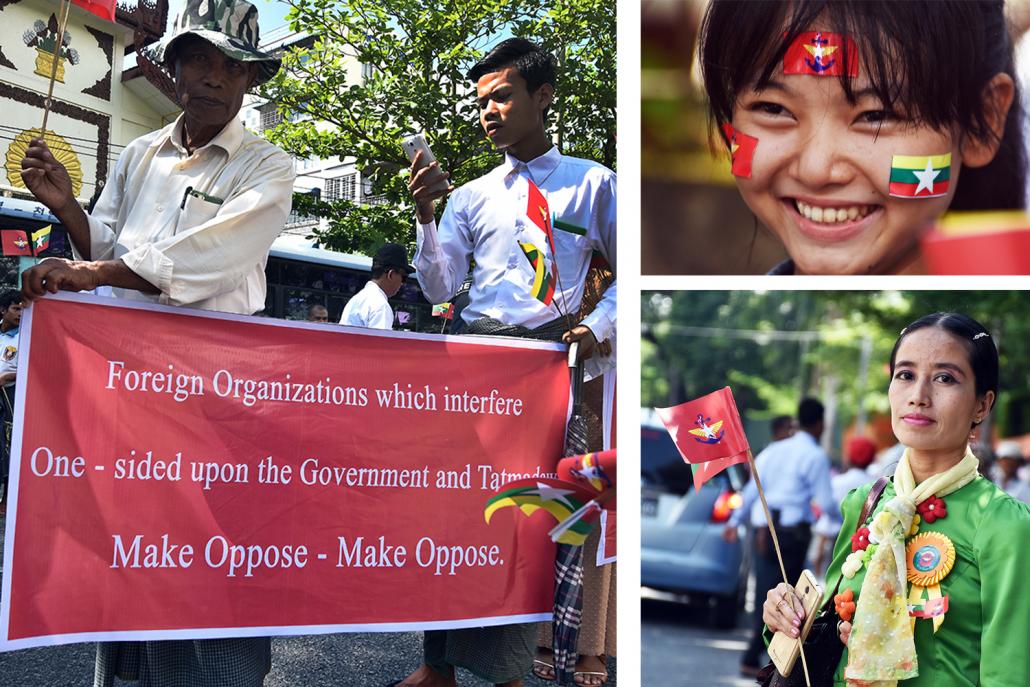 The UN Human Rights Council voted last month to prepare for criminal indictments over the atrocities in Myanmar. Min Aung Hlaing has remained defiant in the face of international pressure, saying that no country, organisation or group has the "right to interfere in" Myanmar's sovereignty.
Many of the participants were drawn from nationalist associations outside of Yangon. Several participants told Frontier they had come from Pyin Oo Lwin, a town in northern Mandalay Region which serves as a military hub. Another group of young men had travelled from Ayeyarwady Region, west of Yangon. Several dozen were also present wearing ethnic Karen dress and carrying the Karen flag.
TOP PHOTO: Nationalist monks hold framed photographs of Tatmadaw Senior General Min Aung Hlaing outside Yangon City Hall. (Steve Tickner | Frontier)