Panic over a falling currency and surging gold prices has put the spotlight on a network of brokers and speculators profiting from – and possibly fuelling – volatility.
By HEIN KO SOE | FRONTIER
"THE GOVERNMENT will take action against the brokers who are manipulating the market and find out why they are doing it."
When government spokesman U Zaw Htay addressed reporters on September 21, Myanmar's currency, the kyat, had been enduring a rough few days. Over the last three days it had fallen from K1,565 to the dollar to K1,630, but had also seen wild swings in which it gained or lost as much as K15 – nearly 1 percent of its value – in just an hour, according to websites that track the market rate.
During this three-day period, the US dollar was generally losing value against other currencies; the kyat would normally have been strengthening. It seems that there were indeed other forces at work.
The following day, the President's Office and Ministry of Home Affairs ordered an investigation into the sharp moves in both the currency and gold markets.
The Bureau of Special Investigation, a Ministry of Home Affairs agency focused on economic crime, began its work the following day and arrested eight people. This seemed to have an immediate effect, with the kyat strengthening by several percent.
By September 24, BSI had detained more than 10 traders and brokers who operate from Pabedan Township's Shwe Bon Thar Street, the heart of Yangon's informal finance markets.
The arrests prompted the closure of the informal exchange markets for around two days. Once they reopened on September 26, the kyat continued to strengthen, hitting a high of K1,500 on October 3. A week later it was back out to K1,580 – even as the dollar remained fairly stable internationally.
BSI director U Aung Myo alleged that some of the traders had been speculating on the gold market and trying to inflate prices.
"We found that the market has been behaving unusually because some people have been trying to manipulate it," Aung Myo told Frontier on October 5. "They're doing this not only for their business but also [for] political reasons."
He declined to elaborate on the "political reasons" and also refused to reveal the identities of the detained traders, but said some had previously served two-year prison sentences for economic crimes.
"Most of them are the same as those who [were] sentenced under the Emergency Provisions Act during the military regime, but a few are new brokers."
Speculative bets
The trading room at the Yangon Region office of the Myanmar Gold Entrepreneurs Association is full; 50 or more brokers sitting or standing, speaking into their phones, placing orders to buy and sell. Based on this trading, the association announces four gold prices throughout the day.
But how many of these trades are for actual gold? At least some are likely to be bets on the rise or fall of its price. These are known locally as lay pat kar, which means verbal trading ("lay" literally means air). If they were traded on an exchange they would be "futures" contracts, but because they are private deals the technical term is a "forward" contract, under which two parties agree to buy and sell an asset at a particular price in the future.
For example: Trader A places a bet with Trader B that the gold price will have increased from its current price at a specified point in the future – typically the end of the day. If the price increases, Trader B pays Trader A the difference between the current price and future price. If it decreases, Trader A has to pay Trader B the difference.
It's common for traders to simultaneously buy or sell gold in an effort to influence the market and increase their chances of winning the bet, sometimes in coordination with others who have taken the same lay pat kar bet. One source active on Shwe Bon Thar Street said that a broker was rumoured to have bought 100 viss of gold (163 kilograms) at K985,000 a tical (0.576 ounces) in the first week of September, at an outlay of K9.85 billion – apparently in an attempt to push the price up.
Frontier visited the MGEA office on September 20, when gold prices were nearing their peak. The association confirmed that at least four of those arrested by BSI were on the trading floor at the time.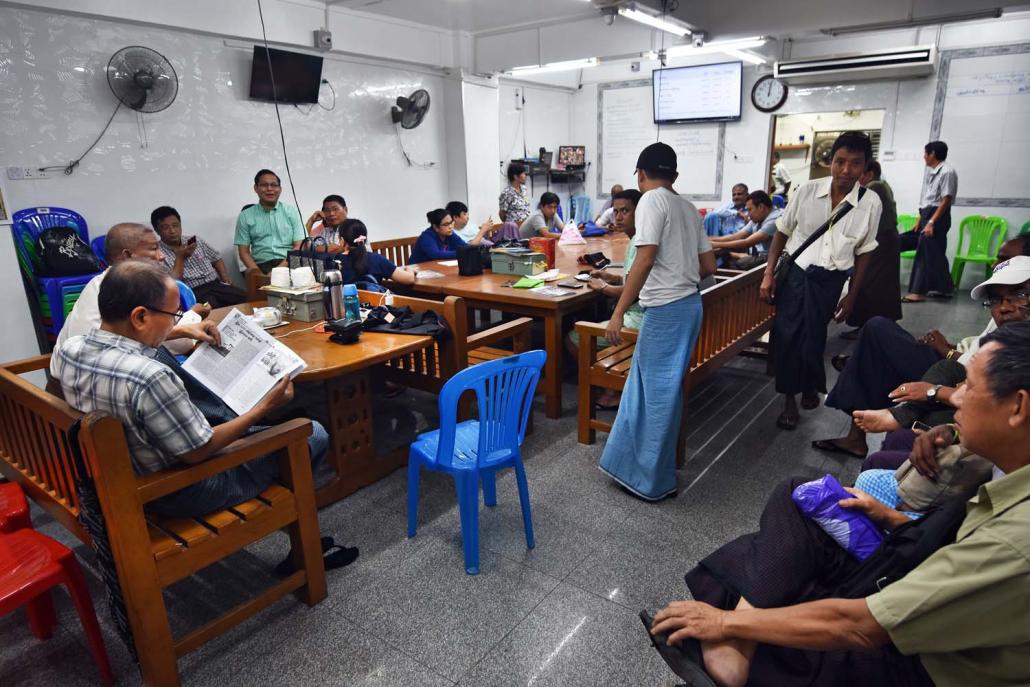 Gold buyers said the sharp price increase during September was suspicious because there was little actual trading taking place locally, and the world gold price was barely moving. Most trading activity seemed to be lay pat kar – speculative bets on where the price was heading. 
"All brokers are doing lay pat kar at the moment," U Mg Mg, who is based on Shwe Bon Thar Street and buys gold for goldsmiths and jewellery shops, told Frontier in mid-September. "The strange thing is that the price is high even though few people are buying gold this month. They are holding [gold] in hand [instead of reselling]."
Officially, the MGEA does not allow lay pat kar, said U Kyaw Win, who owns the U Hton gold and jewellery shop and is secretary of the Yangon Region branch.
"Lay pat kar causes gold prices to rise so our association doesn't permit it. Some brokers are still doing it – but very few people" he said.
MGEA general secretary U Win Myint told Frontier that he believed the lay pat kar trade had indeed pushed up the price of gold. He confirmed that BSI had detained some association members for their involvement.
"The brokers were just thinking about their own interests," he said. "Not only were they doing lay pat kar, but they were also buying up gold in the market at the same time so they would win their bet."
Without the BSI operation, the gold market would have been "broken", he said, with prices driven up by speculation.
The gold buyer, Mg Mg, said the speculation had hurt normal market activity.
"We are just ordinary brokers – we buy gold, just a reasonable amount, that has been ordered by our bosses who run the gold and jewellery shops," he said. "When other brokers monopolise the market for their own interest, it has a direct effect on my livelihood."
Domestic factors
But this is not just a story about gold. Recently the lay pat kar practice has moved into the currency field, where the bets are known as lan gyaung zay (literally "pathway price"). It is this trade that has caught the attention of the authorities, because of the significant implications that currency volatility has for the economy. Win Myint confirmed that most of those who had been arrested by BSI for lay pat kar bets were also heavily involved in lan gyaung zay trading.
The gold and currency markets are closely linked in Myanmar; typically, if the US dollar goes up against the kyat, the domestic gold price follows. So when the dollar gained 4.22 percent against the kyat from September 18 to 21, gold gained 4.21 percent domestically. From August 31 to September 21, the US dollar strengthened 7.74 percent; gold gained 7.42 percent.
What was unusual about this period, though, was that both gold and the US dollar were fairly stable internationally. That meant local prices were moving as a result of domestic, rather than external, factors.
This was not initially apparent when the kyat began to depreciate in April, after a relatively stable 18 months in which it mostly traded around K1,360. The US dollar was gaining ground against most currencies and the kyat seemed no different – some currencies were performing even worse. As of mid-October, though, the kyat had lost almost 16 percent since April 1, 2018 – more than any regional currency, in another indication that there have been domestic factors at work.
These could be macroeconomic – for example, rising inflation and lower inflows of US dollars from sources such as foreign investment – or they could be temporary factors with causes beyond the macro economy.
The government quickly identified one temporary cause for kyat weakness: the re-export of commodities to China, particularly sugar and diesel. Myanmar companies were importing large quantities of sugar and paying for it immediately in US dollars but, on selling it to Chinese traders, they were paid with yuan into China-based bank accounts. The companies repatriated this income through informal remittance networks known as hundi rather than the formal banking system. The time lag involved created a temporary shortage of dollars, sources familiar with the situation said. On August 17, the government temporarily suspended the re-export of sugar and diesel.
When the volatility continued even after the re-export licences were suspended, the authorities began looking more closely at the possibility of speculation – particularly lay pat kar and lan gyaung zay trading, as well as suspicious side transactions that might have affected the currency and gold markets.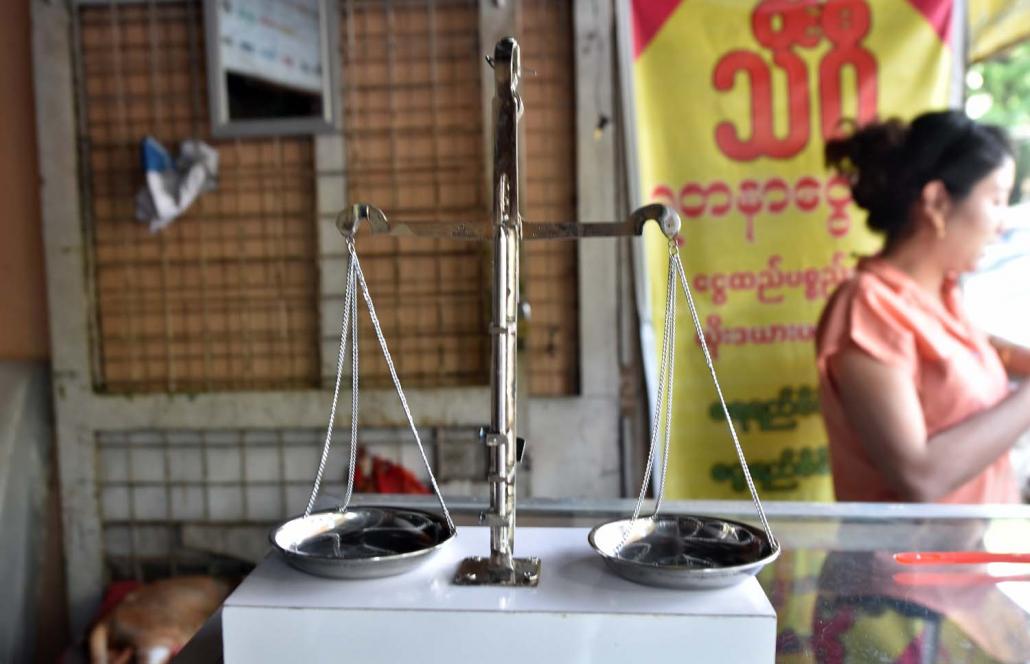 It's unclear whether rising domestic gold prices were driving the kyat down, or the weakening kyat was pushing gold up. Win Myint from the gold entrepreneurs association said he believed high demand for dollars was causing the gold price to increase. The lay pat kar traders were betting that the kyat would continue to weaken, and were giving it a little help by buying up gold. A further incentive in this trade was that other standard investment opportunities – real estate, vehicles, and beans and pulses – have lately been unattractive because prices are flat, he noted.
"The gold price is directly related to how much foreign currency is flowing into the country," he said. "So when the market runs out of US dollars, the gold price goes up … The brokers who were involved in lay pat kar were expecting the gold price would go up for that reason."
One leading Myanmar businessman who is heavily involved in both the import-export and currency exchange businesses said lay pat kar did not have a "strong effect" on the currency. Rather, the forward contracts were a response from traders to instability in the gold and currency markets. Like Win Myint, he said the lack of dollars available in the market was causing the kyat to weaken, and both the dollar and gold prices to rise.
"Because there's no more foreign currency in the market, when the kyat is weakening people want to buy gold instead because it's considered a harder currency than the kyat," the businessman said.
Thin markets
In April 2016, the Bank for International Settlements estimated that US$5 trillion was being traded in global currency markets each day. Most of this trade is speculation – sometimes based on economic data, sometimes not.
But Myanmar's currency and gold markets are unique. Because both are relatively "thin" – that is, there are relatively few buyers and sellers – they could easily be shifted by a single transaction of as little as $5 million or $10 million, sources told Frontier.
For this reason, the government investigation into currency market manipulation briefly focused on Telenor and Ooredoo after the mobile operators both purchased large amounts of US dollars between June and September.
A senior official from BSI's Yangon office told Frontier it investigated the companies on October 4. Both operators provided documents showing that they had bought the currency to purchase equipment from abroad, the official said.
"Telenor and Ooredoo bought a large amount of foreign currency from a private bank for importing telecom accessories," the official said. "There was no evidence that they were engaged in any illegal currency trading."
Ooredoo Myanmar said in a written statement that the company had an "ongoing need to access US dollars", particularly when importing materials from outside Myanmar. Given its revenues are in kyat, it is in Ooredoo's interests to keep its costs in the local currency as much as possible, the statement said.
"We only deal with authorised licensed banks when converting Myanmar kyat to USD, in order to make these payments," it said. "It is in the interest of Ooredoo Myanmar just as it is in the interest of the Myanmar economy, that there be a stable kyat with access to a liquid supply of US dollars from the authorised licensed banking system. The recent currency fluctuations and lack of US dollar availability are not helpful to our business or to a growing economy."
Mr Glenn Mandelid, head of corporate communications at Telenor Myanmar, said the company's financial transactions are for "operational purposes only".
"[T]his does not involve any currency speculation," he said. "All financial transactions are done through the banking system in accordance with Myanmar bank regulations."
But the BSI official said that to fulfil the order from the mobile operators the private banks had to buy US dollars from informal brokers operating out of Shwe Bon Thar Street in downtown Yangon. "These currency purchases created a lot of demand in the market," he said.
The businessman familiar with currency exchange said the BSI arrests in September further highlighted the illiquidity of Myanmar's currency market. The detained traders had been heavily involved in the hundi remittance business; many businesspeople had relied on them to repatriate their trading profits from China to Myanmar via Hong Kong or Singapore.
"When the government cracked down on those hundi people, the system stopped … so the US dollar rose again shortly after the government operation."
'Deserting the market'
In most economies, currency exchange is facilitated or conducted by banks and other financial institutions. Not so in Myanmar.
This is a legacy of economic mismanagement under socialist and military rule, when the exchange rate was fixed for almost 40 years. The government used the official rate, while everyone else relied on the market rate. This became more pronounced after the military coup in 1988, when private enterprise – and foreign trade in particular – increased dramatically.
These businesses needed to change currency, but they couldn't do it at state or private banks, which relied on the official rate. So they used the informal market – the black market – instead.
Private banks and other businesses can now legally offer currency exchange services thanks to reforms undertaken by the Thein Sein government, but the informal market centred on Shwe Bon Thar Street remains king.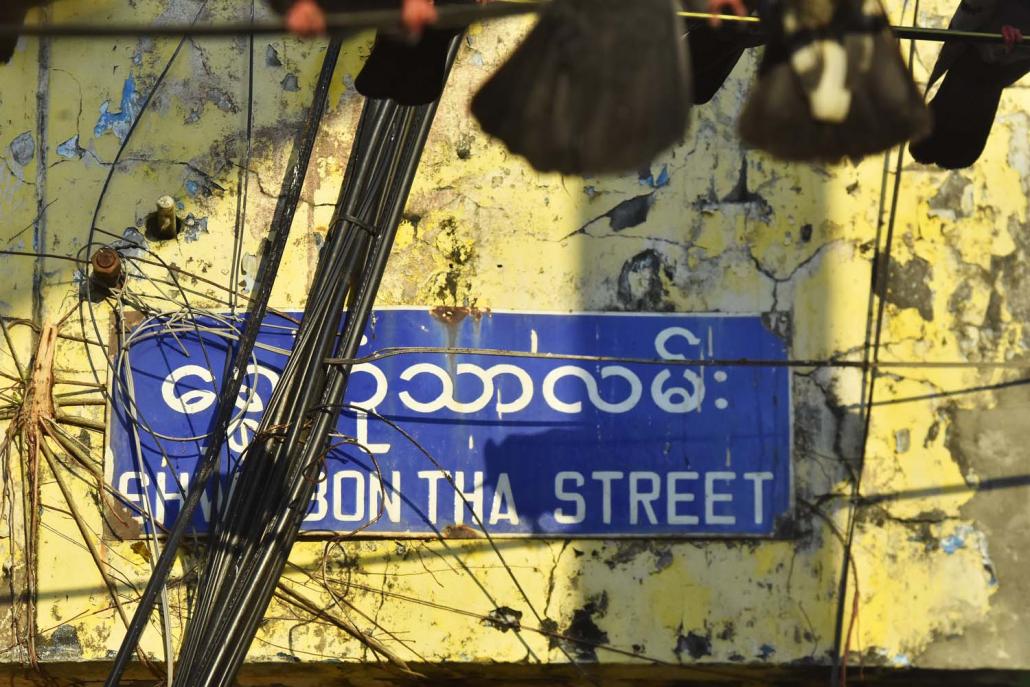 Much of the currency trading – or at least the negotiations – actually takes place away from Shwe Bon Thar, on Merchant Road near Maha Bandoola Park. This is where brokers, typically wearing shorts, a singlet and shoulder bag, congregate and cut deals with buyers. A person wanting to buy a large amount of currency will approach the brokers and say, "pyit si thein meh" – a term that literally means, "I will store the goods." They then negotiate a rate. Deals can also be made on the phone, with a premium paid to hold the rate for up to an hour so that the buyer can come in person to make the deal. This trade is known yae myan.
Once the deal is agreed, the brokers take the buyer to Shwe Bon Thar to meet their boss – one of a small group of people who each control $50 million, if not more, and are essential for keeping the currency exchange market liquid.
Lack of liquidity in Myanmar often doesn't mean an actual shortage of dollars – rather, it tends to be a lack of people willing or able to sell them at a particular price.
Mr Sean Turnell, an economic adviser to State Counsellor Daw Aung San Suu Kyi, said because Myanmar's market was not very liquid, it was prone to market gaps – moments when demand is not met by supply. These gaps can lead to sudden, sharp increases and decreases in the value of the kyat.
Sharp movements can create nervousness, "and when there's nervousness you get people deserting the market" – that is, deciding to hold on to their US dollars. Those who want to buy dollars then have to offer higher and higher prices. This can create further panic and volatility – but high prices also incentivise speculators to step in and sell at a profit.
"Speculation in the end should be stabilising," said Turnell. "There's nothing wrong with it per se – it becomes wrong when people manipulate information, use inside information, block transactions, engage in other illegal activities to profit from it."
Similarly, forward or futures contracts are not unusual in global markets, but in a small, informal and often opaque market they can be "potentially destabilising".
"If you can manipulate the underlying market, you can manipulate the value of the derived securities," Turnell said. "People need to keep an eye out for market manipulation."
'The real condition'
By October 18, the number of people detained as part of the BSI investigation into currency and gold market manipulation had risen to 15. Another five people were wanted by police; a Yangon Region BSI official told Frontier they absconded immediately after Zaw Htay's September 21 press conference.
Cases have so far been filed against six people, who are accused of engaging in currency exchange activities without a licence and face up to three years in prison.
BSI has not revealed the identities of five people who were charged in September. The Yangon official confirmed that BSI opened a case against the sixth person – MGEA member U Nyi Nyi Oo, also known as Hla Lay Sein or Chat Gyi – on October 15. Nyi Nyi Oo is expected to appear in court on October 30.
The official, who spoke on condition of anonymity, said most of those detained were hundi dealers, and they had all been engaged in lay pat kar and lan gyaung zay trading.
The official said one of the challenges for the investigation was the lack of a law that regulates or even prohibits lay pat kar and lan gyaung zay trading, or exchange rate manipulation. He said BSI was considering additional charges under the Gambling Act instead.
"After investigating, we realised how much money these people control," he said. While the official wouldn't give an exact figure, he said it was "a large amount … it is enough to give them power over the exchange rate. They can play both lay pat kar and lan gyaung zay and manipulate the rate so they will definitely win."
But he also acknowledged that behind those who had been arrested there were likely more powerful interests, who he described as "let me" ("the black hand").
Asked why the kyat had once again started to depreciate shortly after the arrests, the official said: "Right now what you are seeing with the exchange is the real condition of the market and the country's economic situation … There may just be a shortage of foreign currency."
TOP PHOTO: A man holds bars of gold on Shwe Bon Tha Street in downtown Yangon. (Steve Tickner | Frontier)