By HEIN KO SOE | FRONTIER
YANGON — U Phyo Min Thein returned to Yangon on Wednesday evening to a controversy over comments made during an official visit to Singapore interpreted as an attack on the hyper-nationalist Ma Ba Tha group.
The former political prisoner, who was sworn in as Yangon Region chief minister at the end of March, had told a Sunday meeting of Myanmar nationals living in Singapore that there was no need for the existence of Ma Ba Tha, also known as the Association for the Protection of Race and Religion, as the government-sanctioned State Sangha Mahayanaka Committee already administered the country's Buddhist orders.
Phyo Min Thein's comments caused a minor storm on social media in the days following. Around 10 protesters arrived to meet his flight, holding handwritten signs to condemn the comments and shouting slogans to complain that the chief minister had never condemned non-Buddhist religious associations.
After rumours of the planned protest circulated throughout the day, around 50 members of the National League for Democracy's North Okkalapa Township office formed a counterdemonstration to welcome Phyo Min Thein home.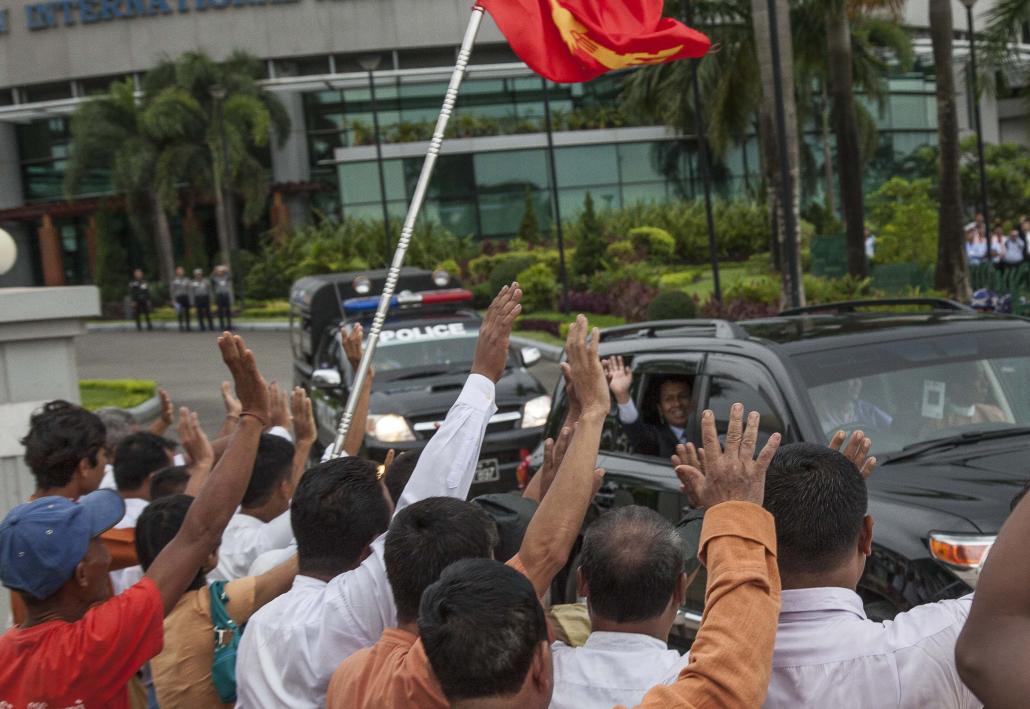 U Sanny, the office's vice-president, denied that NLD members had arrived to counter the protest.
"We were coming for our chief minister," he told Frontier. "We didn't know about the protest and we don't care about that."
Speaking outside the arrival hall, Phyo Min Thein reiterated his Sunday comments, telling reporters that the State Sangha Mahayanaka Committee was responsible for governing Buddhism in Myanmar and that there was no need for Ma Ba Tha to exist as an independent organisation.