Despite delays in paying benefits and computer system failures that have duplicated personal information and halted the issuing of smart cards, workers are generally pleased with Myanmar's new social security scheme.
By KYAW YE LYNN | FRONTIER
EIGHT MONTHS after her son was born, Ma Nann Htwe finally received a cash payment of about K800,000 for maternity expenses from the Social Security Board, under the Ministry of Labour, Immigration and Population.
"I thought I would never get it and I was getting sick of being told to wait," said the 34-year-old, who works for a media company in Yangon's Ahlone Township.
Nann Htwe had registered under the social security scheme when she joined the company more than 10 years ago. She applied for a cash benefit as well as 14 weeks' leave before she gave birth to her son in December last year.
The cash payment for maternity expenses, which she was supposed to receive within two months, was not paid until late August. She said she had to sign many documents and make many visits to the Social Security Board offices before receiving her payment.
"It's like getting blood from a stone," she told Frontier on October 13.
Despite the delay, Nann Htwe is pleased with the new system implemented under the 2012 Social Security Law for registered workers because the benefits it provides are more generous.
"The new system works better than the old one," she said. "However we still get confused by the complicated procedures."
Reform efforts
The 2012 law replaces legislation enacted in 1954. It included changes to contribution rates and benefits for medical care, sickness, maternity leave and workplace injuries, introduced new family benefits and also provided for registered workers to be issued with smart cards.
Cash benefits for leave due to illness rose from 50 percent of a registered worker's salary to 60 percent, and maternity and confinement payments rose from 66.67 percent to 70 percent. Cash assistance for funeral costs for workers who die at work has been increased from a maximum payout of K40,000 to up to five times a worker's monthly salary.
Refunds for the cost of treating employment-related injuries have increased to 70 percent from 66.67 percent, and in the case of workplace fatalities, eligible families receive between 30 times and 80 times the deceased's monthly salary, depending on length of service, under what's known as the survivors' benefit fund. Under the old law, the fund paid 66.7 percent of the salary but no additional costs were disbursed.
U Yu Lwin Aung, the director-general of the Social Security Board from 2008 to 2014, said the SSB began implementing the law on April 1, 2014, two years after it was enacted.
Yu Lwin Aung, who was appointed to the Myanmar National Human Rights Commission in October 2014, said the SSB had spent two years building a computerised data system before it began issuing the smart cards.
"However, we could implement only three out of five benefit provisions written in the law because we needed to negotiate further with employees and employers," he said.
They include medical benefits, which enable registered workers to receive free treatment at private clinics that have partnered with the SSB.
The cost of treatment is paid direct to the clinics.
The SSB also operates three hospitals – two in Yangon Region, in Tarmwe and Htantabin townships, and another in Mandalay, and runs 96 Social Security clinics, government data shows.
"In addition to the hospitals and clinics under the board's management, we also provide health care service through 55 large department clinics set up by factories," said Dr Le Le Wai, deputy director of medical division under SSB.
Factories with more than 50 employees are required under the Labour Law to establish clinics on their premises.
"These clinics have their own doctors and nurses, and we supply the medicine," Le Le Wai told Frontier, adding that SSB employs a person at the clinics to provide sick-leave documents to workers, if necessary.
Expanded services
In 2015 the SSB signed an agreement with a Yangon-based company, Care Well Medical, which paved the way for the first SSB-Care Well clinic to open in Yangon's Hlaing Tharyar Township later that year. Clinics were opened in Mingaladon and Shwepyithar in March and September this year, respectively.
Registered workers don't need to pay for treatment at the SSB-Care Well clinics.
"We have some financial and technical constraints to providing health care for registered workers, but we are trying our best," Le Le Wai said, adding that SSB pays for the medical treatment.
"We have buildings and supply medicine, but still face a human resources shortage so it [Care Well] provides the health care service," she said.
Care Well, which also has a private clinic in Mayangone Township, is run by Dr Muyar Nyunt, who worked overseas in the healthcare industry for more than 10 years.
"When I came back to Myanmar in 2011, I wanted to try something different," she said, explaining why Care Well submitted an expression of interest when SSB said in early 2014 it wanted to collaborate with private sector clinics and hospitals.
"Our aim is to provide quality health care for workers," she told Frontier on October 12, adding that the company was keen to continue working in cooperation with SSB to expand the network of clinics in Yangon and other big cities.
"For example, Shwepyithar Industrial Zone's management committee invited us to open an SSB-Care Well clinic for their workers," Muyar Nyunt said, adding that the facility had been operating since September. It was officially opened on October 14.
Despite some problems with crowding, workers have expressed satisfaction with the level of care at the SSB-Care Well clinics, saying they are an improvement on those under SSB management.
"No one yells at me there; that's the biggest difference with the SSB clinics," said Ma Zin Ni Ni Lwin, a garment factory worker interviewed outside the Hlaing Tharyar clinic. Zin Ni Ni Lwin said the best feature of using the clinic was not having to worry about payment.
Growing pains
Daw Than Than Nu, director of the SSB's Insurance Division, said changes to the social security scheme since 2012 had attracted more interest from companies keen for their employees to benefit from the programme.
She said more than 400,000 workers had registered with the SSB since 2014, bringing the total to 1,089,559 as of last month.
However, the SSB had suspended issuing smart cards because of the duplication of workers' data, Than Than Nu said.
"We are instead giving workers temporary cards," Than Than Nu told Frontier on October 13, adding that workers' data was being compiled again systematically.
More than 600,000 smart cards and 300,000 temporary cards have been issued, she said.
The SSB had terminated agreements with the company that built the data storage system and another that made the smart cards, Than Than Nu said.
"We will call tenders again; it will not be finished within two years," she said.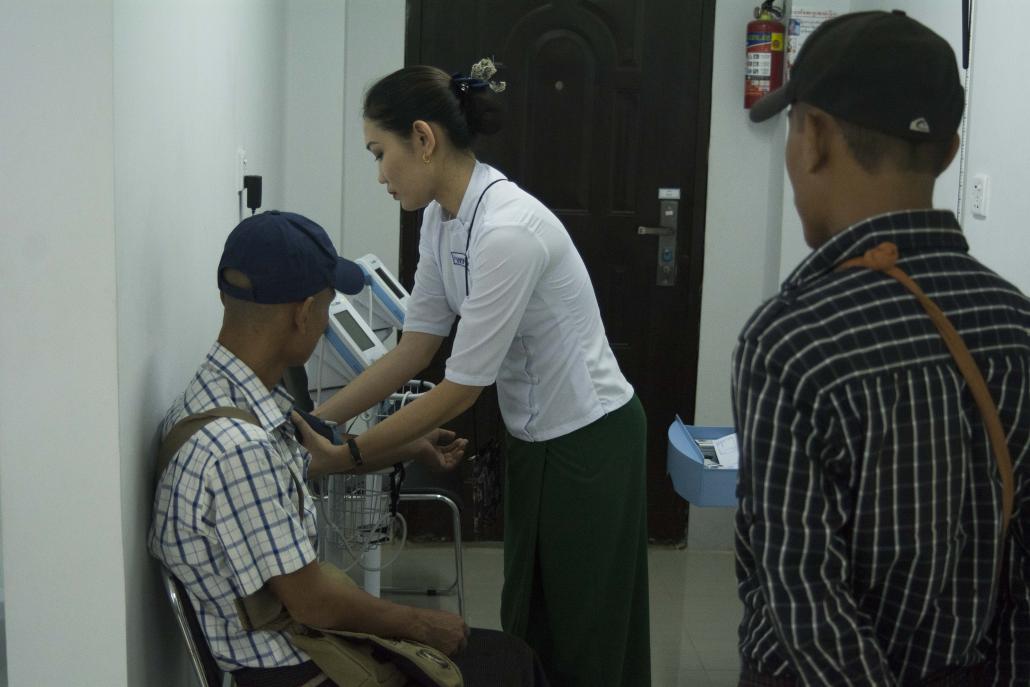 Yu Lwin Aung was critical of the SSB's performance, including delays in implementing changes under the 2012 law.
"The expense for medical care has risen seven to ten times since I was managing it," he said.
Yu Lwin Aung said the SSB's decision to sign a contract with only one company for medical services had resulted in higher costs in some cases.
He said the SSB, which had a significant income from contributions, would operate more effectively if it was privatised.
Than Than Nu acknowledged that upgrading the social security system faces many challenges but insisted there was no need to change the way the SSB operates.
"We are not ready to become an independent body," she said.