Economic turmoil and government measures to curb the coronavirus have dealt a cruel blow to workers in the informal sector, where layoffs go unrecorded and people out of work lack access to social security.
By KYAW LIN HTOON | FRONTIER
Myanmar's informal economy, which accounts for the vast majority of jobs in Myanmar, is reeling from the impact of the coronavirus pandemic.
Months of disruption has also shuttered dozens of garment factories and other businesses in the formal economy. But the tens of thousands of sacked or laid-off workers from the formal sector can draw some solace from the attention they are receiving from the government as it tries to cushion the economic blow from the COVID-19 pandemic with stimulus measures, as well as more routine assistance from the Social Security Fund.
However, it is a grim and anxious time for employers and workers in an informal sector that is neither taxed nor closely monitored by the government, and where jobs are being shed on a daily basis, largely out of the sight of government labour officers and the media.
On April 6, the government said it would offer a lifeline to those without income during a shutdown timed for the Thingyan traditional new year holiday, from April 10 to 19. The statement published in state media said that each household "from the basic strata of society without regular income" would receive food parcels containing rice, salt, cooking oil, lentils and onions. State and regional governments are charged with devising lists of eligible families and cooperate with businesses and charities to distribute the food.
However, eligibility will be subject to range of restrictions, which rule out anyone who runs a business, receives remittances from someone working abroad, or owns any livestock, among other things. Regardless, reaching the millions of informal sector workers, many of whom lack documents and live in slum settlements without recognised addresses, will be a serious challenge.
The Department of Labour estimated in its last Labour Force Survey, conducted in 2017, that 83 percent of Myanmar's workers, or about 18 million people, are in the informal sector. Despite their importance to the economy, Myanmar has yet to establish a system under which informal workers can benefit from participation in a social security scheme, and the low adoption of bank accounts make cash transfers to most workers difficult.
"Workers in the informal sector have to find another job the day after they are laid off or sacked because most of them have no savings and the government has no plan to provide for their social security," said Daw Phyo Sandar Soe, assistant general secretary of the Confederation of Trade Unions Myanmar.
'I just wish this pandemic would disappear soon'
When Frontier hailed a taxi in South Dagon on the afternoon of April 3, three vehicles vied for the fare. The lucky driver was U Htun Kyaw, 47, a father of two, who said Frontier was his first fare for the day.
"The weeks before Thingyan are usually one of the best times of the year for us to make money, but this year is like doomsday," Htun Kyaw said.
Taxi drivers in Yangon have been among the first to suffer from collapsing demand as the government advises people to stay at home.
This lifestyle change will become mandatory over Thingyan, when the Yangon Region government has ordered that residents who aren't involved in the COVID-19 response can only leave their homes to shop for food or get medical help, but taxi drivers are already seeing their livelihoods destroyed.
One consolation for taxi drivers and other motorists has been a slide in fuel prices to about K500 a litre for diesel, down from more than K900 a litre last December, driven by a global slump in the price of crude oil. The owners of some taxis who rent their vehicles to drivers have also eased the burden by reducing the daily rate. Htun Kyaw said the owner of his taxi had reduced the daily rent to K7,000 from K15,000. Even so, Htun Kyaw says his costs are higher than his earnings, making the job pointless.
"I'll hand this car back to the owner because, with no passengers, I've been paying the rental fees from [my savings] for the last week," Htun Kyaw said. "I just wish this pandemic would disappear soon."
But while the taxi trade is one of the most visible and obvious casualties of the pandemic, a collapse in demand for many other services is putting casual labourers on the brink of destitution.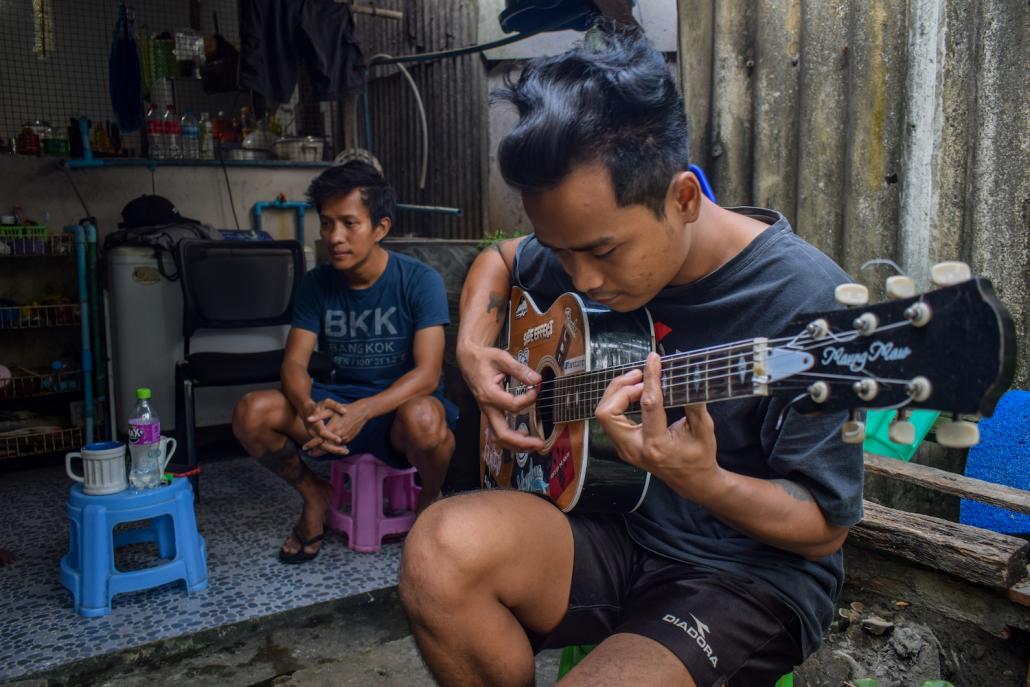 One is Ko Htay Lin, 23, who lives in Yangon's South Okkalapa Township and is part of a local air conditioner servicing crew that operates as an informal business without company registration. The crew's work is largely subcontracted to it by construction companies, and its membership is never stable, fluctuating between seven and 11 workers.
"Our crew mainly does new installations at construction sites. But for the last three weeks, this work has gone and my boss has had to cut shifts," Htay Lin told Frontier at his home on April 7. "Because construction projects are being suspended, I'm only doing a small amount of repair and cleaning work."
With the money he receives from each job, Htay Lin supports his mother and a younger sister, who is a high school student. With hardly any shifts and correspondingly little income, he doesn't know how he and his family will be able to cope if the situation continues in the coming months.
"I've been working here for three years," he said. "In normal times I could find another boss with the skills I have, but now all the aircon crews are suffering and I couldn't get another job with a different crew or at a service company.
"I don't have savings or any property to sell. I don't know how I'll even survive next month."
Quiet teashops, shuttered malls
The food and beverage sector is a major employer in Yangon, with the city's many beer stations, teashops and restaurants providing jobs for workers from right across the country.
These businesses, too, have been hard hit by COVID-19: first because of a lack of customers, as many people began following social distancing guidelines, and then by new regulations, after the government ordered restaurants and teashops to sell only take-away food until at least the end of April.
Frontier has observed that, even though enforcement is patchy, most have heeded the March 30 order and are no longer allowing dine-in customers, at significant financial cost.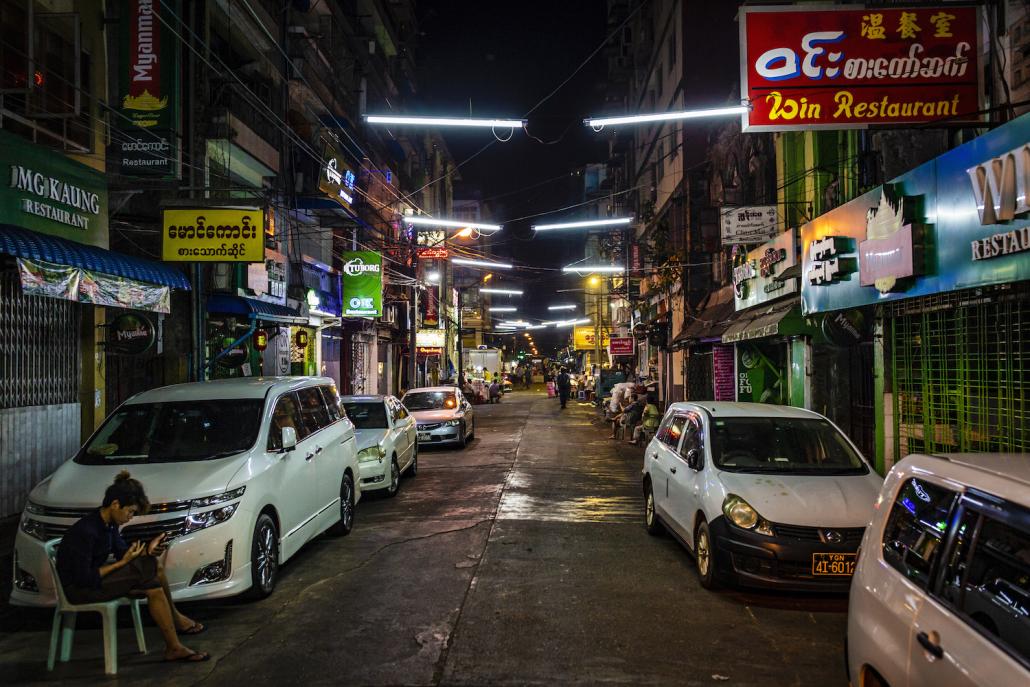 Among the big and usually crowded teashops in Yangon that have switched to selling take-away is a branch of the popular chain Mahar Yangon on Thirimingalar Road in Thingangyun Township.
Most teashops in the commercial capital have sent their workers, who are often under-aged migrants, to their home villages in other states and regions. However, Mahar Yangon on Thirimingalar Road has yet to lay off any of its staff, preferring to wait and see how the situation develops.
"We have 30 workers, but only two left voluntarily for their villages, in Bago Region," said Ma Zuu Zuu, 27, the floor manager at the teashop. "Although we have shifted to parcel [take-away] only service, we did not send them back to their homes or lay them off. If we let them return to their homes it is not safe for their health, and their guardians may have a low opinion of us for sending them back in such a situation."
The lowest paid employee at Mahar Yangon receives K80,000 a month, but workers are provided with basic accommodation and three meals a day. Similar arrangements apply at many other teashops in the city.
"Our teashop needs to make K250,000 a day to cover costs, but sales are very low and if this situation continues it will be really difficult," said Zuu Zuu.
But at least teashops can continue operating, if only to sell take-aways.
Township authorities across Yangon ordered large shopping centres to close until April 18 in the same series of directives at the end of March that mandated take-away only service at restaurants. The mall closures have affected the livelihoods of thousands of business owners and their employees.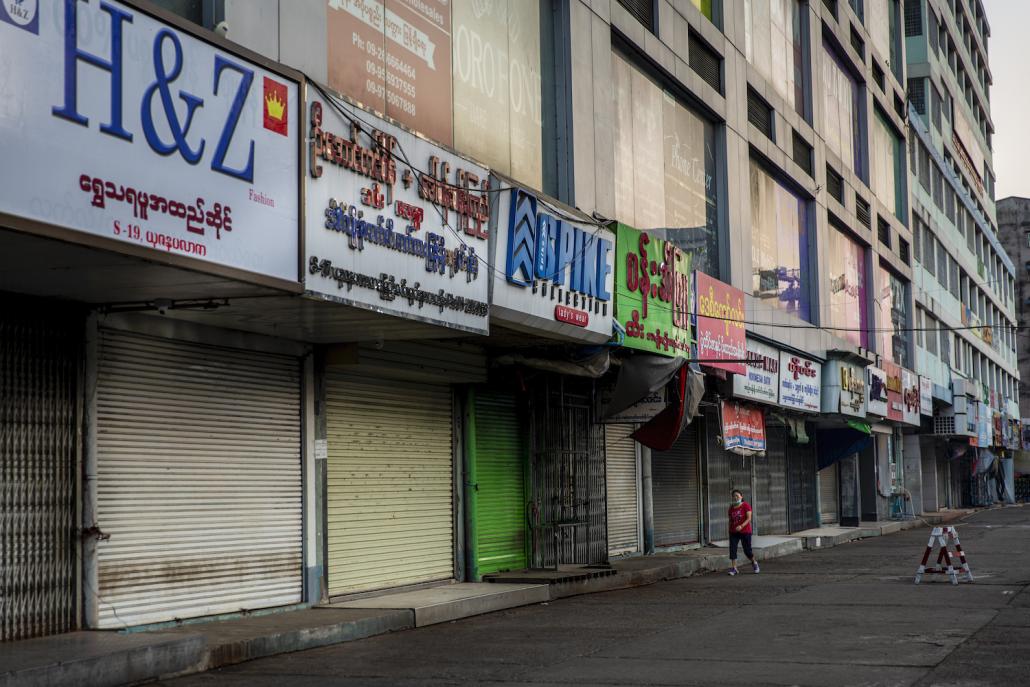 Yuzana Plaza in Mingalar Taung Nyunt Township sprawls over five floors and has more than 1,000 shops on its ground floor alone. The mall usually shuts for a week over Thingyan, starting on April 11 or 12, but heeded the government order to close on March 31, saying it would reopen at the earliest on April 18, when the ban expires.
However, not all business closures have been in response to government orders. Daw Ei Khaing Win, who runs the Shwe La Woon jewellery shop at Yuzana Plaza, decided to close her shop on March 24, the day after Myanmar announced its first two confirmed COVID-19 cases but a week before the mall officially closed. She said she did so because jewellers and their customers are often in close contact, and she wanted to prioritise her health and that of her staff over their shared livelihood.
"Our shop is riskier than other businesses because we are selling jewellery. At the shop we have only three workers – me, my sister and the sales girl – so we decided to be safe and closed," she told Frontier.
Ei Khaing Win, who has run the shop for nearly 20 years, said that uncertainty over how the global pandemic would affect Myanmar had made business-as-usual impossible anyhow. "We want to resume our business, but the situation is that the plaza can only reopen when the disease is under control," she said.
Ko Hein Htet, owner of the Yamin Eain garment shop at Yuzana Plaza, said the mall closure shortly before Thingyan – normally a peak sales period – had been a huge financial setback for him. "This is the best time for sales at my business and the plaza's closure because of COVID has hit me hard," he said.
His shop has four employees, two of whom have left for their home towns, and all have been paid for April. Hein Htet also has a part-time job at a floral decoration business owned by a friend, but with two events postponed because of COVID-19, he isn't making any extra money from it this month.
Despite needing to cover his losses, Hein Htet said he knew nothing about how to access finance from formal institutions, and would instead seek a loan from family members.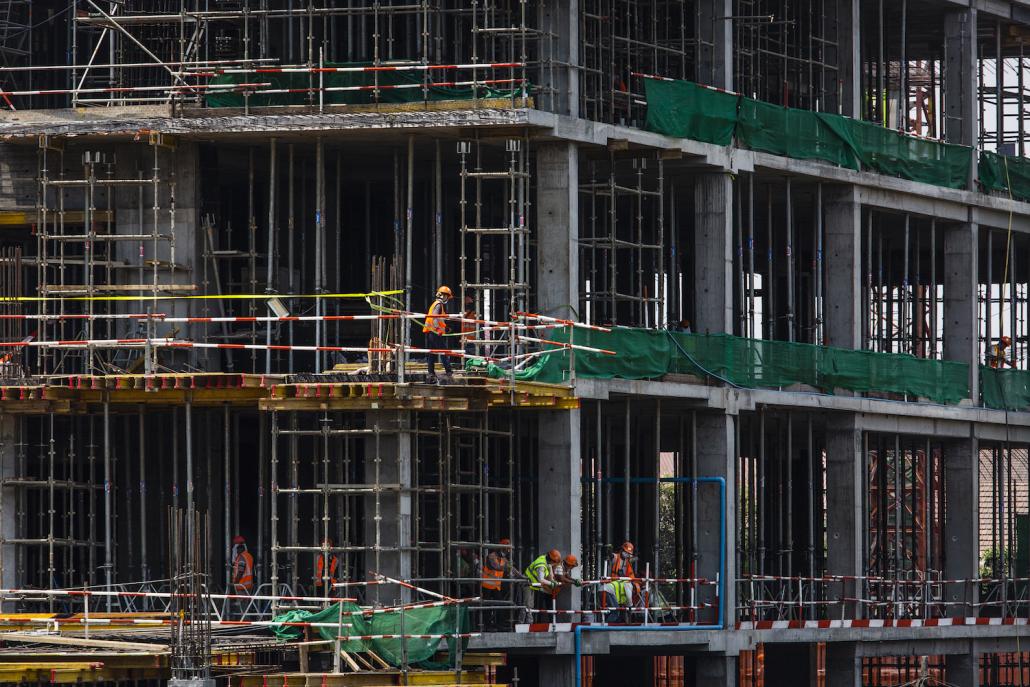 'Who is going to feed them?'
One of the biggest employers of informal labour is the construction sector, many of whose workers face an equally precarious future.
The Ministry of Health and Sports ordered in early April that there be no more than 50 workers at a construction site until COVID-19 has been brought under control.
However, Phyo Sandar Soe from the Confederation of Trade Unions Myanmar said some sites have more than 1,000 workers. With most of these workers being paid cash-in-hand, and never seeing a signed contract, there is no government social security scheme to help them when they are laid off.
Phyo Sandar Soe pointed to the example of Thailand, which has a universal social security scheme under which all workers are entitled to receive assistance, even if they are working in the informal sector. "As for the informal workers in Myanmar, who is going to feed them?" she said.
U Aung Myint Naing, chair of the Sanpya Construction Basic Labour Union, said Myanmar sub-contractors were largely doing what they could to continue paying site workers "but many of the workers are not being paid in full".
Aung Myint Naing, whose union is based in Hlaing Tharyar Township in outer western Yangon, said he was most concerned about 70 union members who were employed informally at building sites in Myawaddy, Mandalay and Lashio. The construction projects are being developed by Chinese contractors who have suspended work and returned home, meaning the workers' pay has stopped. They are staying in the area in the hope that the Chinese-managed projects will resume, and though most had been able to find work at smaller sites operated by local developers, their new employers are facing their own cash problems.
"My members are in real trouble because they have no money and cannot return to Yangon," he said. "If they decide to keep working at the smaller sites, payment is uncertain – they could even die of hunger if they do not receive any help."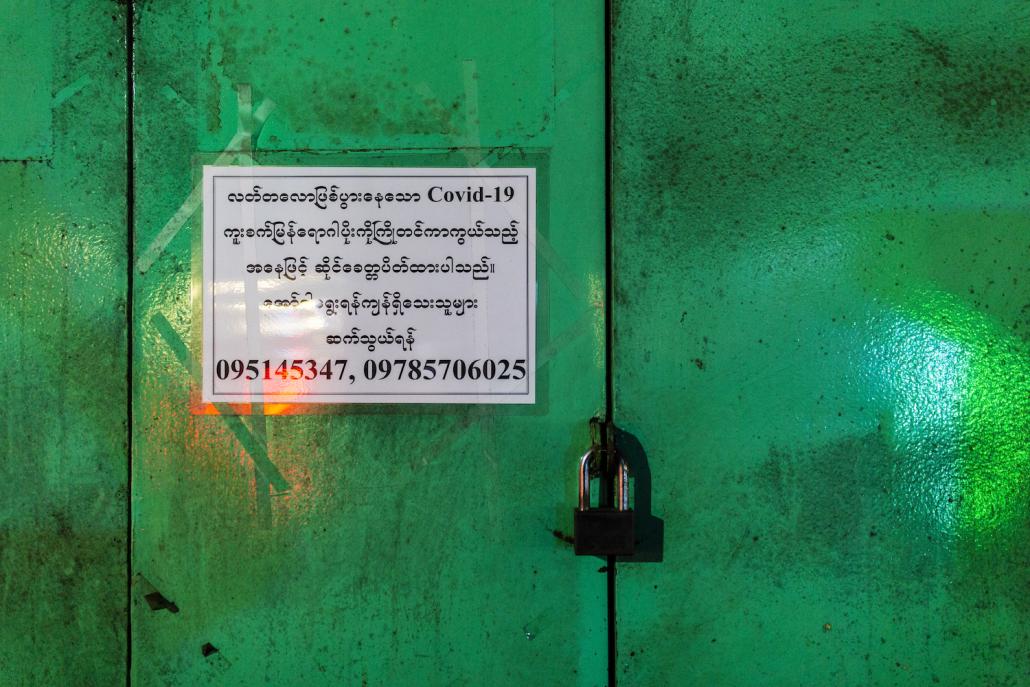 Aung Myint Naing said the best way for the government to help workers in the construction sector would be to provide them with basic food items, such as rice and edible oil. His wishes seemed to be answered when the government announced food packages on April 6, thought the strict eligibility criteria would likely disqualify many informal workers.
The CTUM's Phyo Sandar Soe said that although handouts were an unsophisticated form of support, they were necessary in Myanmar because the universal social welfare programmes seen in more advanced economies would take years to develop here.
The country has a limited tax intake and a bloated, inefficient administrative structure that struggles to track the real economy.
However, she said this was no excuse for the government not to invest in in creating an effective welfare state in advance of the next crisis, whatever the cause and whenever it might hit.
"The government must prepare for the future so we don't face another situation where informal labourers have no social security during a pandemic or other disaster," she said. "This experience has been a big lesson for our country. After COVID-19, the government needs to think hard about the informal sector."
TOP PHOTO: Shuttered shops at the five-storey Yuzana Plaza, which has more than 1,000 stores on its ground floor alone. The government ordered shopping malls to close in late March as part of its COVID-19 prevention measures. (Hkun Lat | Frontier)