Some factory owners have been accused of exploiting and failing to protect their employees during the latest COVID-19 outbreak, and with unions lying low since the coup, workers are unable to seek redress.
By FRONTIER
Ko Aung Min Thein began suffering from a headache and muscle aches in the second week of July, and three days later he lost his sense of smell. It was around this time that he began to notice that many of his coworkers at an instant noodle factory in Yangon also had COVID-19 symptoms.
"A colleague who worked beside me became ill first and a few days later I developed the same symptoms. When I told my supervisor that I had lost my sense of smell, she told me not to come to work for two weeks," said Aung Min Thein, who asked that his real name not be used.
The 34-year-old, one of more than 500 employees at the factory in Yangon's heavily industrialised Hlaing Tharyar Township, lives at home with his parents and three siblings. Although he self-isolated in his room, it didn't prevent the virus from spreading to his family members. Four days after he became ill, Aung Min Thein's 67-year-old father developed COVID-19 symptoms too.
"The whole family became infected except for my mother. My siblings and I didn't suffer too much, but my father nearly died – we were lucky to save him. His oxygen level dropped to under 80 percent," Aung Min Thein said.
The family spent more than K1 million on supplemental oxygen for Aung Min Thein's father, as well as a large sum on medicine and medical equipment.
"My father is still suffering the consequences of COVID-19. Even though we saved my dad, my siblings blame me because I am the one who brought the virus. I don't dare to think what would happen to me if our father had died," he said in a voice tinged with emotion.
Workers lose out
The blame from his family was bad enough, but Aung Min Thein also feels let down by his employer. After following his supervisor's instructions to stay away from work for two weeks, Aung Min Thein was only paid for the 16 days he worked in July, and took home K76,800 – barely one third of his usual monthly salary of around K220,000.
Myanmar labour laws allows employees up to 30 days of paid medical leave if they can show a medical certificate, but Aung Min Thein's employers simply marked him as absent for the days he was sick with COVID-19.
"I rested at home for two weeks because my supervisor told me not to come to work. But I lost 14 days' pay, overtime and an attendance bonus," he said.
Factory workers are paid the minimum daily wage of K4,800, as well as overtime and a bonus of about K20,000 if they do not take leave during the month. A worker who takes even one day of leave forfeits the bonus and overtime.
Aung Min Thein said dozens of workers at his instant noodle factory had the same experience, but no one was willing to complain.
"There are many people hunting for jobs at the moment. Even if factory owners offered to pay a penny a day, few people would refuse. In this situation, no one wants to complain to management about salary cuts. If we are sacked, there is nothing we can do to fight back," he told Frontier.
Frontier was unable to find figures on the number of factory workers infected with COVID-19, but with over 6,600 factories in Yangon alone, it is believed to be significant.
Workers and labour rights activists say employers have also not been doing enough to prevent the spread of the virus.
Ma Ei Ei Win, 37, who is one of more than 8,000 employers at the Chang Yi footwear factory in Hlaing Tharyar that makes footwear for Adidas, a major global brand, said the factory was claiming to have no workers infected with COVID-19 when that was not true.
"Our factory closed from July 17 to July 31, and during that time I heard that many workers were sick and one with a high fever had died. There are still workers taking sick leave because they have COVID-19," said Ei Ei Win, who asked to be identified by a pseudonym.
She said the factory had taken some precautions, such as providing face masks and hand sanitiser, and had instructed workers to stay home if they were sick or lost their sense of smell. But it is impossible for employees to maintain social distancing in the factory because of the lack of space, Ei Ei Win said. She was also critical of the company for not offering rapid COVID-19 tests, which she thinks would have been more effective at keeping the virus at bay.
"We work about one foot apart and when we eat lunch we have no glass dividing panels on the tables to keep us separate. This resulted in at least five or six people becoming infected in every group of between 30 and 40 workers," she said.
Labour activist Ma Nwet Yi Win said some factory owners in Yangon industrial zones, such as those at Hlaing Tharyar or Shwepyithar, have taken advantage of the lack of monitoring since the February 1 coup. She also said that factories were better able to prevent the spread of the first and second waves of COVID-19 under the management of the National League for Democracy government.
"The NLD government permitted factories to open during the second wave but only after checks to ensure they had implemented COVID-19 prevention measures. No one is inspecting factories now. Factory owners are happy when they are ignored by the government," she said.
During the first and second waves, if one COVID-19 case was detected at a factory it was required to close immediately, all close contacts of the positive case were put under quarantine and healthcare workers swabbed and tested other members of the workforce.
Now, factories do not care if positive cases are detected among workers, the workers Frontier interviewed said.
Noodle factory worker Aung Min Thein said tests at his workplace in early August detected four people with COVID-19.
"Those workers were sent home to rest, but the factory continued operating," he said. "No one complains, because we workers are the ones who lose money if the factory closes."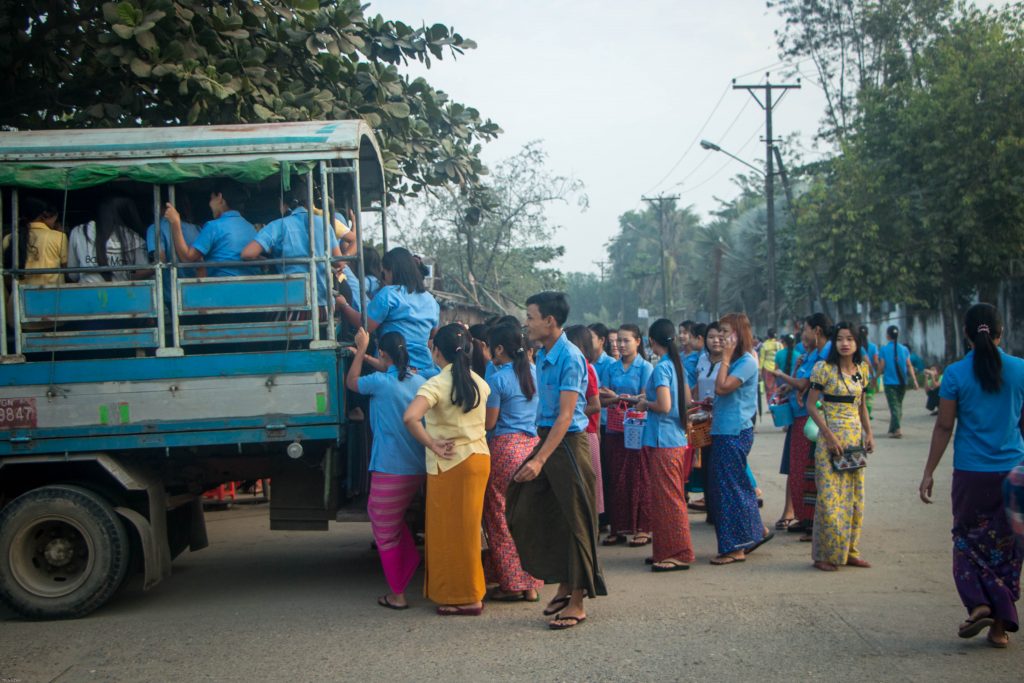 'No place for workers to complain'
Labour leaders told Frontier that employers were able to act with impunity because workers were not only desperate to keep their jobs, but also felt there was no one they could turn to for help.
Union leaders and labour rights activists led some of the first protests against the coup in Yangon and have continued to be important figures in the resistance to military rule. As a result, they have become targets for the regime, with at least 20arrested since the coup.
A former labour union leader at the Tai Yi shoe factory in Hlaing Tharyar, which closed after the coup, said labour activists and unions had been forced to adopt a low profile, and workers could no longer pursue grievances as they had under the NLD government.
"We have to hide from the military and workers are having to stay quiet as they dare not resist the wishes of employers," he said.
Nwet Yi Win agreed, saying there was now "no place for workers to complain". With no unions and union leaders present to advocate for workers when they submit a complaint to a labour tribunal, employers can ensure that any case that is opened is decided in the employers' favor, she said.
Employers have used the coup to their advantage, Nwet Yi Win added, citing as an example instances where they had arranged for soldiers to be present when they paid compensation for factory closures.
"If the workers discover they have not been paid in full or are victims of breaches of labour laws, they cannot complain with soldiers nearby. The workers have lost all their rights; they have nothing more to lose," she said.
The International Labour Organization liaison office in Myanmar said that it was monitoring the situation. The office maintains close contact with organisations that represent employers and workers and regularly receives updates on the situation facing workers during the third wave, Ms Anne Boyd, the ILO spokesperson in Yangon, told Frontier on August 26.
"The third wave of COVID-19 is more devastating and widespread in Myanmar than the two previous waves. It has resulted in the loss of lives, loss of jobs, reduced working hours, lack of job security, health risks, and ultimately the loss of livelihoods of many people," Boyd said.
Asked if the ILO could provide information about complaints from workers who claim their labour rights have been abused by employers during the third wave, Boyd said, "Our office does not as a matter of practice directly intervene in individual industrial disputes between two parties."
However, she did express concern over the arrest, intimidation, threats and violence against trade unionists since the coup, as well as the junta's February 26 declaration that 16 labour organisations were illegal on the basis that they were not registered under the existing Labour Organization Law.
The desperation of sole breadwinners
A combination of the February 1 military coup and COVID-19 have deeply affected Myanmar's economy, with the World Bank forecasting an 18pc contraction this financial year, which ends on September 30. Low-income households have borne the brunt of the economic crisis, with the World Bank warning that poverty levels could double by early next year, compared to 2019 levels.
The International Labor Organization estimated in a report issued in July that employment in Myanmar contracted by 6pc in the second quarter of 2021 over the fourth quarter of 2020, representing 1.2 million job losses. Additionally, the ILO estimated that 14pc of working hours were lost in the first half of 2021, equivalent to the working time of at least 2.2 million full-time workers.
It said all sectors of the economy had been affected, with construction, the garment industry, and tourism and hospitality the hardest hit, both in terms of working hours and job losses. Women were disproportionately affected as they made up the majority of the workforce in these industries.
Job shortages have created a situation where some feel they have no choice but to keep working despite the risk of contracting COVID-19, especially if they are the only breadwinner in their family.
Labour activist Nwet Yi Win said the fear of losing pay if they were sick meant that many workers had no intention of taking leave if they developed COVID-19 symptoms. "If they lose their sense of smell, they don't tell anyone and go to work as normal, but it makes the infection rate worse," she said.
Ma Aye Aye Mar, 40, who works at a garment factory in Shwepyithar Township, told Frontier that she would not want to take leave if she caught COVID-19 because she has to support three young daughters and an elderly father.
"I am the only one who earns money in my family and my salary is about K180,000 a month. I cannot afford to lose even one day's pay because it is already difficult to make ends meet," said Aye Aye Mar, who asked not to use her real name for fear of reprisal.
The past year has been difficult for Aye Aye Mar. In 2020, her husband left her for another woman, and when her factory closed temporarily after the coup she had to borrow from a money lender at usurious rates.
"I have to pay K45,000 interest on my K300,000 loan every month, and rent for my house is K55,000. My daily spending limit for the whole family is K2,500. If I take leave, I cannot cover these costs. Even thinking about taking leave makes me feel exhausted," she said.
Aye Aye Mar worries that she will become infected with COVID-19, because many workers at her factory are sick.
"Sometimes I feel depressed. Even if I get headache or lose my appetite, I get very worried. If I cannot work, my family will be in trouble," she said.