Women in the private sector face an anguished decision when they have children: abandon their jobs, or risk social disapproval and continue working.
By KYAW PHONE KYAW | FRONTIER
ALMOST EVERY married woman in Myanmar is described as a "dependent" on her Citizenship Scrutiny Card, their most important identification document. Wives are also usually given "dependent" status on their household registration documents and other official papers. "Dependent" means that they rely on the earnings of their husband or family, have little or no income, and perform household chores.
For many women, the status as a "dependent" on official papers is an indication of personal sacrifice.
But it's often an unwilling sacrifice – one made due to social and family pressures, inflexible labour laws and employers, and a lack of professional childcare services.
When a woman in Myanmar has children – sometimes under pressure from her husband or family – it usually means the end of any hope she might have of keeping her job.
Even if a husband would like his wife to continue working after having children, for many families it is impractical. As a result, there are few working mothers in Myanmar's private sector.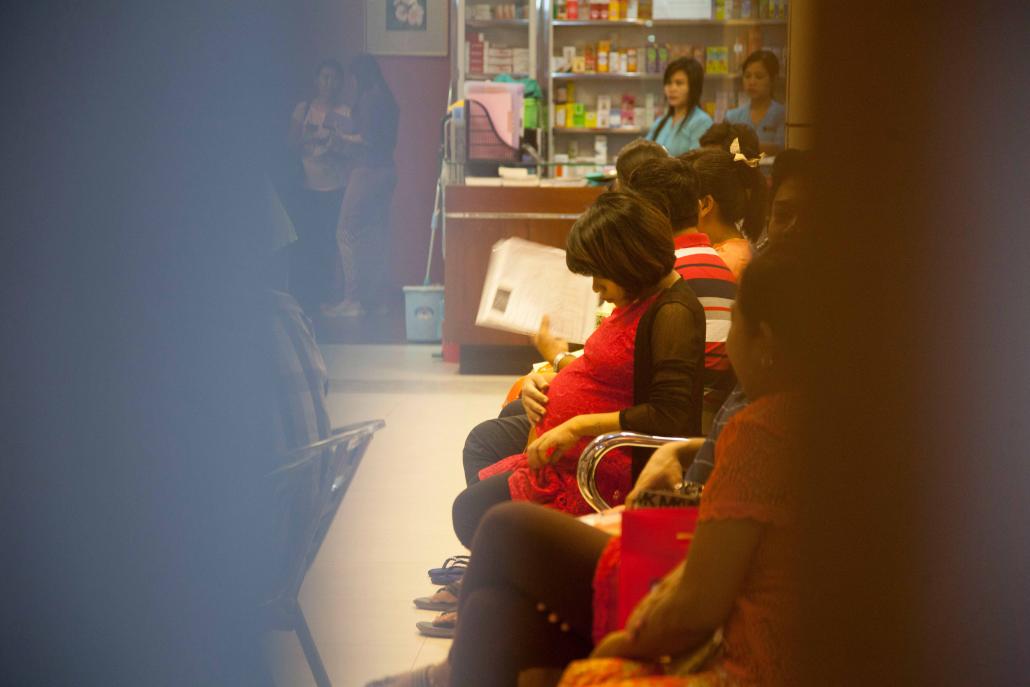 Daw Ohnmar Zaw, 41, had to sacrifice her career hopes because she dearly wanted to have children. A marine scientist, she worked in the private sector as an agricultural consultant and a laboratory technician, but quit her job when her son was born 11 years ago.
"I wanted the child so much and planned to keep working after giving birth. But after I gave birth to my son I realised that I could not return to my professional life again and I cried," she said.
"My tears fall down automatically whenever I see my friends [who have continued their careers]. My husband is a good man and has no gender discrimination. It was an awful situation for me."
Daw Aye Thada Hla, communications coordinator for the Gender Equality Network, said that although many women gave up their careers when they decided to have children, those who chose to become working mothers bore a double burden.
"In children's textbooks, women are shown as housewives and men are described as professionals. The stereotypes and customs are rooted in the assumption that women take care of their babies," she said.
Some policy changes to support mothers have already been implemented. Changes to the Civil Service Law enacted under the previous government in March 2014 doubled the maternity leave for public servants, to six months.
Changes to the 1951 Factories Act that took effect in January were also an ostensible step forward in supporting women who want to keep working after they become mothers. The amendment requires the owners of factories employing more than 100 women with children aged under five to establish child day-care centres with the assistance of the Ministry of Relief, Resettlement and Social Welfare.
However, few private companies have followed the example set by the government for its employees. Most provide the minimum 14 weeks – six before the due date, and eight after – as required in the Factories Act and Social Security Law, which was enacted in 2012.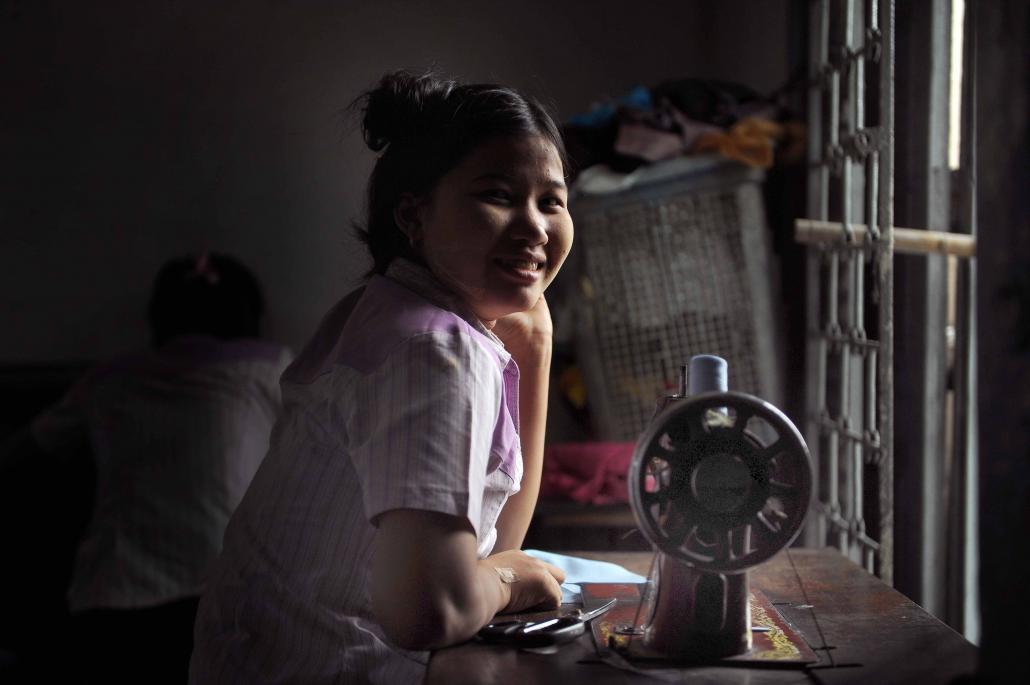 An exception is Telenor, which on January 1 this year introduced six months' maternity leave for its employees worldwide. Women comprise 40 percent of Telenor's employees in Myanmar.
Aye Thada Hla said the government needed to make a bigger effort to enforce laws aimed at supporting working mothers. It also needed to work with civil society groups and stakeholders to change negative attitudes in society towards women who want to have children and retain their jobs. Removing the "dependent" designation on Citizenship Scrutiny Cards would be a good start.
"In society, the fathers need to give up the concept that it is the role of women to care for children, not men," Aye Thada Hla said.
Ma Hsu Myat Mon, lead producer at BBC Media Action, did not want to relinquish her job when her son was born, so she placed him in the care of her parents in Monywa, about 730 kilometres (451 miles) from her Yangon home.
Her son was born in the Sagaing Region city. She cared for him for three-and-a-half months before returning to her job.
"It broke my heart," she told Frontier. "My parents are elderly and they are caring for my son in the old ways; I see some behaviour in my son that I do not like, but I have no choice."
Her husband, Ko Myo Min Oo, a reporter for DVB, said it distresses him to see photos and videos of their son. "Whenever I see them, I feel bad," he said.
They try to visit as often as possible, but the round-trip costs nearly US$200 (about K242,000), Hsu Myat Mon said.
They want to be reunited with their son, but that's not possible when they are both working. Myo Min Oo agreed that women faced many difficulties if they wanted to have children in a relationship where both parents wanted to keep working.
He said one of the reasons why he left his son with his parents-in-law in Monywa was because he felt uneasy about child-care centres, and professional caregivers were hard to find. Most are from outside Yangon and expect to live-in, but not all families have the space for an extra adult.
"Apartments in Yangon are often too small to accommodate an extra caregiver to take care of the child," he said.
Women's rights activist Ma Cheery Zahau said that although the government had changed the law to support women who wanted to keep working, there appeared to be little evidence of enforcement.
"The former government was male-dominated and the new government led by Daw Aung San Suu Kyi is also male-dominated, except for her. Awareness of gender issues is still lacking in political society," she said.
Cheery Zahau said a failure by the private sector to accommodate the needs of working mothers could act as handbrake on economic growth. "Private companies should think about the consequences of losing good workers," she said.
Ma Phyu Phyu Zin gave up her career as a journalist when she had her first child. Now a mother of two children, she works as an information and communications officer at the Myanmar Centre for Responsible Business and her mother-in-law looks after her children during the day.
She told Frontier she believed the private sector should also provide for fathers to care for children full-time. Prior to 2012, the law did not provide for paternity leave. Under the Social Security Law enacted that year, fathers are entitled to 15 days paid leave.
"Paternity leave is something that deserves consideration," she said.
Phyu Phyu Zin said that if her husband had been able to take extended paternity leave, she might not have had to give up her career as a journalist.
"Whenever I see my friends' bylines on newspaper stories, when they cover big events such as the 21st Century Panglong peace conference, I feel very sorry for myself," she said.
Ohnmar Zaw said she had hoped to eventually return to her career as a marine scientist after her son was born but she gave up on the idea because of a lack of safe childcare options.
"I couldn't leave my child with others, so I had to give up my career," she said. "I don't believe that women are inferior to men and my husband did not push me to take care of our child but I gave up my career because that's the custom; in fact, there is no other way."
Top photo: A pregnant woman waits at a private health clinic in Yangon on September 9. (Theint Mon Soe — J / Frontier)