High-ranking government officials may be the first to benefit from a scheme by the Nay Pyi Taw municipal government to develop housing plots for sale at below-market prices.
By NANDA and YE MON | FRONTIER
IN AN up-scale part of Nay Pyi Taw's Ottarathiri Township – not far from the residences of former military generals and government ministers – municipal staff are hard at work.
Using heavy machinery, they are clearing about 100 acres of scrubland in Nyarna Dipa Ward for new residential plots in what the authorities say is a scheme to make new land available to the public and increase the capital's population. The committee intends to sell plots at below-market prices based on their size.
For now, though, the work seems focused on creating plots for officials in the National League for Democracy administration, residents and officials told Frontier during a visit to Nay Pyi Taw in October.
These will be sold at even cheaper prices, and have apparently been reserved for ministers, deputy ministers, director generals and members of Union-level organisations, such as the Union Election Commission and Anti-Corruption Commission. Most officials were reluctant to speak on the record about the project because of its perceived sensitivity.
"It is well understood by everyone around here that the land being excavated is for Union-level officials after they retire," said a nearby resident as he watched the workers. He was one of at least 10 people living in the area who say the land being excavated has been earmarked for Union-level officials.
Sources who requested anonymity told Frontier that the Nay Pyi Taw Development Committee (NPTDC) plans to sell empty 20,000 square foot plots to government officials for K5 million. Plots for the president and the state counsellor would be larger and more expensive than those for Union ministers.
Real estate sources said the market price for a 10,000 square foot plot near the area was around K80 million and further south near Junction Centre the price is a bit higher, at K100 million. A K15,000 square foot plot with a house would fetch around K250 million, they said.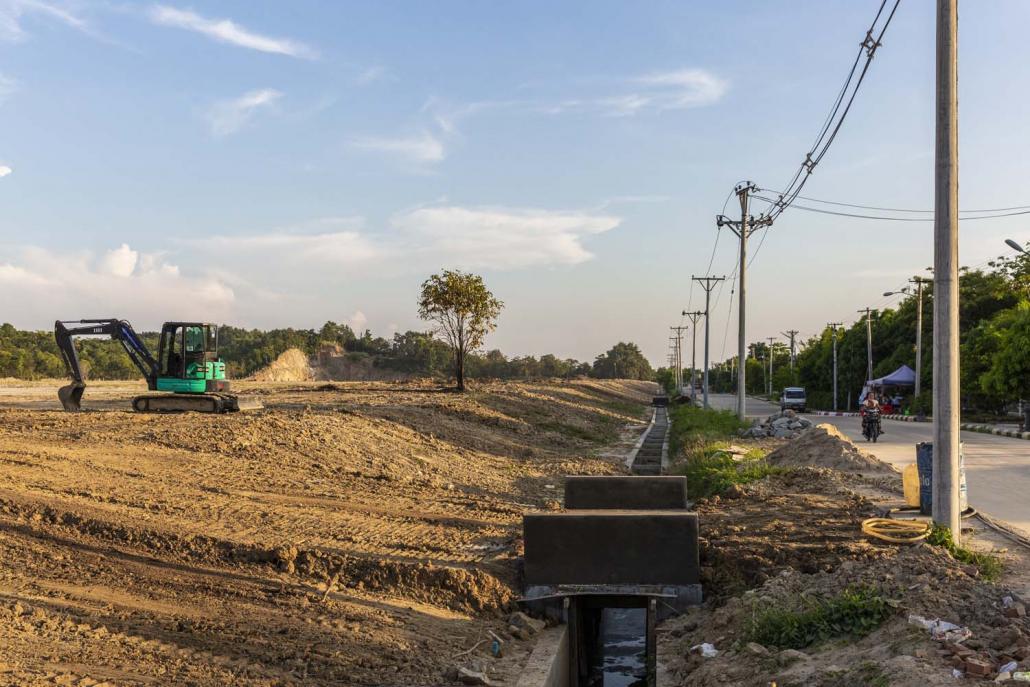 Affordable land, absentee landlords
When Frontier sought information about the work from the municipal official in charge of the project, he directed questions to senior NPTDC officials.
Asked about the housing scheme, deputy mayor U Ye Min Oo confirmed that work was underway in Nyarna Dipa Ward on a housing estate for senior government officials.
He said it was part of a broader plan to make land available to the public in Nay Pyi Taw and enable the city's population to grow. Preparation work was being undertaken at four sites across the capital, Ye Min Oo said, although he declined to give the locations and Frontier observed construction work only in Nyarna Dipa Ward.
Ye Min Oo, who is also a member of the NLD Economic Committee and chairs Nay Pyi Taw Sibin Bank, said that shortly after he became deputy mayor in late June, he launched a survey to study the Nay Pyi Taw housing market. He was curious why the population of the city was so low when there were so many houses.
The survey found that of the 6,000-plus private houses in the five urban townships that NPTDC manages, about 5,000 are empty – they are owned by absentee landlords and have no tenants. Making empty plots available at discounted prices could help attract people who really want to live in the city, Ye Min Oo said.
Under government regulations, the preparation of the land is the responsibility of the NPTDC and decisions about its sale will rest with the President's Office.
On November 18, NPTDC announced it would sell 197 empty plots of 6,400 square feet in Dekkhinathiri Township for K25 million (US$16,500), around K10 million below the usual price for the area. The committee said it would accept applications from December 1 to 31.
Ye Min Oo said NPTDC would allow individuals to purchase one plot only and they would have to commit to living in Nay Pyi Taw.
"People can buy plots under the hire purchase system from any bank. They can also apply for a home loan from Nay Pyi Taw Sibin Bank," he said.
Nay Pyi Taw Sibin Bank requires borrowers to make a 30 percent downpayment, with the rest to be paid off over a period of up to 10 years.
The announcement also said that the committee would confiscate the plot if the owner did not construct a fence within six months or build a house within one year. Owners have to get approval from NPTDC's Engineering Department (Building) for the construction of fences and homes. Once the house is completed, NPTDC will give the owner a land grant.
The President's Office and the NPTDC have not yet announced anything officially about the sale of land for Union-level officials, however.
Frontier tried unsuccessfully to contact several ministers and deputy ministers about the plan. One official from a Union-level organisation whose position is the equivalent of a deputy minister, making them potentially eligible to buy discounted land in the capital, told Frontier on condition of anonymity that they were unaware of the NPTDC plan.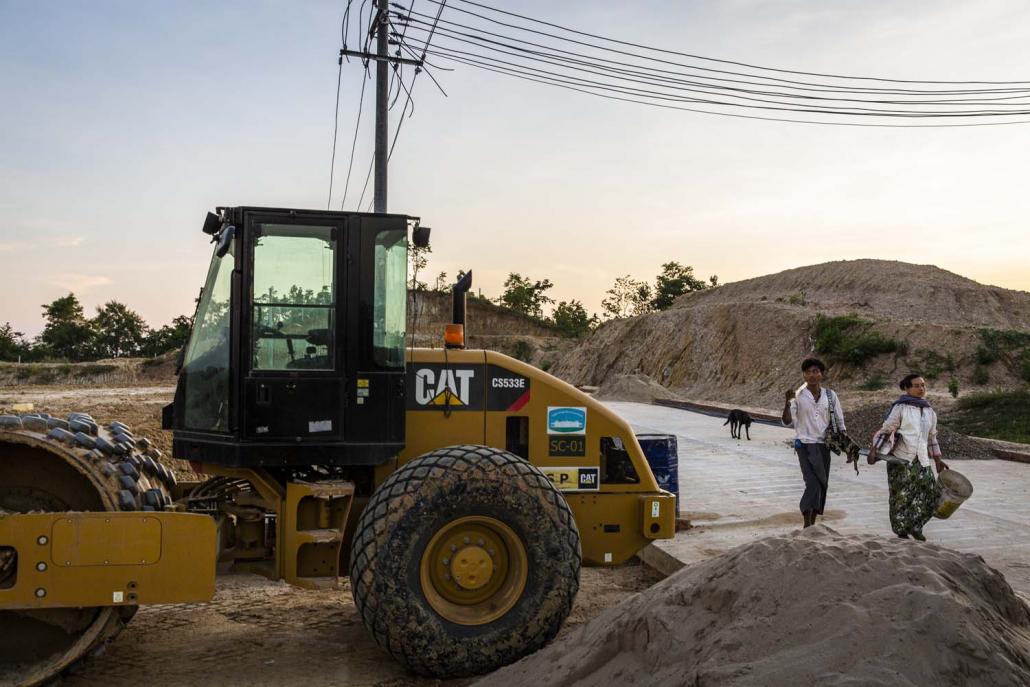 A rich tradition
The development of land at Nay Pyi Taw for use by Union-level officials is nothing new and has been taking place since the military regime under Senior General Than Shwe was building the new capital.
Six grand homes known as "Chauk Lone Tan" are inhabited by the men who held the most senior positions in the military regime: Than Shwe, Thein Sein, U Maung Aye, U Shwe Mann, U Tin Aung Myint Oo and U Tin Aye. Thein Sein also has a farm nearby known as Lehtaw House, where he often hosted meetings during his presidency. Than Shwe also developed land and residences for ministers and deputy ministers who served in the military government.
The Thein Sein government continued the tradition, but instead of selling land and residences he made empty compounds available. U Ye Htut, who was information minister in the Thein Sein administration, said that ministers could buy 20,000 square foot plots for K3 million, while 15,000 square foot plots were sold to deputy ministers for K2 million.
Close to these compounds, which are known as Yarza Theingaha residences, are the homes of former directors-general, who were able to buy 10,000 square foot plots for K1 million, he said.
Ye Htut said the land sold under the Thein Sein government had been prepared for sale by the military regime, so there had been no need to request a budget from the Pyidaungsu Hluttaw for the housing project.
If the NLD government was undertaking a new housing scheme with state funds, it would be required to seek approval from the Pyidaungsu Hluttaw, he said.
"The hluttaw should inspect the project [to prepare land for ministerial residences] to determine whether or not it conforms with the rules and regulations," he told Frontier.
Former Pyithu Hluttaw MP U Ye Tun, who represented Hsipaw for the Shan Nationalities Democratic Party from 2011 to 2016, told Frontier that the Thein Sein government had not advised the hluttaw on the sale of land, and lawmakers were unaware if Union-level officials had the opportunity of buying land at cheap prices.
He said he was "surprised" that the NLD government was following in the footsteps of previous administrations.
"There should be no privileges for the NLD government," he said.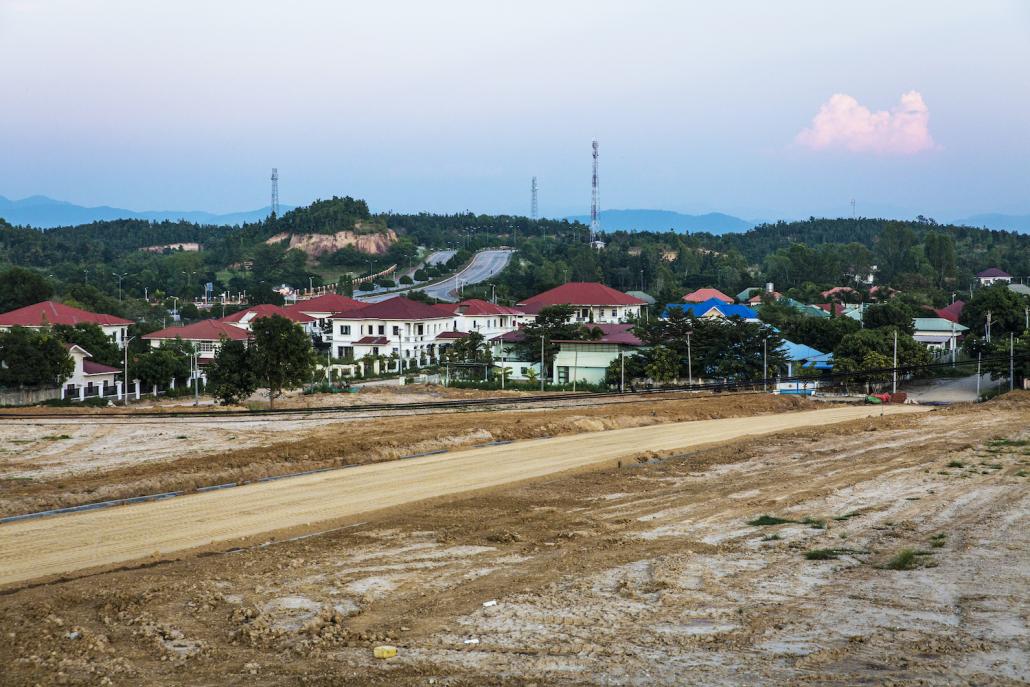 The Lady's forest
Meanwhile, close to where NPTDC workers are using heavy machinery to prepare the area for residential development, State Counsellor Daw Aung San Suu Kyi is planning a development of a different kind.
She has spent K650 million of her own money to buy 90 acres (about 36.4 hectares, or 3.9 million square feet) from NPTDC. A senior NPTDC official, who requested anonymity to avoid repercussions, said a land grant had already been issued for the site, and it would be entrusted to the Daw Khin Kyi Foundation, a charity named after her mother.
The land is near the Ocean Supermarket in Ottarathiri Township and the foundation has employed locals and trained them in landscaping and horticulture to make the site more attractive. Frontier has learned that workers are building a road to provide a link between the foundation's site and the nearest main thoroughfare, while workers are also toiling on a drainage system. Several sources told Frontier that Aung San Suu Kyi visits the site often to check on the progress of the project.
An employee of the Daw Khin Kyi Foundation, which is based in Yangon, told Frontier on November 12 that it expects work on the project to be finished next year. The buildings on the site will include the foundation's third training school, after those at Popa in Mandalay Region and in Yangon Region's Kawhmu Township, the constituency that Aung San Suu Kyi won in a by-election on April 1, 2012, that launched her parliamentary career.
The NPTDC official told Frontier that the state counsellor wants to name the Nay Pyi Taw site "La Yaung Taw", in honour of her great-grandfather, La Yaung, who is famous for having fought against the British. "Taw" means forest in Burmese.
TOP PHOTO: Hkun Lat | Frontier