For the third installment in our travel series focused on wild swimming spots, we venture into the Ayeyarwady Delta to discover floating villages, river islands and a "beach" that comes to life at festival time.
By DOMINIC HORNER | FRONTIER
This series has so far has focused on the country's mountainous periphery, but for this month we've chosen somewhere within spitting distance of Yangon: Maubin in Ayeyarwady Region.
About 90 minutes west of Yangon on the bank of the Myitmaka River, Maubin is one of the larger towns in the Ayeyarwady Delta but in truth there's very little within the city to keep you entertained. The surrounding countryside, on the other hand – well, that's another story.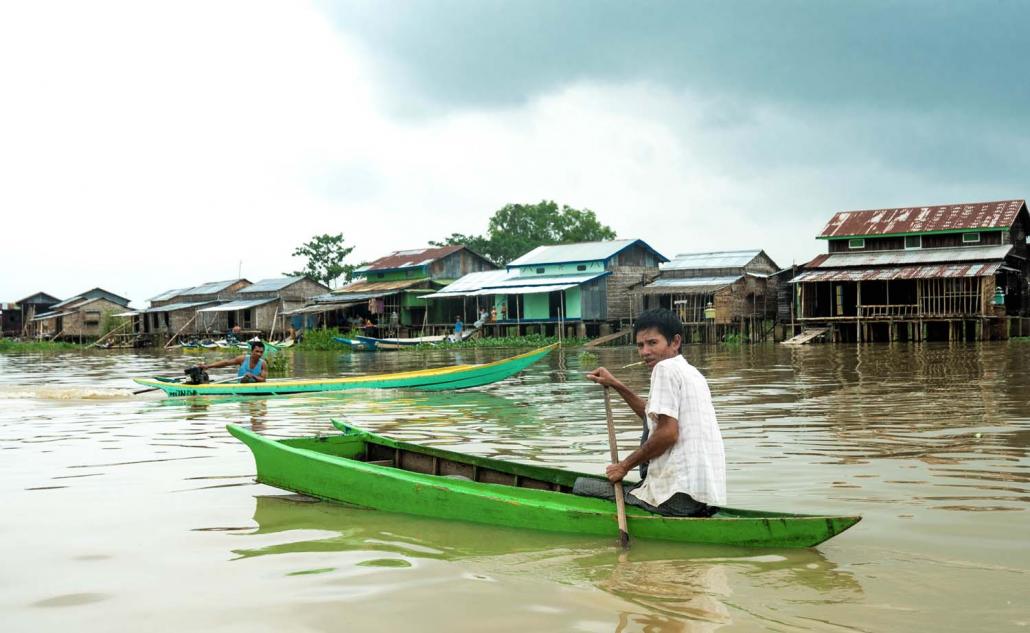 Dae Thin Yay Kyaw Floating Village and Water Fields
The water fields encompass an area so insanely huge, so ridiculously vast, that at one point I considered making them a stand-alone installment of this series. You could say that the water fields are sandwiched between Maubin and neighbouring Twante. But in sandwich terms, it would mean all the meat from the family barbecue has been stuffed between two low-fat rice crackers. So yeah, the scale is massive.
At the heart of the fields you'll find the floating village of Dae Thin Yay Kyaw. Visiting for the first time is a genuinely jaw-dropping experience and a reminder that you don't have to travel far from Yangon to find yourself in a completely different world. There are no roads, so no cars, motorbikes, or even bicycles: just the river, stilted houses and water for as far as you can see. This place has the potential to become much better known in the coming years.
Most of the water fields are used for fish farming or other agricultural purposes. As a result, I warn against swimming whenever and wherever you please. Instead, do what we did: just ask the farmers. They'll probably say yes and there's a good chance they'll join you.
Entry point: 16.983682, 95.700356
Dae Thin Yay Kyaw: 16.926401, 95.709330
Myitmaka River/Maubin Beach
Before you cross the bridge into Maubin (entering from the north) follow the dirt road on the right to Ta Lote Lat East village and you'll find yourself at "Maubin Beach". It's a small sandbank on the river that gets converted into a mini-resort on public holidays. You won't find anything there unless you turn up at Thingyan or some other festival but as an easy access river swim it more than cuts the mustard. The current is weak, the water is surprisingly clean and by late afternoon the waters recede to the point where you can wade across to the adjacent sandbank.
16.983662,95.700148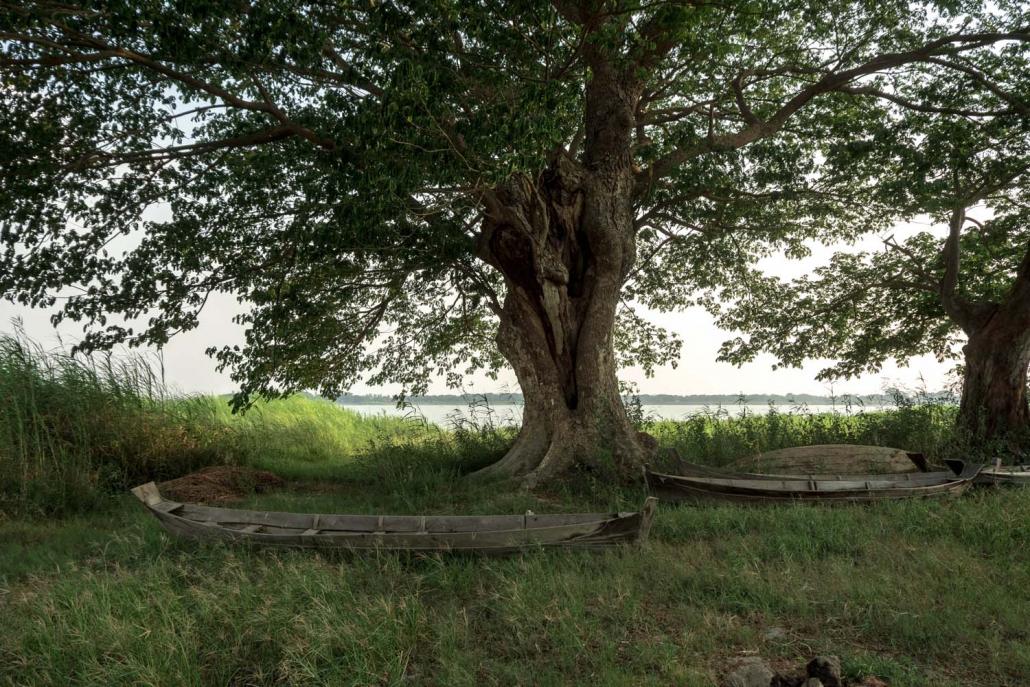 Sit Chaung Lake
As the crow flies Sit Chaung is just a stone's throw from Maubin. Good news for the crows but for the rest of us once you're off the main highway the road goes from bad to worse to weapons-grade terrible. Allow for around 80 minutes if you're taking a car and a little less on a motorbike. But good things often lie at the end of crappy roads and Sit Chaung is a gem. It's a beautiful shallow lake surrounded by corn and chilli farms and populated with little wooden fishing boats. A fun day out.
Sit Chaung village: 16.820112, 95.590220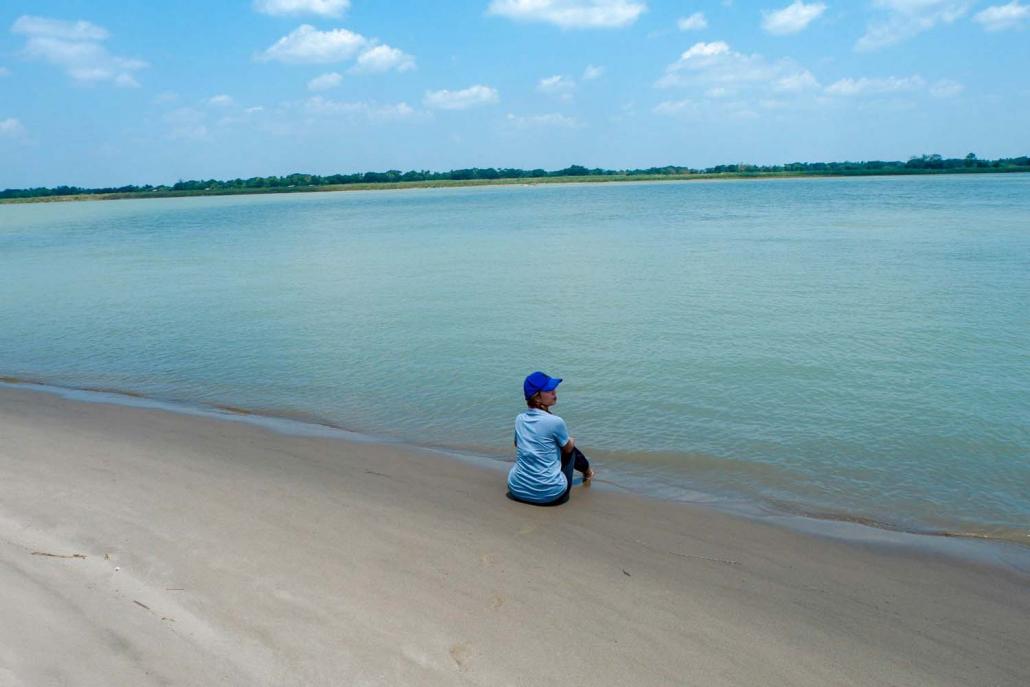 CP Thaung Island
CP Thaung could also easily be an installment in its own right. Located about 45 minutes from Sit Chaung lake, CP Thaung – one of the largest islands in the Irrawaddy – offers a cast iron guarantee for off-the-grid adventure. The island is extremely isolated; if you're a foreigner, you can fully expect the aliens-have-landed treatment.
Even if you arrive at the crack of dawn with the full day ahead of you it can be difficult to know where to start. After you've organised a boat at Kyone Kayin village (16.837164, 95.552774), on the mainland, here are some locations you should consider: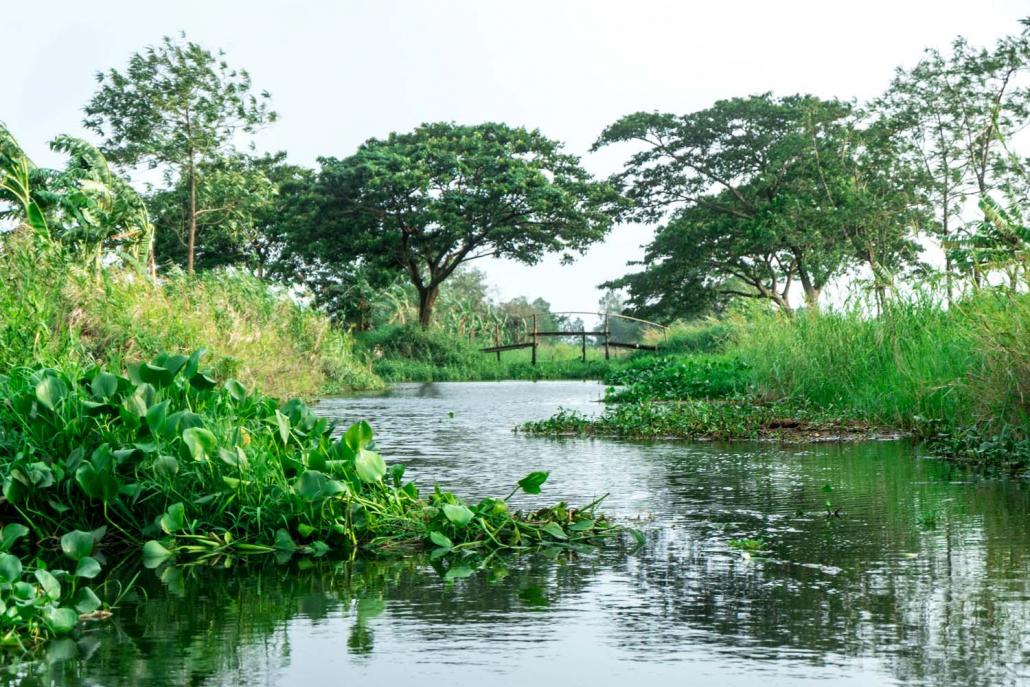 The Eastern Point
If you take a boat up to the northeastern tip of the island (16.869691, 95.565069) there are several pristine white sandy beaches that are perfect for a picnic and a dunk in the Ayeyarwady River. In April we were spoilt for choice but remember that during monsoon season there's a chance that some or maybe all of the beaches will be underwater.
CP Thaung Channel
Slap bang in the middle of CP Thaung is a narrow channel (16.861769, 95.506647) which allows for a very chillaxed and peaceful cruise from the north to the south of the island. I recommend navigating it yourself – you can pick up decent inflatable boats at Winner Sport or Via Myanmar in Yangon.
Za Lote Mu Chaung and Pipe Tan Chaung
After a sweaty trek through the island, these two streams offer a good cooling off opportunity. But visiting Za Lote Mu Chaung (16.850987, 95.500898) and Pipe Tan Chaung (16.847188, 95.511328) – which takes you through gorgeous farmlands and villages – is as much about the journey as the destination.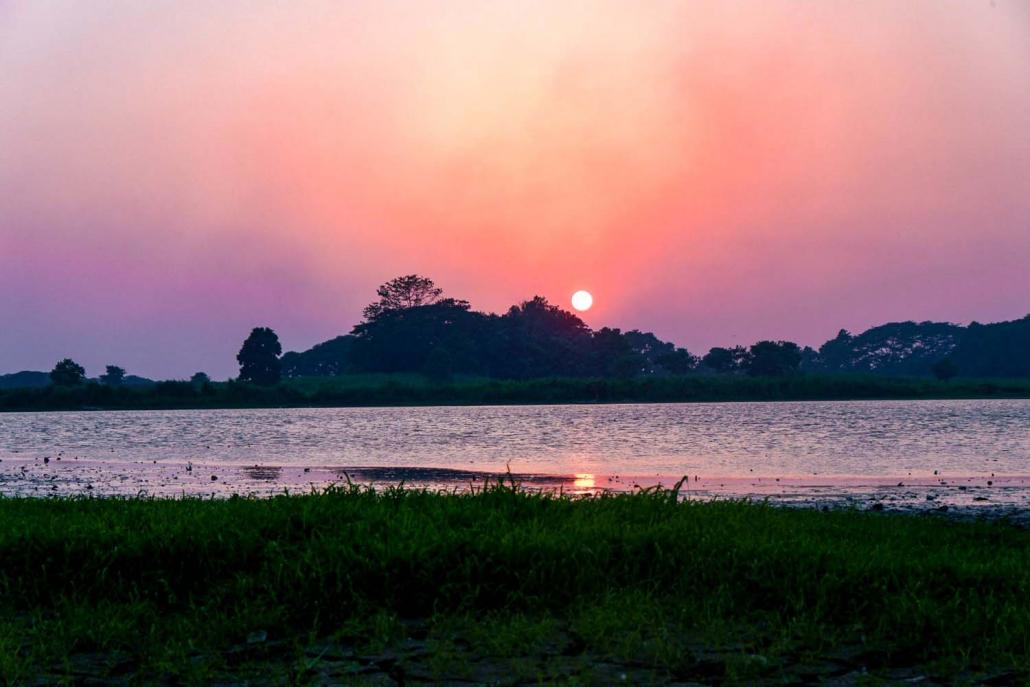 CP Thaung Marsh
You can't swim in the marsh (16.827501, 95.499338). The water's too shallow and the ground is so muddy it'll swallow your shoes whole. It is very pretty, however, and a great place at which to finish up. There are fantastic photo opportunities, a wide variety of wetland birds to spot and an absolutely killer sunset.
How do I get there?
From Yangon, you can take a taxi to Maubin (90 minutes, K40,000-50,000) or a motorbike from Dala (2 hours K15,000 per day).
How long do I need?
I suggest you visit the water fields for a full weekend and include everything else as a chilled three-day trip.
How do I get around?
If you're hiring a car for the day from Yangon, add an extra K20,000 or so to visit Sit Chaung and CP Thaung. If you can organise a motorbike in Maubin, you'll get to both destinations faster.
Where do I stay?
Hotel Maubin (K50,000 a night) is one of just a few options. The rooms are clean and the breakfast is also decent.
When should I go?
You can visit all sites pretty much any time of the year except for the river beaches, which are best from January through May.
This is the third installment in my monthly, six-part "wild waters of Myanmar" series, which will take me to lakes, rivers, creeks, dams, waterfalls and remote beaches across the country.
TOP PHOTO: Kayaking down the CP Thaung channel (Dominic Horner | Frontier)