For the first installment in our new travel series focused on wild swimming spots, we head to the Kayah State capital for waterfalls, islands – and fried frogs.
By DOMINIC HORNER | FRONTIER
Despite its proximity to Inle Lake — one of the biggest tourist hubs in Myanmar – the Kayah State capital Loikaw still receives relatively few visitors. But with a fantastic local market, incredible hilltop pagoda views and some of the most beautiful and easily accessible wild water spots in the country, Loikaw is a hugely underrated destination — especially if you love to swim.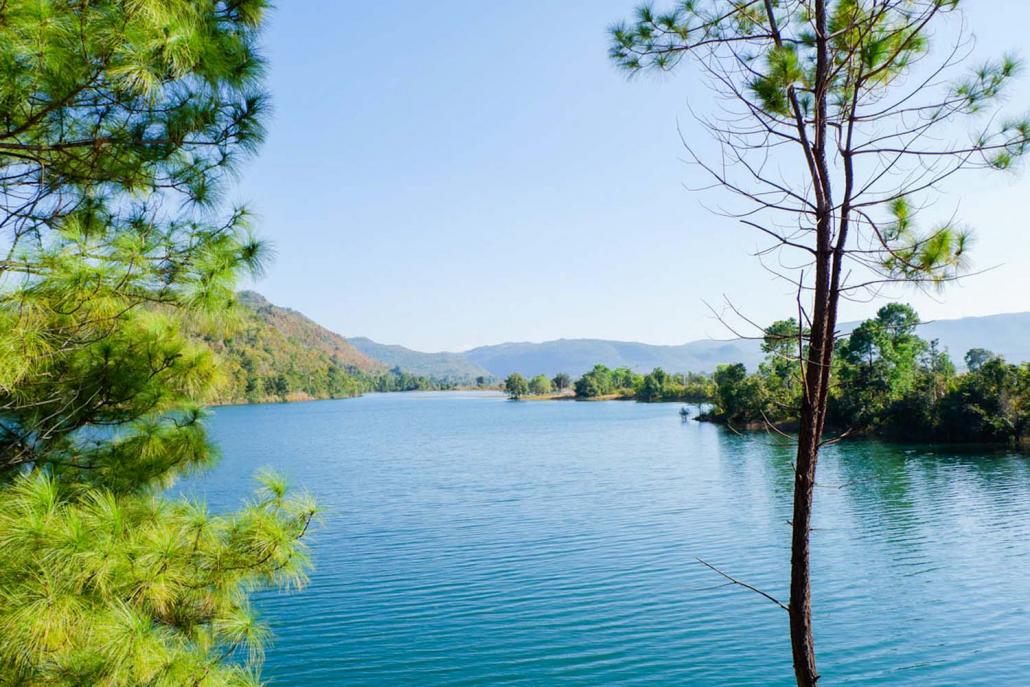 Seven Stages lake
The lakes are about 40 minutes southeast of Loikaw (turning here: 19.581362, 97.197579, the lakes start here: 19.525401, 97.231724) and make for a fantastic, picnic-focused day out. The green-blue lakes vary in size as well as accessibility and you'll discover that some are better for swimming and chilling than others. That said the scenery is consistently stunning so it's worth visiting them all if possible.
Htee Sel Khar waterfall
About 45 minutes north of town, Htee Sel Khar waterfall is enormously popular with locals and it's easy to see why: It's gob-smackingly gorgeous, with its turquoise-green waters, lush vegetation and dramatic cascading falls.
Unfortunately, swimming is forbidden at the base of the falls because of a string of accidents. Apparently the currents are stronger than they appear, so while it makes for an impressive photo it's a case of look but don't swim. Not that it really matters — there are lots of other great places to swim around the falls, including the river itself.
For a spot that functions as a natural swimming pool, it's striking just how utilitarian the whole place is. You get the usual kids in skinny jeans doing backflips but you also have people washing and hanging out their clothes, as well as whole families shampooing themselves in the river. All this makes for a communal atmosphere that encourages you to meander along the riverfront, soaking in the sights and sounds. If you decide to stay for the whole day — and you definitely could — there are several restaurants lining the southern bank of the river so there's no need to bail for lunch.
Trust me. This place is brilliant.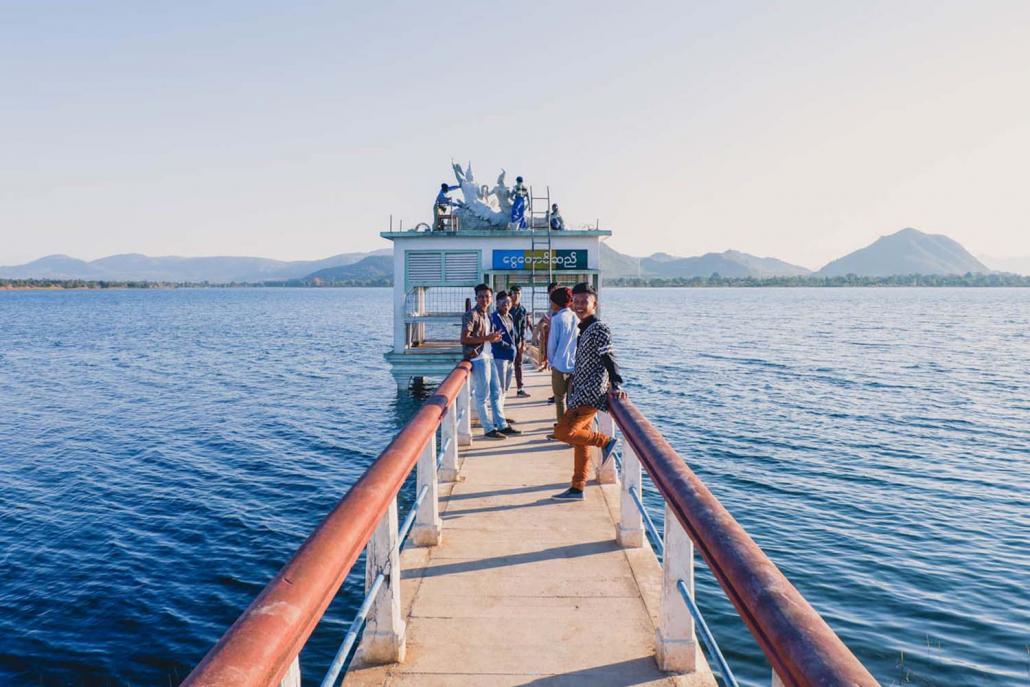 Ngwe Taung dam
Loikaw's nearest neighbour, Demoso, holds its own when it comes to natural beauty. The dam, which helps to irrigate 4,000 acres of farmland, sits between the village of Ngwe Taung and Demoso and is something of a local magnet. Couples pose for selfies, Kayah women in traditional neck rings sell handicrafts and kids leap from the railings into the water. Even if you decide to give the swimming a miss you still have the option of circling the lake, which can be done either on foot or by bicycle.
Once you're done exploring the lake, you might consider heading over to Demoso market for some fried frogs (yes, really) and some traditional khaung yay, a mildly alcoholic millet wine.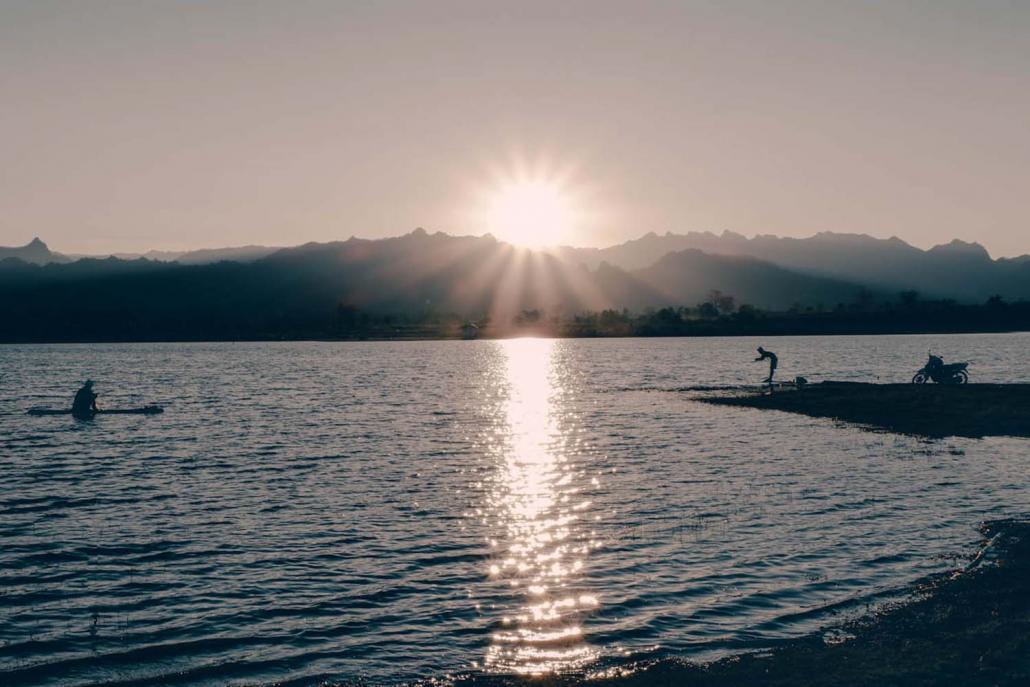 Htee Poso lake
If you want to go properly off-grid head 15 minutes' south of Demoso to Htee Poso (19.484291, 97.130369). Most locals haven't even heard of Htee Poso Lake or the nearby village that bears the same name but it's there, and if you want a lake to yourself (and a fairly big one at that) you need look no further. While I was there, the only other people I met were a local fisherman and a guy washing his motorbike. This treasure is truly hidden.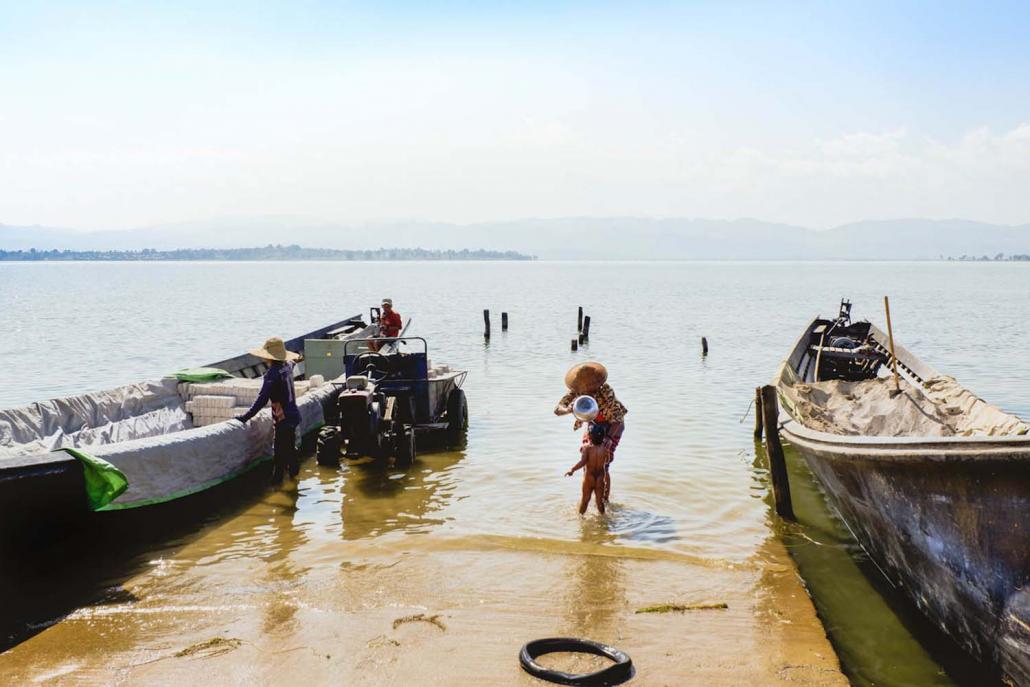 Pekon lake
If you've ever wondered what Inle would look like without the crowds, the answer can be found less than an hour from Loikaw at Pekon (Jetty: 19.870179, 97.010601). If Loikaw is one of the most underrated towns in the country then Pekon is definitely one of the most underrated bodies of water — it's Inle minus the hype.
The similarity is no coincidence; you could make a case for them being the same lake. Inle gradually funnels into a narrow channel that in turn opens out into Pekon, meaning the twin lakes do share water.
Although Pekon may not have floating villages, it does have two islands, Lwal Pan Sone and Ho Tain. You can't do all that much on the islands except wander round and take photos but they're great fun to visit.
In any case, the real joy of visiting Pekon comes from the sense of uninhibited freedom as you cruise around the lake. Despite its breathtaking natural beauty, Pekon sees just a tiny fraction of the tourist numbers Inle does, so any feeling of losing yourself in a crowd is dispelled. For adventures searching for independence, untouched water and pristine natural beauty, the lake offers a glimpse of an undiscovered world — a true wild swim.
How do I get there?
The quickest and easiest way to reach Loikaw is by plane. There's a daily flight from Yangon at 8am, and a return flight at 9.15am. For those on a tight budget or with time on their hands there's also a 15-hour bus trip.
How long do I need?
Allow four days to see everything here. Ngwe Taung and Htee Poso can be done in a single trip; everything else effectively requires a full day.
How do I get around?
Expect to pay K25,000 to K30,000 for a round trip to just about everywhere except Pekon where you're looking at about K50,000. In Pekon, boat rental costs around K25,000 or K30,000 for foreigners, and K15,000 for Myanmar.
Where do I stay?
Loikaw Princess Hotel has a good breakfast, decent Wi-Fi and bike rental for K33,000 a night. The same company also runs the Pekon Princess Hotel, which has a great location right on the lake ($50).
This is the first installment in my six-part "wild waters of Myanmar" series, which will take me to lakes, rivers, creeks, dams, waterfalls and remote beaches across the country.
TOP PHOTO: Dominic Horner | Frontier