The ninth instalment in our travel series about wild swimming spots takes us to Myanmar's northernmost state, a land of ethnic diversity, impenetrable jungle and… tubing.
By DOMINIC HORNER | FRONTIER
Kachin State is famous for Myitsone and manau festivals, but also contains vast expanses of impenetrable jungle wilderness, a large variety of ethnic groups and even the country's very own section of the Himalayas. So, I hear you ask? Okay – it also possesses a range of fairly special water-centric excursions, so next time you make it that far north do yourself a favour and add at least a couple of them to your itinerary.
INDAWGYI LAKE
You don't have to be a devout wild swimmer to enjoy Myanmar's largest natural lake – it's an essential Myanmar travel destination in its own right. You can rent kayaks and bamboo bicycles, visit hot springs, and sign up for a range of different boating tours. While all of that comes heartily recommended, nothing beats heading for the middle of the lake at sunset, and diving headfirst into those deep, deep waters.
MYITKYINA
Myitsone
About 90 minutes north of Mandalay, two rivers that wind down from the Himalayas – the Mali Kha and the N'Mai Kha – converge to form one giant super river, the Ayeyarwady. The current is pretty brutal away from the shallows so I can't really recommend swimming here. What you can do though is rent a boat (K20,000) for a 15-minute spin around the river(s). That, and renting out a traditional Kachin outfit, and posing like a total dork in front of the confluence.
War Yone Tor Resort
With bamboo huts lining a babbling stream and mountains looming in the background, this river resort an hour north of Myitkyina is a great spot to grab some late lunch of barbecued fish and sneak in a cheeky paddle before heading back into Myitkyina.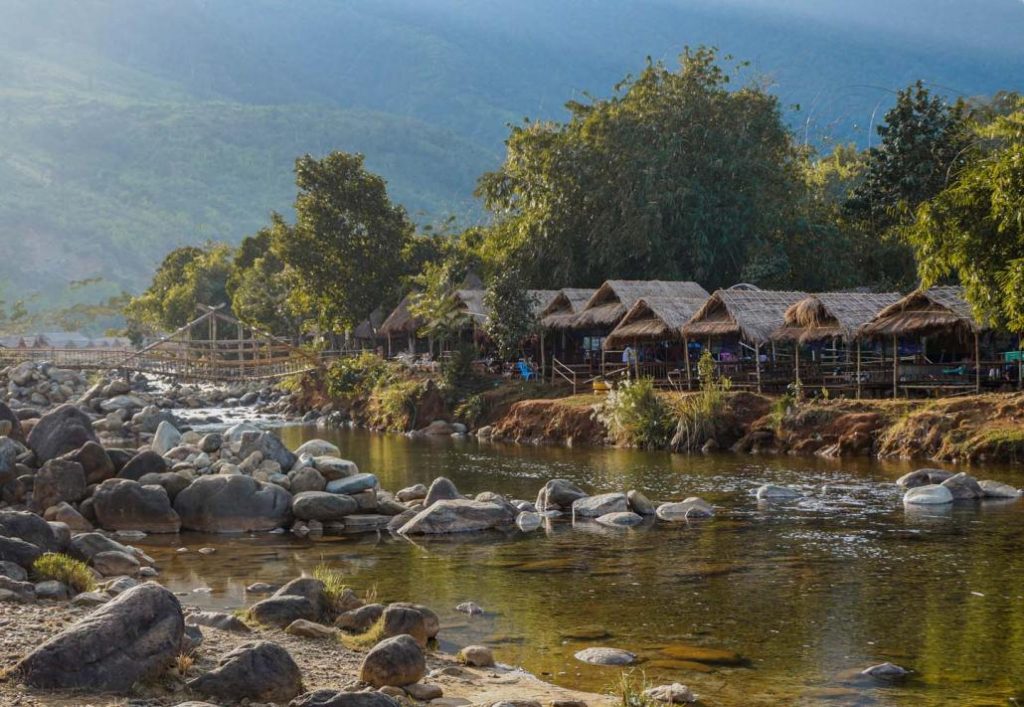 Tubing at Washawng Resort
Easily one of my favourite river swims in the country, Washawng has a lot going for it: crystal clear waters, a well-maintained site (there's barely any trash in the main resort), and shaded bamboo huts that are built into the river itself. Best of all, though, is the tubing. Rent a tube for K1,000 and march yourself past the bridge to a bend in the river. Then just hop on in and let the gentle current carry you through and beyond the resort, fielding dozens of "mingalabars" from the locals as you slowly drift downstream.
NOTE: Washawng is within a restricted area about an hour east of Myitkyina. When I visited I didn't receive so much as a second glance from the guards manning the checkpoint, but forewarned is forearmed, so be prepared to be sent back to Myitkyina if someone decides you shouldn't be there.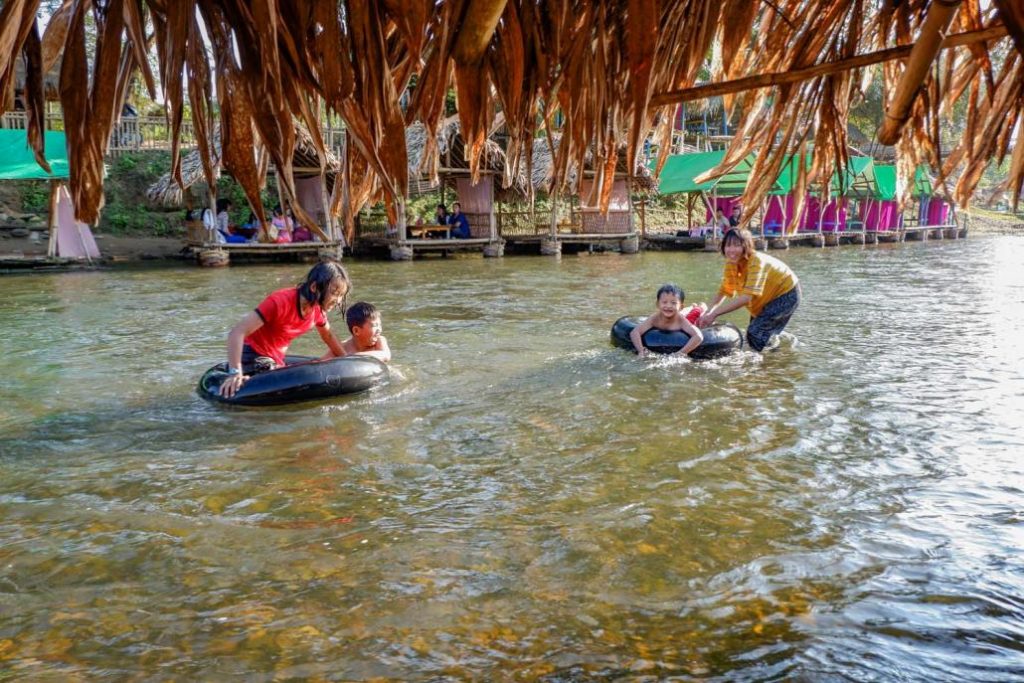 PUTAO
Nantkham Waterfall
In the car park at the foot of Nantkham waterfall, a handy sign is planted at the entrance with an accompanying photo of each of the seven ascending steps to the top of the falls. What the sign doesn't tell you is that you'll need Bear Grylls levels of outdoor smarts to conquer the upper four, as the path gives way to steep rocky faces, intimidating rope climbs and precariously narrow bamboo walkways.
Luckily, you don't need to scale every step to appreciate just how beautiful Nantkham is. The pools are beyond gorgeous with the water pure enough to drink – I recommend you do precisely that. The water is also very cold but what a buzz swimming here is. It's akin to chomping down on an especially hot chilli: at first there's shock, followed by discomfort, which eventually gives way to an endorphin-fuelled glow.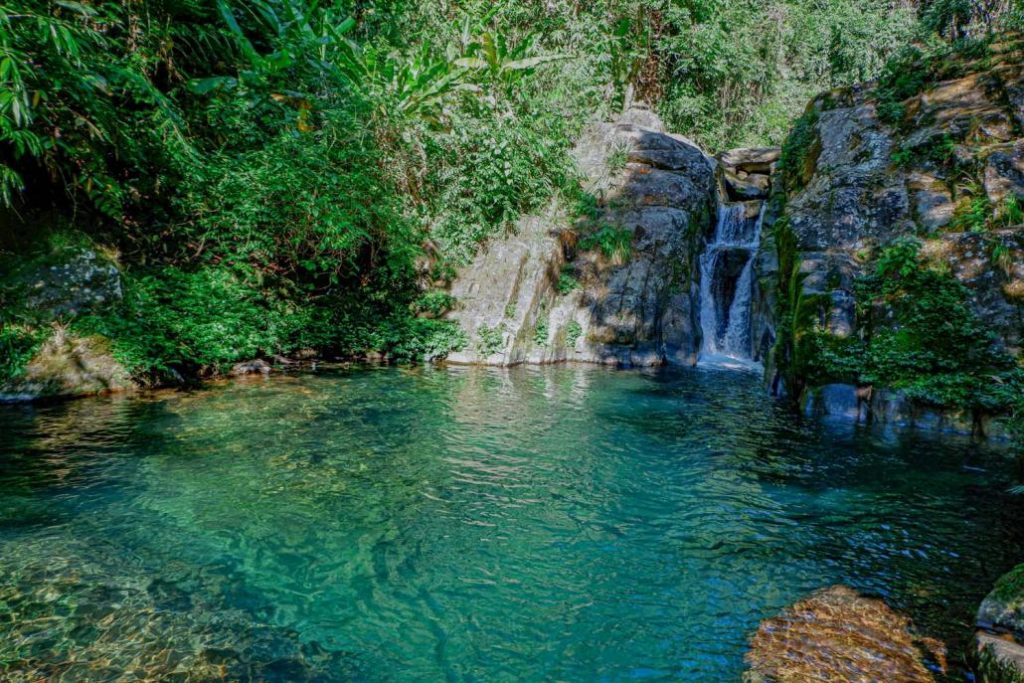 Nat Kyun
The construction of a pagoda at this river island in 2014 received something of a mixed reception from the predominately Christian population. Still, there's no denying that the 20-minute boat trip down-river is breathtaking in its raw beauty, or that the island makes for a very handsome and striking photo. Next to the pagoda is a small sandy bay where you can brave the frigid waters and take in an expansive view of the Mali Kha River as it winds its way south.
Note: Nat Kyun (Fairy Island, colloquially) is a bit off and on in terms of being open to foreigners so be sure to check ahead if you plan to visit.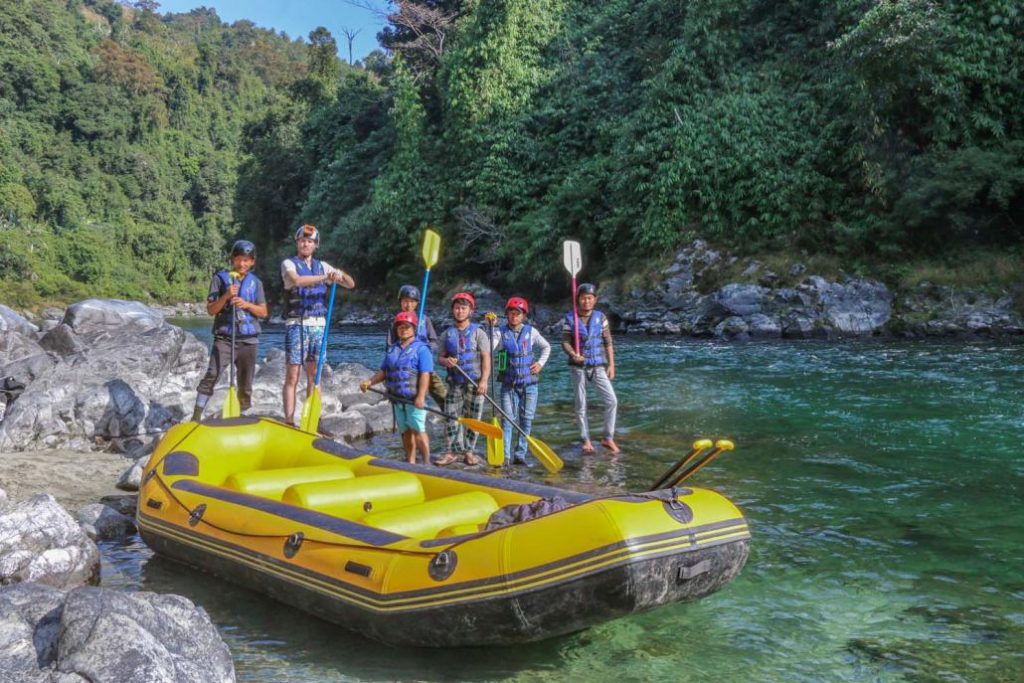 Whitewater rafting on the Mulah River
To finish up, get your adventure head on with a whitewater rafting trip down the Mulah River. It's not cheap at US$300 a boat (maximum group size of eight people), but if you've come all this way you'd be mad to pass it up. If you thought you'd seen pristine, sparkling clear water wait till you see the Mulah River, and the rapids are just challenging enough to deliver mild adrenaline junky thrills without slipping into extreme sports nutcase territory. In other words: it's suitable for everyone.
The rafting finishes up just outside Malikha Lodge where, for $30, you can choose a four-course meal from a variety of set menus based around local ethnic cuisines. You'll feel like you've really earned it.
Getting there?
Myanmar's domestic airlines offer regular flights to Myitkyina and Putao. Myitkyina can also be reached by train and bus. Indawgyi is about five hours' drive southwest of Myitkyina, via Hopin (also accessible by train).
How long will you need?
Allow two days for Myitkyina, and two or three days for Indawgyi and Putao.
Getting around?
Indawgyi: Contact Face of Indawgyi (www.faceofindawgyi.org, stephen@faceofindawgyi.org, +95 (0) 977 887 2956) for everything including how to get there, accommodation, activities, and boat trips.
Myitkyina: Motorbike and taxi are both fine for getting around. Expect to pay about K50,000 a day for a taxi and K12,000 to K15,000 for a motorbike.
Putao: If you're not a Myanmar national you should get in touch with a local travel company like Icy Myanmar (icymyanmar@gmail.com, +95 (0) 940 4898 780, or find them on Facebook) before visiting Putao. Without them you won't be able to leave town and your whole trip up to Putao will be a big waste of time. Japha from Icy Myanmar speaks excellent English, is well read up on the local flora and fauna, and can organise everything listed in the article – and more.
Best time to visit?
Kachin State is pretty good outside the monsoon season. For Putao, if you want to see those snowcapped Himalayan mountains then December to February is the time to go.
Where to stay?
Indawgyi: See above.
Myitkyina: Hotel Hukaung is a good midrange option (K50,000). They've got Wi-Fi and a solid breakfast buffet, and can organise motorbike and taxi rental too. +95 (0) 942 555 5958
Putao: For a budget option check out Htawanrzai guesthouse ($20-30, +95 (0) 942 523 4186, +95 (0) 942 840 0186) and for midrange go to Puta-O Trekking House ($70, +95 (0) 9840 0138).
About the 'wild waters' series
This is the ninth instalment in my "wild waters of Myanmar" series, which is taking readers to lakes, rivers, creeks, dams, waterfalls and remote beaches throughout the country.
TOP PHOTO: Approaching Shwe Myit Zu Pagoda on Indawgyi Lake. (Face of Indawgyi)